News
Charles Schwab Challenge already most-bet PGA Tour event in DraftKings history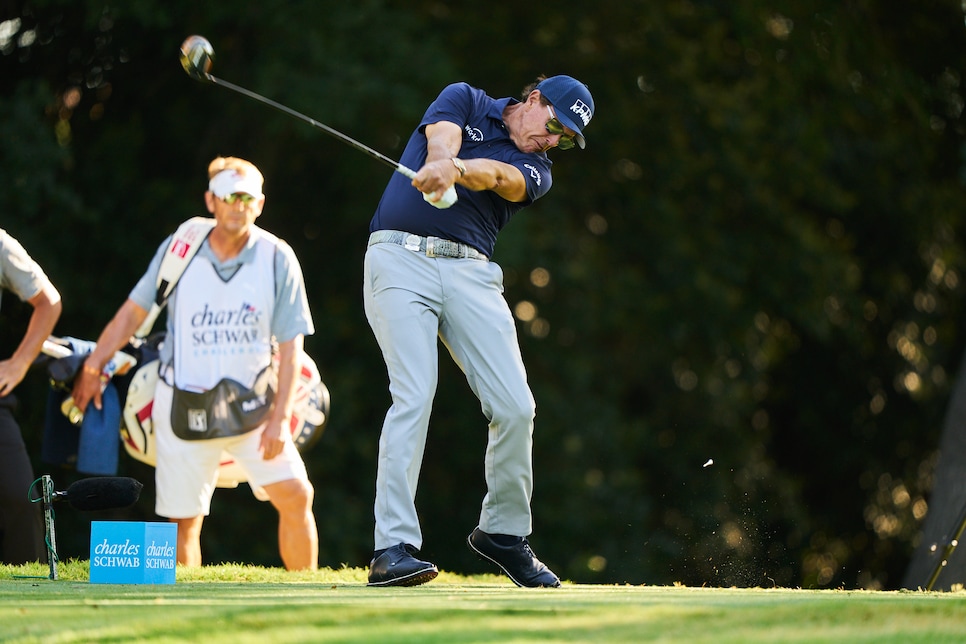 Phil Mickelson hits a tee shot in the first round of the Charles Schwab Challenge.
Darren Carroll for Golf Digest
Due to the strength of the field and the fact the PGA Tour has been away for 91 days, this week's Charles Schwab Challenge has the look and feel—at least on paper—of a major championship. Apparently, it's being bet like one, too.
As the Action Network's Darren Rovell first reported, the 2020 Charles Schwab Challenge is the most-bet PGA Tour event in DraftKings history. And that's before the first round has even been completed.
This news shouldn't be that surprising, given golf is currently center stage in the sports world, not to mention bettors have been starved for anything to wager on while stuck inside for the last few months. But what is noteworthy is that it had already surpassed all four majors from 2019 in money wagered before the afternoon wave teed off at Colonial.
The Charles Schwab Challenge is not yet the most-bet golf event in DraftKings history. That designation belongs to The Match: Champions for Charity, which featured Tiger Woods and Peyton Manning facing off with Phil Mickelson and Tom Brady two weeks ago. But, according to Johnny Avello, director of race and bookmaking operations at DraftKings, it should have no problem surpassing that event by the end of the week.
"We're only halfway through round one," Avello said. "We've got in-game wagering right now; after they're done for today we'll put up the tournament prices and you can bet until they start again tomorrow, and then in-game again. With the current circumstances the way they are, there's just been a huge push in golf wagering; it's taken them to historic levels. It will definitely surpass The Match [in money wagered]."
DraftKings first started taking bets on golf at the 2018 WGC-Bridgestone Invitational. Since then there's been numerous significant golf events, such as Woods' victory at the 2018 Tour Championship, his 2019 Masters win, two made-for-TV matches between Woods and Mickelson and a Ryder Cup. Yet none saw as much money wagered as the Charles Schwab, another reason this will be looked back on as a historic week for golf.
According to Avello, Jordan Spieth received the most money to win at Colonial at 45-to-1 odds. A few years ago, getting the three-time major winner at that number would be unheard of, but his recent struggles have caused his odds to skyrocket. Ryan Palmer, a member at Colonial, was a close second, along with Rory McIlroy, Brooks Koepka, Kevin Kisner and Justin Rose—the latter opening with a seven-under 63.