25 Years of Happy Gilmore
Here's what is still available from the popular Happy Gilmore anniversary collection
*All products featured on Golf Digest are independently selected by our editors. However, when you buy something through our retail links, we may earn an affiliate commission.*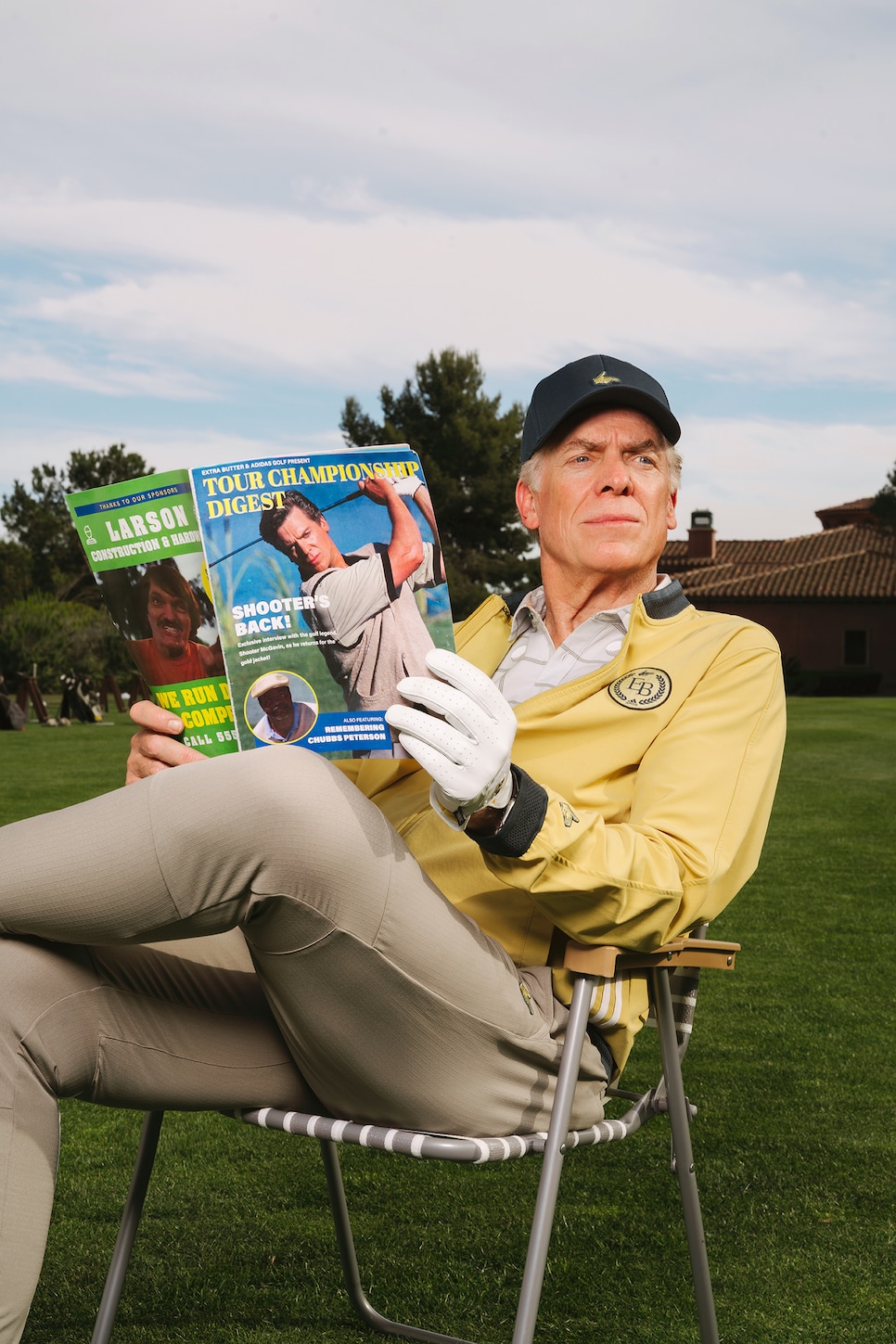 To honor the 25th anniversary of the Happy Gilmore, several golf brands teamed up to create a collection inspired by the film's three main characters, Chubbs, Shooter and Happy. The line launched June 25 and was led by apparel and accessories designed in collaboration with streetwear company Extra Butter and the adidas golf team. A lot of the pieces in the collection sold out shortly after launch, but here's a look at what you can still get.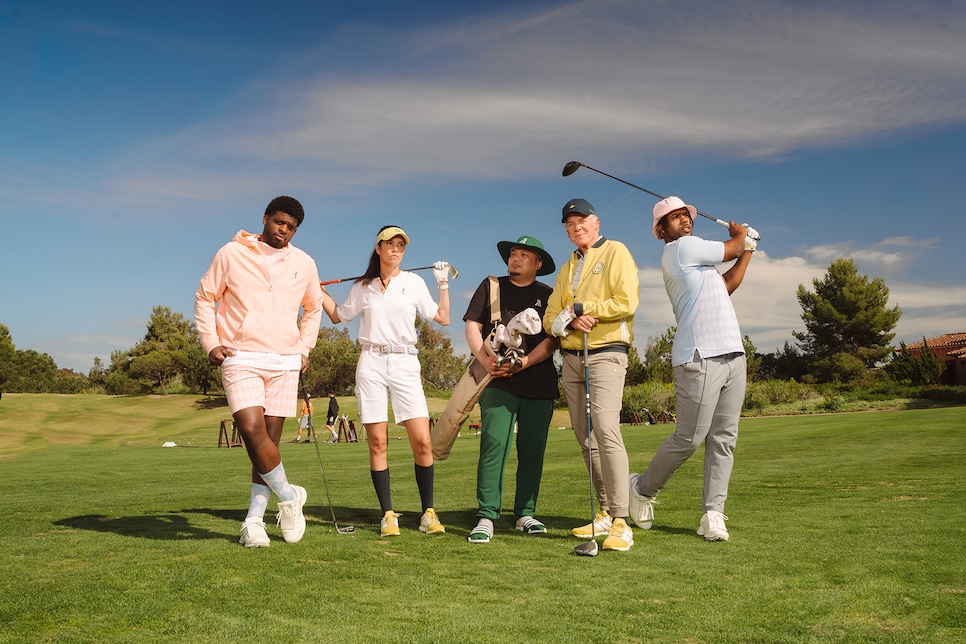 The collection is split into three capsules inspired by Happy Gilmore, his mentor Chubbs Peterson and nemesis Scooter McGavin. To promote the collection, Extra Butter brought in Christopher McDonald, who played Shooter McGavin, along with the NHL's P.K. Subban, Tania Tare and Roger Steele to try out the gear.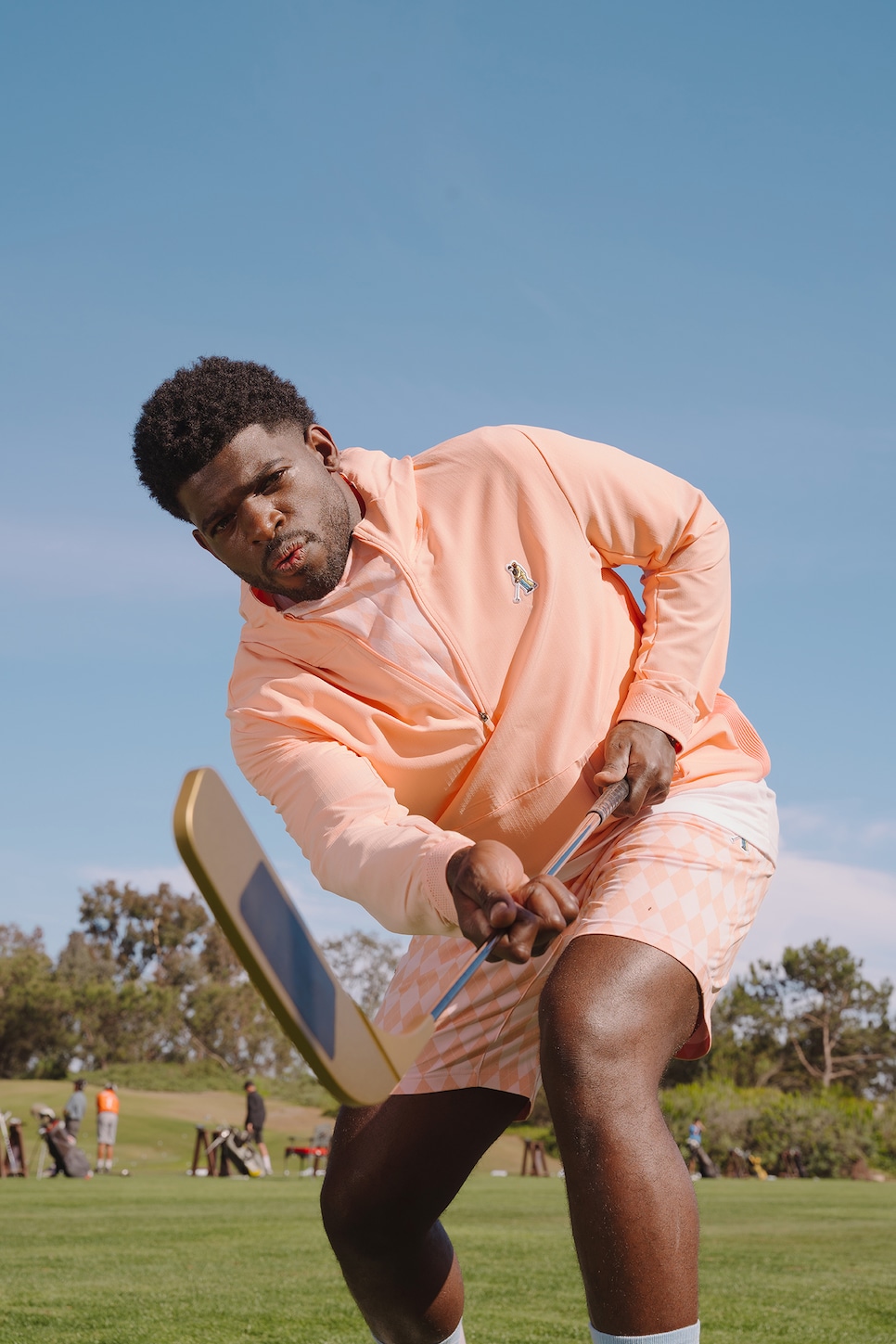 With the most pieces still in stock, Chubbs' collection has vintage golf inspiration with pastels, argyles, pleated pants—each embroidered with his iconic line, "It's all in the hips." A kiltie-covered ZG21 golf shoe with gator skin and wood-grain details incorporated is also a part of his capsule. The light pink and blue collection is highlighted by a pastel argyle hat and bold pair of shorts to match.
Not suprisingly, the pieces inspired by Shooter McGavin were among the first to sell out completely. Each is printed with the character's hand gun gesture he frequently makes during the film. It'll be found on a suede and gold flecked version of the Ultra Boost 1.0 shoe, a visor and a hat. Extra Butter and adidas also decided to give Shooter his coveted gold jacket in the form of a bomber jacket that reads "pro golfers tour championship."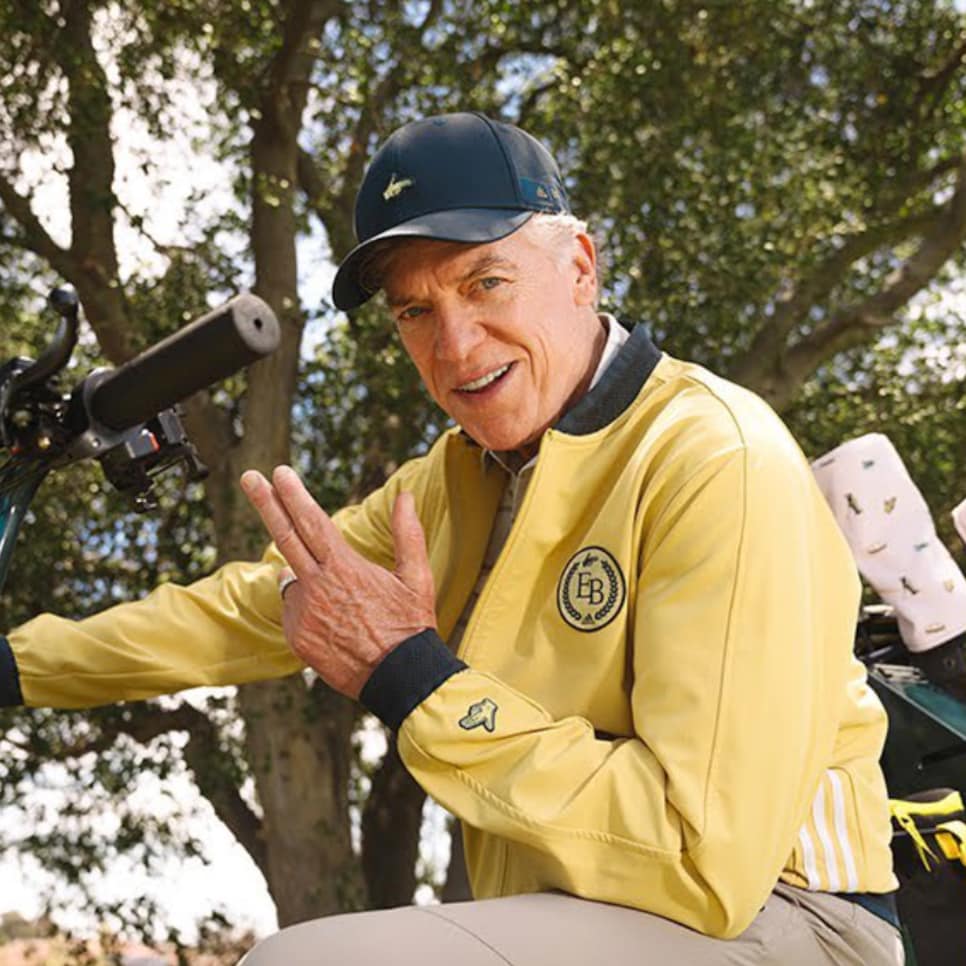 Also almost entirely sold out, Happy's character capsule was led by a pair of green-and-white slides with brogue accents that fit his casual golf style. The priceless quote he delivered to Bob Barker is printed on a cooler and a pair of joggers in a green and yellow colorway. There are also two t-shirts that give a nod to "Happy Land" and an embroidered logo throughout of Chubbs' intimate coaching style. The green jogger sweatpants with an embroidered logo of Chubbs coaching Happy is still in stock from this capsule.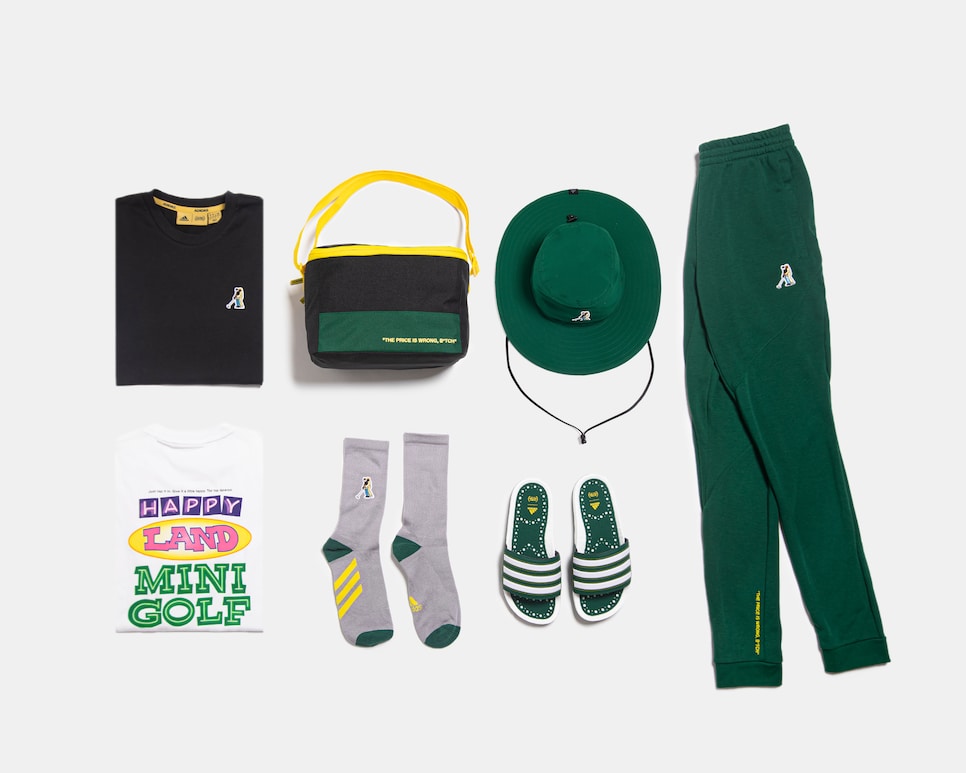 On the accessories side, the Happy-inspired cooler bag, Asher Golf gloves and Seamus golf bag sold out pretty quickly, but you might be able to get a Seamus shoe bag or umbrella, while supplies last. The collection also includes two electric scooters from Phat Scooters.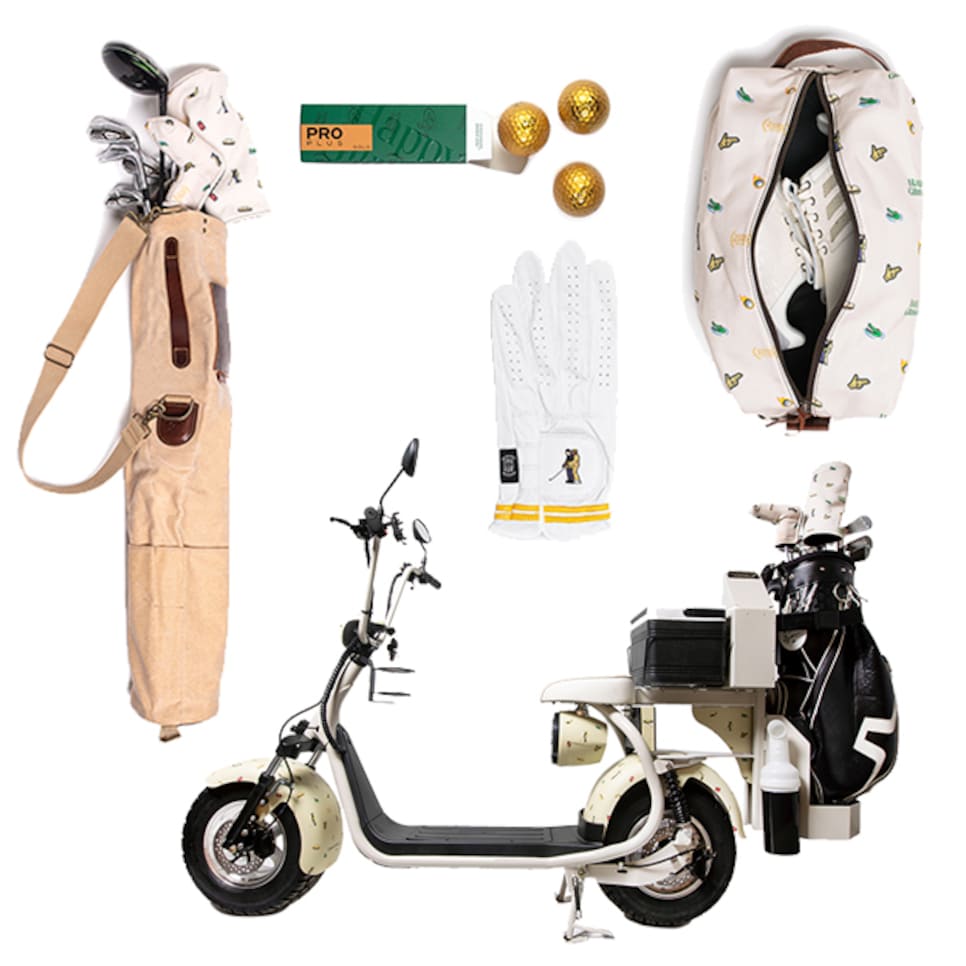 More from the collection: