Q&A
Travis Kelce on how Tiger Woods influences his style, how he's improving his golf game and hitting trick shots after dark
*All products featured on Golf Digest are independently selected by our editors. However, when you buy something through our retail links, we may earn an affiliate commission.*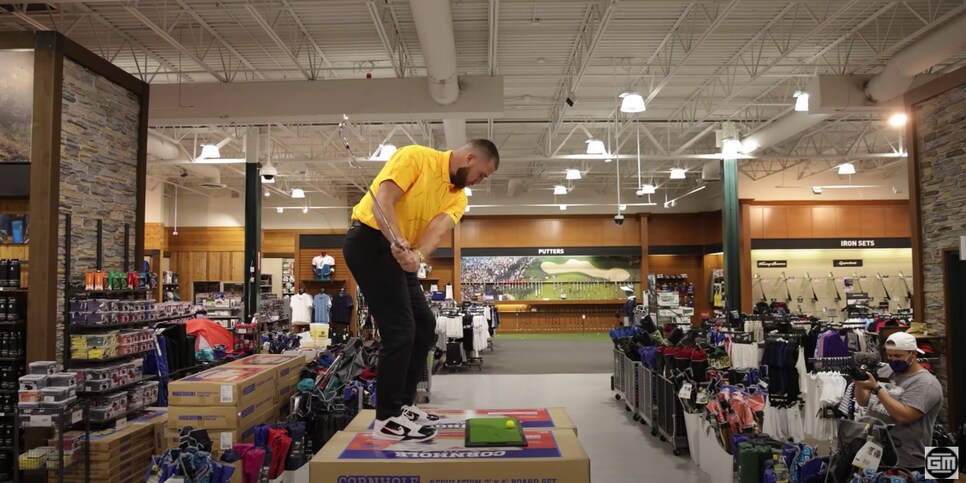 It's not unlikely to find Kansas City Chiefs tight end Travis Kelce on the golf course during the offseason. His introduction to golf started as a kid when he'd roll putts on the test greens inside Dick's Sporting Goods stores with friends—and he has been working on his game ever since. He's now an ambassador for the brand and recently took over a store after hours for a marketing video that put his golf game to the test with challenges throughout the retail floor. We caught up with the Ohio native to hear how his swing is looking, what his on-course style consists of and how he faired playing golf inside a retail store.
RELATED: 2021 Father's Day Gift Guide: The Best Golf Gifts for Dad
Q: How has your golf game been looking?
"I'll tell you what, I'm getting better. I'm a work in progress. The biggest thing is that I keep having fun every time I go out there, so I'm doing something right."
Q: What do you usually shoot?
I'm starting to get down into the 80s every single time—except when we play from the tips, that adds a whole other element to the game. I'm trying to get to the 70s. I haven't broke 80 yet, but it's definitely coming, I can feel it.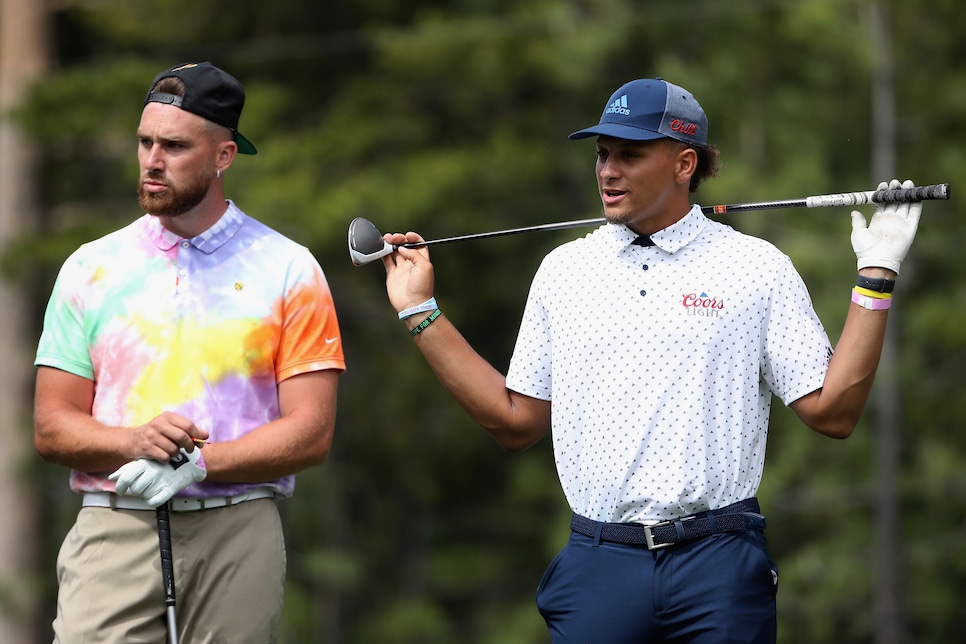 LAKE TAHOE, NEVADA - JULY 10: NFL athletes Travis Kelce and Patrick Mahomes of the Kansas City Chiefs wait to tee off on the 18th hole during round one of the American Century Championship at Edgewood Tahoe South golf course on July 10, 2020 in Lake Tahoe, Nevada. (Photo by Christian Petersen/Getty Images)
Christian Petersen
Q: What's your best round?
I shot it at Scottsdale National at Arizona, was one of the funnest courses I've ever played.
Q: Speaking of fun rounds, we saw you took over a Dick's Sporting Goods last month and got to play some golf inside the store, tell us about that.
I had a whole lot of fun teaming up with Dick's Sporting Goods, World Long Drive Champion Kyle Berkshire, pro golfer Cheyenne Woods and YouTuber Garrett Clark. We got in the store after hours and had some fun doing trick shots. It was a lot of fun just enjoying time with those guys, kinda bouncing ideas off of them. I was more so taking notes than dishing out any sauce, so it was just a lot of fun to learn from them and hang out with them and make some trick shots. Never once have I seen a trick shot set up the way these tricks shots were and I certainly haven't hit anything other than a golf ball with a golf club. I was trying to hit footballs off of tees, I was trying to hit basketballs, it was a blast.
Q: Do you have any trick shots up your sleeve?
I'll tell you what, I can hit the ball about 400 yards to my right every time. That is my only trick shot, my slice. I'm still not skilled enough to have a real trick shot, but every single time I hit it as hard as I can, that ball flies right. I can hit a ball three holes over on the right, it almost boomerangs back to me sometimes.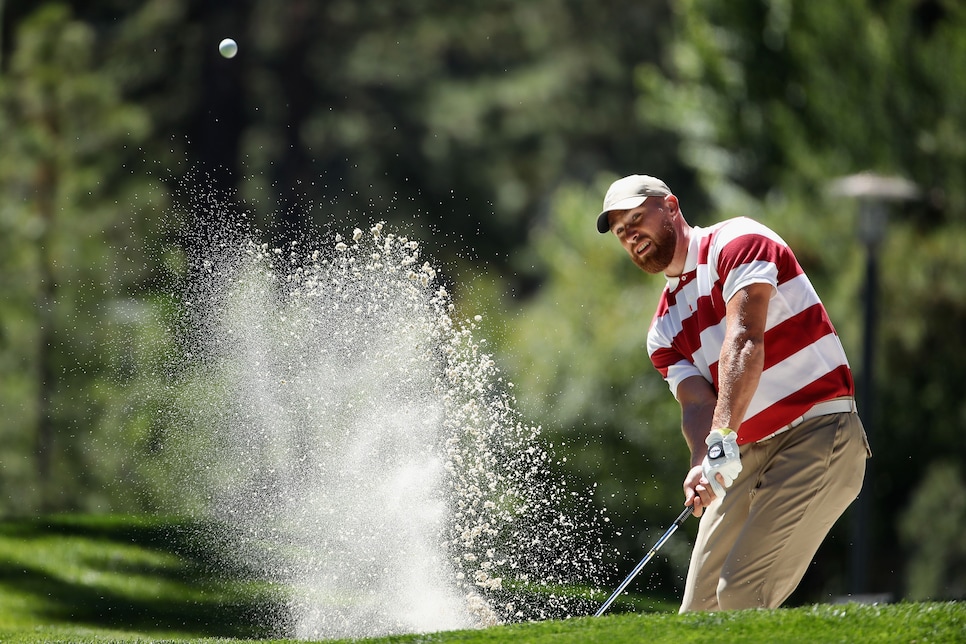 SOUTH LAKE TAHOE, NEVADA - JULY 11: NFL athlete Travis Kelce of the Kansas City Chiefs chips from the bunker onto the seventh green during round two of the American Century Championship at Edgewood Tahoe South golf course on July 11, 2020 in South Lake Tahoe, Nevada. (Photo by Christian Petersen/Getty Images)
Christian Petersen
Q: Did you get any tips from Kyle or Cheyenne?
Kyle was doing a great job of explaining exactly how to create power and explosion into the golf ball. He was talking about how he opens his stance as he is hitting it and getting that front side hip around and through. Just hearing the stuff he was talking about was really impressive. The fact that he could dial in swing speed and spin rate then immediately know once he hit it how far it was going to go. Just to hear him talk about this swing in such way that he could kinda teach it, that was special.
Q: Did you try out Kyle's equipment?
I did. What amazed me is that he uses a stiff flex on his driver, and I try and put some weight on my driver and add stiffness to it because I think I swing hard. That guy swings 10 times harder than me and was using a driver that didn't have quite as stiff of a shaft on it. That opened my eyes up to maybe trying something new. I might have to shoot down to a Dick's Sporting Goods and test out a few drivers down there with that in mind.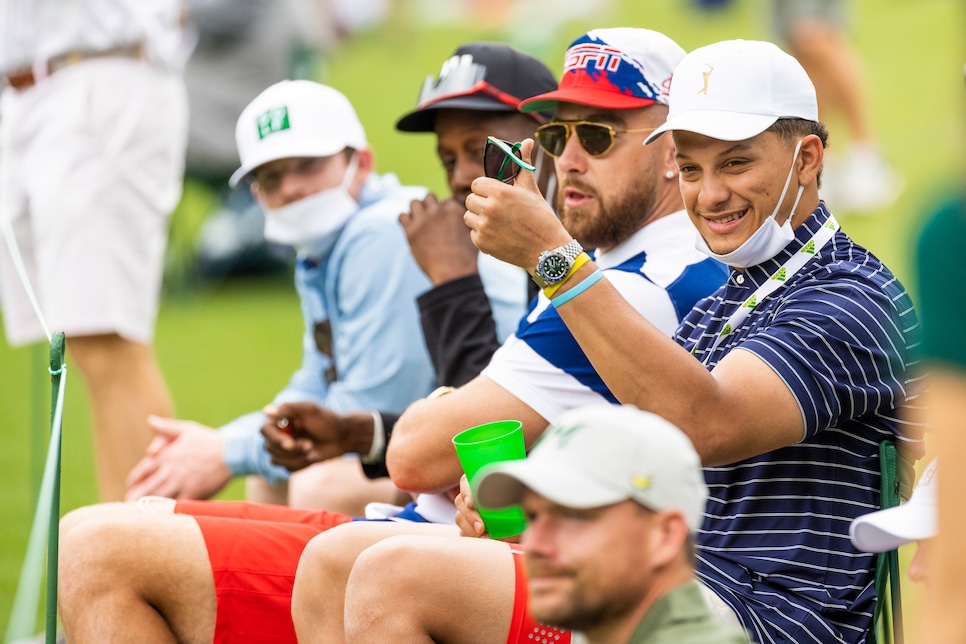 Travis Kelce (red and blue ESPN hat) attended the Masters in the fall with his buddy and teammate Patrick Mahomes.
Ben Walton
Q: Have you added anything new to the bag recently?
Because I'm 6-foot-5, I have to get all my clubs lengthened, but I never thought in my mind to get my wedges lengthened. I like to play around with my 60- and 54-degree wedges anytime I get within 100-120 yards, so when I got those lengthened, it really changed my game. The extra length made me more comfortable, I started hitting the ball a lot cleaner around the greens and stopped blading my 60-degree as much. I felt like I could get under the ball better and instead of playing ping-pong across the green, I've started landing it right by the pin.
Q: How would you describe your on-course style?
I'm a Nike athlete, I grew up in the 1990s and early 2000s when Tiger Woods was at his peak, so I'm real big always rocking the Tiger Woods gear—especially red on Sundays. But for the most part, everything I rock is just something comfortable. The more comfortable you are out there on the course, the better you play. I usually go with the Nike or Jordan cleats and keep it moving from there. I feel like when you look at the part, that's half the battle. You just gotta look the part, feel the part and then you shoot well.
Q: You top style charts with your outfits arriving to the stadium or during travel. If you were a pro golfer what would your arrival style look like? Bringing some high-fashion streetwear and high-top looks?
I don't know if I would bring streetwear into golf just yet. I feel like the style in golf, especially at the PGA level, it's very pristine, it's very clean cut. You want to come up with something stylish like a suit, dressing like you are the boss of the joint. I don't think street style necessarily plays well with that. I'd probably go in with a nice three-piece suit and throw the tie in there and look the part and look like I'm here for business.