It started with a single signed golf ball. When Hannah Green serendipitously handed Lily Kostner the pearl at the 2019 ANA Inspiration, little did she know the impact she would have on the youngster from Minneapolis—and the bond that would follow.
Instantly, Green had a new No. 1 fan. The then-7-year-old third-grader was so taken with Australian golfer that when she was asked in her poetry class to write about an individual she admired, Kostner chose Green. A few months later, Kostner delivered the poem to Green on the seventh hole during the final round of the KPMG Women's PGA Championship at Hazeltine National.
Green went on to claim the title, winning wire-to-wire for her first LPGA victory. After the round, she shared the contents of Kostner's poem and credited the simple words for keeping her grounded en route to victory.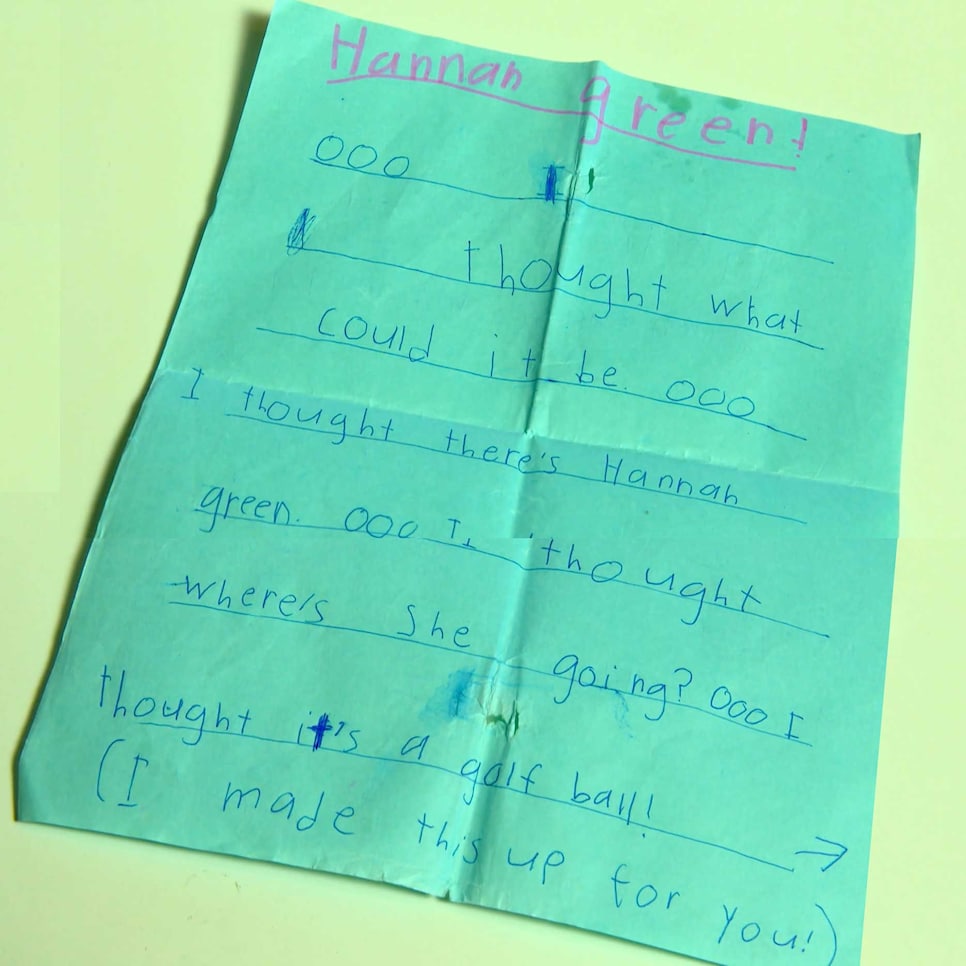 Lily's poem inspired by Hannah Green.
Now three years removed from the touching exchange, as Green attempts to win the title once more at Congressional Country Club in Bethesda, Md., the two remain close, having built a unique connection that inspires both.
"I just feel grateful and special that I get to experience and know a pro golfer," Kostner said, "someone like that is kind and like good at the sport."
"It's become a really cool friendship," Green said.
Indeed, the two remain close, sharing videos every few months. Lily sends updates from her golf camps or other sports she's been playing. Green shares where she has put the framed poem in her house and the puzzles she's solving. "Through COVID she sends me little videos asking how I am and what I'm up to," Green said. "They're really cute."
Like with the poem, Green keeps Lily's videos accessible on her phone. The biggest challenge for Kostner's parents, Justin and Jessica, is to keep Lily's desire to message her idol in check. "She would've certainly sent her a video message every day in the early days," Jessica said, "And we were like, no, you know, we're not going to do that."
In April, the Kostners traveled again on their usual trip to Palm Springs for the Chevron Championship (formerly the ANA). Jessica and her family grew up traveling to the Dinah Shore, and it was an important tradition to maintain with Lily and her youngest daughter Claire. Before heading out for their first reunion since Green's major victory, Lily wrote another poem and brought a Minnesota-shaped necklace to give to her friend.
"She was warming up and we went over there," Lily said, "and it just felt special because I hadn't seen her for so long. But it felt like we'd known each other for a while."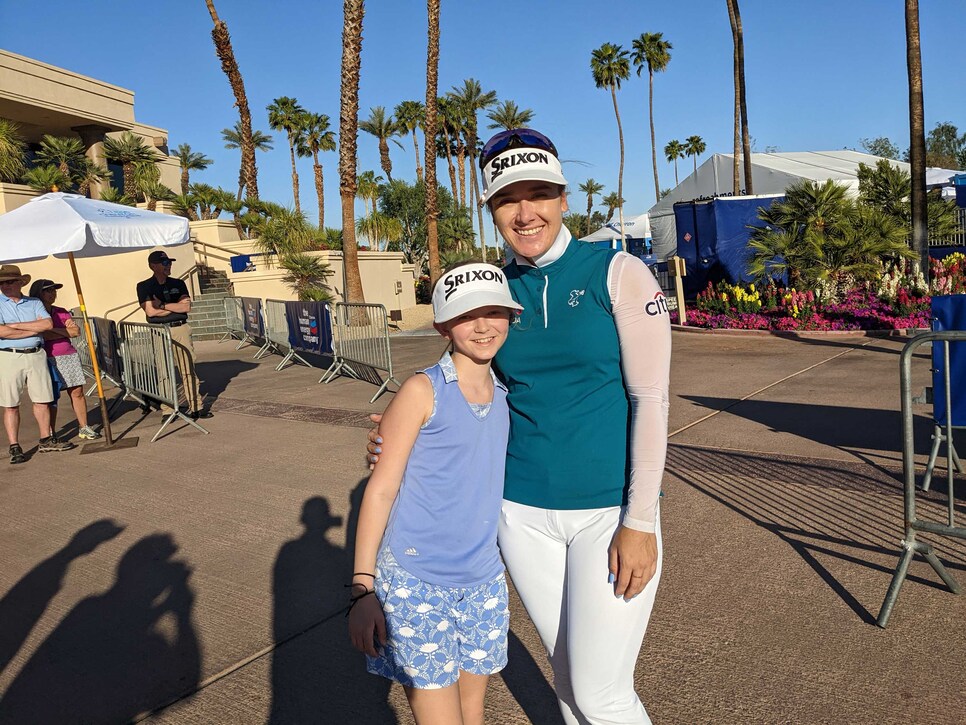 The reunion between Lily and Hannah Green. (Photo courtesy of the Kostner Family).
Moved by the gesture, Green wore the necklace all week and finished T-8. Throughout the championship, Green spent time with the Kostners as they cheered her on. She provided the family tickets for the week, gave Lily high-fives and chatted with her while waiting between holes.
The Kostners expressed to Green's caddie, Nate Blasko, that they felt bad for taking up her time. But he reassured them that she loved every minute of it, modeling the behavior of an idol a parent could only dream of.
"She [Green] does have that bit of awe," Jessica said, "but then to have her come down and be this like very authentic, just real person in interacting with Lilly. I know for a fact she soaks it in, and I think she inspires her beyond just golf, but all of her athletic endeavors and whatever else [she does]."
Green's relationship with Lily further inspired Claire to search for an LPGA idol of her own. At 7, Claire was the same age Lily was when she had her fateful encounter with Green.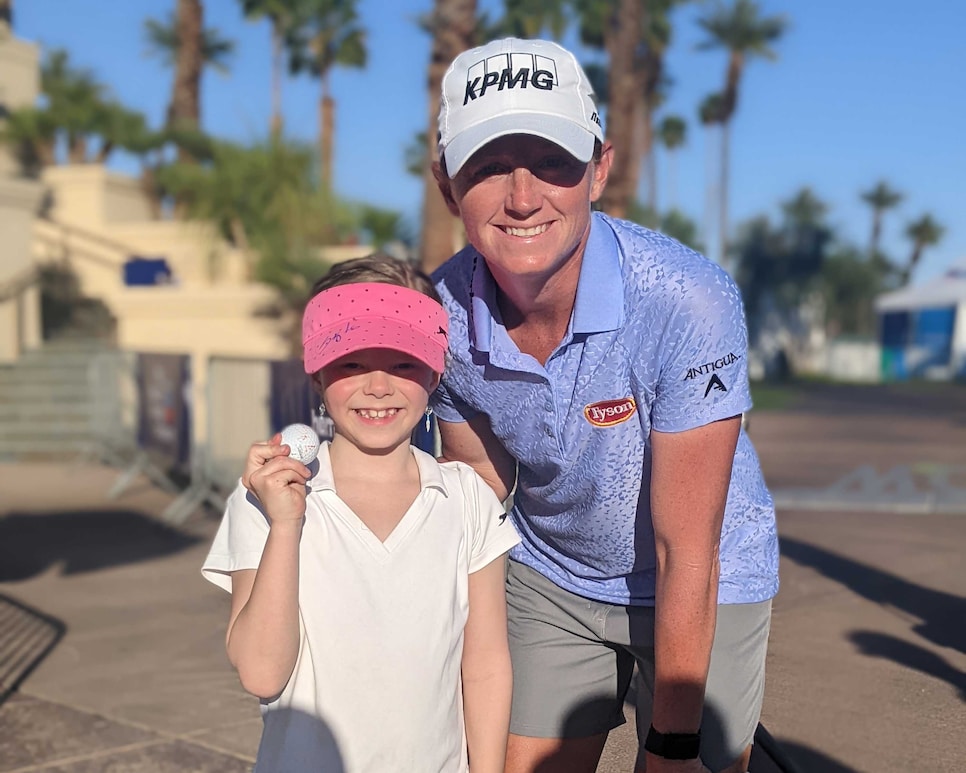 Claire Kostner got her own ball at the 2022 Chevron Championship from Stacy Lewis. (Photo courtesy of the Kostner Family)
On the lookout at the Dinah Shore course, she gave a high-five to Stacy Lewis during the U.S. Solheim Cup captain's round. Lewis went to her bag, grabbed a ball, and signed it for Claire, hooking the younger Kostner to the Lewis wagon.
Unfortunately for Claire, the exchange didn't end with a Lewis leap into Poppie's Pond, as she missed the cut. The newfound passionate fan couldn't hold back her sadness at the end of the day Friday. "Claire cried her eyes out at our Airbnb that night," Jessica said.
Even still, that moment turned Claire into a passionate fan. With the Chevron moving from Palm Springs to Houston next year, the Kostners are trying to figure out another tournament to make an annual trip to so their daughters can see the action in person. Both Lily and Claire passionately pull for their favorites when watching the LPGA on TV, all sparked by a seemingly innocuous moment of handing a young, impressionable fan a signed ball.
"I never really thought anything would've come out of it by giving Lily a golf ball," Green explained, "I think it's just what we feel is the right thing to do as players is to try and inspire the next generation, but to actually get a close relationship with someone that I have [inspired], it's really special."