LPGA Tour
2022 KPMG Women's PGA Championship announces doubling purse to $9 million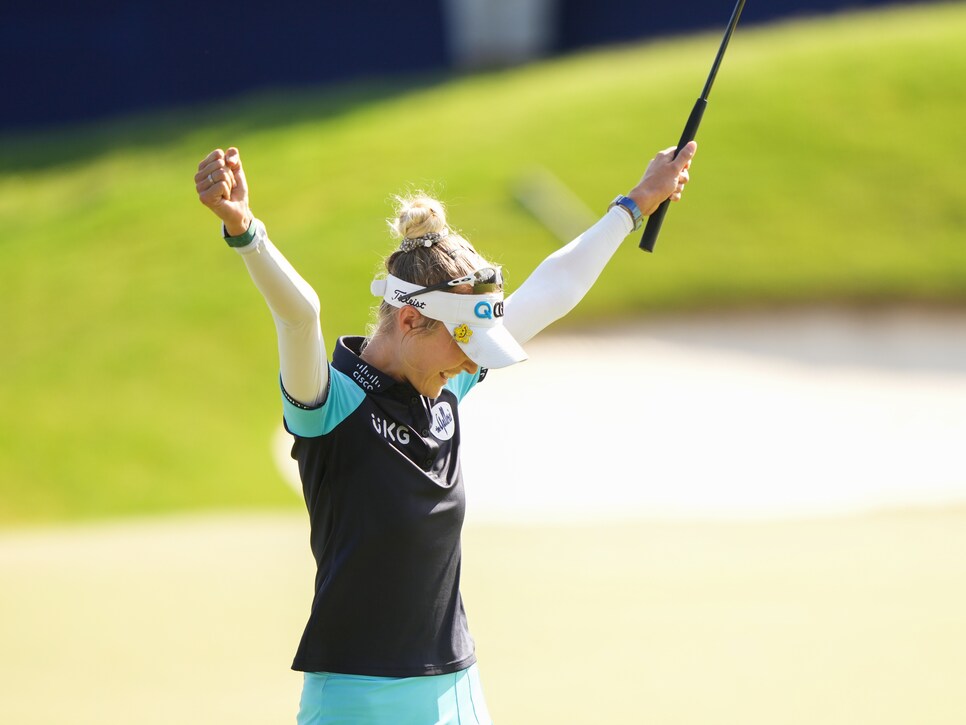 Nelly Korda celebrates winning the 2021 KPMG Women's Championship at the Atlanta Athletic Club.
Darren Carroll/PGA of America
The 2022 KPMG Women's PGA Championship announced on Tuesday that the purse for this week's LPGA major at Congressional Country Club has been doubled to $9 million. While this changes the payouts throughout the field, notably, the winner will receive $1.35 million. That's double what Nelly Korda earned when she won the tournament in 2021.
"When the PGA of America partnered with KPMG and the LPGA Tour in 2015, we promised to elevate this event by increasing the purse, conducting it at venues with a history of hosting men's major championships such as Congressional Country Club, and delivering broadcast network coverage with NBC Sports," Jim Richerson, president of the PGA of America, said in a statement. "As part of our shared commitment to support and showcase women's golf, we have delivered on those promises."
This isn't the first major to announce a huge purse increase on the LPGA Tour in 2022. In January, the USGA announced an increase from $5.5 million to $10 million for the U.S. Women's Open. The Chevron Championship, the first major of the year, also had a sizable increase, growing from $3 million to $5 million. The Amundi Evian Championship, which will be played in July, increased its purse from $4.5 million to $6.5 million.
These increases, along with others on the schedule, have made 2022 a record-breaking year for the LPGA: In 2022, the players on the LPGA Tour are playing for $97.1 million.