LIV Golf
Greg Norman fires back at Tiger Woods and Rory McIlroy, insists he's not leaving LIV Golf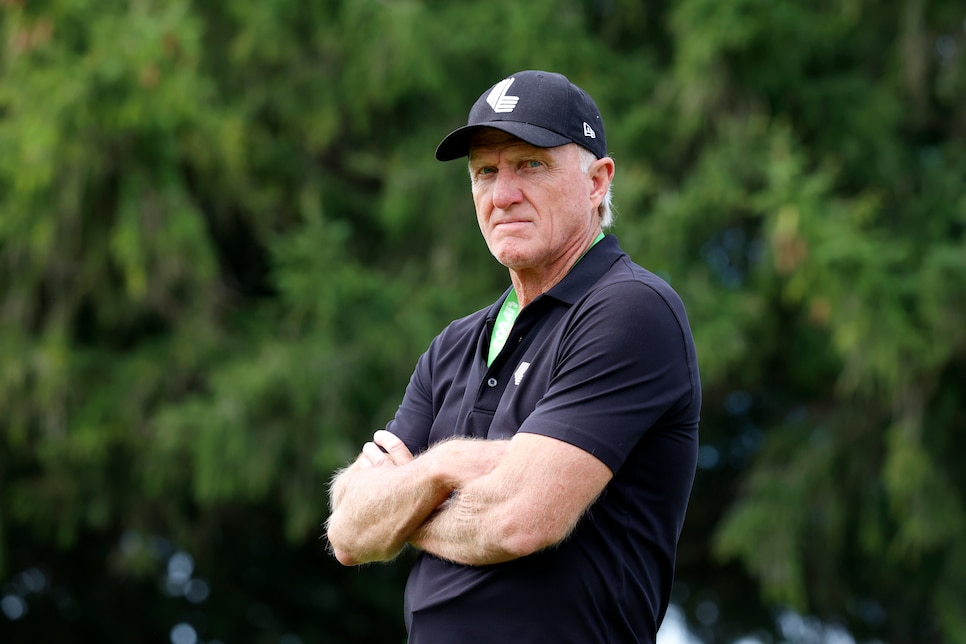 Greg Norman has heard the rumors about his potential ousting at LIV Golf. He's heard the shots from Tiger Woods and Rory McIlroy, too.
But in an interview with Today's Golfer, Norman insists he's not going anywhere.
"When the monopolist's territory is getting threatened, they're going to rear their ugly head up and do what they do," Norman said. "But from my whole perspective, I've always taken the high road this year. I will continue to take the high road because I believe in our business model. I believe in our people, I believe in the players' independent rights, and we've already seen a dramatic shift in our audience."
In a press conference at the Hero World Challenge, Woods asserted multiple times that for any potential peace in professional golf's ongoing schism, the first step involves Norman's departure. Woods said the two tours cannot co-exist right now, "not with their leadership, not with Greg there and his animosity towards the tour itself. I don't see that happening." Woods was parroting a point made by McIlroy two weeks earlier at the DP World Championship. "I think Greg needs to go," McIlroy said in Dubai. "I think he just needs to exit stage left. He's made his mark, but I think now is the right time to sort of say, look, you've got this thing off the ground but no one is going to talk unless there's an adult in the room that can actually try to mend fences. Then things can happen."
Yet, for his part, Norman claims those hopes are misfounded.
"I pay zero attention to McIlroy and Woods, right?," Norman said. "They have their agenda for whatever reason. They're saying whatever they want to say. It has no bearing or effect on me. I'm going to be with LIV for a long, long period of time."
Norman also addressed the ongoing rumor that his job is in jeopardy. Since July there have been rumblings that LIV Golf has circled former TaylorMade CEO Mark King as Norman's replacement. However, LIV Golf managing director Majed Al-Sorour issued a response in November stating Norman would remain with the Saudi-backed circuit. "Greg Norman is our CEO and Commissioner. Any suggestion that changes are being made to Greg's title or role is patently false," Al-Sorour said.
In his interview with Today's Golfer, Norman reiterated Al-Sorour's vote of confidence.
"I've got the support of our investors," Norman said. "Our ambitions going forward I can tell you are pretty significant and elevated from where we are in 2022," he said.
Since being named the CEO of LIV Golf last fall, Norman has made numerous speaking gaffes, including downplaying Washington Post Jamal Khashoggi's murder by Saudi Arabian authorities by saying, "We all make mistakes." His open letter threatening PGA Tour Commissioner Jay Monahan was widely ridiculed, and depending on the day, he vacillates between wanting to battle the PGA Tour over the fate of professional golf and wanting to work with them. Norman's also been prone to making grand promises regarding his league or player moves, and most of those promises have not come to fruition.
Conversely, in spite of his public failings, a number of LIV Golf members remain in Norman's corner, sources have told Golf Digest, believing Norman has provided them proper cover from backlash for joining an entity with numerous human-rights issues attached.
LIV Golf's inaugural season finished in October. Its 2023 schedule is expected to have 14 tournaments, although an official schedule has yet to be released.