PGA Tour vs. LIV Golf
Greg Norman says he was asked not to attend PGA Tour event he founded; event director said decision was mutual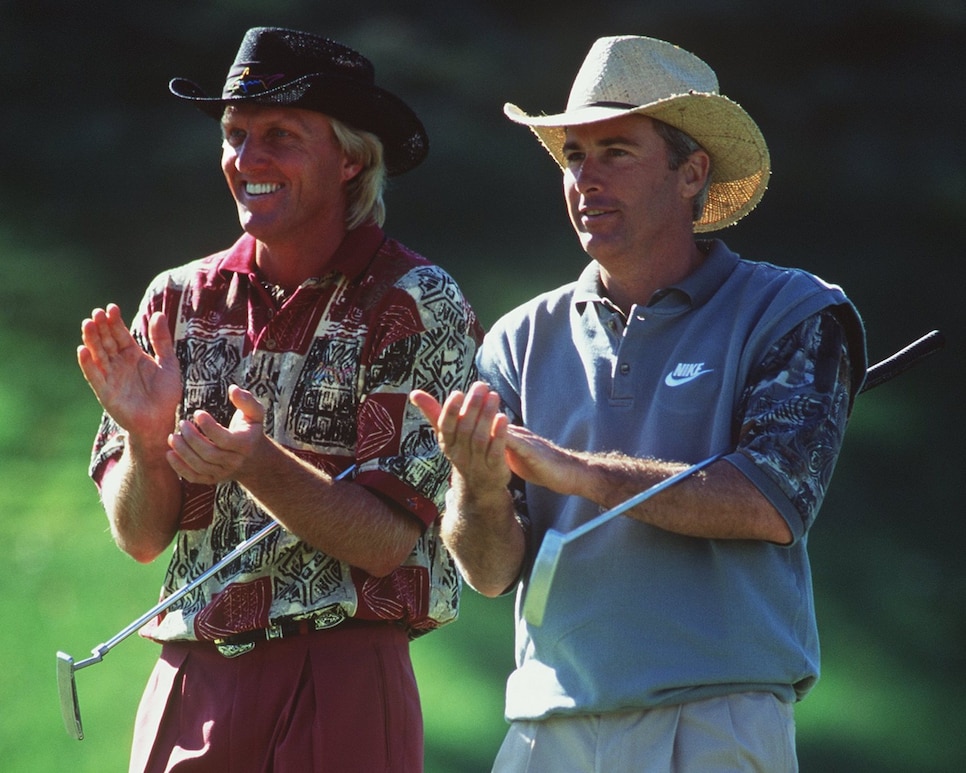 Greg Norman and Curtis Strange are shown during the 1994 Shark Shootout at Sherwood Country Club in California. The event eventually moved to Florida and became the QBE Shootout.
Gary Newkirk
CHARLOTTE — Despite creating the event more than 30 years ago, LIV Golf chief executive Greg Norman says he has been asked not to attend this year's QBE Shootout in Naples, Fla.
The two-time major winner and head of the Saudi Arabia-funded rival to the PGA Tour took to social media Tuesday with a lengthy post detailing that he won't be at the two-player team tournament, slated for Dec. 7-11 at Tiburon Golf Club.
Norman, 67, did not specify who asked him to skip the event, formerly known as the Shark Shootout, which he created in 1989. The PGA Tour, which includes it on its schedule as an unofficial tournament, did not immediately respond to comment when contacted on Tuesday.
"Sadly, after 33 consecutive years of playing in and hosting every Shootout tournament—a co-sanctioned PGA Tour event—since I founded it in 1989, this year I have been asked not to attend," Norman wrote in an Instagram post.
PGA Tour players who defect to LIV Golf trigger a ban as soon as they compete in a LIV event.
"In some people's mind this is too disruptive and evolution is perceived as a bad thing," Norman wrote. "Change is good. Evolution and innovation of the professional golf product has been needed for decades—just ask the next generation of golf fans."
QBE Shootout tournament director Rob Hartman told the Naples Daily News that the decision for Norman not to attend was mutual. "As we got close, ultimately the decision was made that he was going to step back and really let the focus remain on our tremendous charitable partners," Hartman said. "When he started this event 34 years ago, it was all about charity then, and it's all about charity now. Greg just made the decision that he didn't want anything to distract from that."