Chanticleer Nation
Quarterback Grayson McCall announces return to Coastal Carolina with greatest quote in the history of organized sport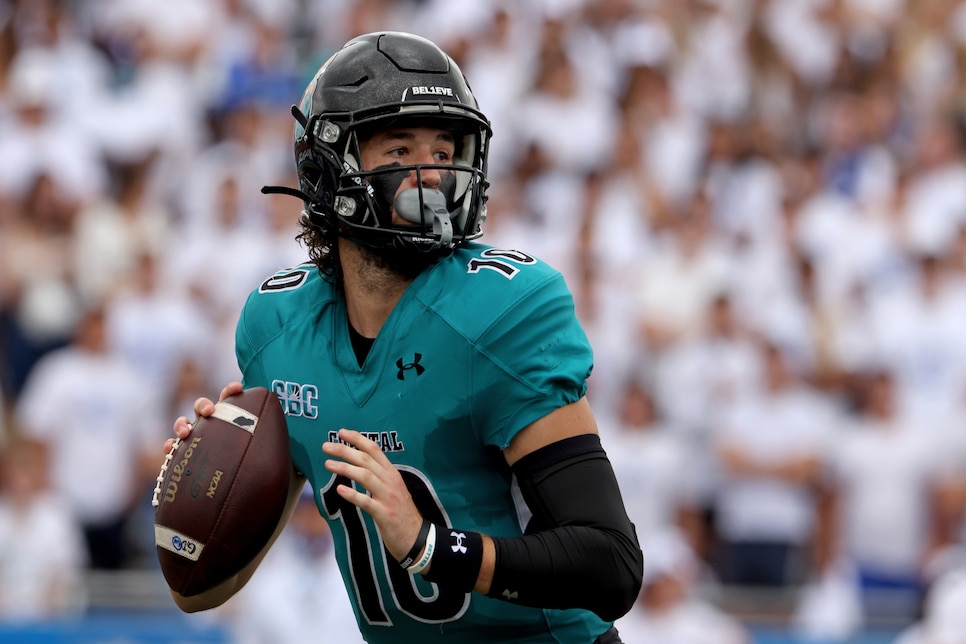 Forget the Tigers, forget the Gamecocks. This year, college football in South Carolina was ruled by the Chanticleers. For the second season running, Coastal Carolina posted 11 wins, capping 2021 with a shootout dubya over Northern Illinois in the Cure Bowl on Friday. Head coach Jamey Chadwell is quietly building a giant killer in the Jersey Shore of the South, and it wouldn't have been possible without quarterback Grayson McCall, who has thrown 54 touchdowns to just six interceptions in his two seasons as starter.
After setting the single-season FBS passer efficiency record in 2021, draft experts had McCall going anywhere from the 4th round to the end of the 1st, with many saying he has the necessary tools to become a late riser like Zach Wilson, but could use another year to hone them. Now it appears he'll be doing exactly that, announcing that he'll be Chanticleer for his junior year in the most incredible way imaginable on Tuesday.
That's McCall's full statement, but keep your eyes peeled for the kicker right at the end …
You just cannot announce that you're going back to school in a more electric fashion. Do not pass go. Do not collect $200. It can't be done. Imagine deciding to go get your MBA and being like "I piss business." Ain't gonna happen.
The draft gurus might have concerns about McCall's deep-ball accuracy and ability to read the game (stop us if you've heard those boilerplate quibbles before), but with quotes like this, there's absolutely no question about McCall's ability to lead a locker room. He'll be like Gardner Minshew only good—Dan Campbell but sane. If the Dolphins are indeed moving on from Tua (or the Jags from Lawrence—just wait, that narrative is just seconds from its immaculate conception), they could do a hell of a lot worse than a kid who pisses teal.