News
Playing with your job on the line, Paula Creamer's career restart and a Walker Cup selection stumble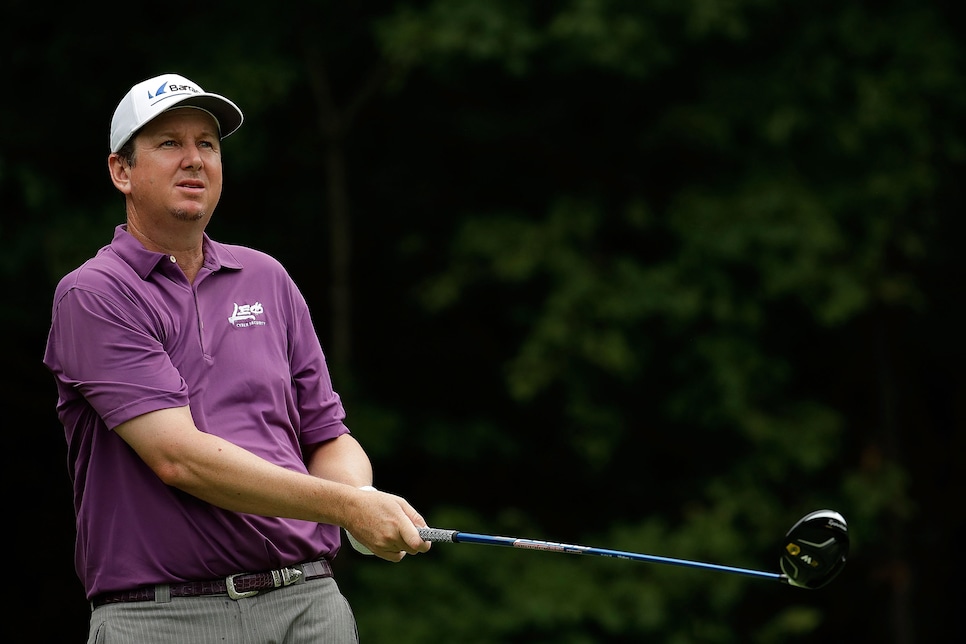 There was a giddiness to J.J. Henry's voice on Monday night. "Glad to be in the state of New York!" he yelped over the phone, his spot in the PGA Tour's first FedEx Cup Playoff event, The Northern Trust out on Long Island, secure. "Livin' on the edge. I couldn't sleep last night. I was wired."
Henry is a three-time winner on the PGA Tour and played in a Ryder Cup. This wasn't far off when it came to the high the 42-year-old was feeling after birdieing two of his last three holes at the Wyndham Championship to sneak into the Playoffs on the number, Mr. 125.
"It's a huge monkey off back," Henry said. "I've been thinking about it for months. I never wanted to be in this position, but it's nice to know when I had to play my ass off with no margin for error that I did it.
"It's a whole different scenario playing for your job."
In truth, Henry, given the upcoming Web.com Finals not to mention his veteran status, would have likely gotten plenty of starts next year on the PGA Tour. He knew it, and that helped ease some of the tension.
But there was deep-seeded pride at stake.
Far more often than not golf is about grinding it out than it is about winning. Even Tiger Woods at the height of his career won only about 35 percent of the time.
One of the accomplishments Henry, who grew up in that golf, ahem, hotbed of Connecticut, is most proud of is that he had never lost his card in 16 straight seasons on tour.
Then came last week's Wyndham Championship, where he needed a good finish to lock it up for another year. Henry led the field in driving accuracy and greens in regulation, and his putter finally cooperated enough, too. Henry's tie for 16th was just enough.
"I never felt like the game passed me by because of my length and ball-striking, but no question it has changed. It's much more of a power game," he said, noting all the 20-somethings who have won this year. "It's a totally different game now.
"I'd like to think I can still play, but it does become a struggle mentally and physically. I'm not 25 years old anymore. I've got two kids and a wife at home. It feels more like a job than it did at 25."
And most of the time that job is finding a way to play a tournament within the tournament, week after week, month after month, year after year.
INKSTER'S SOLHEIM BET PAYS OFF
When Juli Inkster picked Paula Creamer to replace an injured Jessica Korda on the U.S. Solheim Cup roster, it raised a few eyebrows. Though Creamer had finished T-13 and T-16 in her last two starts, the 31-year-old had also missed the cut in seven of 16 starts this year and plummeted to 112th in the Rolex Rankings.
When asked why Creamer was left off the initial roster, Inkster said she hadn't seen a lot of good form lately. Now here she was on the team set to play at Des Moines Golf & Country Club.
Stuart Franklin/Getty Images
Inkster's pick was a calculated one, given Creamer had been a stalwart on previous teams. And the risk was rewarded when Creamer went posted a 3-1-0 record last week as the U.S. won overall in a blowout.
"For her to play me four times as an alternate, it means that she believes in me," Creamer said. "And I'm so glad that I came out and played my game, didn't let any other noise bother me. And I just have had such a great week. It's been awesome."
It could lead to something else—a turnaround for the former U.S. Women's Open champion who ranked as high as No. 2 in the world at one time.
In 2009, Greg Norman used one of his captain's picks for the Presidents Cup on a struggling Adam Scott, who had missed the cut in 10 of 18 starts that year and ranked 159th in driving accuracy, 165th in greens in regulation and 189th in putting. Scott, also a veteran presence on the team, was an abysmal 1-4 at Harding Park and the International team got thumped by five points. So much for that idea.
Still, the faith that Norman showed meant a lot to his fellow Aussie, and the following year, Scott won once each on the PGA and European tours. By 2014, he was the No. 1 player in the world.
"You go through peaks and valleys in your game and I'm definitely—I'm beyond motivated," Creamer said. "I want to win. I want to be in contention.   "All the hard work that we're doing is paying off. And we're going to continue to do that because I want to be back in there. I really do. So hopefully this will jump-start it."
ANOTHER ANXIOUS SEASON-FINALE AWAITS
While the FedEx Cup Playoffs kick off at Glen Oaks on Long Island this week, another end-of-season drama will be playing out across the country at Pumpkin Ridge in Oregon. This week marks the final regular-season event on the Web.com Tour.
The top 25 on the money list following the event get PGA Tour cards for 2017-'18, with Nos. 26-75 moving on to the four-tournament Web.com Finals, where another 25 cards will be doled out.
It will be every bit as pressure filled as last week's Wyndham Championship, if not more so given that most of these guys are truly playing for a place to play next year.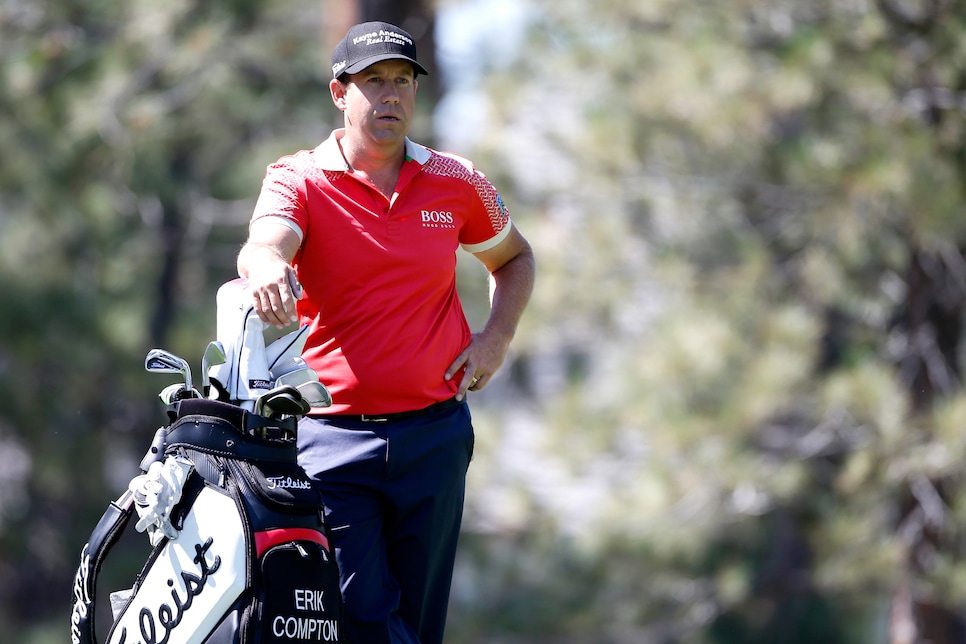 Todd Warshaw/Getty Images
Among the more notable names on the outside looking in going into the event: Robert Allenby, who is 108th on the money list, and Erik Compton, who is 101st.
It was just three years ago that Compton finished second in the U.S. Open at Pinehurst. Now, the two-time heart transplant recipient is faced with playing for his literal future.
THREE THINGS I THINK I THINK
I think the U.S. Walker Cup selection process is clearly flawed when the top collegiate player in the country, Sam Burns, who also tied for sixth in a PGA Tour event just last month, isn't on the team. It's not the first time the super-secretive selection committee has snubbed a seemingly deserving player, nor will it be the last. Granted, team selection aren't an easy process. But if you're the top college player with a resume that screams of being one of the best amateurs in the world, and you stay an amateur in order to be a part of an otherwise terrific premier amateur event, you have to ask yourself why bother when it's possible you won't get picked anyway. …
I think last week will go down as one of the best of the year from a competitive golf standpoint. From an incredibly high level of play at the Solheim Cup, to the final day of the regular season drama at the Wyndham, to a thrilling U.S. Amateur that saw Doc Redman rally from 2 down with two to go to win, it was an incredibly few days for the game across the board. …
I think if I'm the powers that be, I figure out a way to convince Juli Inkster to captain the Americans for a third time in 2019. With all due respect to candidates in the wings, Inkster is simply the best person for the job.
Rory McIlroy has won four Playoffs titles in his career, which is more than any other player. There's also the old adage of beware the injured golfer, or something like that. And yet, his wedge game and putting aren't sharp enough for my taste. Keegan Bradley, meanwhile, is the only player really familiar with the new venue, Glen Oaks, though it has been modified significantly since his days playing it while at St. John's. Hideki Matsuyama enters the Playoffs atop the points list but he surprisingly has never won a Playoffs event in 12 tries. Justin Thomas? He was wiped out from the aftermath of his PGA victory. All of this is just a longwinded way of me getting to Charley Hoffman, who has six top-five finishes, including a pair of runner-up finishes, in the last six months. The only thing missing is a win. He'll get it this week.