The Loop
Erik Compton's drug regimen, poor play has him considering 'packing it in'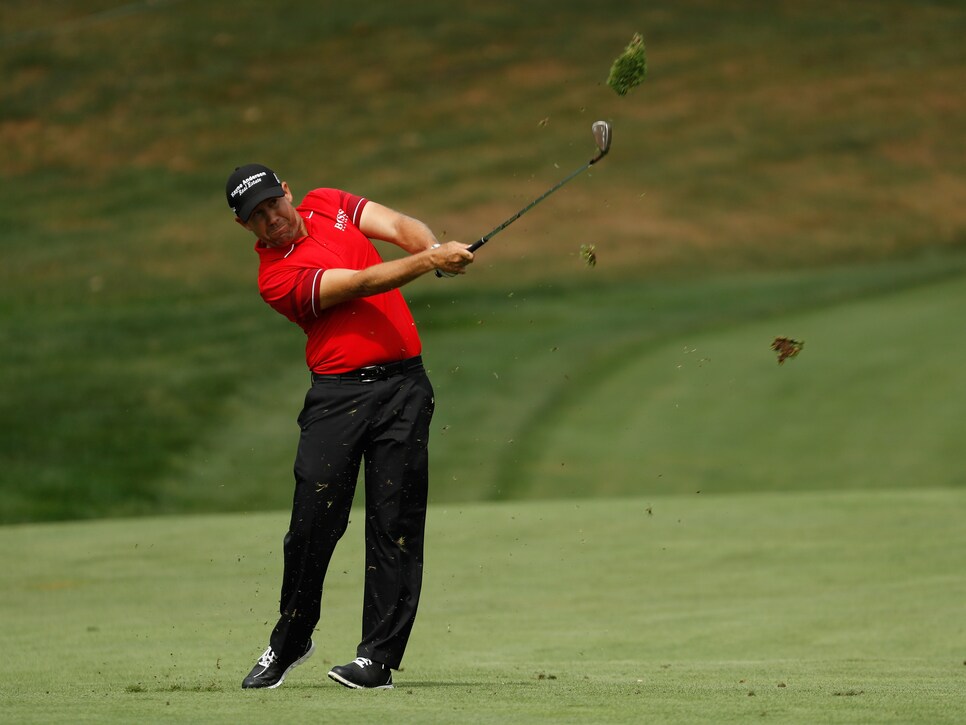 COLUMBUS, Ohio – Ten pills, twice daily.
Be they risks or raw numbers, calories or calisthenics, golfers are consumed with processing calculations. Erik Compton is no different, except he must account for the prescription regimen that helps keep him alive but is killing his golf game.
And it's crushing his desire to keep playing, too.
The double heart transplant recipient who has been an inspiration to millions is contemplating his next moves after losing his PGA Tour card this year. He suffered a disappointing finish two weeks ago in the Nationwide Children's Championship at Ohio State University Golf Club and then saw his hopes of moving into the top 25 in the Web.com Tour Finals washed out when the Web.com Tour Championship at Atlantic Beach Country Club was canceled due to Hurricane Matthew.
Of course, Compton, 36, had a chance to secure his spot at OSU's Scarlet Course, but after beginning the final round joint sixth, he shot a closing three-over 74 that dropped him to T-24 at four-under 280. A Miami resident, Compton literally had to weather a double whammy from Matthew, the second being that he was relegated to finishing 48th in playoff earnings, well outside the qualifying domain.
As he wrote on Twitter: "Hurricane Andrew 1992 took our house, But introduced me to golf. Hurricane Matthew took the web finals.+Card. After 5 year run. Life goes on."
The disappointing finish at OSU continued an inglorious run for the courageous golfer who has overcome a litany of serious health challenges to compete on the tour. Compton failed to record a top-25 finish in the regular season and made just 10 cuts in 24 starts to finish 173rd in the FedEx Cup standings. He struggled with a putter that was causing as much pain as the recurring episodes of gout in his feet, but he didn't want to make any excuses as he left the Scarlet Course September 25.
After quickly signing his scorecard, Compton marched briskly to his rental car lamenting his inability to complete 72 holes efficiently.
"I'm thinking about packing it in. I just can't get it done," said Compton, composed but clearly angry with himself to the point of wondering aloud within earshot of his caddie Carlos Velez if his bag toter might consider firing him. (Velez shook his head, no.) "I've done this too many times. I can't get it done. If you can't get it done out here, you can't get it done on the [regular] tour. I'm a three-round player now.
"I'm not going to learn anything out here at my age. The only thing I'm going to learn is how to be away from the family with a short life span. I've been through the ringer enough, and I can't seem to find a way to get out of it."
The last two years have been difficult for Compton after he appeared to turn the corner in his career with a T-2 finish at the U.S. Open at Pinehurst No. 2. However, just weeks after his inspiring performance, Compton received some sobering news from his doctor.
"I had a series of tests and they found some progression of rejection that was leading to complications, closing of the arteries, so they put me on some medications that are doing the job," Compton explained. "But I have to take other pills to counteract the side effects of those pills, so I've been over-medicated for some time now. It has taken a toll on other things in my body, and it's taken a toll on my game."
Two years ago at Pinehurst, Compton was choking back tears after tying Rickie Fowler for second place behind runaway winner Martin Kaymer. It's ironic that his frustrations boiled over here in Central Ohio; he emerged from a playoff in U.S. Open sectional qualifying at nearby Brookside G&CC to capture the final berth for Pinehurst despite being sapped by allergies and playing 38 holes that day.
Compton received his first heart transplant at age 12 and his second at 28 after driving himself to the hospital while having a heart attack. He was scheduled to undergo an examination last week at home in Miami to discuss with his doctor a different drug protocol. The side effects are one thing, but the number of pills also is having an adverse effect on his liver and kidneys.  As a result, he has been fatigued for much of the year.
Illness even thwarted him when he wasn't hurt. At the John Deere Classic he was disqualified for missing the pro-am. Compton was the second alternate and had not played in a pro-am all season, but two players withdrew for health reasons. Compton was in Detroit when he learned he had moved up the list and missed the tee time.
"It's been a tough year. It's been a weird year," said Compton, who was trying to not make excuses for his poor play. "I've been able to play at a high level with a lot of different adversities. This is just another challenge, but the last two years have been a little different, a few more issues. I just haven't felt like the same player this year. Even when I've felt OK I haven't played well. It's just been very hard.
"I'm a golfer with issues, but I don't want those issues to overshadow the fact that I can play. There are a lot of guys out here with things they have to deal with. I'm really not that special, though my situation is a bit more severe. I need to get back to playing well. Making excuses is something that … I can't stand that."
More difficult to countenance are the types of mistakes he perpetrated on Sunday at OSU Scarlet. His opening tee shot veered left onto the driving range and out of bounds for a double bogey, and he absorbed another double at the par-3 17th when he chunked his tee shot 100 yards into a pond.
"It's ridiculous. I'm doing stuff that isn't possible … or shouldn't be," he said morosely. "It's hard to be patient, and I haven't had the best attitude about it, either."
Even as he recognized that a visit to his physician this week could help him turn a corner, Compton couldn't prevent his frustrations from bubbling over as he departed. Life is too short, and in Compton's case, that is not some insipid bromide but a medical certainty; heart transplant recipients survive an average of 15 years.
"I can make more money being a motivational speaker or something. I am just done with this game," Compton said, appearing to mean it, though he wasn't ruling out seeking opportunities in Europe to supplement wherever he can muster in exemptions on the PGA Tour when the new season begins next Thursday. "I really have to decide how much longer I want to do this when I look at my situation. It's pretty depressing. I can't get it done. It's all I can say, but I can't help it. I just can't get it done."
And there's no pill for that.