From the Archive
Golf World: Los Angeles Country Club puts premium on privacy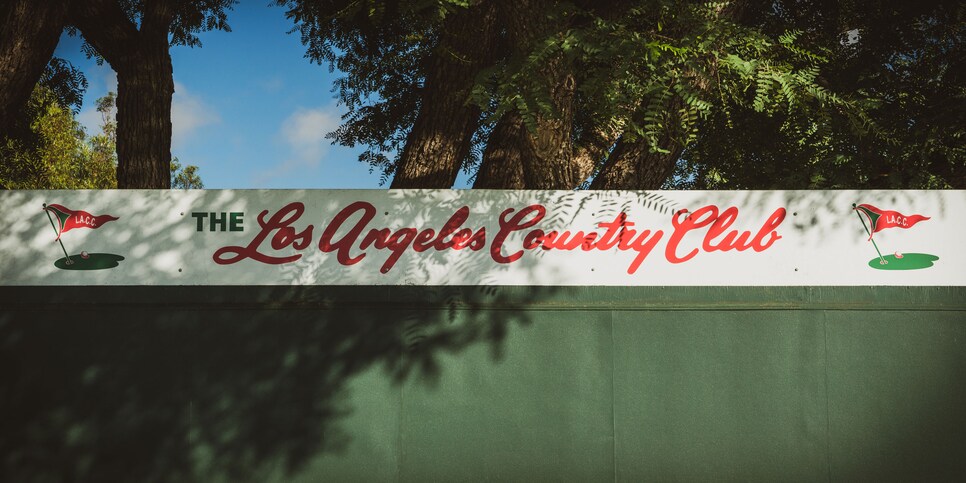 EDITOR'S NOTE: This story first ran in in Golf Digest's then sister publication, Golf World, in April 2004.
They don't put out the welcome mat at the Los Angeles CC, concerned as they are that someone might take it literally. We're not welcome there. Even the USGA can't get through the door.
It is an intensely private club, one whose assiduous pursuit of a low profile is foiled by its 325 acres smack in the middle of Beverly Hills, its land value alone once appraised at upwards of $3 billion. Moreover, how does the club avoid attention when the material it unwittingly provides is so rich?
Have you heard the Esther Williams story? Until the rule was rescinded only a few years ago, women at LACC were required to wear dresses or skirts, on or off the golf course. For a charity dinner at the club one evening, the aquatics movie star arrived elegantly attired in black, including a pair of designer silk pants. She was met at the door and informed that she would not be allowed in with pants, but she was welcome to change into one of the skirts the club kept on hand for guests unaware of its rules.
No, thank you, the evening's guest of honor said tersely, as she abruptly turned and left.
Time erodes the tightest of seals, even those imposed by a famously stubborn private club founded in 1899. The portrait that has emerged from the methodical seepage of historical snippets is that of a place that by turns has been amusingly quirky and disturbingly exclusive, once rejecting Jews and blacks and apparently still unwilling to embrace entertainers.
The wake of another Masters evokes a timely comparison to Augusta National GC, which is more exclusive but not as private. At least Hootie Johnson grants the occasional interview. "We're a terrifically private club, as you can imagine," says LACC general manager Kirk Reese, while politely declining an interview request.
It is so private, in fact, that enlightenment has had trouble getting past the guarded gates: The club didn't add Jewish and African-American members until the 1990s, and it did not always handle those tenuous first steps into the 20th century gracefully. Shortly after Gene Washington, a former football star for Stanford and the San Francisco 49ers, integrated the club in 1991, another African-American, there as a guest, was practicing his putting when he was approached by a member. "Welcome, Mr. Washington," the member said.
As for entertainers, the irony is that it has never needed vaudevillians to fend off boredom. LACC has been unerringly entertaining in its own right, however clumsily it danced to its own drumbeat.
Is there another club in America whose history evokes names as diverse as Ronald Reagan and Charles Manson? The former president is a member (executive privilege superseding his Screen Actors Guild affiliation). The mass murderer is not a member, but he knows one, the Honorable Charles Older, the presiding judge in Manson's murder trial and the man who sentenced him to death.
Judge Older was the club president in 1982, the last time Los Angeles CC considered accepting the USGA's offer to bring the U.S. Open to its renowned North Course. The North Course is a George Thomas design from the 1920s that is widely regarded as one of the finest in the world, one Jack Nicklaus once ranked in his top 10. The USGA persistently attempted to persuade the membership to host the Open, and this time it came down to a single vote on whether to accept the 1986 national championship invitation.
Older cast one of four votes in favor. Five were opposed. Or so the story goes.
"I don't think I want to talk about that," Older said on the phone from his home near the club.
The curtains remain tightly drawn at LACC, even as it no longer has anything to hide other than a part of its past. "[It was] the most exclusive gentile club in California," says Los Angeles native Bud Bradley, who won the last USGA event ever played there, the 1954 U.S. Junior Amateur.
An apocryphal story touches on the peccadilloes that helped shape the Los Angeles club scene. Frank Rosenberg, an oil baron from Texas, was denied membership at LACC because of his last name. So he went to Hillcrest CC, which was founded by Jews who were unable to join LACC. After inexplicably announcing that he wasn't Jewish, his last name notwithstanding, he was rejected there, too.
"Well, I'm a son of a bitch," Rosenberg said in frustration. "If you can prove that," a Hillcrest member said, "you can get into Riviera."
LACC was not always so restrictive. Its written history contains this exchange between Joseph Sartori, who was club president from 1912-1946, and a prospective member.
"Do you play golf?" Sartori asked.
"Yes, sir," the man replied.
"You'll do," Sartori said.
The club history predictably has no mention of its aversion to Jews, which generally is regarded as the root of its prohibition against entertainers, many of whom were Jewish.
Among them was Groucho Marx, whose denial for membership prompted his legendary rejoinder, "Why would I want to belong to a club that would have me as a member?"
Bing Crosby's home on Mapleton Drive backed up to the 14th fairway of the North Course. Crosby was an inveterate golfer who once played in the U.S. Amateur. "Dad was dying to get in the club," says Crosby's son, Nathaniel, who lived in the house the first few years of his life. Crooners, Der Bingle learned, need not apply, either. Crosby played his Los Angeles golf at Lakeside CC instead.
"It was a peculiar syndrome," says former USGA president Sandy Tatum, whose father was a member. "If anybody was ripe for membership it was Bing Crosby. What an asset he would have been."
The club took its Hollywood blacklist so seriously that when a member once nominated an actor for membership, not only was the actor rejected, but his sponsor's membership also was revoked. The club was not amused, either, when actor Victor Mature employed self-deprecating humor in his bid to join. Told that no actors were allowed, Mature argued, "I'm no actor, and I've got 27 pictures that prove it." You may have guessed already: No comedians need apply, either.
Only silver screen cowboy Randolph Scott successfully maneuvered his way through the restrictions, by upgrading his familial pedigree; he married du Pont heiress Marion du Pont Somerville.
Hypocrisy was not on the club's banned list. Former Bel-Air CC pro Eddie Merrins, a longtime observer of the Los Angeles golf scene, notes that the late Walter O'Malley, the owner of the Dodgers and the man who moved the team from Brooklyn, was among the club's most popular members. "If his was not the entertainment business," Merrins says, "I don't know what it was."
Sports broadcaster Keith Jackson also is a member. So are erstwhile quarterback Pat Haden and his favorite receiver, John McKay Jr., a starring passing combination in high school and later at the University of Southern California. Even Fred Couples is a member. All represent industries that provide entertainment, though more than hypocrisy their memberships reflect a club in transition.
LACC no longer orders its starch by the barrel. An influx of younger families has softened some of its hard lines, bringing generational changes to a club at which only formal dining once was available—coats and ties for the men, dresses for the women. The club now offers informal dining as well. Even the men's grill was unable to avoid the onset of the 21st century; it is now a mixed grill.
The grill is a part of a nondescript clubhouse that is painted white and lacks the ostentation of the neighborhoods surrounding it. Flamboyance is antithetical to the low profile the club strives for, even though Wilshire Boulevard bisects the property, separating the North Course from the South. But the gaudiness on Wilshire doesn't spill over.
LACC historically has been more of a social club than a golf club. Even with about 1,600 members, no tee times are necessary; by some estimates only a fourth of the members ever play, though the number is said to be rising as a result of the infusion of youth. Lee Davis, who has won the club championship 19 times, recalls a bygone group of members who were not atypical, several men who preferred consuming gin to playing it all afternoon, every afternoon. "They never went on the course," he says.
It might not have been akin to wiling away days in the Sistine Chapel and never looking up, but it was close. In its most recent rankings of America's 100 Greatest Golf Courses, Golf Digest rated the North Course No. 27. It is part of a George Thomas gallery of Los Angeles masterpieces that include Riviera and Bel-Air and form his architectural legacy.
Yet the club has never hosted the U.S. Open, nor even the Amateur, though the latter originally was scheduled to be played there in 1956. The U.S. Junior Amateur in '54 was to have been a prelude until two Los Angeles kids, Bradley and Al Geiberger, met in the final (won by Bradley, 3 and 1), a match that attracted 3,500 outsiders onto the premises, horrifying a membership that reflexively recoiled at mingling with the proletariat. Its protestations resulted in the club reneging on its offer to host the Amateur.
Still, there were those who doggedly pursued uniting the U.S. Open and Los Angeles North. Among them was Tatum, a 1942 NCAA champion at Stanford, who was weaned on the course. In the early '80s, Tatum attempted to use his influence as a past president of the USGA to persuade the membership to acquiesce. An ally was Judge Older, who Merrins says envisioned the Open as "a big lawn party, with the public invited in, so they could see that the members of the club weren't so bad after all."
Self-esteem is a tough sell to well-heeled members who already have a surfeit of it, and Tatum's efforts failed -- one of the few times (if not the only time) in USGA history an Open overture was rejected. "Generally you knew whether or not they were going to accept," says former USGA executive director Frank Hannigan, who was unable to recall another instance of rejection.
"I find it so regrettable," Tatum says. "Just once I would have liked to have had the Open experience that course. It was an absolute marvelous test of golf." Tatum speculates that ultimately the club was unable to reconcile with the scrutiny the '86 Open would have engendered, this being five years before Shoal Creek. Shinnecock Hills GC eventually hosted the '86 Open, an event that allowed the classic course to be rediscovered and become a regular on the Open rota -- although Shinnecock had been on the USGA's radar anyway.
Eventually, LACC capitulated on its strident exclusivity -- what some might call its biases -- and the gradual metamorphosis suggests a quest that perished more than 20 years ago might be resurrected. "I'd like to have the club host the U.S. Open," says Haden who, even at 51, is representative of the club's younger faction. "There is a mixed view in the membership, but I don't think it's totally out of the question any more." As for the 6,909-yard North course, Couples says, "With some new tees and some U.S. Open rough, I guess they could do it."
Judge Older may have been prescient, in fact. Inviting the public inside for a week might help rehabilitate the image of a club that is still defined not by its world-class golf course, but by its past. Even in Beverly Hills, there isn't enough closet space to hide the skeletal remains of discrimination. The club "now has several blacks and Jews," a former employee says, leaving only the entertainment industry on the outside looking in. As a stand-alone bias, it is an amusing quirk, charming even, but in the context of the club's historical discrimination, it contributes to an unconcealable scar.
Only a year ago actor, comedian and social commentator Ben Stein wrote in his E-Online column of his distress when he was told that his interest in joining LACC might be for naught, not because he is Jewish but because he is an entertainer. "Show biz equals Untermenschen," he wrote, invoking a popular word from the Third Reich, one that translates to subhuman.
Show business' revenge is that it came to dominate the minutiae shaping the more palatable part of the club's persona. Scenes from the film "High Society" were shot just off the 14th tee. The Crosby home eventually gave way to the 56,000-square-foot eyesore that television producer Aaron Spelling had built as his home.
And backing up the 13th green is the Playboy Mansion. Hugh Hefner was said to have once asked the club for permission to install a gate that would have linked his property to the club, and as an inducement, he offered the occasional appearance of a Playboy Bunny.
The club declined, perhaps from a fear that such occasions might furrow too many of its high brows. Hef eventually opted for a different kind of animal. He built a sanctuary for exotic birds, whose persistent squawking became an earache, as well as a penance, for a club that once rejected Bing Crosby and his dulcet tones.