John Feinstein
Golf will be fine, with or without Tiger Woods hitting another shot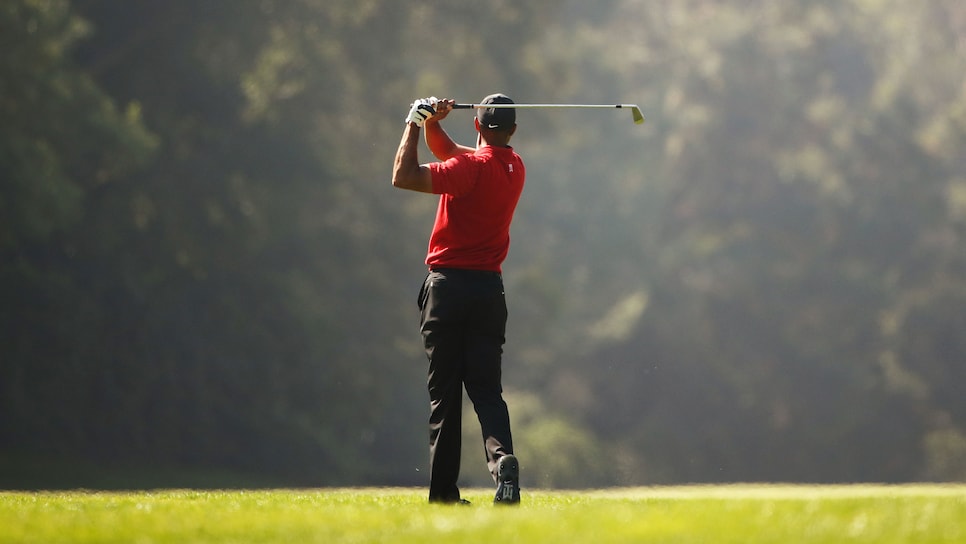 Photo By: Katelyn Mulcahy
The media frenzy surrounding Tiger Woods' terrifying accident on the morning of Feb. 23 wasn't surprising. Woods is one of a handful of iconic athletes on the planet who have transcended their sport. Think Michael Jordan, LeBron James, Tom Brady, Serena Williams. Soccer fans might insist Lionel Messi or Cristiano Ronaldo belong on the list, and tennis fans will want to add Roger Federer, Rafael Nadal and Novak Djokovic. I would say not quite, but that's not the point here.
Woods' accident became the news headline around the world that day. And, as soon as it became apparent his injuries weren't life-threatening, the speculation began. If I had a dollar for every time I was asked in the last week if I thought Woods would play competitive golf again, I wouldn't be writing this column. I'd be retired on the money I'd made.
Here's the answer to the question: Not only do I not know, not only do all the orthopedic surgeons being quoted based on past experiences with other patients not know, but the doctors who operated on Woods don't know.
And, as Rory McIlroy, frequently the voice of reason in golf, pointed out on Wednesday: It doesn't matter. What matters is whether Woods can walk again without a limp and live a normal life. If he can play golf for fun, that's a bonus. If he can come back to play competitively, that's a mega-bonus.
Of course, a natural follow-up question surfaced: What happens to the overall health of golf if Woods doesn't return? And here a contingent of observers voicing fears that the sport is about to face ruin, also not surprisingly, got a little bit over the top with their concerns.
Arnold Palmer, the most important player in the history of golf, retired and the game went on. Jack Nicklaus, arguably the greatest player in the history of golf, retired and the game went on. Woods, arguably the most iconic glass-ceiling breaker in the history of golf, didn't play or was a non-factor in golf for several years, and the game went on.
Woods will retire someday. It might be now because of the accident, or it might be in 15 years after he adds a dozen senior titles to the 15 majors he's already won. Either way, the game will miss him. Either way, his legacy is absolutely secure. Which is why I don't understand why people are wailing about how difficult it will be for "golf to go on."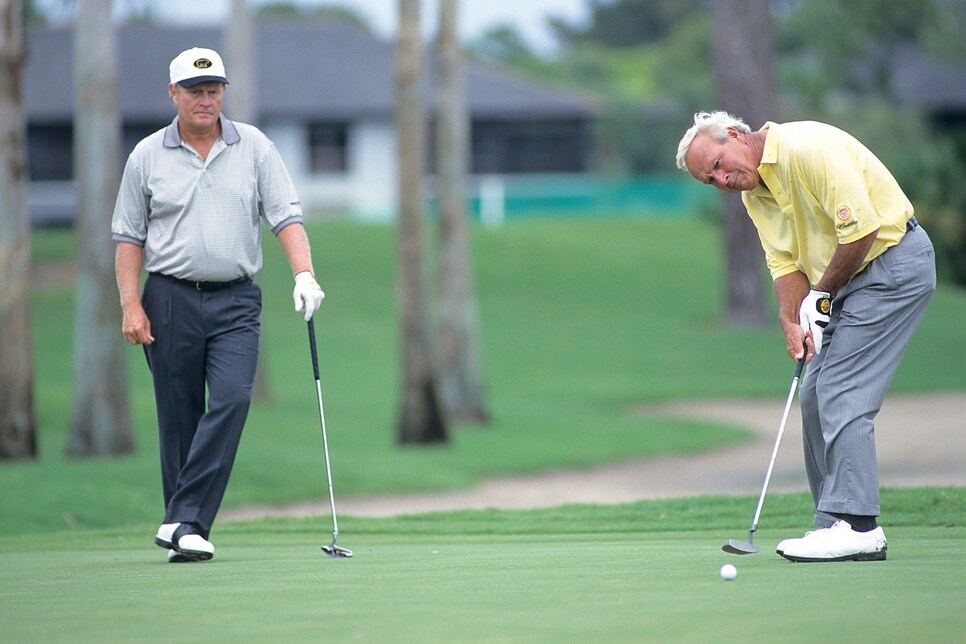 Golf has seen legends Jack Nicklaus and Arnold Palmer age on to the senior tour and eventual retire and yet the sport moved forward and continued to thrive and grow.
Montana Pritchard/PGA of America
There were actually stories this past week that wondered how players would be able to tee it up on Thursday for the WGC-Workday Championship at The Concession. Seriously? Let's make this clear: Frightening as it was, Woods did not die. In fact, according to the police, although he was very lucky, his life was never in any real danger.
What's more, athletes often compete in the wake of sad events. Why? Because it's what they do. In many cases, competing is actually cathartic for them. Brett Favre threw for 399 yards and four touchdowns to lead the Green Bay Packers to a 41-7 win over the Oakland Raiders the day after his father died in 2003. NBA players all went back to work in the wake of Kobe Bryant's death in January 2020. One game was postponed—the Lakers next game. Everyone else played.
There are plenty of other examples. Players play. It's what they do.
There is no question that Woods has fascinated people—for reasons both good and bad—in ways that no other golfer fascinates. On the golf course, there was a time when he could do no wrong. And then there was a time, when his back injuries surfaced, where he could do no right. Remember the day his glutes didn't fire? The time when he had as many mid-round walk-offs as wins?
Were ratings affected by his absence from leader boards? Sure. But McIlroy won four majors during that stretch and Brooks Koepka won four more. Jordan Spieth won three before his 24th birthday and was, in his own way, almost as popular as Woods. When Spieth came out of his deep slump a few weeks ago to finish T-4 in Phoenix and third at Pebble Beach, the TV networks seemed pained to even mention the players who won those tournaments (Koepka and Daniel Berger).
A handful of players inspire that kind of reaction. In 1975, Gary Groh won the Hawaiian Open, his only PGA Tour victory. Arnold Palmer finished third after being tied for the lead after 54 holes. Bob Green, the long-time golf writer for the Associated Press, wrote this as his lead: "Arnie lost again."
Several years later, I asked Groh about that lead. He shrugged. "I won $44,000 that day," he said. "It probably wouldn't have been half that if not for Arnie."
A similar case can be made for Woods, which is one reason today's players have so much respect for him.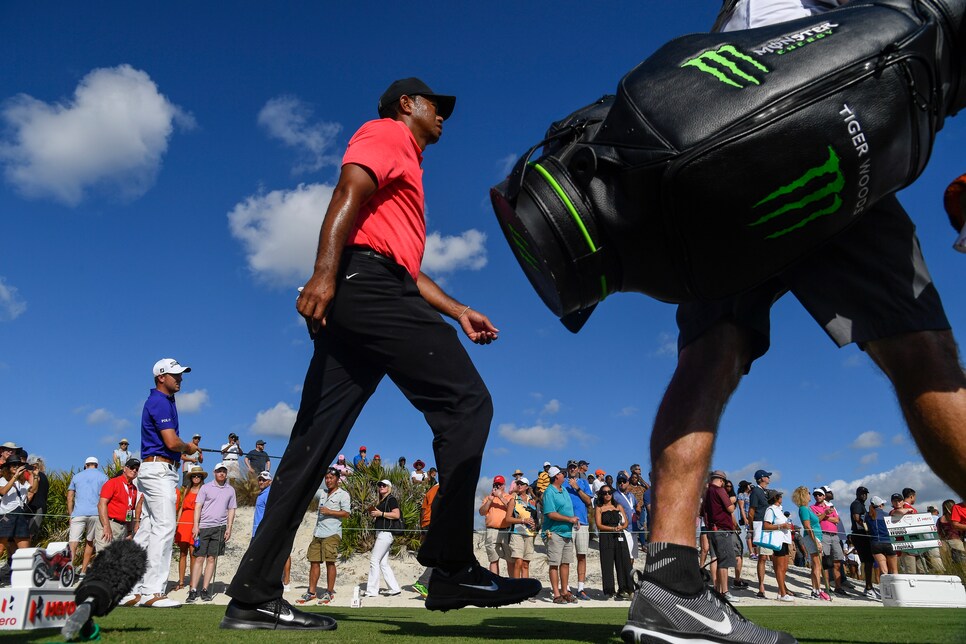 No matter whether Tiger has hit his last shot on the PGA Tour not, his legacy is complete and his place in the game secure.
Ryan Young
Tiger's comeback, winning the 2018 Tour Championship and then his Disney-movie win at the Masters in 2019, was the stuff that legends are made of—except for the fact that Woods was already a legend. No doubt though it added to the notion that there was nothing Tiger Woods couldn't do.
Which is why anyone who writes Woods off completely at this moment is making a mistake. In 2018, Washington quarterback Alex Smith suffered one of the most gruesome injuries ever seen on a football field. He ended up needing 17 surgeries on his right leg and, after several infections set in, he almost lost the leg. Somehow, he came back to play in the NFL this past season. Talk about a Disney movie. If Smith can come back to play football, it's certainly not impossible for Woods to come back to play golf. On Smith's first snap, he was sacked by the Los Angeles Rams' Aaron Donald, who weighs 300 pounds and is generally considered the NFL's fiercest defender. Woods won't have to worry about that if he someday makes it back to the first tee.
At the moment though, there is no way to know what Woods will be able to do and not able to do as he recovers from his injuries. More important, it doesn't really matter. If he never plays again but can walk normally, he'll be just fine.
When Woods retires, he will be missed greatly—just as Palmer and Nicklaus were missed. Just as Michael Jordan is missed. Just as LeBron James and Serena Williams will someday be missed.
But golf will go on—and, if Woods never takes another swing in competition, his legacy will live on for as long as the game is played.