PGA Tour
Tiger Woods takes to social media to thank all the tour pros who wore red and black on Sunday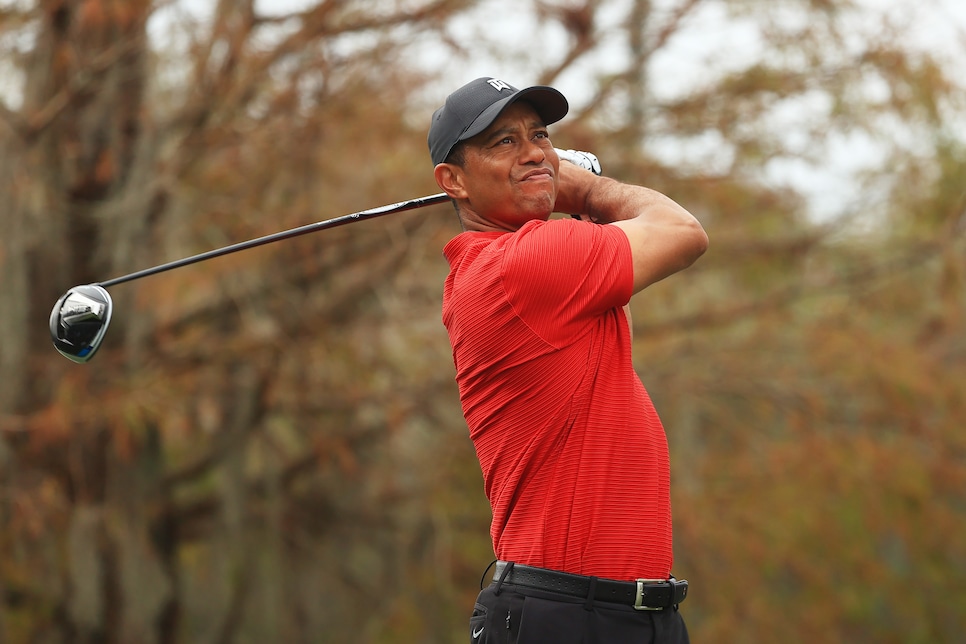 Tiger Woods received one of the more heartfelt tributes imaginable on Sunday at the WGC-Workday Championship when several of his peers wore his "uniform" in competition. Numerous players, including Rory McIlroy, Patrick Reed and Justin Thomas, donned red and black—Tiger's signature Sunday colors—for the final round at The Concession Golf Club in Bradenton, Fla., in support of Woods, who suffered serious leg injuries on Tuesday in a rollover car accident in Los Angeles.
The gesture was repeated by a handful of professionals at the PGA Tour's Puerto Rico Open, the Gainbridge LPGA and the PGA Tour Champions' Cologuard Classic.
The support didn't go unnoticed by Woods, who on Sunday night offered his first personal message on Twitter since his accident.
Besides wearing Tiger's garb, others honored Woods in other ways. Billy Horschel wrote TW on the sides of his hat. Bryson DeChambeau, Jason Day and Matt Kuchar—all of whom, like Woods, play Bridgestone golf balls—used balls stamped with Woods' usual marking of "TIGER." Same with Fred Couples at the senior tour event.
Woods remains hospitalized after undergoing surgery on Tuesday for broken bones in his right leg, ankle and foot that he suffered in his one-vehicle crash early Tuesday morning. On Thursday night, he was transferred from UCLA-Harbor Medical Center to Cedars-Sinai Medical Center, where his representatives said that he had further surgery that was deemed successful.
Golfers, athletes, celebrities and other dignitaries have expressed their concern and sympathy for Woods in the days following the accident.
Asked earlier in the week about "paying tribute" to Woods, McIlroy said, "You say 'pay tribute to him.' He's not gone. … He's been in a very bad accident. We're very lucky that he's still here. I feel like we should pay tribute to him every day for being on the PGA Tour and what he's done for golf."