Summer in the City
What I learned playing golf as a single in New York City this summer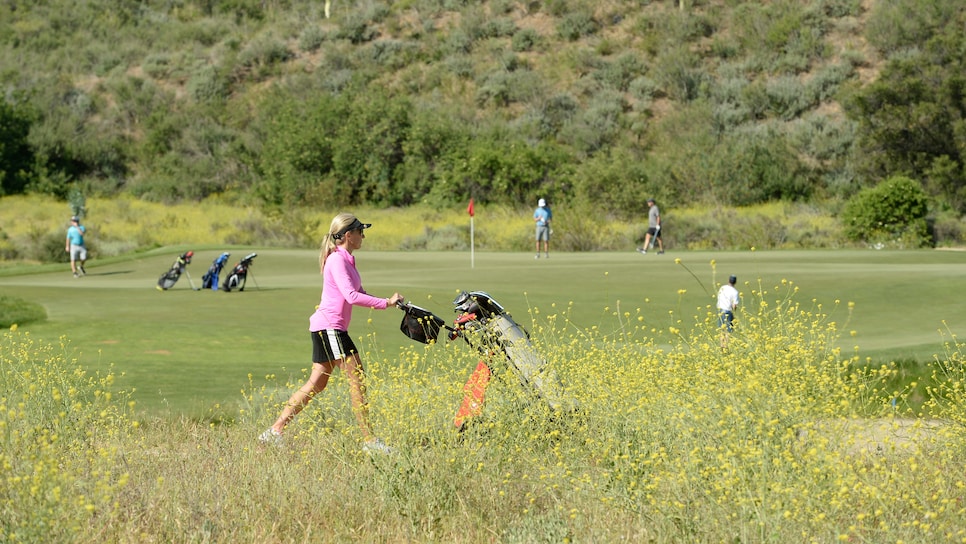 Playing public golf in New York City can be a moving target. Securing a tee time can be harder than ever—not to mention navigating to your course of choice—and yes, you'll definitely meet some characters. Being a single golfer trying to play golf by myself this summer has given me some stories worth telling.
Taking an internship in the Big Apple at a golf publication allowed me to split my time between the office from 9-to-5 and New York City's public golf courses. With limited courses and limited tee times, my golf outings were always in the company of people I had never met previously. I used to dread playing with others, but now, I look forward to it. I hope my lessons playing as a single this summer can help you, too.
Yes, playing with a stranger can be awkward at first—but you can also make connections at the golf course you can't make anywhere else.
Playing golf with strangers can be intimidating at first. Depending on your skill level, it can be daunting playing with golfers who are significantly better than you, or distracting when playing with golfers who are significantly worse. Playing as a single is always a gamble, but I think it's worth the risk.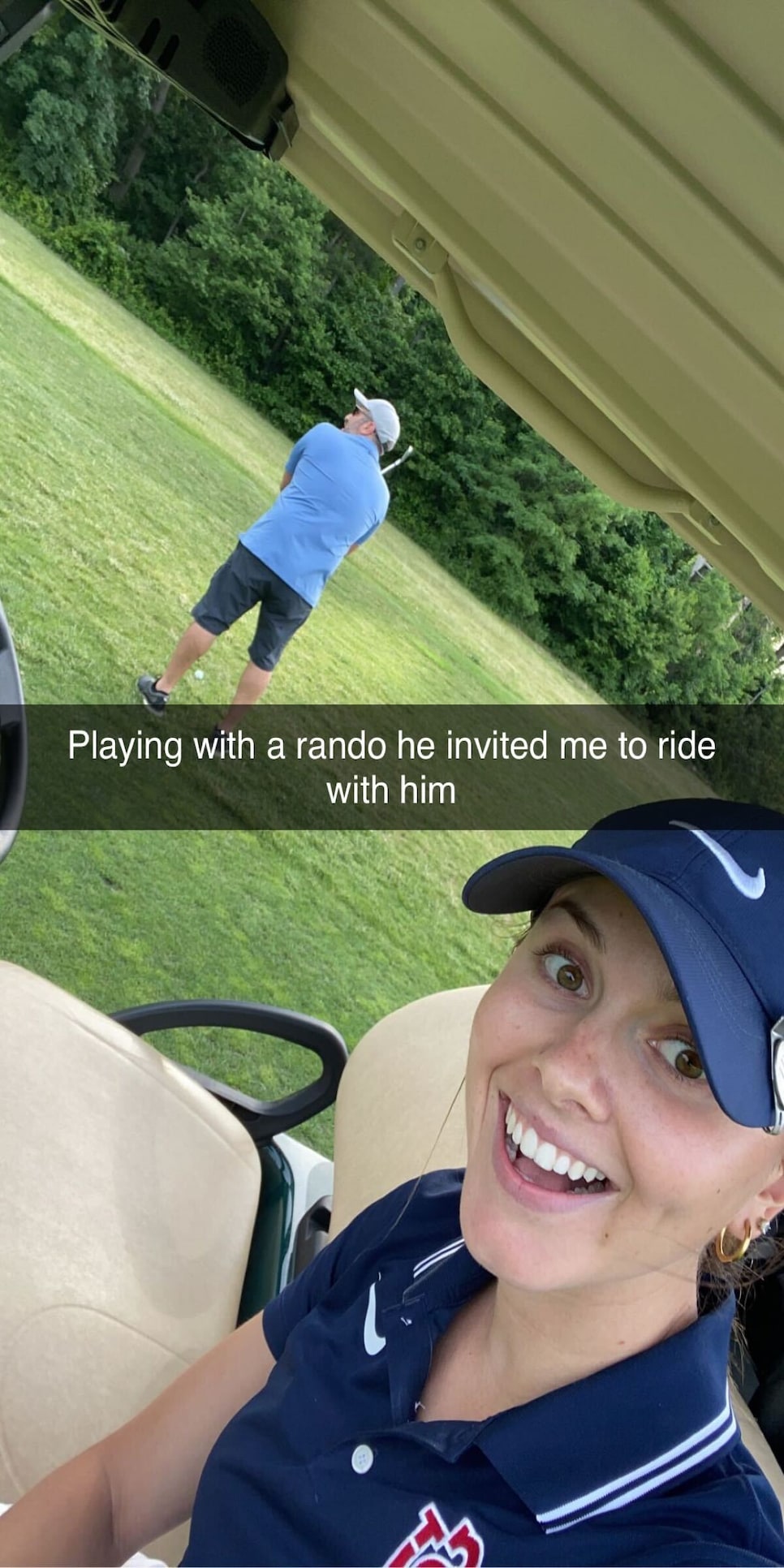 Our author got invited to ride with another single in NYC—and documentated the experience appropriately.
Whether it's just a friendship for the afternoon, or possibly longer than that, this is one of the coolest parts about playing golf as a single. You never know who you'll meet at the course, especially in New York City. One afternoon, I was paired with an older gentleman who had a career as a professional tennis player. We talked about his life, his journey to New York, and his time on the court.
At the end of our round, he mentioned that he worked at the course and would be willing to get me out for free, anytime in the future. He also offered to give me a few tennis lessons. I would gladly take him up on both.
Be open to learn about … anything.
Walking up to the first tee at Bethpage, because I refused to pay the cart fee, I was greeted by the starter and a man in a golf cart. After teeing off, the man kindly asked if I would like to join him. So I abandoned my pushcart and hopped in. Over the duration of the afternoon, we talked about all things from work to restaurant recommendations. Because this was my first summer in New York, I was very open to some direction from a local. While I never saw him after this day, thanks to him, I had an amazing burger after my round at Burgerology in Farmingdale, and a full list of more food recommendations for the summer in my Notes app.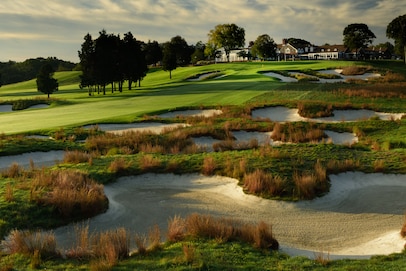 Sprawling Bethpage Black, designed in the mid-1930s to be "the public Pine Valley," became the darling of the USGA in the early 2000s, when it played the 2002 and 2009 U.S. Opens. Then it became a darling of the PGA Tour as host of the 2011 and 2016 Barclays. Now the PGA of America has embraced The Black, which hosted the 2019 PGA Championship and the upcoming 2024 Ryder Cup. Heady stuff for a layout that was once a scruffy state-park haunt where one needed to sleep in the parking lot in order to get a tee time.
View Course
The interesting personalities you'll meet will not disappoint.
This is part of what you sign up for. The personalities I encountered over the summer were anything but ordinary.
In June, I arrived at one of the city courses, and the starter thoughtfully asked if I would prefer to play alone. I accepted—the thought of hitting multiple shots and listening to music seemed great. That, at least, was the plan—until I was on the second tee, and the man from the group behind me grabbed his driver, proceeded to tee off as I'm going through my routine, and announced that he had decided to join me. Not "Can I join you?" or "Do you mind if I join?" No.
But it got more interesting. A few holes later, he missed a putt and started cursing under his breath. He then remarked, "I needed to make that putt to tie the imaginary match I had going with you in my head."
You can expect to find some unusual golf personalities, especially in New York.
You'll make fast friends if you don't take yourself too seriously.
I have to admit, maybe I am not a purely innocent public golf player myself. While I've encountered some very interesting characters, I am sure some of my playing partners could say the same about me. And I have a story to prove it. I was paired up with a group of older women one afternoon in July. Despite the fact that I am a woman, I haven't played golf with older women, so this was an entirely new experience for me. On the first hole, I was a little distracted and I managed to run over one of their golf balls with my push cart.
I felt terribly sorry, but their laughter reassured me that they were an easygoing group. I couldn't help but laugh, myself. I've been playing golf for 10 years, but I've never run over someone's ball.
It's not impossible to book tee times at N.Y. public courses—if you know a few things.
You might not expect procrastination to be an effective strategy for booking tee times, but I'll explain why it is. Trying to get out at Bethpage can be nearly impossible unless you're OK with playing at 6 p.m. Everyone is gunning for the early tee times, and NY state residents have access to tee times seven days in advance—whereas out-of-state residents like myself, can only make tee times five days in advance. What I find to be the best strategy is checking tee times the night before your desired day of play.
A lot of people make reservations several days out, but plans change and they end up canceling. On the Bethpage website I've seen tee times open up for a foursome on the Black course, the night before, which is typically unheard of.
Finding a tee time as a single is much easier than with multiple people. If you're up for the adventure, there is more than likely a tee time out there for you.
Watch Golf Digest's 'Every Hole At' Series
Pace of play can be brutal, but there are surprising ways to navigate it.
The known strategy when playing golf is to get out early so you can be done early. That's how it typically works. In the summer in New York City, I've found it to be the opposite. I played much quicker in the afternoon. Unless you're going out before 8 a.m., the afternoon proved to be quicker. When it's midday with peak heat and Northeast summer humidity, most people aren't choosing golf in a city of adventure. When playing at Pelham Bay over the summer, I would often play around 2 p.m. and have the whole place to myself. There would be hoards of people finishing up their round, but I would be the only brave soul willing to brave the heat and humidity.
Even the non-human interactions can be interesting.
Growing up on the West Coast, I am not deterred by wildlife. But I wasn't prepared for one interaction I had at Bethpage. After hitting a solid shot to the green, I approached my ball and found … a raccoon patiently awaiting me. I walked closer expecting him to scurry away, but he stood his ground. After a minute or so, I decided he had won, so I left the green and made my way to the next hole.
Thinking my encounter with the raccoon was done, I calmly hit my shot, and began walking down the fairway, only to find that I was being followed. In an attempt to get him off my trail I started to run, only to see him start charging at me. I've never been more frightened.
Thankfully, my playing partners came to my rescue, and drove me away from the devious raccoon.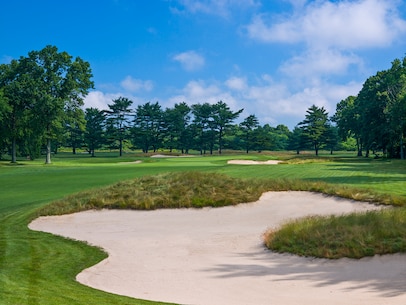 A.W. Tillinghast's Red course opened in 1935—a year before the famed Black—and is considered by many to be Bethpage's second-best layout. The challenge of the Red starts on the first tee, where the typical crowd gathered by the starter's booth watches as golfers try to find the narrow fairway guarded by thick rough. Though the opening and closing stretch of holes are tree-lined, much of the course plays on a vast plain littered with fescue and bunkers.
View Course
If online dating isn't your thing, the golf course is a spot to find a like-minded person.
It was a Saturday afternoon and I was, predictably, at the golf course. I spent my round paired with two brothers who live and work in Manhattan. We bonded over summer Fridays and the woes of New York City golf. After 18, and beating them from the men's tees, we shook hands and exchanged contact info.
A few days later I received a message from one of them, asking if I would like to go on a date. While I certainly wasn't looking for this at the course, you never know what you'll find. Public golf really has it all.
Whether you are looking to meet new people or discover the plot of your next book, you can find it all at a public golf course.