Bethpage State Park: Black
Farmingdale, NY • Public
1 / 10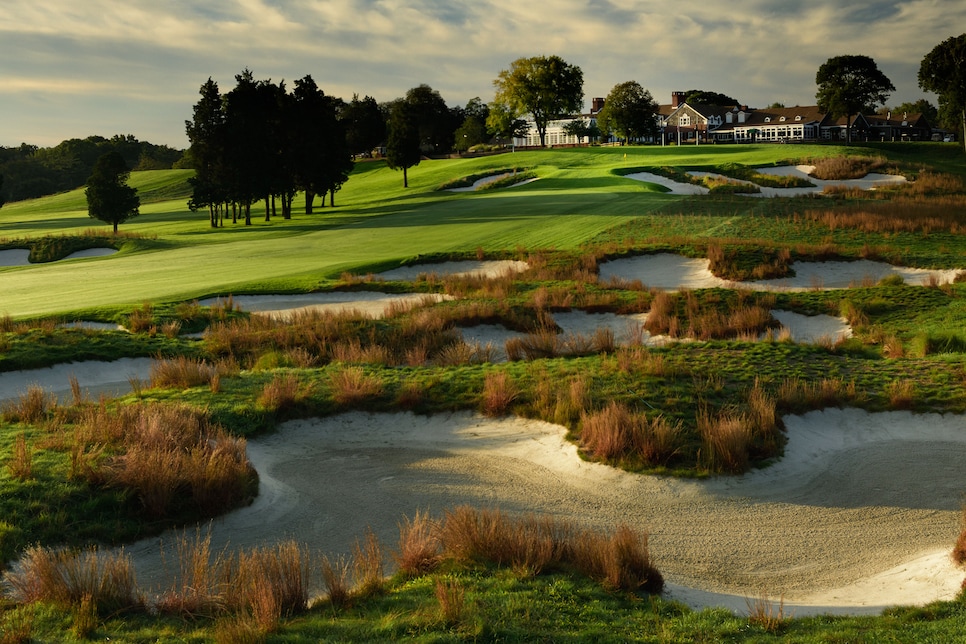 2 / 10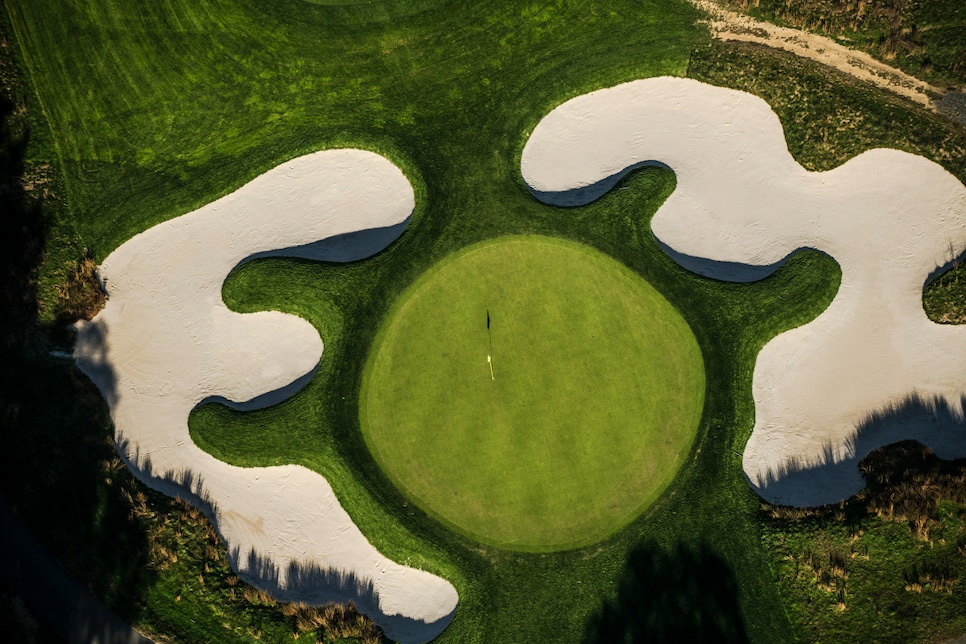 The menacing surrounds at Bethpage Black's sixth green.
Dom Furore
3 / 10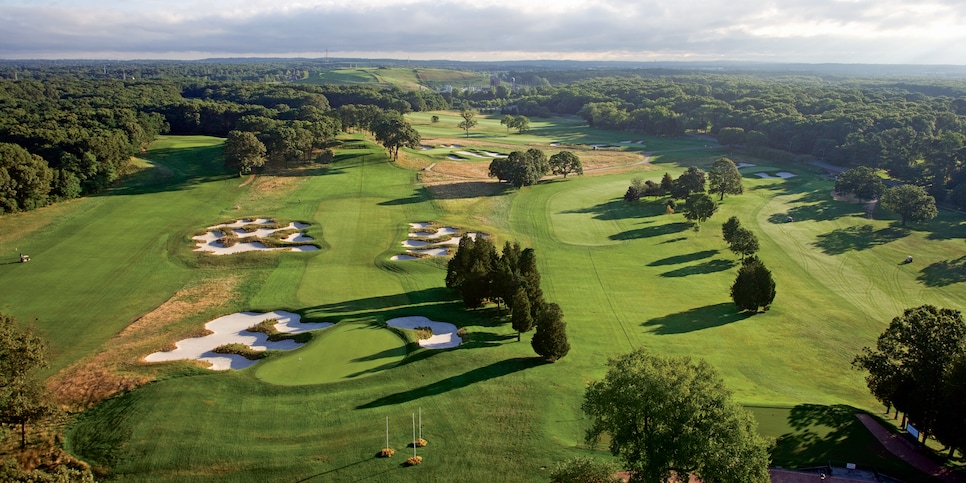 4 / 10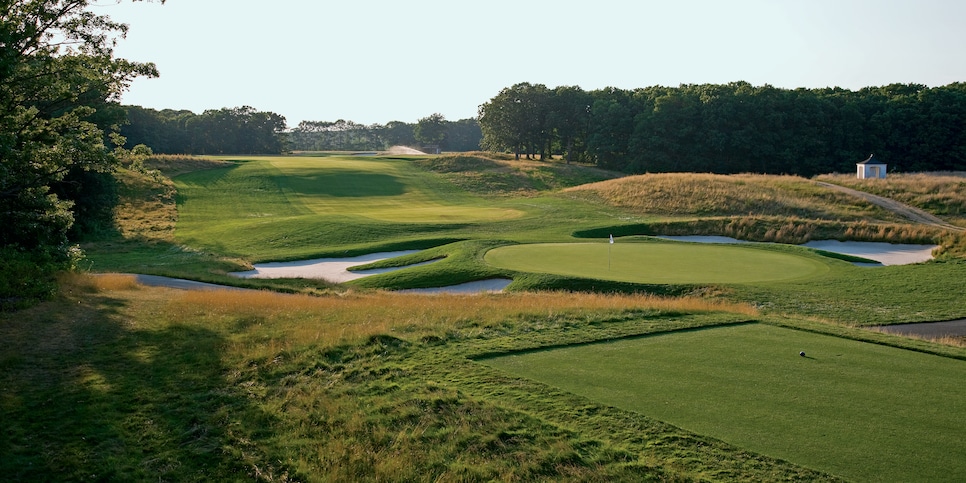 The view behind the sixth green from 7 tee.
Stephen Szurlej
5 / 10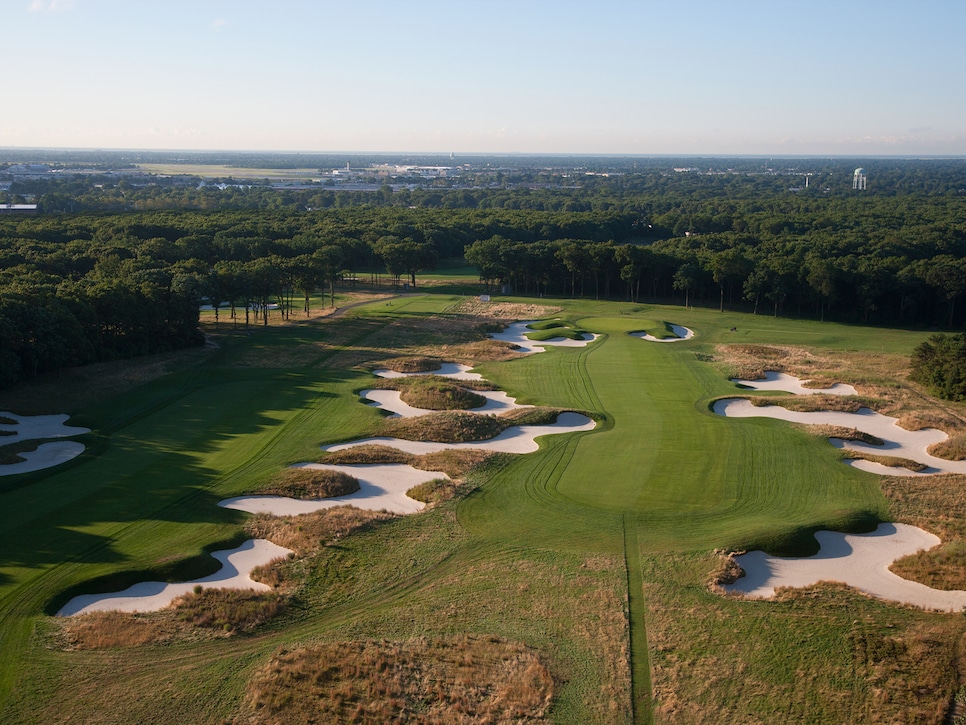 The ultra-difficult stretch of Bethpage Black's par-4 10th (right), requiring extreme precision off the tee, with the 11th hole—a Pine Valley-like par 4 that also requires a ball stay out of the extended bunker lobes.
Stephen Szurlej
6 / 10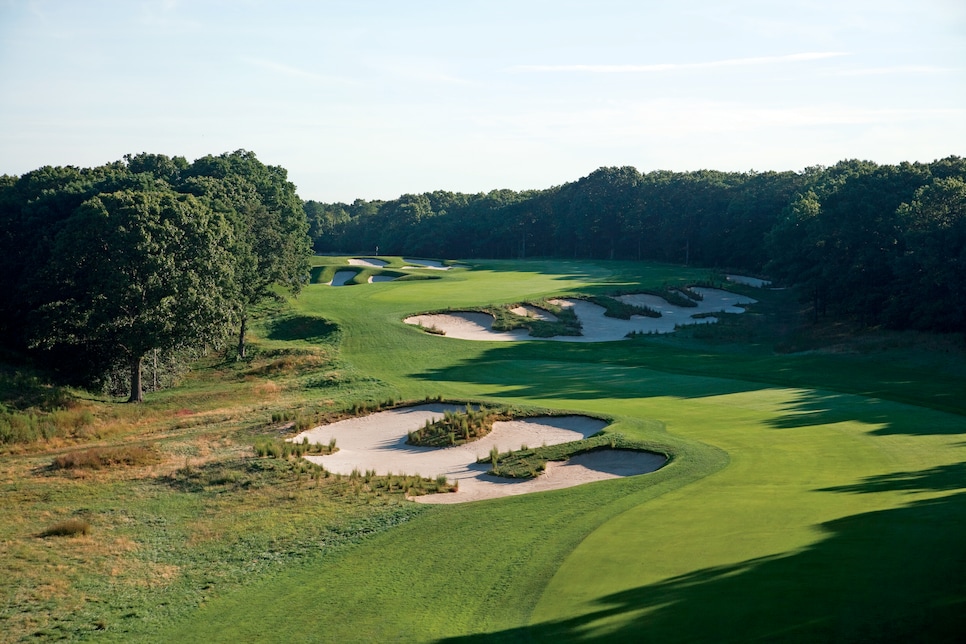 The 517-yard, par-5 fourth hole is guarded by a classic cross bunker.
Stephen Szurlej
7 / 10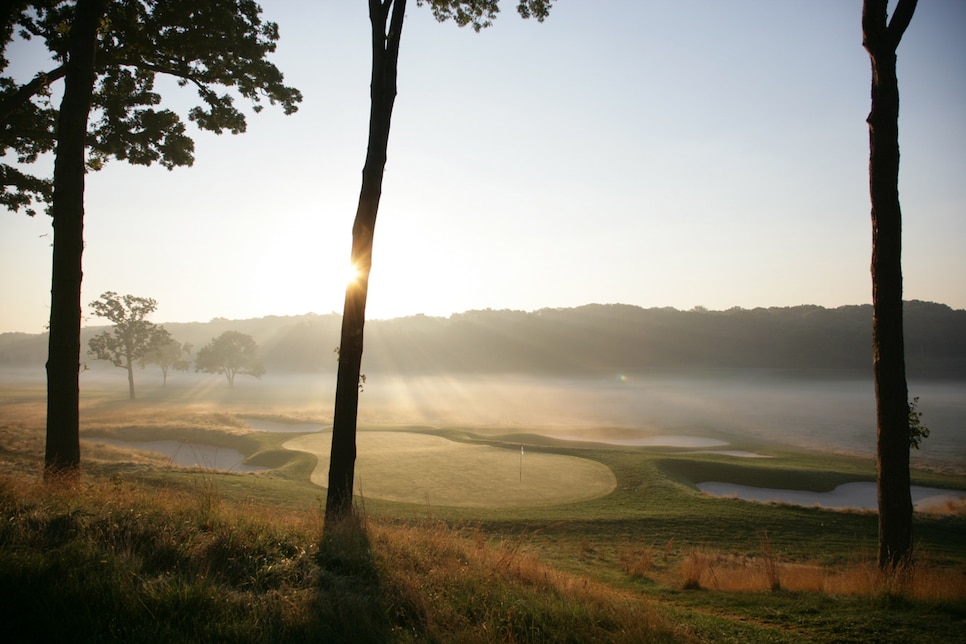 8 / 10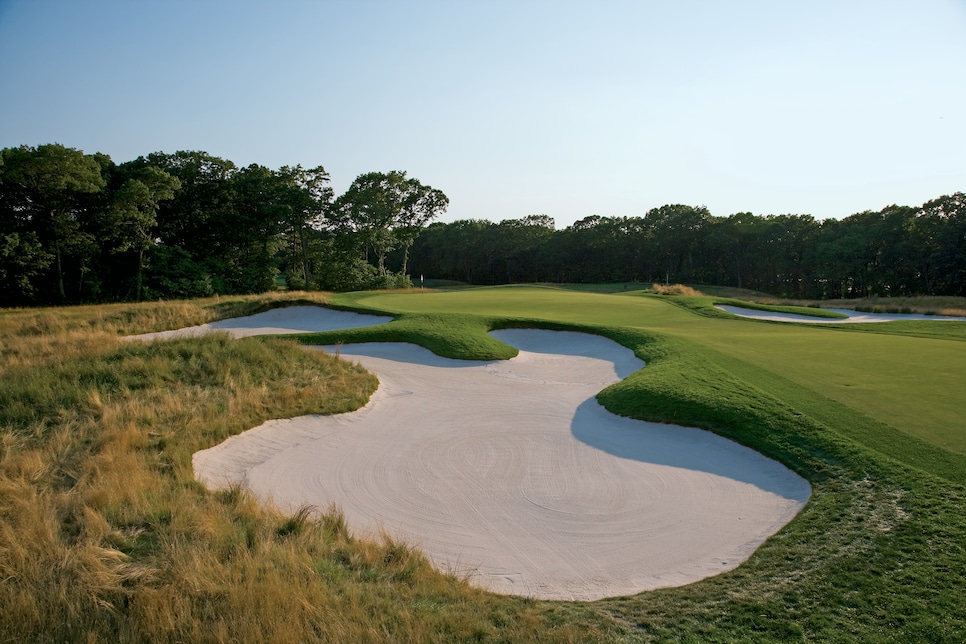 The par-4 12th's widened fairway gives golfers a bailout option.
Stephen Szurlej
9 / 10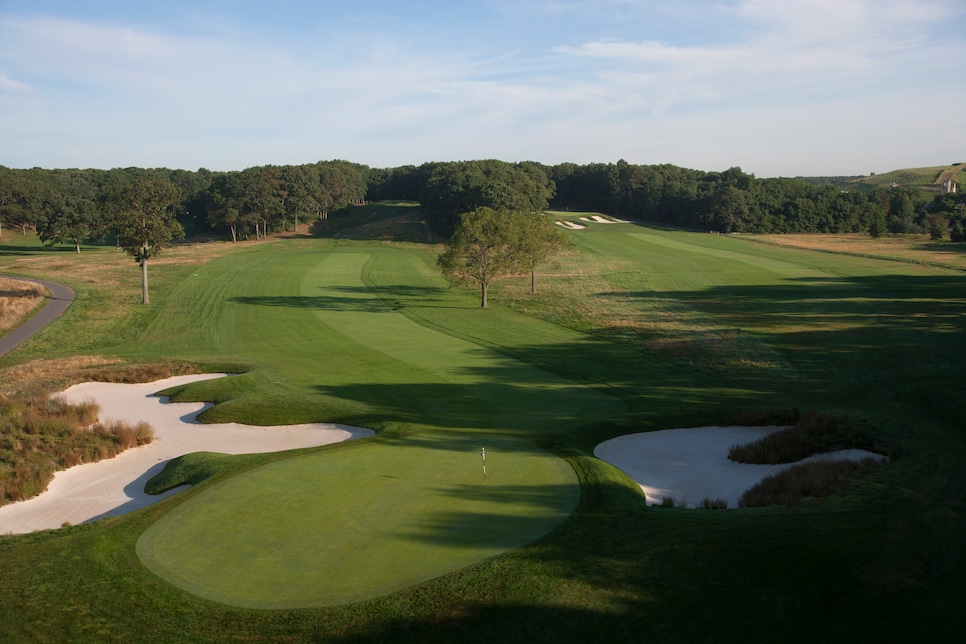 10 / 10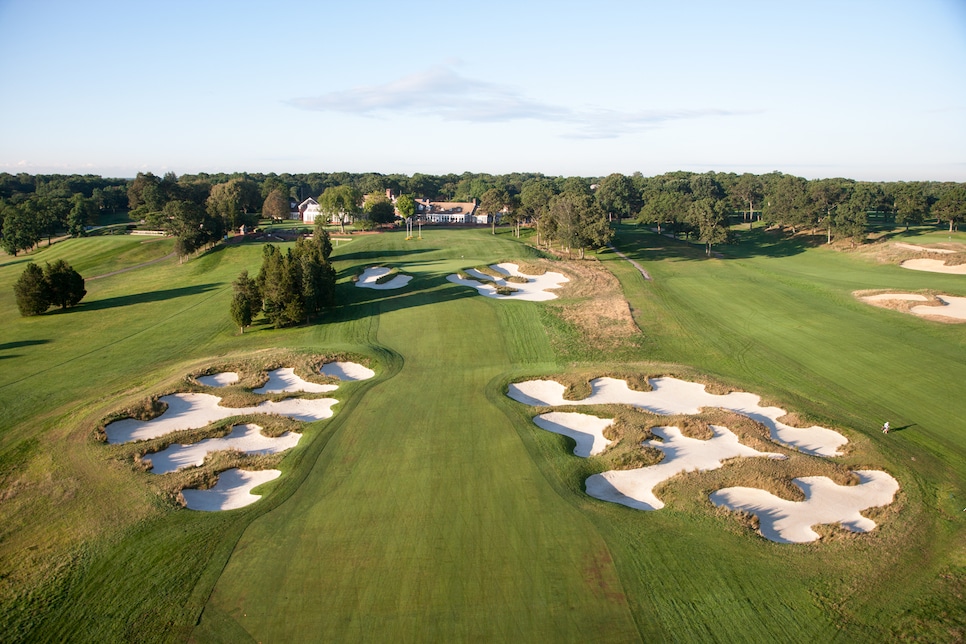 Bethpage Black's home hole.
Photo by Stephen Szurlej
Overview
Sprawling Bethpage Black, designed in the mid-1930s to be "the public Pine Valley," became the darling of the USGA in the early 2000s, when it played the 2002 and 2009 U.S. Opens. Then it became a darling of the PGA Tour as host of the 2011 and 2016 Barclays. Now the PGA of America has embraced The Black, which hosted the 2019 PGA Championship (winner: Brooks Koepka) and the upcoming 2025 Ryder Cup. Heady stuff for a layout that was once a scruffy state-park haunt where one needed to sleep in the parking lot in order to get a tee time. Now, you need fast fingers on the state park's website once tee times are available—as prime reservations at The Black are known for going in seconds.
About
Designer
Joseph H. Burbeck & A.W. Tillinghast/(R) Rees Jones
Awards
100 Greatest: Ranked from 1967-1976, 1997-1998, & since 2001.
2023-'24 ranking: 39th.
Previous ranking: 40th.
Highest ranking: 26th, 2007-2008.
100 Greatest Public: Ranked since our inaugural ranking in 2003.
2023-'24 ranking: 7th.
Previous ranking: 8th.
Highest ranking: 3rd, 2003-2004.
Best in State: Ranked in Top 10 in New York since 2011.
2023-'24 ranking: 7th.
Previous ranking: 8th.
Watch our exclusive drone tour
Panelists
Ratings from our panel of 1,900 course-ranking panelists
100 GREATEST/BEST IN STATE SCORES
Reviews
1 / 17
Review
"Changes are already underway for the Ryder Cup, and the course will present itself spectacularly. The new tee box on the first hole is really intriguing -- if they use it, players will have the chance to drive the green by taking on the dogleg in a more straight line. It'll also eliminate the awkward strategy of driving it way right off No. 1 like they did at the 2019 PGA. Revised fairway mowing on 10 and 11 make the hole even better ... these are early reviews, but it should be absolutely awesome."
Read More
2023
2 / 17
Review
"Difficult yet fair test from start to finish very worthy of championship golf....plays very long(7465 par 71 from back tees) w/ six par 4's playing 460 , 1 of the par 5's playing 600 , and 3 of the 4 par 3's playing 200 . At times one will be required to wedge out from the penalizing rough...deep and thick! Unique fairways that present angles and bends for the landing areas hole after hole adding to the overall challenge and choices with where to aim and shape your tee shots. Standout holes include the 4th "
Read More
2022
3 / 17
Review
"Bethpage Black is the crowned jewel at Bethpage State Park and simply phenomenal. Easily the best public course in New York and one of the best in the U.S., this notoriously difficult course features U.S. Open conditions year-round and is an excellent championship venue. Hole such as the 4th and 5th are world-class and some of my favorite anywhere. Singles are usually able to get on, and prices are not bad at all considering the strength and reputation of the course."
Read More
2022
4 / 17
Review
"If you head out to Bethpage Black, be prepared for a challenge that lives up to the hype. Narrow fairways and punishing rough make accuracy and distance paramount for scoring well. The course is not for the faint of heart and only offers a fairly long track even from forward tees (White Tees at 6700 or so). Also, as you may know, the course is walking only so that can present its own challenge on a hot summer day. If all of that sounds good, the course is an absolute treat and is as good or better condition as any public course you could play in the area. Greens are fair and roll true, and if you are in the fairways you'll have plenty of opportunities to test a variety of golf shots. Pro Shop and restaurant are also great deals, which you'll have plenty of time to explore with the mandatory check in 1 hour prior to tee time. Don't be late!"
Read More
2020
5 / 17
Review
"Surprised at the rolling terrain on the Black Course. The sign before you tee off is definitely telling the truth. The course is a brute and really has no let up. Some old great Tillinghast features on it that haven't been too beaten up for the Jones renovation years."
Read More
2018
6 / 17
Review
"I think this course has everything in a layout: length, rough, and you have to work the ball off the tee and into the greens. The greens aren't severe and mostly guarded by think rough and bunkers. I like that you have a chance to make putts if you hit good shots."
Read More
2018
7 / 17
Review
"Such a terrific roll through the Long Island terrain. Thoughful routing by Tillinghast. Solid greens complexes. An attention to condition throughout the Black course. A real public gem with real New York attitude."
Read More
2018
8 / 17
Review
"Best public layout in America (After Pebble)."
Read More
2018
9 / 17
Review
"A big boy course, walking only. Bring your A game and more. Worth the wait in the parking lot if you can't get a tee time to play a course that tested the best professionals in 2 US Opens."
Read More
2018
10 / 17
Review
"Great championship course that is very memorable. You feel as though you are at a serene and remote country club, once you get away from the madness of the first tee."
Read More
2018
11 / 17
Review
"This is a long difficult slog. It gives the public golfer some of the best golf in the region."
Read More
2018
12 / 17
Review
"True no frills municipal golf experience. The course is miserably hard. Consider the experience a bucket list item, but I doubt most will go back for a second round."
Read More
2018
13 / 17
Review
"One of the best public courses in the US. The design is unique with great variety. A really tough layout that deserves its accolades."
Read More
2018
14 / 17
Review
"Wonderful layout but very difficult. Don't attemp the very back tees."
Read More
2018
15 / 17
Review
"Play early in the morning. The Black and Red courses can easily present a 6 hr round. Otherwise this is an insanely good golf course. It's a big golf course with wide fairways and plays longer than the yardage. Unfortunately no drivers are allowed on the range which services all the courses on site. Yes, it can get super crowded. It's great that it's a walking only course, but man is it slow. If you are over a 20 handicap it probably isn't going to be very enjoyable round. There are some majorly long holes that play uphill to protected greens. For a public course the condition is spectacular. The greens are firm and true and fairways roll for days. Bring lots of snacks and water and buckle up for a long but enjoyable round of golf."
Read More
2018
16 / 17
Review
"Worth the effort to get on! Championship layout. Bring your A game!"
Read More
2018
17 / 17
Review
"Really unbelievable that this is a public course. The course exceeded my high expectations and more than made up for the slow play, average food, and outdated facilities."
Read More
2018
Readers
Collection of reviews from our readers
There are no reader ratings yet
Reviews
There are no readers reviews yet. Be the first to write a review.