Spooky Season
The 12 most scream-worthy shots in golf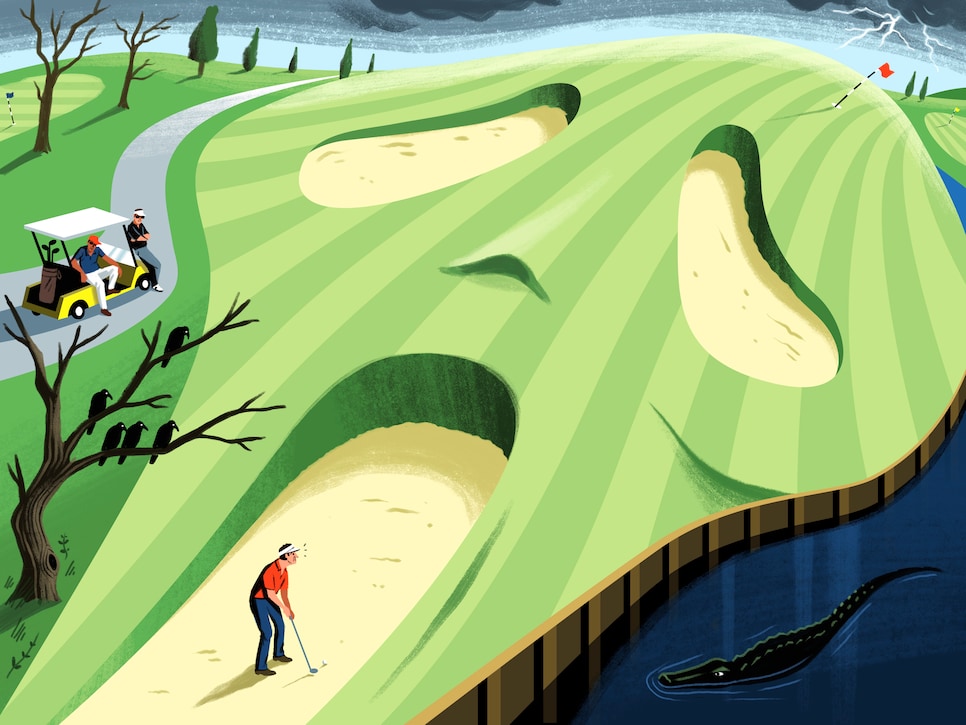 Golf is not for the faint of heart or the weak of stomach. Disaster lurks around every corner. Humiliation coils like a snake in the grass. You need steady legs and a stiff upper lip if you're going to survive this house of horrors we call a sport. So in honor of the spookiest month of the year (and the scariest game on earth), join us as we count down golf's nastiest knee-knockers. If you can look these supernatural shots in the eye, you might just get out alive.
1. Bunker shot out of a buried lie in clear view of the clubhouse patio at lunch hour.
2. Tee shot in front of the foursome that your partner just convinced to let you play through.
3. Punch-out from the wrong fairway while the group on that hole waits for you to clear.
4. Shot six inches from the cartpath with a new set of irons.
5. First shot of a playoff after drinking at the 19th hole waiting for the other scores to come in.
6. Chip from a downhill lie with the parking lot 15 yards behind the green.
7. The provisional after you just shanked one dead right into what looks like poison ivy.
8. Approach shot on 18 when you're pacing for a career round.
9. Opening drive at a bucket-list course on a dream trip that costs more than your kid's college tuition.
10. Recovery shot from the edge of a swampy water hazard in the Gator Belt.
11. A three-foot tester to win your four-ball match while playing with your father-in-law.
12. Tee shot over a forced carry with no more balls in your bag.