News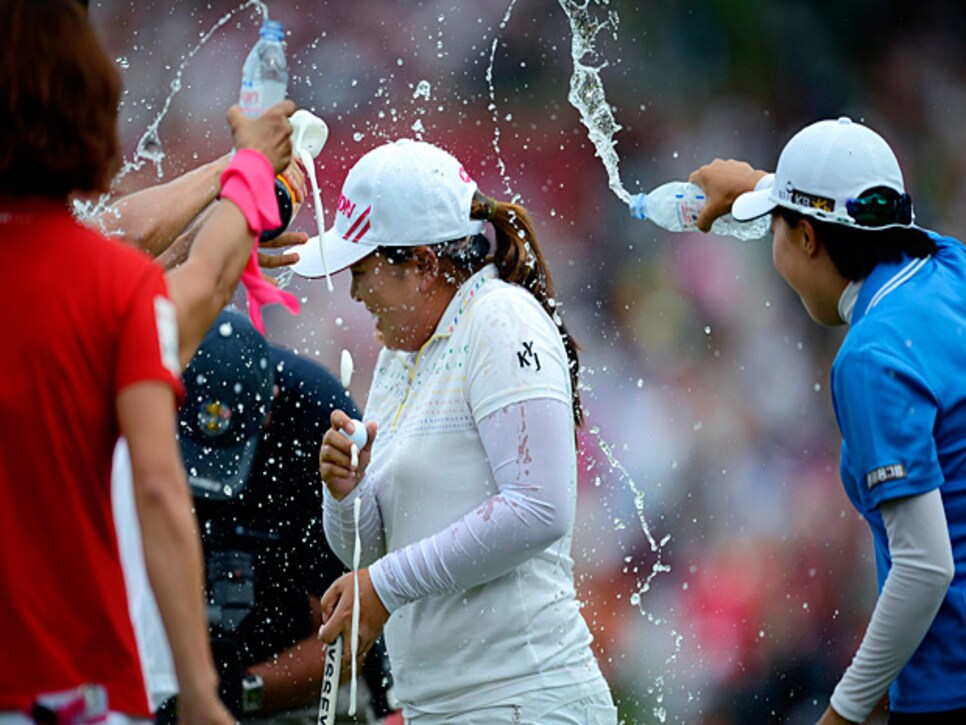 If Inbee Park wins the Evian this year, it will be an unprecedented a fourth major in 2013.
EVIAN-LES-BAINS, France -- When the decade-long fight by Group Danone chairman and CEO Franck Riboud to make the Evian Masters an LPGA major ended in victory two years ago, there were a couple of significant tweaks that needed to be made to make it all happen.
The first was pretty easy: Change the name from the Evian Masters to the Evian Championship. A new name gives the Evian a new identity as a major -- and doesn't tread on the "Masters" title used by that little club championship in Augusta, Ga., every April.
Let the records start now, with the winner of the Evian Championship being distinguished from the winners of the Evian Masters because now it is a major. And then there was the matter of making the golf course a major championship venue. No one ever questioned the beautiful views seen from the Evian Masters GC, it's just that most of them were observed from side-hill lies.
Either the course needed some fixing or the players needed one leg longer than the other.
But if there is one thing Riboud has proven over the years of running what started as a Ladies European Tour event and now is the fifth LPGA major, it's that money is no object.
Evian already has a purse of $3.25 million that is matched in women's golf only by the U.S. Women's Open.
So with Steve Smyers working as the design consultant for the LPGA, Dave Sampson and his crew from European Golf Design literally worked under the snow and in a little more than 13 months since Inbee Park won the Evian last July rebuilt much of the course.
The result is a longer venue with vastly larger greens -- some maybe four clubs-worth from front to back on some -- much greater contouring of the putting surfaces and cleaner sightlines off the tee. That last part should eliminate the "Is that OK?" look players used to give to caddies after tees balls disappeared in blind valleys.
No. 5 was turned from a bad par 4 into a challenging and scenic par 3 framed against the Alps.
The closing stretched of 15-18 should provide thrills as what were three weak holes -- Nos. 15-17 -- and one goofy hole -- No. 18 -- were completely overhauled.
The green at 15 was lowered, making it possible to get to the par 5 in two. No. 16 was a 90-degree angle short par 4 and now it is a par 3 over water. No. 17 was a par 3 literally straight down a mountainside. Now it is a tough par 4.
And 18 was changed from the easy-birdie par 5 to a brutish par 4, requiring a shot into the green much like what Justin Rose had to hit at Merion on Sunday to win the U.S. Open. All 18 greens have been made more demanding.
The other thing that Sampson and Smyers have done is open up the sightlines for the fans. Trees were removed, spectator mounds were created and bleachers have been eliminated to clean up the sightlines.
Some challenging weather -- snow fell in May and the last few days have been very wet -- mean that the course is not as grown in as everyone would like, and you will hear some complaints when play starts Thursday -- if not sooner.
But bare spots in the sodded areas will merely be lined as under repair. One other thing rules officials will have to decide on before play begins is that several greens have bubbling issues -- trapped air under the surface -- and it will have to be decided in advance how that will be played. To burst or not to burst, that is the question.
Make no mistake about it, there is a lot of risk involved in the Evian Championship. Not everyone liked the idea of a fifth major, saying it messes with the history books.
Some felt with the Ricoh Women's British Open already in Europe, a new major -- if there were to be one -- should go to Asia.
There were those who felt the side of a mountain was never going to be a good place for a golf course, even if it has breathtaking views of Lake Geneva and the Alps.
And almost everyone would say it is sheer madness to try to hold a major championship on a golf course that had undergone massive renovation in extremely challenging weather conditions and barely over a year to get the job done.
But this is a better course now than it was a year ago. Beginning Thursday, we will find out how much better. But the truth of the matter is that the full report on the new Evian course is years away.
What we do now at this time is that a Herculean effort has dramatically -- and for the better -- reshaped the Evian Masters GC, which is what the placed is still called. Now we'll see if the place produces the thrills Sampson and Smyers were shooting for.