News
Golf Channel replaces 'Morning Drive' with new show, adds Shane Bacon to team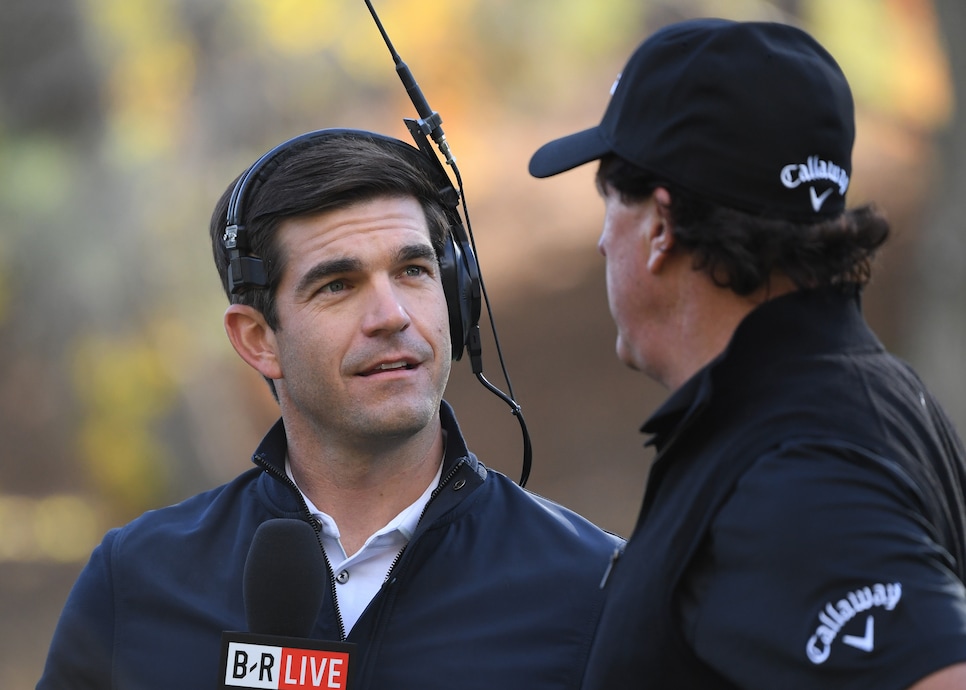 Shane Bacon, shown here during the broadcast of The Match, will join NBC/Golf Channel as part of some program changes for 2021.
Harry How
Golf Channel has a new face and a new program debuting in January.
NBC Sports and Golf Channel announced in a news release on Wednesday that a new show "Golf Today," will replace "Morning Drive" on Jan. 4. "Morning Drive" had been the channel's featured morning programming for a decade. Joining the NBC/Golf Channel team as a co-anchor is Shane Bacon, who formerly served as a host of Fox Sports' golf coverage. Others in the studio will be previous "Morning Drive" contributors Damon Hack, Jimmy Roberts and Anna Whiteley.
The news release did not specify a time slot for "Golf Today," though it appears that the program won't start as early as the previous 7 a.m. ET "Morning Drive" start. Golf Channel executive producer Molly Solomon hinted that a later slot would allow for more live tournament updates and guest interviews to be part of the show. "At midday, we can lead the daily golf conversation with access to newsmakers in all time zones. Tour players on the range preparing for upcoming tournaments and live press conferences," Solomon said in the press release.
In addition to his duties at "Golf Today," Bacon will be part of "Golf Central: Live From" coverage from tournaments, while also doing play-by-play and other reporting, the release said. Currently, he hosts a podcast with PGA Tour player Max Homa. Bacon had otherwise disappeared from live television when the USGA announced in June that it was moving the coverage of its championships from Fox Sports to NBC.
"I'm excited to be joining the Golf Channel and NBC family—it's where golf happens, and I'm a golfer," Bacon said in the release. "The fact that I get to work with the top of the top in terms of analysts, play-by-play voices, and behind-the-scenes folks is a dream come true. I've known Damon for a long time and he's the cream of the crop when it comes to golf journalism. Being a part of a new show will allow us to be creative and collaborative, lean on those ideas that we like, and build a great team together."
The new show represents something of a fresh start for Golf Channel, which has experienced a tumultuous year. In February, it was announced that the bulk of the operation would be moving from Orlando to Stamford, Conn. Then, after the start of the COVID-19 pandemic, NBC's on-air personalities took pay cuts, followed by significant layoffs that were announced in June.