Coordinated Looks
The Hedge X Criquet collaboration is great for golf couples with timeless on-course styles
*All products featured on Golf Digest are independently selected by our editors. However, when you buy something through our retail links, we may earn an affiliate commission.*
What should you wear on a golf date with your significant other? The default answer is the standard golf clothes that you would wear for your normal game. However, for those who want to take things up a notch and elevate their on-course style as a couple, the Hedge x Criquet collaboration is one to check out. New York-based luxury golf and tennis wear company Hedge and vintage-inspired polo shirt brand Criquet have a special edition line that fits this exact need.

RELATED: Our Favorite Valentine's Day Gifts for Golfers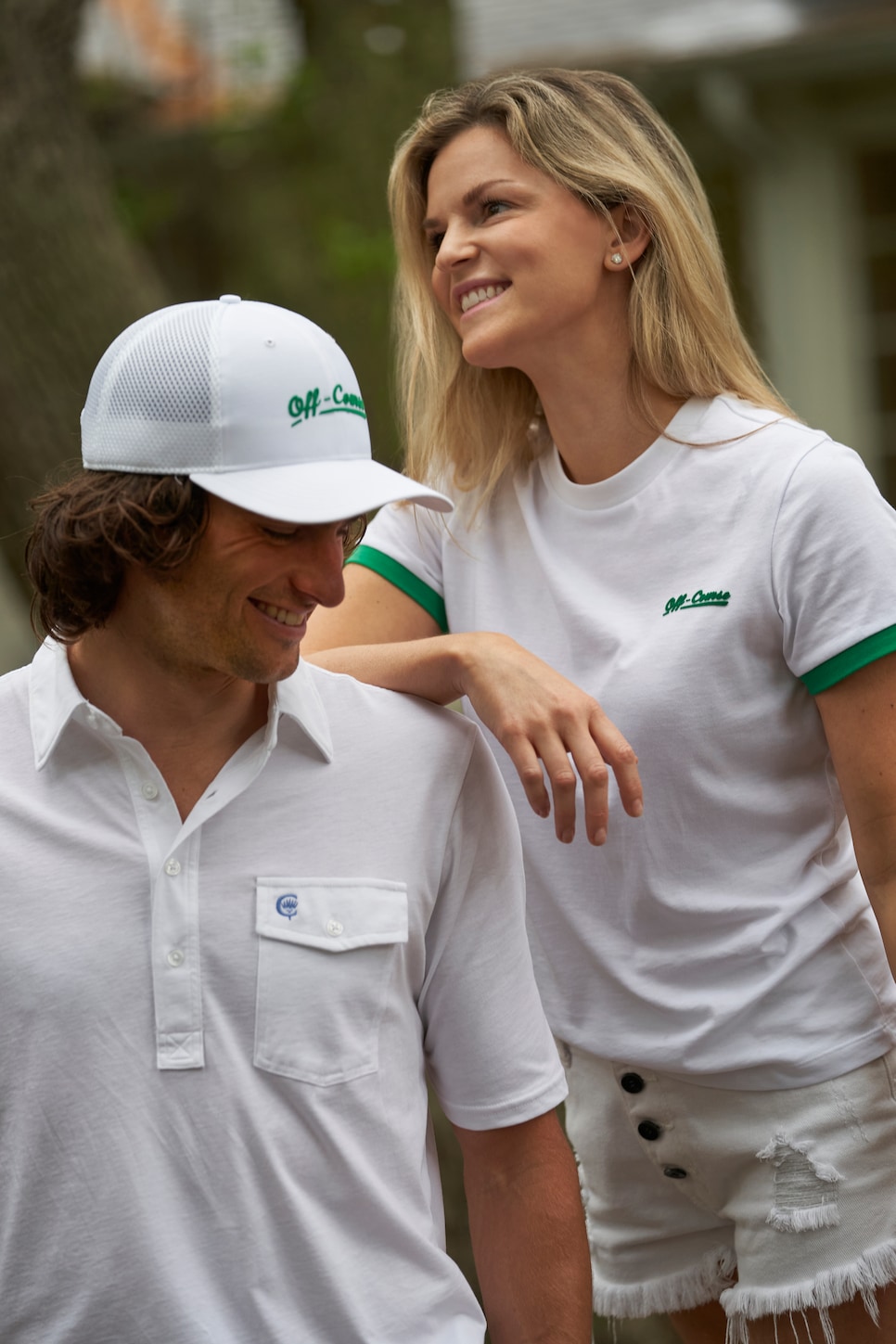 When Hedge and Criquet met at the 2018 PGA show, onlookers coined the two companies as the go-to "boyfriend/girlfriend" golf brands. The running joke quickly turned into a real idea, and Criquet and Hedge teamed up to design a collaboration a year later. Criquet, which primarily designs men's clothes, wanted to provide products for the women in their lives, and Hedge was excited to break into menswear. As a marker of this union, the brands designed a collaboration logo that features Hedge's hedgehog inside of Criquet's "C," like a hug.
Both apparel companies prioritize comfort, functionality, and versatility in their pieces. The men's and women's tops in the line have a vintage feel, but they maintain all the staple elements of your favorite golf polo.
"I always like things that are classic and don't go out of style, but on top of that, golf is an elegant sport and people used to really dress up," said Hedge's founder Meagan Ouderkirk. "You can still play in nice clothing as long as it's flexible fabric and breathable fabric. My goal was to sort of bring that old school elegance back in functional modern fabrics and silhouettes that apply to today's players."
The women's polo in the collaboration, the Sable Polo, was recently restocked—the shirt now comes in white in addition to the original blue shade. With a slightly puffed sleeve, hourglass shape, and a pearly embroidered logo, this polo is the perfect blend of feminine and sporty.
The men's polo features four buttons, a side pocket, and a removable collar. Made from one hundred percent cotton jersey, Criquet and Hedge used their favorite vintage golf shirts as inspiration for this piece. The casual material combined with a golf-appropriate design makes the polo wearable both on and off the course, hence Criquet's slogan "Off-Course."

RELATED: The best collarless golf shirts for men and women right now
The brands incorporated this catchphrase into the final two pieces of the collaboration: a trucker hat and unisex "Off-Course" branded tee. Although not necessarily appropriate for a private club, the t-shirt boasts a vintage look with it's ribbed armbands and velvety logo. The on-trend trucker hat sports the same slogan, and the green-on-white combination reflects a classy country club color-scheme. These pieces can be enjoyed by both female and male golf-lovers who celebrate a timeless look on and off the links.

RELATED: 12 pairs of golf shoes perfect for golfers who prefer classic style