Golf & Business: It's a Family Affair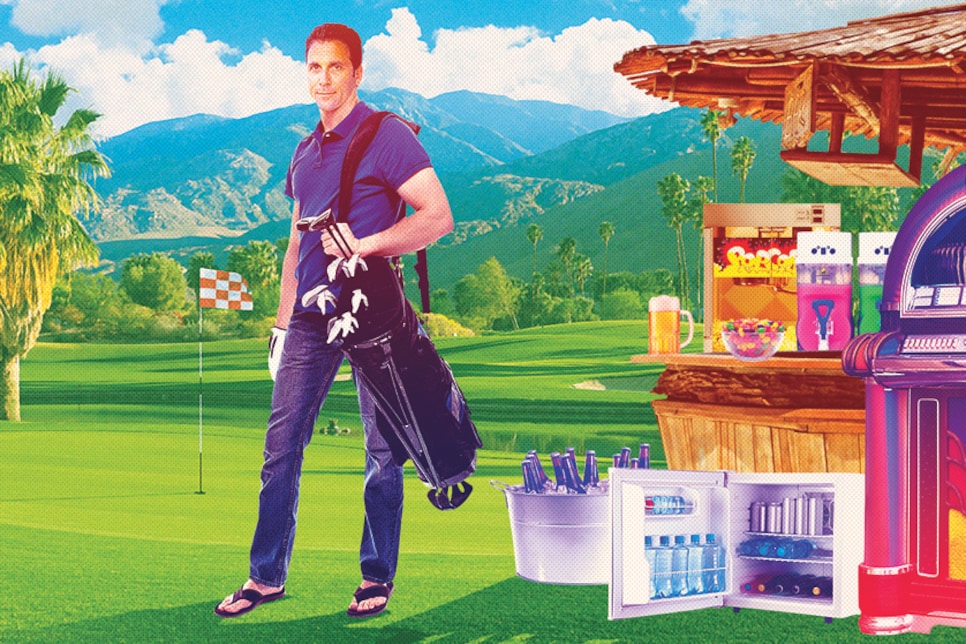 Until recently Mike Meldman was, in his words, "terrible at golf." If you counted every stroke, says one of his senior staffers, he probably couldn't break 175. Instructor Hank Haney, who has taught Meldman for the past three years, says his swing presented a bigger challenge than Charles Barkley's.
It was more than a little ironic—because even as Meldman struggled with the game, he was emerging as the undisputed leader in luxury golf. His Discovery Land Co. has developed 13 golf communities and now has five more underway: two in New York, two in Hawaii and one in Las Vegas. Empty lots at most of his clubs start at about $1 million, memberships go for $100,000 and up, and annual dues run $18,000 or more. Yet demand is strong. Business has "never, ever been better," Meldman says over lunch at his Idaho club, Gozzer Ranch. "We're doing $1 billion a year in sales."
The developer, 56, is quick to credit architect Tom Fazio, who designed most of Meldman's courses. Five of these—Gozzer Ranch, Estancia, Mountaintop, the Madison Club and CordeValle—make Golf Digest's ranking of America's 200 Greatest Golf Courses. Four more are among the best in their states.
But flashy golf is only part of what he's selling, and this seems to be why his clubs are succeeding even as many other developments suffer. Meldman has positioned his communities not so much as country clubs as super-laid-back, family-friendly destinations. "At old country clubs, guys would be there trying to get away from their families," he says. "Our idea is that you bring the family."
Some of the ways he appeals to families are straightforward. The food is excellent. Fitness facilities are modern and spacious. Employees trained in "outdoor pursuits" are on call to entertain members with boat trips, snorkeling, fly-fishing, hot-air ballooning and the like. But other moves are more innovative—and worthy of consideration by golfers who seek to grow the game. Emphasizing fun over formality, he has abandoned what he considers stuffy rules about country-club attire. You can wear jeans and T-shirts if you like, because that's how he dresses. At Baker's Bay, a club he opened in the Bahamas in 2006, golfers often play barefoot, and it's not unusual to find young women in bikinis at the range.
When his two grown sons were young and he was trying to get them to play golf at Estancia, his first course, Meldman would place coolers full of candy and drinks on many of the tee boxes. He says it helped keep them interested. This evolved into what he now calls "comfort stations," which appear after every few holes at his courses. They offer all manner of drinks, snacks, candy, smoothies, ice-cream cones and more. "They're like a DQ with a bar," he says. "The whole idea is just to make golf an experience that's fun."
Hoping to make the fun last, Meldman offers another uncommon benefit: memberships that extend one generation up and one generation down. So if your parents or grown children visit, they don't pay guest fees or face restrictions about how many times they can play; they're members. "It gives you more justification to spend the money [on a membership], and it gives the clubs a 'legacy' feel," he says.
This program is "highly unusual, and I admire it," says Steve Graves, president of the consulting firm Creative Golf Marketing. Speaking generally of Meldman's efforts to make his clubs more family-oriented, Graves adds, "I don't use this word a lot, but it's brilliant."
What's next for Meldman? He might move beyond private communities and into "boutique luxury resorts" and high-end condo developments, and he's thinking about more international projects. But that's all long-term stuff. In the meantime, he has the five new course developments to keep him busy. Not to mention his golf game, which has undergone a total makeover. "I went from literally not being able to finish a hole to shooting a 73 last year at Baker's Bay," Meldman says, bashing range balls as Haney watches. "It's fun for me now."
Visit one of Mike Meldman's clubs and chances are you'll see some familiar faces: guys like Wayne Gretzky, Phil Mickelson, Justin Timberlake and Bill Gates. George Clooney has a home at Meldman's El Dorado club in Los Cabos, Mexico. Along with Rande Gerber, husband of Cindy Crawford, Meldman and Clooney are co-owners of the Casamigos tequila brand. Do these kinds of connections help him sell more real estate? They surely don't hurt.