The kids are good
This Georgia high schooler's crazy round featured an albatross on a par 4 and a 59 Watch after five holes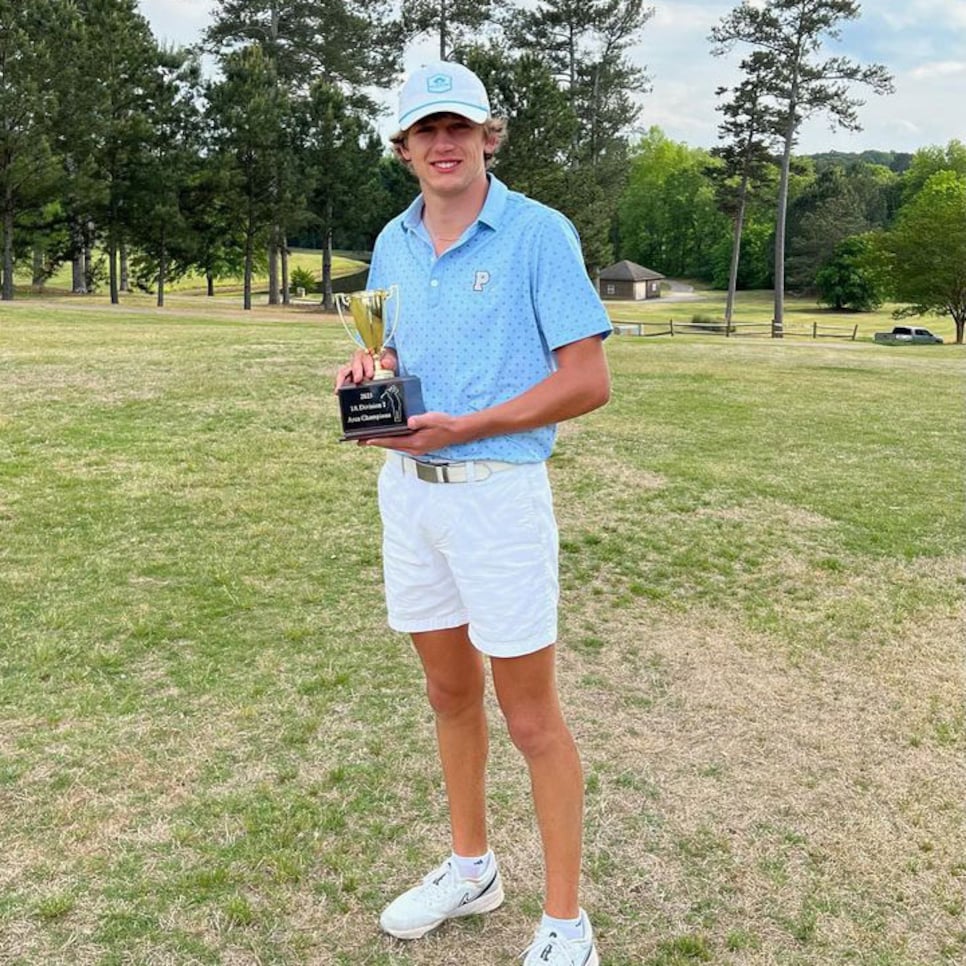 Georgia high school golfer Will Baker was on 59 Watch very early in this tournament round.
Courtesy of Will Baker
Turn on any professional golf telecast when a player is going really low, and you might see a small "59 Watch" banner on the bottom of the screen. These are typically reserved for when a player needs to make a couple of birdies in the closing holes to go sub-60. But if Georgia high schooler Will Baker's round in his area championship on Tuesday was televised, producers would have had good reason to cue the banner after five holes.
Baker, a senior at Prince Avenue Christian School just outside Athens, got off to a quick start on his round at the par-71 Lane Creek Golf Club with birdies on the first and third. A great start, sure, but making a few early birdies doesn't trigger the 59 Watch. Stepping to the 323-yard par-4 fourth, where a pond fronts the green, Baker later admitted to Golf Digest that taking driver might not have been the prudent play, but he did anyway. How did it play out? We'll let Baker tell it.
"It was 320 yards with a pond right in front of the green," Baker said. "I was probably not supposed to hit driver because it is not the smartest play, but I did, and I flew the pond by a couple feet and it trickled in."
Will Baker poses with his driver on the hole in which he made an albatross in a high school event.
Courtesy of Charlie Smith
The photo not only lives to document Baker's first career hole-in-one—in this case, the far more rare albatross—but serves as evidence that the pond was indeed "right in front of the green." We also have to applaud the subtle flex of posing with the driver next to the hole to show this isn't your everyman's hole-in-one. For reference, the only time a player made an ace on a par 4 in PGA Tour history was 2001, when Andrew Magee hooped one on TPC Scottsdale's 17th during the first round of the Phoenix Open.
Baker, who has signed a letter of intent to play golf at Clemson starting in the fall, didn't let up, and when he tacked on another birdie at the short par-4 fifth, he was six under through five holes. Making it even more impressive was that he hadn't even played a par 5 yet, which are typically the catalysts for such dream starts. That's when thoughts of shooting the magic number at Lane Creek's 6,177-yard layout first came to mind.
"Fifty-nine definitely came into my mind after the birdie on five to get six under," said Baker, who would need to play his final 13 holes in six under to go sub-60. He ticked off another two birdies on eight and nine to go out in eight-under 27.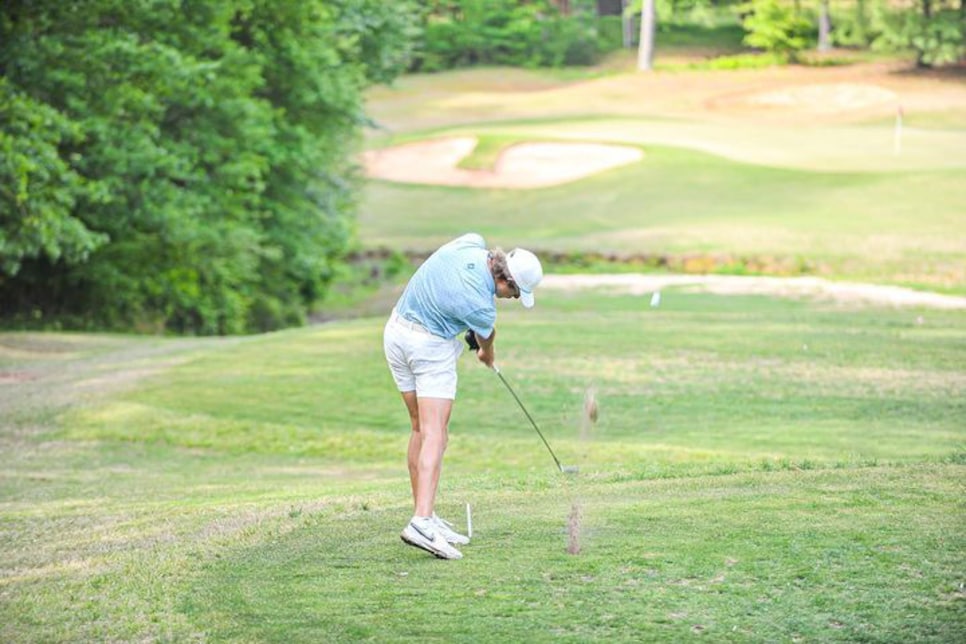 Will Baker hits an iron shot during a Georgia high school tournament at Lane Creek G.C. in Bishop, Ga., on April 25.
Charles Jordan
After birdieing the par-5 11th and adding another at the 417-yard par-4 13th, Baker admitted he was "on a heater coming off 13 green at 10 under." You don't say. In our televised simulation, if the producers hadn't flashed the 59 Watch banner earlier, they would certainly be blaring it across your screen as Baker needed just two birdies in his closing five-hole stretch, which included a couple short par 4s and a short par 5.
"Then 14 was drivable and adrenaline took over, and I flew it over the green into the woods and made bogey," Baker said. The heater was promptly switched off with back-to-back dropped shots at 14 and 15, dropping him to eight under on the round, all but ending his 59 Watch. Still, closing birdies on 17 and 18 capped off a round of 10-under 61 that gave him a 10-shot win and helped his Prince Avenue Christian team notch a convincing victory. Take a look at this scorecard. It's worth noting that if Baker was playing match play against his marker, he would have won 9-and-7.

"There was definitely a part of me that was upset I didn't get the 59, but I was happy to finish with two birdies and shoot double-digits under par," Baker said, adding that it was great to have the support of his teammates gathered around the final green.
"My wedges and irons were totally dialed in for the day," Baker said. "I hit 10 shots inside 10 feet, which helped me have nine birdies on top of the ace. Hard to miss when I have tap-ins for birdie on most holes."
Tap-ins on most holes. An albatross. Nine birdies. All signs point to Clemson head coach Jordan Byrd adding a player who might make an immediate impact in the lineup come the fall. But first, Baker will head to the state championship with his high school squad, as they look to win their third consecutive state title.
Baker is eyeing a loaded schedule of competitive golf this summer, with starts at the Western Junior and Georgia State Amateur, as well as the U.S. Junior Amateur and U.S. Amateur, should he qualify. After Tuesday's round, we're ready to pencil him in. Last time we checked, 61s are good enough.