John Feinstein
Not all 'learning experiences' are alike in golf. Some aren't actually learning experiences at all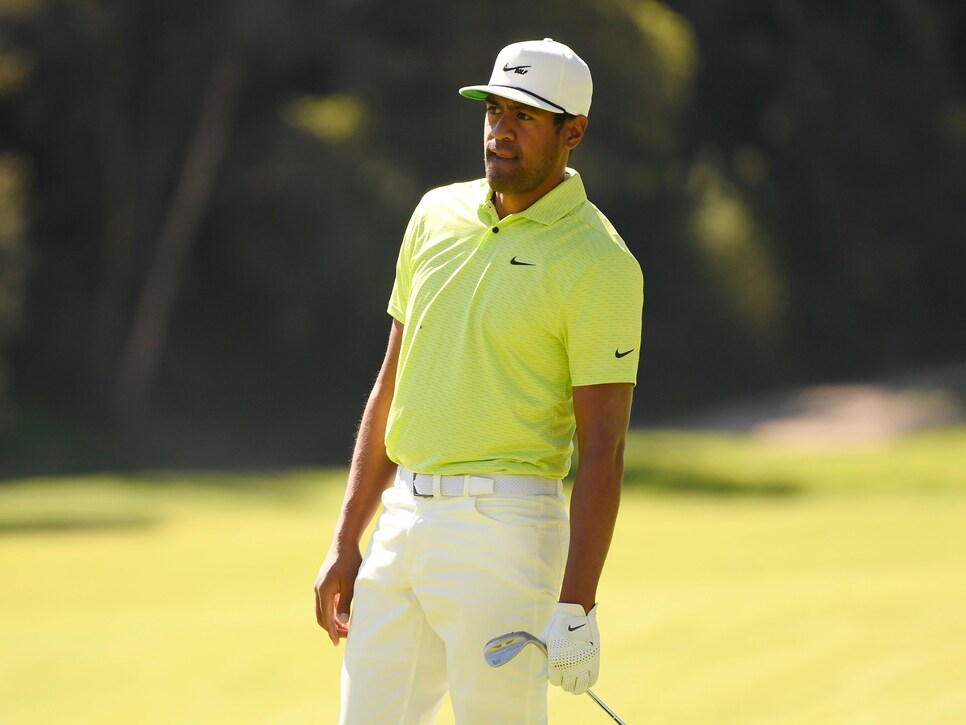 On the long list of jock clichés, this one seems to come up every Sunday at the conclusion of a golf tournament: "I look at this as a learning experience."
The line almost always comes from someone who has just missed winning, has gone backwards late in the day or has just had a disastrous afternoon from start-to-finish to fall from contention.
This past Sunday, as Max Homa was winning the Genesis Invitational, Tony Finau, Sam Burns, Matthew Fitzpatrick and Dustin Johnson all had learning experiences.
They just all came up short at Riviera Country Club for different reasons, and each of them knows that. But in today's world, especially in events broadcast on television, extra-especially on golf television, no one is allowed to just lose. The days of Johnny Miller using the "c-word" on air are long gone. Nobody chokes any more, everyone has a learning experience.
Oh, let's add one more thing we learn from golf broadcasts: They're all going to win multiple trophies in the near future.
Johnson is the No. 1 player in the world and is already a lock to get into the World Golf Hall of Famer. Fitzpatrick is ranked 20th in the world, has won six times overseas and has been a Ryder Cup player for Europe. Both were two shots out of the lead going into Sunday's final round. Johnson shot a one-over-par 72; Fitzpatrick an even-par 71. They were the only players who finished in the top 10 who failed to break par.
Lesson learned for this pair? If you want to win, play better on Sunday. One suspects they both already knew that.
Johnson and Fitzpatrick both have had enough success that they don't need anyone to make excuses for them. They've won before and it is extremely likely they'll win again—probably sooner rather than later.
That's not so for Finau and Burns.
Burns is only 24, and Sunday was his first brush with serious contention on the PGA Tour. He did win once on the Korn Ferry Tour, but there's a reason players call the PGA Tour "the big leagues." You're playing with the best golfers in the world. It's different.
Matt Fitzpatrick is still searching for his first PGA Tour title, but with six European Tour wins to his credit, his takeaway from Sunday is different than others who came up short.
Harry How
So, let's say Burns might have learned something playing in the heat coming down the stretch. He played phenomenally for two days, leading by five shots after 36 holes. After the weather-delayed third round wrapped up, he still led by two. He hung in for nine holes in the final round Sunday, shooting a four-under-par 31. The course was still playing firm and fast, but there were birdies out there compared to the wind-swept Saturday and others were also going low.
But Burns failed to birdie the short par-4 10th or the par-5 11th. Then, on 12, the proverbial wheels began to fall off. He bogeyed three of the next four holes. A birdie at 17 and a par at 18 left him one shot out of the playoff.
The third-place finish was the best of Burns' young career and there's reason to hope that the next time he gets in contention—or leads for 63 holes—he'll handle the pressure better. Here's the thing, though: Everyone who plays a sport knows how to lose. The lesson that needs to be learned is how to win.
When David Duval first came on tour in 1995, he consistently put himself in position to win tournaments—but didn't win any of them. He finished second three times his rookie year; third once. A year later, he was second twice and third three times. He was learning lots of lessons—painful ones.
In 1997, his third year on tour, Duval again finished second twice. Then, in October, he finally broke through, winning at Kingsmill. A week later, he won at Disney and two weeks after that he won the Tour Championship—three straight wins, the last against a loaded field.
Burns, the 2017 college player of the year, may come close without winning several times more before he finally claims a tour title. And, he may go on to win lots of trophies. Or, he might not. The list of golfers who have come close to winning but have never gotten to take a trophy home, is a long one. For every Duval there are 10 Brian Claars or David Hearns. Very good players who finished second on more than one occasion but never won. Loren Roberts was 38 before he won on the PGA Tour. Then he won seven more times before turning 50 and won 13 times playing against the old guys. It can go either way.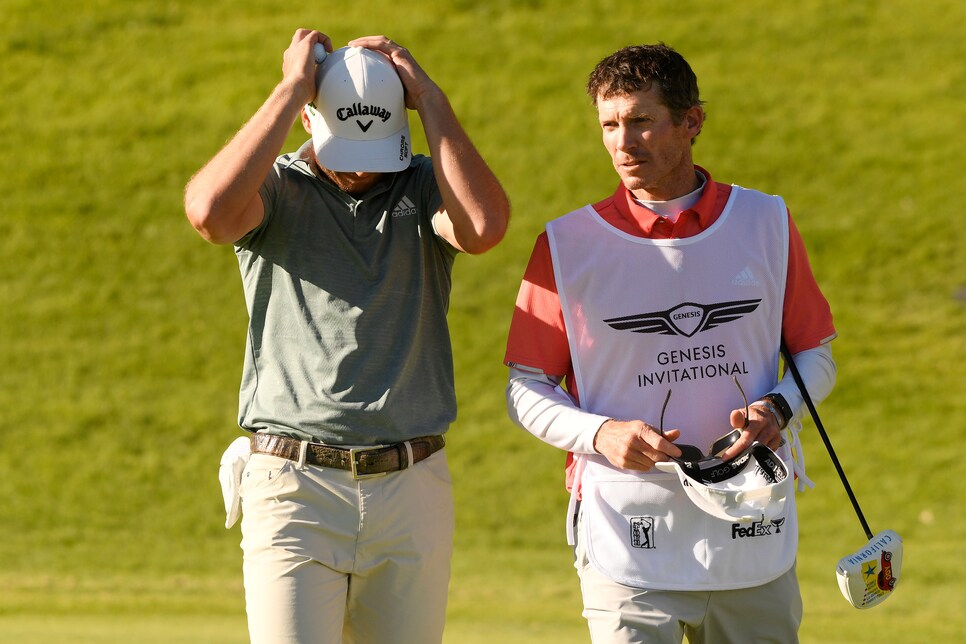 Sam Burns was leading through 63 holes at Riviera until a back-nine stumble cost him his chance at winning his first PGA Tour title.
Harry How
He has won once on tour—in 2016 in Puerto Rico. Since then, he's been in contention so often it feels as if he has a permanent spot on the leader board, regardless of tournament, regardless of venue. He's ranked 13th in the Official World Golf Rankings, a testament to his remarkable consistency. Since his win he has finished in the top five in 21 tournaments. Only five players have accomplished that more often, but none has won fewer than four times.
In his last three starts, two on the PGA Tour and once on the European Tour, Finau has finished 2-2-2.
Sunday had to be the most agonizing of those runner-up finishes. Finau came from behind, shooting a seven-under-par 64 to jump past the sputtering Burns. He then caught a break when Homa missed a 40-inch birdie putt on the 18th that would have given Homa the win in regulation. No doubt if Finau had beaten Homa in the ensuing playoff, Homa would have learned a valuable lesson: Don't miss a 40-inch putt to win on the last hole.
But that's not how things played out. On the first playoff hole, Finau's drive was just left of the 10th green, almost ideal position. Homa's drive came to rest next to a tree. He hit a superb chip to about 12 feet but missed the putt. Finau's chip was mediocre, but he still had a seven-footer to win. It never touched the hole.
Then Finau hooked his tee shot on the second playoff hole, the par-3 14th, into the left bunker and left himself a putt just inside 10 feet after playing his second shot from the sand. Homa found the green and two-putted for par. When Finau missed his par-saver, Homa was the winner.
Finau played phenomenal golf for 18 holes. Not so on the two playoff holes. It is hard to believe that Finau's not going to win again soon. And, when he does, maybe he'll go on a Duval-like run. But if you try to tell him that losing that playoff was a good lesson to learn, you might want to duck.
When you have a chance to win in golf—in any sport—losing isn't a lesson learned; it's an opportunity missed. If you follow tennis, do the names Miloslav Mecir, Michael Pernfors or Natalia Zvereva ring any bells? All were finalists in majors at a young age. All were assuredly going to win a major in the near future. None ever played in a final again.
When Novak Djokovic routed Daniil Medvedev in Sunday's Australian Open final, he turned to him during the awards ceremony and said, "you will win many majors very soon."
Maybe. Medvedev is 25 and Sunday was his second major final. John McEnroe won his LAST major title at 25; Bjorn Borg was 26.
The Tampa Bay Rays had a chance to win the World Series last year until their manager went into an analytics-induced coma in Game 6 and pulled pitcher Blake Snell when the L.A. Dodgers couldn't touch him. Anyone out there convinced the Rays will win this year's World Series? Or next year's? Anyone feel like losing was a learning experience for them?
The bottom line is the bottom line. In golf, being as consistent as Finau will make you very rich and respected. But, as Finau said Sunday, he grew up playing to win every week. Winning on the PGA Tour is VERY hard. But when you get in contention, you need to know how to win.
When Finau wins again, when Burns wins for the first time, they can both say the same thing: Now the lesson is learned.