News
For golf courses in the Carolinas, Hurricane Florence damage means different, difficult paths to recovery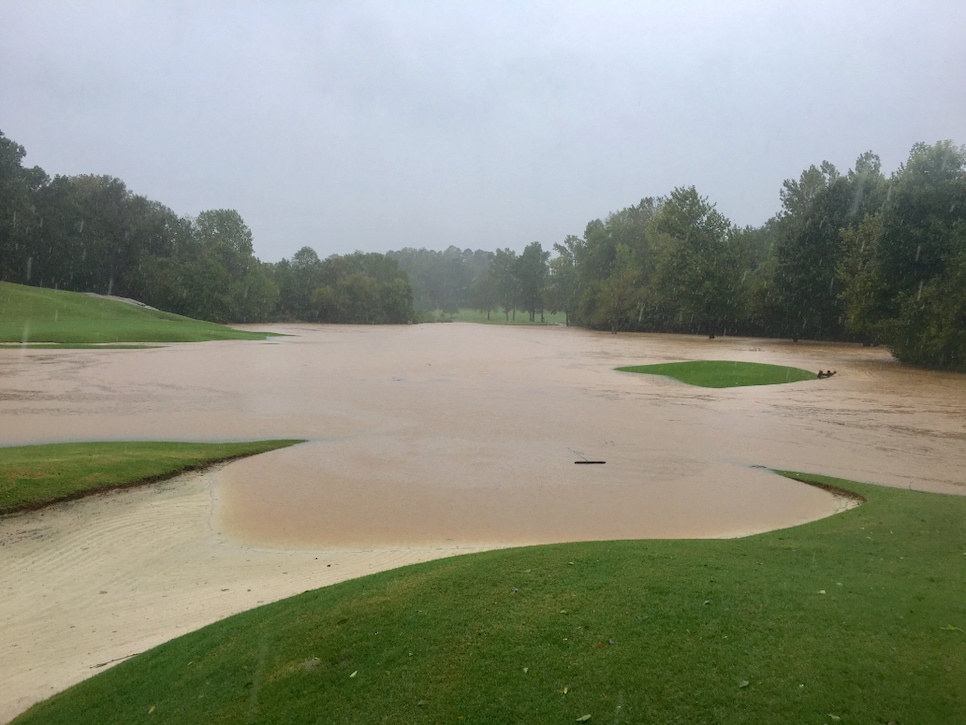 The good news—in admittedly the lesser context of a much broader and ongoing tragedy of homes and businesses facing near-record levels of flooding throughout the Carolinas—is that popular golf destinations such as Hilton Head Island, Charleston, Kiawah and Myrtle Beach in South Carolina and Pinehurst and the mountains in western North Carolina have been in many cases spared. But because days of rain and flooding stretches all the way to Charlotte, damage elsewhere continues as courses and clubhouses are dealing with rising waters that are submerging fairways and reaching the first floors of club buildings and nearby homes.
Florence's overall impact is still being calculated, with nearly 40 casualties attributed to the storm. Moody's Analytics is projecting the economic cost to be between $17 billion and $20 billion, making it one of the 10 costliest hurricanes in history.
Seemingly unthinkable only four days ago, Myrtle Beach's status as Golf Capital U.S.A. in the wake of the storm, however, seems largely unchanged. While the region is still in recovery mode and there is still a concern that some flood waters may rise to damaging levels, the golf courses in many cases are, or are about to be, back up and running.
"It's really difficult because right up the road we've got a catastrophic situation in places like New Bern, and our thoughts are with them," said Bill Golden, spokesman for Myrtle Beach Golf Holiday, the official association for Myrtle Beach golf courses and golf travel. "But our courses and the region has been very, very fortunate.
"Even as we begin looking forward to the fall golf season, our thoughts are with those who bore the brunt of Hurricane Florence in North and South Carolina. The impact of the storm for many of our neighbors was tragic, and we wish them a complete recovery."
Golden said there are discussions underway for the 75 courses in Myrtle Beach Golf Holiday to include a fund-raising initiative in the coming weeks to help relief efforts to the north. Plans are being finalized to donate a portion of income from green fees during a weekend this fall, the second-busiest season of the year for golf in the region behind the spring.
Golden said as many as 50 of the more than 80 courses in the Myrtle Beach region are expected to be open by the end of the week. There is a timeline at Myrtle Beach Golf Holiday's website for course re-openings.
Elsewhere, reports from other popular golf destinations in the Carolinas were positive. Both Hilton Head Island and the Charleston area, including Kiawah Island Golf Resort, were spared the brunt of the storm. Pinehurst in North Carolina, which postponed the unveiling of its new No. 4 course by Gil Hanse for precautionary measures, seems to have suffered minimal damage, and the same is true for the mountains region of western North Carolina. Pinehurst's Twitter account posted a photo of the resort clubhouse and driving range on Tuesday in the backdrop of a rainbow: "Our thoughts remain with those throughout the Carolinas who are suffering from the impact of Hurricane Florence. We are grateful and fortunate to have escaped any significant damage from the storm. Our hotels and golf courses will be open and fully operational as of Wednesday."
While the Grand Strand, a golf vacation haven with an estimated economic impact of $650 million, faced dire warnings with Florence approaching as a Category 4 hurricane, the storm's slight track to the north spared golf courses from severe wind damage. And while the storm stalled over the region for three days of fairly constant rain, the golf courses seem to have managed their way through it.
"As far as damage for us, it was really minimal," said Steve Mays, president of Founders Group International, which owns and operates Grande Dunes and 21 other Myrtle Beach courses. "We actually got some rain [Monday] night that dumped a lot on us and probably caused more problems than we had for the entire storm.
"But overall, we'll have a good majority of our golf courses open [Tuesday], and I would expect most of them will be back up and running by the end of the week."
Golden said even some of the northern-most courses in the Myrtle Beach region, those south of Wilmington, N.C., in Brunswick County, seem to have weathered the storm. That includes River's Edge in Shallotte, N.C., which is located between the Atlantic Ocean and the Shallotte River and is divided by a 27-acre freshwater lake. It posted on its Facebook page that it would reopen Thursday near images of its crew clearing fallen trees: "Hey we may even be riding the fairways A💪 Book Now tee times going fast!!!"
What Myrtle Beach and much of the river towns of North Carolina face in the coming days is flooding concerns. Those come on top of already flooded conditions throughout North Carolina on a swath that runs from Wilmington on the coast north and west all the way to Charlotte. Remarkably, the U.S. Mid-Amateur is set to begin as scheduled on Saturday at Charlotte Country Club and the Carolina Club, with practice rounds beginning on Thursday. Charlotte C.C. was fortunate to only have some tree damage, and the course drained well enough in time for the championship.
Just 15 minutes away, Carmel Country Club might've initially feared the worst—with videos from the weekend showing massive flooding throughout the club's two 18-hole courses after massive inches of rainfall. The club's head superintendent, Brannon Goodrich, shared this on Twitter:
Seven greens took on water, and the club lost the back half of the South course's fifth green. Still, Carmel C.C. will host its big fall member-guest next Thursday, with 192 teams (that's 384 or so players) teeing it up. The club will use a front hole location on the fifth green, improvise with the tee, and despite having to repair a sizable amount of bunkers, otherwise, it will be business as usual.
"The whole thing is giving the membership an opportunity to get back to normal," said Jeff Nichols, Carmel's director of golf. "Both courses will open on Friday, and we'll have a shotgun for members at 12:30, which will be nice. Compared to what's happening south and east of us, we sure as heck can't complain."
Eagle Point Golf Club in Wilmington, which hosted the Wells Fargo Championship in 2017 and is No. 100 on Golf Digest's America's 100 Greatest Courses, will be shut down three to five weeks as the club clears debris from an estimated 500 loblolly pines that fell, General Manager and Director of Golf Billy Anderson told Golf Digest on Thursday.
Anderson has been at the club since its Tom Fazio-designed golf course opened in 2000. He evacuated the area with his family, but two club employees stayed on-site and sent along videos and photos as the storm progressed.
"The videos and pictures didn't do it justice," Anderson said after surveying the damage this week. "It's spectacular and depressing at the same time. I've never seen the property beat up like this, even during construction of the course. You can't believe what wind and rain will do. It's impressive and sad in equal parts."
According to Tim Kreger, executive director of the Carolinas Golf Course Superintendents Association, he was receiving texted images of courses partially or completely underwater. "It just depends on where you were in regards to the rivers and major water runoffs. TPC Piper Glen and Myers Park both experienced flood waters but no notable permanent damage reported at this time."
Elsewhere south in the state, the waters have been more destructive. Kreger said the main concerns are the Cape Fear river, which runs through Fayetteville, was at 61 feet and rising, and could endanger thousands of homes and businesses as it stretches to more than two miles in width. Kreger said already has left courses like Hope Valley Country Club in Durham and River Landing Golf Club in Wallace, including its clubhouse, flooded (photo below).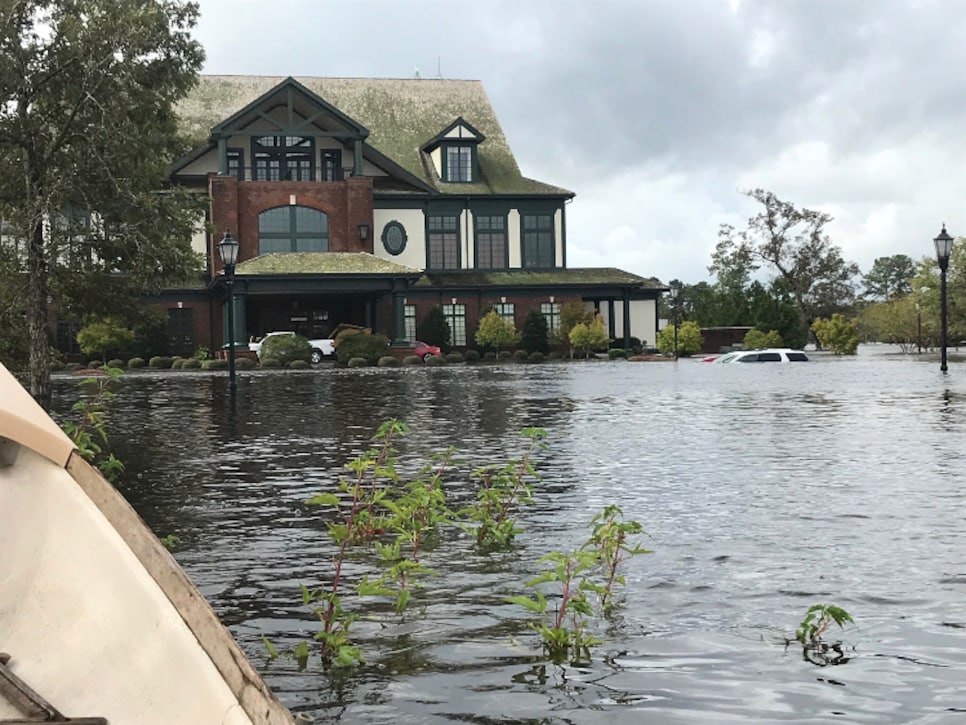 The flooding poses not just the damage and displacement of rushing water, though. The turf can suffer lasting damage, too, because the water under isn't helping the grass survive.
He also said many courses in the Wilmington area experienced both damage from fallen trees and flooding and "most courses just inland from Wilmington flooded." He cited reports that Wilmington Municipal, a 1926 Donald Ross design recently renovated, having more than 300 downed trees and staff still being unable to return because of flooded roads. The flooding near New Bern and along the Neuse River has been at record levels, too, impacting courses, like Eagle Point, that now have debris to clear.
"Getting the silt and debris removed as soon as possible is a high priority," said Steve Kammerer, Southeast regional director for the USGA Green Section. "This is organic matter and material of questionable origin that is a physical barrier to the turfgrass getting sunlight as well as impacting drainage and delivering water for flushing or providing water to the turfgrass roots."
That most of the golf courses in the area are primarily Bermuda grass will help, since it has a high salt tolerance, according to Kammerer. But if flooded for a prolonged period by salt water, the exposure combined with heat "amplifies the potential for damage." And if the levels remain high, when the flood waters finally recede it is difficult to "leach" the salt with clean water.
Meanwhile, in Myrtle Beach, there still were courses in the line of flood waters including The Heritage Club in Pawleys Island. But it is on line to open Thursday. According to a note on its Facebook page, "Heritage Club appears to have weathered Florence's wrath pretty well. We did not sustain any tree loss, just flooding and a lot of debris down. We are looking forward to getting things back to normal."
For Mays, it wasn't the impact, he said he thought he might see, but he isn't done worrying yet.
"We did get a lot of rain, but we were lucky," he said. "This is unlike anything I've been through. The length of time it was here was just unbelievable."
Mays said a lot of the area rain gauges overflowed during the storm. Many local rivers are expected to rise over flood stage in the next few days, including the Waccamaw, Pee Dee, Little Pee Dee and the Lumber.
Mays said while Myrtle Beach courses are readying to resume operations, he urged travelers to be safe. While Myrtle Beach International airport is open and might be the best way to get to Myrtle Beach, those used to driving to the region will likely have some challenges. Multiple sections of Interstate 95 remain closed due to flooding on Tuesday, as do portions of I-73 and U.S. 501 and the entirety of I-40 between I-95 and Wilmington, all arteries that lead to Myrtle Beach, as well as some minor roads due to downed power lines.
"From a damage standpoint in our area, it's way better than expected," Mays said. "But now it's just, 'Well, how do you get here?'
"Sure, it's important for us and our economy to have our visitors come in here and play golf, and we also know how important for them it is to get away and play golf here. But we just have to be safe and make sure we're listening to what our state and local authorities are telling us about getting in and out of this area."