The Loop
Florida's new gator-hide alternates are the most ridiculous college football uniforms ever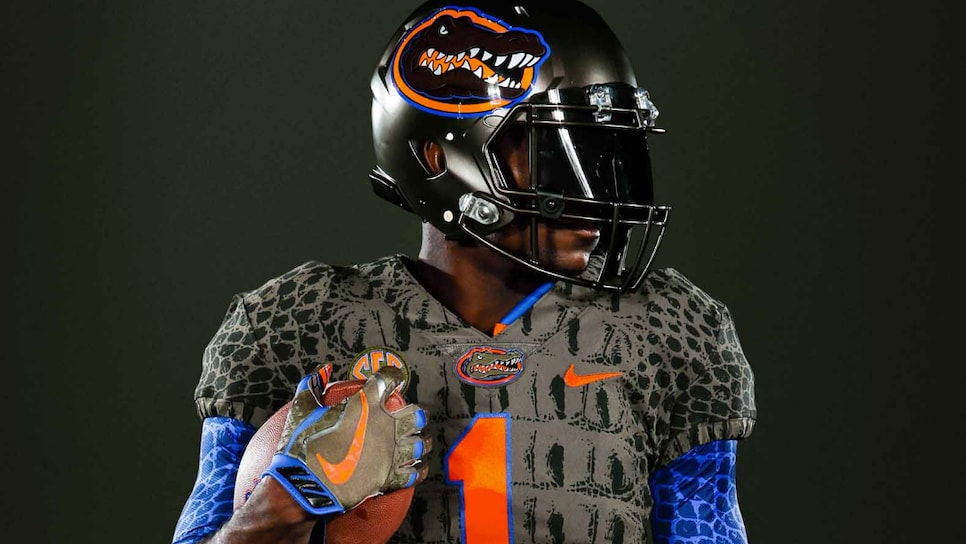 Savor this, because you're not going to hear it often: We were wrong. Dead wrong.
Yesterday the University of Florida and the internet—continuing its eternal crusade to make everyone look like an out-of-touch idiot within five seconds of their last Tweet—joined forces to unveil the Gators new "swamp green" alternates, perhaps single most over-the-top, Batman villain-ready get-up in the long, ridiculous history of college football fashion. Simple, in the true Gainesville parlance, these ain't:
There are lots of proud Florida firsts here, of course. It's the first time they've ever worn a base color other than blue, orange, or white. It's the first time the gator head logo has appeared on their helmets. It's the first time PETA has ever had cause to protest a college football uniform. But to be honest, this isn't about facts. This is about art. And in these new gator hide monstrosities—designed to celebrate the 25th anniversary of "The Swamp"—Florida has crafted their very own pigskin Picasso.
Florida will go full gator during this week's matchup with Texas A&M, airing Saturday, October 14th at 7pm on ESPN 2.