News
Fledgling Spaniard star Jon Rahm behind by six, but ahead of schedule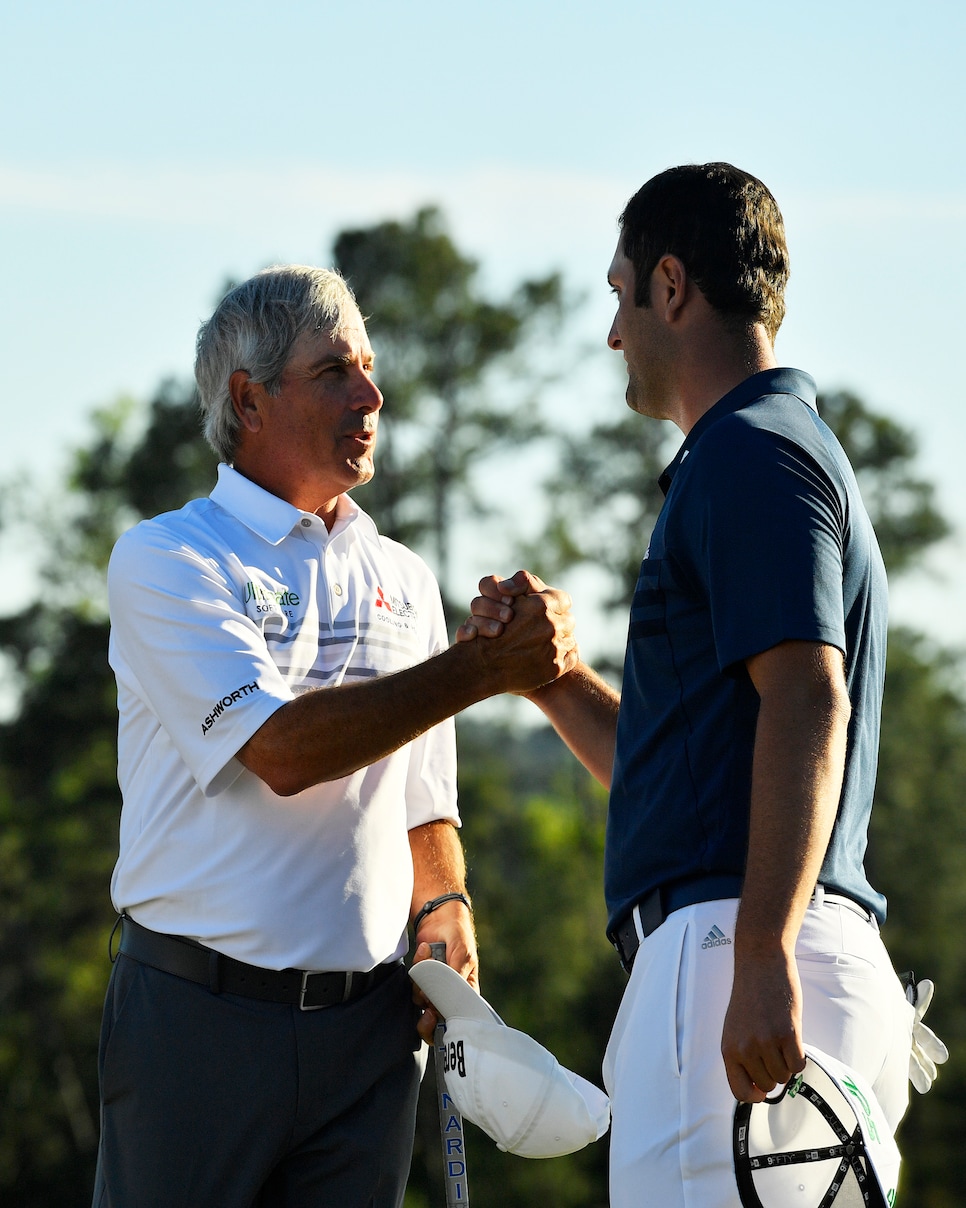 AUGUSTA, Ga. -- The talk over the last few months has inevitably been littered with references to the "new Seve." But that obvious (and lazy) premise is flawed. Inches taller and stockier-built, Jon Rahm bears little physical resemblance to the late, great Ballesteros. In truth, the 22-year old Spaniard has more in common with another legend, Lee Trevino. Take a look at "Supermex" at the top of his backswing, especially the pronounced bow in the left wrist. Albeit much bigger - he stands 6-foot-3 and weighs 225 pounds - Rahm is a strikingly similar facsimile of the six-time major champion who doubled as one of the game's best-ever ball-strikers. As omens go, that takes some beating.
The numbers too, are startling. The 81st Masters is Rahm's 18th event as a professional. Of the previous 17, he finished third in the first, second in the fourth and won the 13th, the Farmers Insurance Open at Torrey Pines. In two World Golf Championships last month, he finished T-3 and second. Already his earnings on the PGA Tour total almost $4 million. Only Dustin Johnson has amassed more world-ranking points in 2017. And he will start the final round in his debut at Augusta National just six shots off the lead and ranked 12th in the world, which is surely something of a disappointment to Phil Mickelson. Even before the young Spaniard turned professional, Mickelson - whose younger brother, Tim, is Rahm's agent - was telling him he was one of the 10-best golfers on the planet.
In just about every other respect, however, Rahm is ahead of schedule. Even his own. As recently as last November his ambitions for 2017 were modestly modest.
"I've thought about the Ryder Cup a lot," he said during the World Cup of Golf at Kingston Heath in Melbourne, Australia. "I so want to play in the matches; who doesn't? It is my dream to represent Spain in the Ryder Cup. But unless I do something incredible soon, something that gives me a lot of stability on the PGA Tour, I won't be joining the European Tour just yet. I will definitely come back to play in the Spanish Open though.
"I need to establish myself on the PGA Tour. Hopefully, I will do that and make it into the top-50 in the world. Once I do that, I will be able to play in the eight tournaments that count towards the PGA Tour and the European Tour - the majors and the WGCs. That is the ideal scenario. All of which is not to say that the Ryder Cup is not on my mind. The next one is in France and that is close to home for me. I will be doing all I can to be there."
Since then, Rahm has ticked almost all of his boxes, the undoubted highlight the 50-foot eagle putt he drained down the 72nd green to clinch his maiden PGA Tour victory. Of more import long-term, however, was keeping his word and signing up for European Tour membership, a move that makes him eligible for the 2018 Ryder Cup at Paris National. Only the Spanish Open thing may have to wait. Rahm's national championship has - at least temporarily - disappeared off the ET schedule.
Speaking of the Ryder Cup, it is perhaps too soon to be jumping to any conclusions, but the Old World side is shaping to be appreciably superior to the one former Open champion Darren Clarke led to a six-point defeat at Hazeltine last year.
Assuming Rahm is part of new skipper Thomas Bjorn's team of 12 - and who would bet against that? - he will surely enter the order somewhere near the top. Throw in a still-improving Thomas Pieters, a clutch of young Englishmen like Matt Fitzpatrick, Chris Wood, Andy Sullivan and a hopefully revitalised Danny Willett, and established figures like Sergio Garcia, Rory McIlroy, Justin Rose and Henrik Stenson and America's defense of the trophy already appears formidable.
"We're coming into a really good era for European players," predicts three-time major champion Padraig Harrington.
All of that is for the future though. For now, Rahm's eyes are on the prize, specifically golf's most famous garment. He certainly has all the shots. Followed by a journalist at Kingston Heath five months ago, Rahm put on a ball-striking clinic. The massive and prodigiously-shaped right-to-left draw he smashed onto the distant green at the par-5 eighth (normally the seventh) led to an eagle and lingers still in the memory. Throw in some outrageous drives and, here and there, pitches and chips that speak to exceptional hand-eye coordination and feel for distance and you have the identikit golfing superstar. He's that good already.
He was in the third round at Augusta National, too. But not brilliant, especially on the par-3s. A bogey on the fourth was followed by a double on the 12th and another dropped shot on the 16th. Four birdies came along at the second, third, 11th and 13th. In the end, it all added up to 73 and a tie for 11th place, six shots behind Sergio Garcia and Justin Rose.
"I'm disappointed," was Rahm's understandable reaction. "I started off playing great golf and felt really good right up until I hit the tee-shot into the water on 12. It felt perfect too, but we got a gust of wind we weren't expecting. Those things happen on that hole. Maybe I was too aggressive, I don't know. For the first time this week, I felt like a rookie here. Had I known how the greens work, maybe I wouldn't have made the four at 16. But these are things that you learn from.
"I'd rather not have rounds like this one. But they are going to happen. Tiger played three Masters before he won. And Phil played a lot more than that before he won. I'm only six shots back and I'm going to try my hardest tomorrow. I feel like I've been playing great and there is good golf still to come."
As should be obvious from those post-round comments, there is an inherent maturity and amiability within Rahm. He has, as dear old Scottish grannies tend to say, "a way about him."
Yes, the stereotypically volatile Latin temperament is part of his make-up. He is not above displaying some displeasure at an errant shot. But not nearly to the same extent as the young Sergio or Seve. There will be no tantrums or shoe throwing. This is a young man with a good sense of right and wrong, his priorities well-thought out. There was, for example, no thought given to leaving school early in premature pursuit of the many dollars. Rahm completed his degree in communications at Arizona State "because I promised my parents." But he did it for himself, too.
"If it could have been a little longer, I probably would have stayed," he says. "Golf careers are 30, 35 years long. In the large scheme of things, one or two years really don't make a difference."
Maybe. But over the next couple of decades, Jon Rahm is surely going to do just that. His time - and his majors - will come.