urban legends
Is Five Iron the future of indoor golf?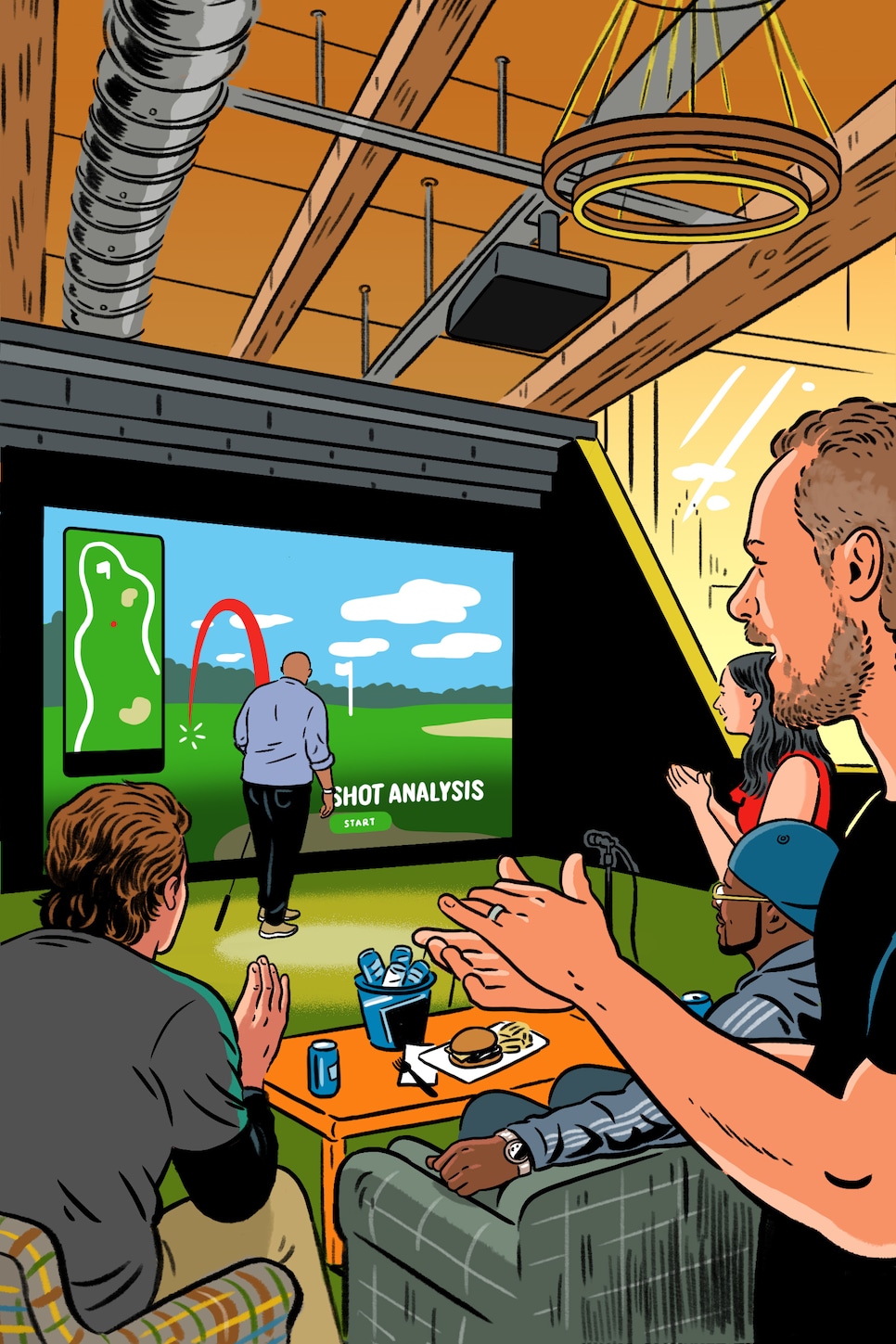 Illustration by Kyle Hilton
Walk around Five Iron Golf's 25,000-square-foot indoor golf center-slash-cocktail lounge in midtown Manhattan, and it's almost impossible to imagine that a few years ago, it was just a single netted bay with a mini-refrigerator hidden in the back of a suit shop. Mike Doyle almost can't believe it himself.
In 2016, Doyle was doing a kind of reverse commute for a New York City golf instructor. Instead of looking to migrate to one of the potentially lucrative teaching jobs at a private club in suburban Westchester, Connecticut or Long Island, he was interested in teaching that same clientele in Manhattan in an indoor setting.
So Doyle went to work in the back of the aforementioned shop, tailoring his schedule to the peculiarities of his students' availability. "I'd get guys who were traders on Wall Street who wanted to come in and get a lesson at 6 a.m. before work," Doyle says. "It was brutal. They'd be waiting as I opened the doors and was basically still asleep."
Doyle's students hit better shots, and they also came equipped with the tools to put a business plan in motion. One of those early-morning Wall Streeters, Jared Solomon, brought in family friend Nora Dunnan—a Duke business school grad and business development ace—and in 2017 the three came up with the concept of a sophisticated golf "hangout." Sure, you could come and hit balls on a state-of-the-art simulator but just as important were the food-and-beverage and golf-shop-fitting experiences.
"We felt like corporate entertainment was changing from going to Yankee games and eating steak dinners to smaller groups doing things more economically," Doyle says. "We found a small space where we could achieve that vibe—15- to 20-person events, some simulators, a hangout area."
For their first dedicated space, the trio tracked down a vacant yoga studio in the Flatiron District that had an unintended side benefit: a shower. "It was actually too expensive to remove it, so we kept it—and it was a huge thing," Doyle says. "People would come at 6 to use the gym and hit balls and go straight to work. We had a deal where you could pay $200 a month and come whenever you wanted off-peak, which was 6 a.m. to 4, and by the end of that first month, we knew there was going to be enough revenue to keep the lights on."
'We felt like corporate entertainment was changing to smaller groups doing things more economically.'
Soon, the floor above the yoga studio became available when the tenant—an internationally known DJ—got busted for running a crime ring. Five Iron filled the soundproof space with five more simulators and started looking for ways to expand. The company now has 16 locations, including Philadelphia, Boston, Chicago and Seattle, with plans to add five more by the middle of 2023.
None of it would have been possible had the trio followed the lead of another indoor Manhattan golf space, Golf & Body, which opened in 2013. Conceived as a kind of indoor country club, Golf & Body charged a $5,000 initiation fee and more than $500 in monthly dues for access to simulators, a gym, a restaurant and the reflected glow of its association with PGA Tour players like Luke Donald and Webb Simpson. "When we opened, the Golf & Body owner invited us over," Doyle says. "The place had all the bells and whistles—just done to the nines everywhere you looked. We're sitting in his office, and he tells us in a matter-of-fact way that we have to keep our prices high and our place exclusive because golf isn't for everyone.
"I don't know if we even got to the street before the three of us looked at each other and said, 'We're not doing that,' " Doyle says. "Anything that felt exclusive or stuffy or prohibitive, we didn't want that to be a part of Five Iron, right down to the way we designed our spaces with graffiti and street art. It was a conscious thing to say, 'Hopefully, the Winged Foot guy likes this enough to come back, but this is who we are.' Turns out, they're OK with it. They can like this and like the mahogany and rich leather, too."
The beginning of the COVID pandemic in early 2019 devastated many businesses with large footprints and high built-in costs, and Golf & Body was one of them. Five Iron was on better financial footing, and its smaller spaces were able to stay open and keep customers isolated. "We had already been looking for an existing golf space to take over, where things like zoning and the complex liquor rules were already in place," Doyle says. "We made a deal where we took over that Golf & Body lease, and the office where we had that first meeting now has a simulator in it."
That space is the heart of the 25,000-square-foot flagship Midtown location, which opened in early 2021. It doesn't look anything like one of those smoky old 30-lane bowling alleys your grandfather might have frequented, but Doyle embraces one important part of that comparison.
"I used to get offended when people said 'bowling alley' as if we were something other than real golf," Doyle says, "but the more I thought about it, you know what's great about bowling? If somebody asks you if you want to go bowling, you don't ever say, 'Well, I'm not a bowler.' You go and drink beer and have a great time. That needs to be the answer about golf, too. That's what we're trying to do."