News
Fantasy Golf Podcast: Would a win in Boston make Dustin Johnson the front-runner for PGA Tour Player of the Year?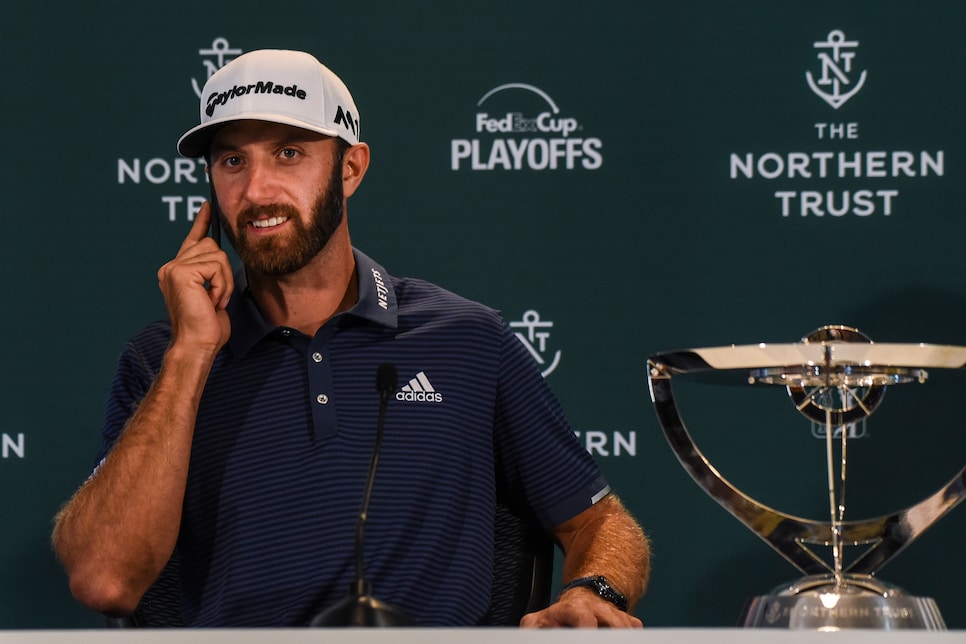 How was that for a start to the PGA Tour's postseason? A FedEx Cup Playoffs playoff? Between Dustin Johnson and Jordan Spieth? Yeah, we'll take more of that, please. To break down the exciting finish at the Northern Trust, discuss DJ's Player of the Year chances, make our picks for this week's Dell Technologies Championship, and talk about Taylor Swift's new single, Joel Beall joined me for our weekly chat. Please have a listen:
And if you're more old school and would rather just read my normal weekly fantasy golf picks, here's my fab foursome at TPC Boston:
Dustin Johnson: How can I not roll with DJ again after he made me look so good last week as my one-and-done pick? OK, so I didn't exactly go out on a limb predicting the World No. 1 would win, but it's nice to be right. Johnson's three top 10s at TPC Boston don't blow you away, but his strokes gained stats for the season (No. 1 tee-to-green and overall) sure do.
Charley Hoffman: No one has played better this season without a win. Hoffman has three top threes in the past two months, plus a solo eighth-place finish at the U.S. Open. He's due to lift a trophy again, and why not at an event he won in 2010 when he shot a final-round 62? Hoffman also has extra motivation this week as the current Team USA Presidents Cup bubble boy. The top 10 in the standings at the end of this tournament, plus two captain's picks will make Steve Stricker's squad. Well, one captain's pick other than Phil Mickelson.
Webb Simpson: Webb probably needs a win to be in the discussion to earn a spot on Team USA, but he did just that at TPC Boston in 2011. Simpson has also turned it on in the past year after finally finding a putting stroke that works for him following the anchor ban's implementation at the start of 2016. He has four top 10s in his past nine starts, including back-to-back strong starts (3rd at the Wyndham, T-6 at the Northern Trust).
Adam Scott: We didn't expect the Aussie to tee it up this week, but after the birth of he and his wife's second child (Byron -- how golf appropriate) he was a late edition to the field. At No. 73 in the FedEx Cup standings, Scott needs a good week just to advance to the third leg of the playoffs. With a win and six top 10s in 11 starts at TPC Boston, we think it's a pretty good bet we'll see him again in a couple weeks at the BMW Championship.
Just missed: Paul Casey and Rickie Fowler. Remember, folks, this tournament has a Monday finish thanks to Labor Day so you have until Thursday night to set your lineups.
And for those of you playing other fantasy golf formats:
Yahoo! lineup: Dustin Johnson, Charley Hoffman, Webb Simpson, Brooks Koepka (Starters); Adam Scott, Paul Casey, Justin Thomas, Patrick Cantlay (Bench).
Knockout/One-and-done pick: Adam Scott.
And here's the podcast link again, if you want to hear Joel and I jabber: