CFB MVP
Fan lighting blunt that was actually a rib wins college football weekend (wait, what?)
To select one winner of Rivalry Weekend in college football is a near-impossible task, like picking your favorite child. We loved all the coaches, players, fans and viral moments equally, and we'd never dare to reveal which one we love most in front of the others.
Fortunately, these are not our children, which allows us to be frank and say that our winner of this past college football weekend, our favorite child, has to be this man lighting a blunt (?) at the 49th annual Bayou Classic between Grambling State and Southern:
I mean, that's 100 million bajillion percent a blunt, right? It has to be. Not only is that how you light it (from what I've seen others do while I sit idly by and refuse to partake), but this is the most "oh sh-t, I'm getting caught red-handed lighting a blunt on TV" face in Bayou Classic, and possibly American, history: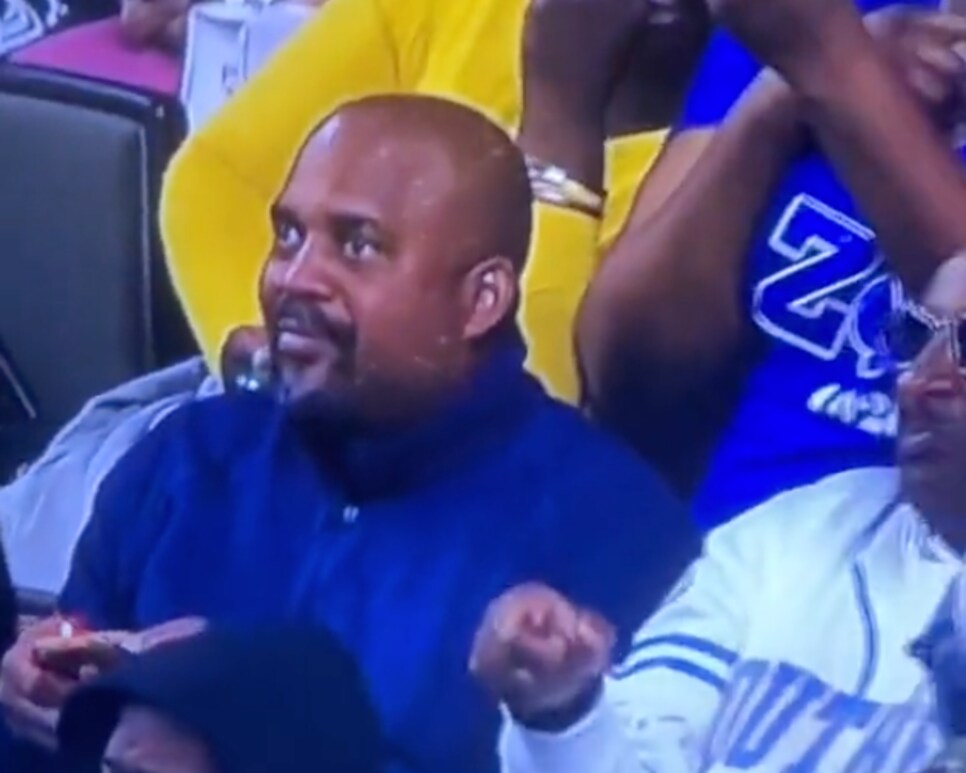 Yup, that's you right before you go viral for getting high as hell on national TV. Hey, it's legal now in Louisiana. This man is not doing anything wrong. Plus, the Bayou Classic, in addition to the football game, features the Battle of the Bands between both schools. I pity the fool who doesn't want to get high and watch the real-life version of "Drumline" play out.
HOLD UP, folks. Let's go to the tape....
Ummm ... "unfortunately" ? This is legitimately the most hilarious twist ever. Man was lighting up a damn RIB with a gas-station lighter. Did it actually make it hot? Did these people sneak in leftover ribs? Did he bring down one rib from a suite to eat in his seat? Are they serving ribs at the Caesars Superdome??? The rib raises so many questions, whereas the blunt made complete sense and raised zero questions. I cannot believe my eyes. This man is by far the Rivalry Weekend MVP. Ribs forever.
You want to know what would make this guy a true legend? Like build-a-statue type legend? If he really was hitting a blunt, then heard he was going viral for hitting a blunt, then said "OK, take a picture of me lighting this rib so everyone thinks it was a rib and not a blunt." Wouldn't put it past him. Real men of genius material, through and through.
(In this section, we give out helmet stickers to those who *almost* won the weekend)
Five helmet stickers: Caleb Williams
We usually don't delve too much into stats an actual on-field performance in this weekly roundup, rather focusing on the insane moments on the sidelines, in the stands, after the whistle, etc. But c'mon, that was legendary stuff from the now overwhelming Heisman favorite Caleb Williams, who transferred to USC from Oklahoma to join former Sooners head coach Lincoln Riley in paradise. All the two have done is instantly bring USC back to national prominence, as the Trojans are now a PAC-12 Championship win away from reaching the College Football Playoff for the first time in school history. This former juggernaut had 11 wins just once in 12 years post-Pete Carroll, and Riley has already accomplished that in one regular season. Much of that is due to the play of Williams, who only threw for one touchdown against Notre Dame but ran for three more in a 38-27 victory, locking up the sport's most prestigious award in the process. And, to top it all off, he had holier-than-thou fans on social media all SORTS of riled up with his message painted on his fingernails:
Those new to Williams were unaware he writes a message on his fingernails like this every week, but this was apparently a step too far for some.
Also five helmet stickers: Sean Clifford, the ultimate bro
Penn State fans, and Penn State bettors, are thrilled to see 24-year-old Sean Clifford finally throw his final pass in Happy Valley. It was a strong and long career, but it was littered with bad turnovers, ugly throws and all-around poor decision-making that cost the Nittany Lions plenty of games and Nittany Lions' bettors plenty of coin. Little did we know the entire time that all Clifford was ever trying to do was ... cover the spread???
Just so everyone's clear, this was moments after he threw a touchdown to make the score 28-16. The spread, depending where you looked, was Penn State -19, meaning Clifford knew that a touchdown and an extra point would at least earn folks a push, or 18.5 people a win. And guess what? Penn State got the ball back with under four minutes to go and Clifford went ahead and threw another TD. Final score: 35-16. LEGEND. And for those thinking this is problematic or that he's in "hot water" for this, A. he's done with college so we doubt he cares, and B. he's trying to score more points, not shave them, which would obviously be an entirely different story. Of couurse, if it comes out that Clifford bet on this game himself, that could certainly pose some issues, but until it does he's safe.
By the way, the other thing this reveals is that no matter what any player or coach tells you at the college or professional level, the point spread is 100 percent on their minds and is 100 percent used for motivation, at least for the underdogs. As for favorites, we don't doubt it's used as a measuring stick for how well you may or may not have performed. Clifford just said the quiet part out loud and for that he's a hero.
Four helmet stickers: Mississippi State AD Matt Dudek and his big ol' cigar
Because it was Thanksgiving night, the Egg Bowl feels like it happened a year ago, but it's definitely worth rehashing as it was as strange and Egg Bowl-y as ever. No other rivalry game appears to be so in the bag for one team every year, only for sh-t to promptly hit the fan just as the nation is falling asleep from too much turkey. Mississippi State had this thing won late, only for quarterback Will Rogers to fumble the ball while running in for the game-sealing touchdown, allowing Ole Miss to recover, go down and score and have a chance to tie the game with a two-point conversion. It failed, the Bulldogs hung on, and Mississippi State AD Matt Dudek smoked an alarmingly large victory cigar to celebrate:
It's simply too big, but anything to flex on Lane Kiffin and the Rebels. Luckily for us, we get to do this again next year and the year after that (hopefully), as Kiffin signed an extension to stay in Oxford after rumors swirled that he was headed to Auburn. Mike Leach should be back too, which makes me very happy.
Three helmet stickers: Isaiah Alston
Incredible stuff from the sophomore wide receiver out of the great state of New Jersey. What makes this catch infinitely better, and funnier, is that it was one of TWO completions for the Army offense tne entire game, which the Black Knights obviously won 44-7 by running the ball down UMASS' throat for 329 yards. That's called making the most of your opportunity, folks. No idea if Alston has NFL aspirations, but if so he could just use this catch as his highlight tape and he might have a shot at going in the fifth round.
Two helmet stickers: Whoever's idea it was to plant the Michigan flag in the block O
If there was ever a time were planting the flag was more applicable, it was this time. Another year, another complete emasculation. Remember 2018? There was legitimate discussion of firing Jim Harbaugh, and questions about whether or not Michigan would ever be able to compete with Ohio State again. That feels like 20 years ago. Have you ever seen something flip so quickly? Now the complete opposite is being discussed. Was Ryan Day really born on third base? Are the Buckeyes too finesse? Are they afraid to get hit? To tackle? To play man football? These are all valid questions after Saturday's beatdown in Columbus. Just look at them letting their arch rival plant the flag and do absolutely nothing about it. What can they do? They've got 365 days to do something. Well, 363 now.
Minus-five helmet stickers and minus-100 brain cells: This dude
I bet Miami money line on Saturday night and I wasn't anywhere near this hard on myself over it. No idea what led him to do this but I can promise him it's not worth it. The Miami football program, in its current form, is NOT worth it, bud. You're up 42-16, just relax and stop freaking out your teammates:
Straight to the GIF Hall of Fame.
Minus-10 helmet stickers and minus-150 brain cells: Monte the Grizzly Bear
Guys, what are we doing? We're supposed to be limiting head injuries in football, and the Pittsburgh lineman and Monte the Grizzly are purposely injuring their own brains. Clean it up.
Minus-20 helmet stickers: DJ Johnson
Speaking of head injuries ...
Oh boy, shades of LeGarrette Blount. What are the teaching these kids at Oregon?