The Loop
Even Jack Nicklaus couldn't believe the "Miami Miracle"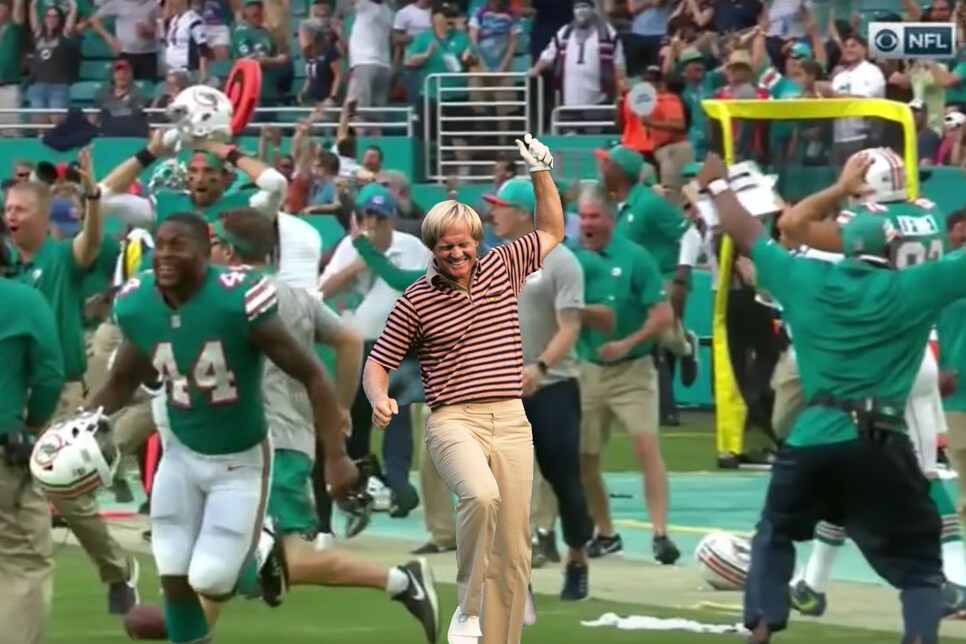 Jack Nicklaus has won 18 major championships. He's dueled with Tom Watson in the sun and won the Masters at the ripe old age of 46. He hasn't just seen incredible moments in sports, he's a living, breathing embodiment of them, which helps to put the total absurdity of the Dolphins' walk-off win against the Patriots on Sunday—since dubbed the "Miami Miracle"—in perspective. Needless to say, when Jack calls something one of the best sports moments he's ever witnessed, you know it's gotta be pretty darn good.
Down five with seven seconds to play and the ball on their own 31 yard line, the Dolphins' win probability sat at a not-so-inspiring .1 percent. Three laterals and one flailing, brace-encumbered Rob Gronkowski later, the Dolphins were celebrating their 10th win in 17 games against Tom Brady in Miami (#StatOfTheDay)—a turnaround worthy of not one but two "wows" from the Golden Bear, who just so happened to be in attendance to witness the whole thing.
Well, perhaps "just so happened" is overstating it a bit. Jack's grandson Nick O'Leary plays tight end for the Dolphins, and even caught a touchdown against the Bears back in Brocktober. Perhaps that's why Jack was so amped up about the Fins, but let's be honest, hail marys are a hell of a lot more exciting than family. Sorry not sorry, mom.