News
Thomas Bjorn is walking 130 miles from Euro Tour headquarters to Celtic Manor for a noble cause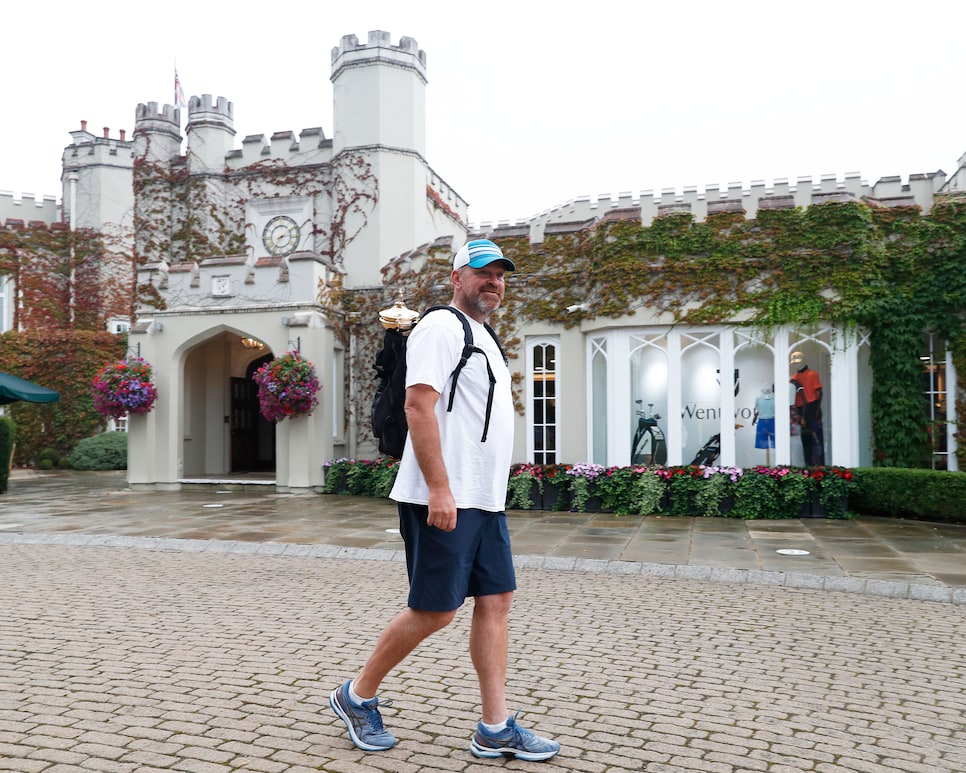 Thomas Bjorn starts his Walk From #Wentworth2Wales in aid of UNICEF & The Golf Foundation at Wentworth Golf Club.
Luke Walker
In the 25 years that have passed since he graduated top-of-the-class from the second-division Challenge circuit, Thomas Bjorn has enjoyed a variety of roles and experiences on the European Tour. Multi-tasking is clearly his forte.
Three times a Ryder Cup player, the Dane served as a captain's assistant in the biennial contest with the United States on three occasions before memorably leading the Old World to a seven-point victory in Paris two years ago. Prior to that honor coming his way, Bjorn spent almost a decade as chairman of the European Tour's influential tournament committee. All as a prelude to his present role as a member of the tour's board of directors.
More numbers. Next week's Wales Open will be the 49-year old's 552nd European Tour appearance. His opening round will be 1,871st. Along that impressively stamina-inducing way, Bjorn has made 384 cuts en route to recording 110 top-10 finishes, of which 15 were tournament victories achieved in 11 different countries. His career earnings currently sit north of €21 million.
All of which involved a lot of walking over the last three decades or so. But Bjorn is not done on that front, albeit off the course on this occasion. Inspired by the almost £33 million raised by centenarian Sir Tom Moore for the U.K's National Health Service, Bjorn is spending the next four days hiking the roughly 130 miles from European Tour headquarters at Wentworth to Celtic Manor in Wales, site of this week's Celtic Classic. All to raise money for Unicef UK and the Golf Foundation. Having left Wentworth just as first round play began Thursday morning, he will, if all goes to plan, arrive at the venue for the 2010 Ryder Cup just before the final round leaders in the Celtic Classic tee-off on Sunday afternoon.
Typically, Bjorn has prepared well. European Tour chief executive Keith Pelley reports that telephone chats between the two over the last couple of months have often taken place during Bjorn's sometimes 11-hour walks. "Thomas has trained hard for this," confirms Pelley.
And that discipline seems to be paying off, at least initially. A couple of hours into his trek from Wentworth to Wales, Bjorn, sustained by audio books, podcasts and phone calls from friends ("and annoying journalists," he was quick to add), was feeling no pain. But a sense of realism remained.
"I'm not the youngest or the fittest, so this is a bit of a test," he said when talking to Golf Digest after covering the first 12 miles or so. "It's going to be very tough to do this in four days, but I suppose the whole point of doing it is that it's not meant to be easy. If I am going to ask people to donate their hard-earned cash then I need to earn that donation. Walking between 10-12 hours a day for four consecutive days will push me to the limit.
"During lockdown I found it hard not to be playing golf pretty much every day. That left a big hole in my day-to-day life. I realized that walking was a big part of my life as a golfer. So to get out of the house relieved a lot of mental stress for me and was very therapeutic."
And, in turn, hopefully profitable in support of two worthy causes.