News & Tours
European Tour chief acknowledges possibility of moving events to Florida after the Masters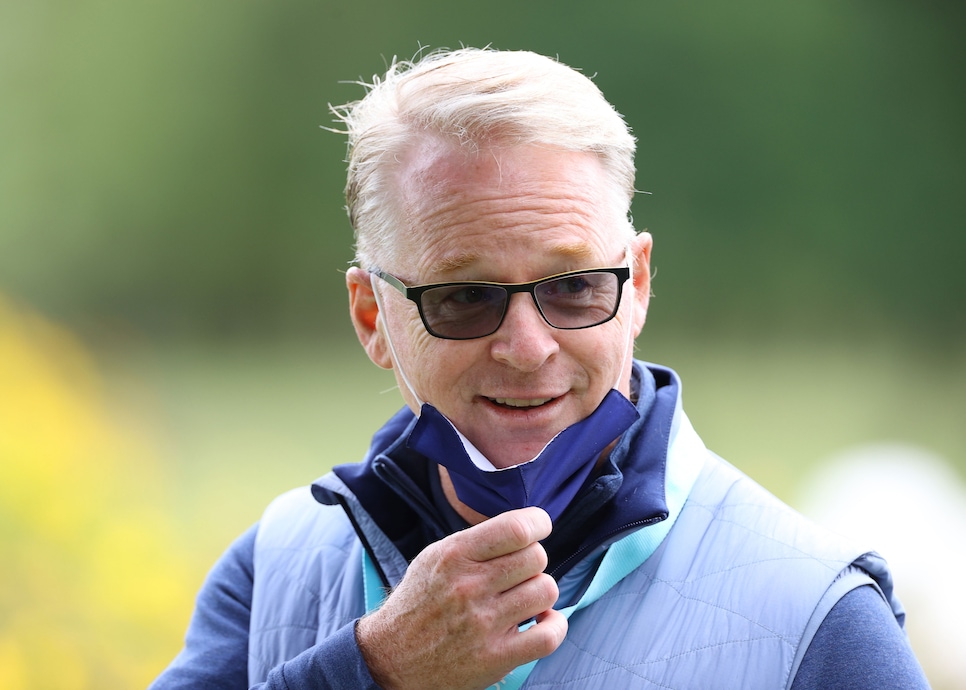 European Tour chief executive Keith Pelley looks on during the final round of last August's Hero Open at Marriott Forest of Arden, one of the first events played after the COVID-19 restart.
Richard Heathcote
The PGA Tour's annual swing through Florida is underway, but another opportunity for golf fans in the Sunshine State to watch elite professional golf might not be too far off. First reported in the U.K's Daily Telegraph, the European Tour is considering making an unprecedented one-time entry onto America soil. With the cooperation of their new business partners, the PGA Tour, officials with the Old World circuit have been looking at the possibility of hosting tournaments in Florida in April after the Masters.
The proposed three events, according to the Daily Telegraph report, would take the place of the currently scheduled Tenerife Open, Gran Canaria Lopesan Open and the Portugal Masters. All three tournaments are in doubt because of COVID-19 travel restrictions in the two host nations (Spain and Portugal) on the Iberian peninsula. As things stand, residents in the U.K. and South Africa are banned from visiting Spain, and safety measures in place in Portugal would prevent any "elite athlete" exemption from allowing tour pros into the country. Players from the U.K. and South Africa make up a large percentage of just about every European Tour field.
In a confidential memo sent to his membership on Monday, a copy of which has been seen by Golf Digest, European Tour chief executive Keith Pelley noted that "this general idea" has been brought before the tour's Tournament Committee.
"I can confirm to you that our new partners at the PGA Tour have offered to help us in any way possible, which is a credit to them and visible evidence of the strength of our recently-announced Strategic Alliance," Pelley wrote. "We did discuss this general idea with your Tournament Committee as part of the recent meetings we had with them on all plans and contingencies, so they were aware on your behalf."
Neither the Daily Telegram story nor the Pelley memo mention any potential locations in Florida for events or specific dates in which they would be played.
Pelley is not yet ready to give up on playing the events in question on "home" ground. Something of an old hand at thinking on his feet, the European Tour chief oversaw the resurrection of a 22-event schedule last year in the wake of losing 20 tournaments to the on-going pandemic. But nothing is yet for sure. Any potential change to the schedule is "very much only a possibility at this stage," Pelley was quick to stress.
"Our continuing desire is to investigate all avenues available to us if, in fact, our current schedule is not feasible due to continued travel restrictions for different sections of our membership," he continued. "As you can imagine, our preference is to stick to our current schedule. That remains our plan, but ever-changing Government rules and regulations on travel might transpire against us so we have to proactively look at all options. As always, as soon as we have any concrete information we will share it with you."
In the meantime, Pelley was also able to share some happier news with his players. As of now, the three events scheduled for later this month—the Commercial Bank Qatar Masters, the Magical Kenya Open and the Kenya Savannah Classic—are "progressing well."