NOT SO EASY
Ernie Els 'disappointed' fellow South Africans didn't speak to him about joining LIV Golf, has 'made peace'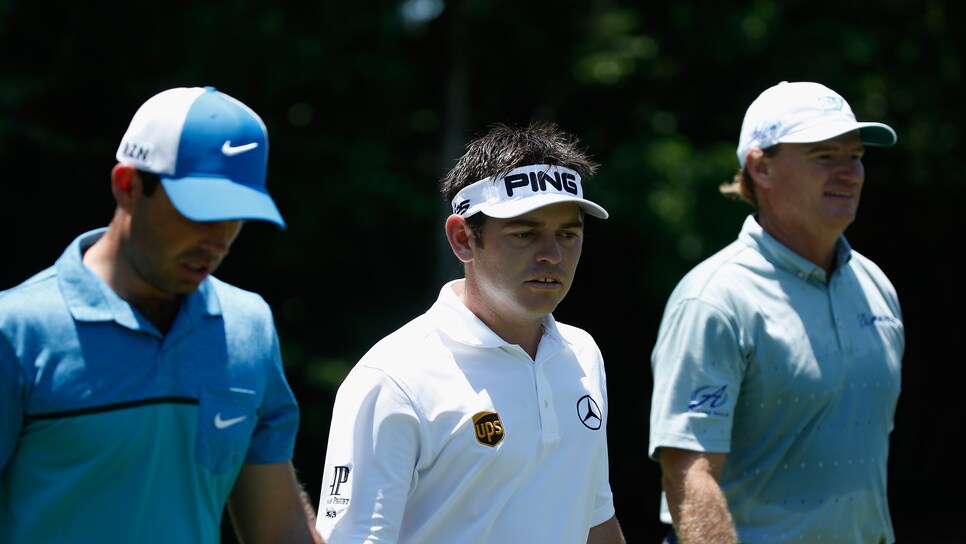 Charl Schwartzel, Louis Oosthuizen and Ernie Els play a practice round at the Players Championship in 2014.
Scott Halleran
Ernie Els has never been a fan of how LIV Golf created so much turmoil within golf over the past year. He's let his feelings be known several times. Last week at the PGA Tour Champions' Chubb Classic in Naples, Fla., the Big Easy weighed in on how he feels about his fellow South Africans jumping ship and leaving the PGA Tour.
Specifically talking about Charl Schwartzel, Louis Oosthuizen and Branden Grace, Els told the Palm Beach Post that, "we've lost that camaraderie, definitely. I'm still friends with them, but it's different."
Els, 53 and a four-time major winner, mentored many of the South African golfers who ultimately moved to the United States to pursue the PGA Tour. Schwartzel won the Masters in 2011, and Oosthuizen won the Open Championship in 2010. When Schwartzel moved to South Florida 13 years ago, he lived with Els and his wife Liezl for two full years.
"I was disappointed they never asked me my opinion," Els told the Post. "I had them in the foundation [in South Africa], looked after them as youngsters. They flew with me, they stayed at my house. Kind of nurtured them to get onto the PGA Tour.
"It just was done in a way I didn't like."
Els told the Post that he is no longer in touch with Oosthuizen and doesn't see Schwartzel. He does occasionally play golf with Grace.
"We've made peace," Els said.
"It's just a shame how things are being split up," Els said last summer at the Senior Open at Gleneagles. "My view—and I discussed this with the Saudi people a long time ago—was always to do things with the major tours. Everybody should partner up in this team and individual format. And play it in the dead season. That wouldn't interfere with any of the main tours, It wouldn't interfere with real golf as we know it.
"Greg [Norman] keeps stirring from his side and it seems that [PGA Tour commissioner] Jay [Monahan] has got to defend himself. Some of the players have also been speaking out, and it seems like a tug of war a little bit. It's really very uncomfortable and surely there has to be some kind of negotiation to come. But the LIV side, they have dug their heels in. They need to negotiate with the tour and the tour needs to talk to them to see if there can be some compromise."