Fightin' Words
Oh hell yeah, we have a coach-analyst showdown brewing at the NCAA Tournament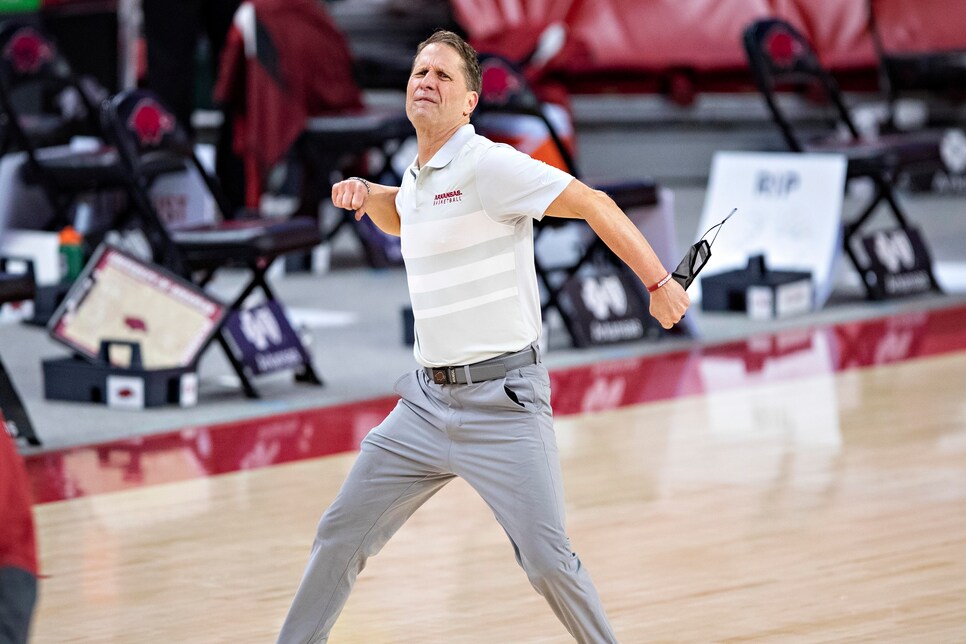 So far, the 2021 NCAA Tournament has lived up to its billing. The first March Madness in two years following a MBB season in which big-time programs were down, teams had stop-start seasons, and the spectre of COVID-19 loomed over every single tiny little thing, has been, fittingly, chaos. In the first three days of action alone, tournament officials have tallied a record-setting 11 pre-Sweet-16 upsets. VCU watched helplessly as its season ended at the tip of a cotton swab while Sister Jean proved, once again, that she might actually be in touch with cosmic forces from the other side. And as if that weren't enough to sate your voracious apptite for college basketball destruction, we now have good old fashioned coach-pundit controversy to wash it all down with. Take it away Mr. Musselman.
That's Eric Musselman, coach of the three-seed Arkansas Razorbacks, who took down Colgate on Friday and then, narrowly, Texas Tech to advance to the Sweet 16 on Sunday night. As you can tell, despite the win, Musselman is STEAMED, specifically at CBS Sports analyst Todd Fuhrman, who had this to say about Musselman before the teams round of 32 matchup with the Red Raiders:
Apparently Mussleman's son pointed Fuhrman's comments out to his dad before Sunday's game and they went right on the ol' bulletin board. But if you thought Musselman was done dunking on Fuhrman after that posterization, he wasn't, telling reporters the following after the game:
"Yeah, I take it personal. I mean, who is this guy? He's never called a timeout. I mean, who is the guy? I don't know who he is. Yeah, I took it personal."
Even Musselman's wife, Danyelle, got in on the Fuhrman-bashing action. Everybody's doing it!
Needless to say, it's a big second-half lead for the Musselman crew. If March Madness has taught us anything over the years, however, it's that Fuhrman isn't dead and buried just yet. In fact, he even took some time out of his Monday afternoon to face the haters head on . . .
In the end, the NCAA Tournament that already had everything just got more, and we can't wait to see where it goes from here. If CBS is smart, they're flying Fuhrman to the studio as we speak and giving him the first crack at Arkansas-Oral Roberts. With a little push and a lot of luck, we might just get a fist fight before this is all said and done.