Letter from Europe
Eddie Pepperell's T-3 at the 2019 Players was supposed to be his breakout moment. Three years later, he's still waiting on the payoff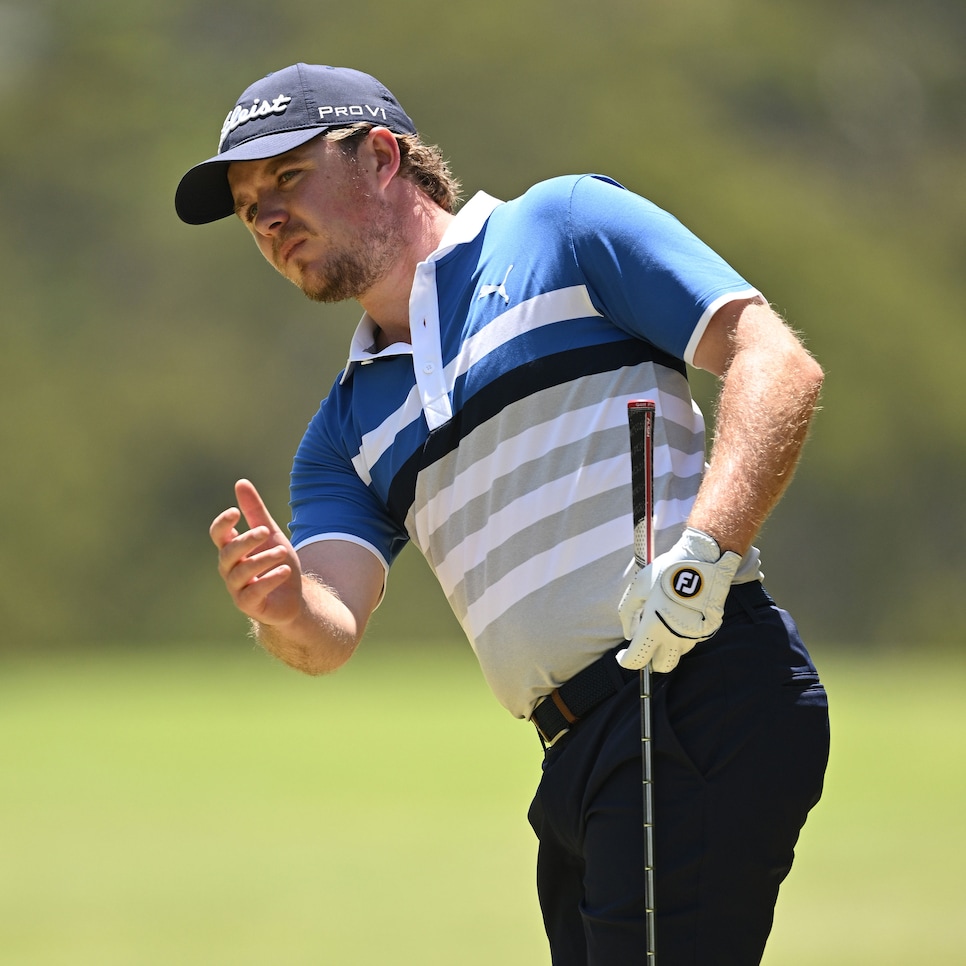 Photo By: Stuart Franklin
Back when the Players Championship was a four-day event; back when the word "pandemic" wasn't part of everyday conversation; and back when Tiger Woods was just a four-time Masters champion, Eddie Pepperell did rather well at TPC Sawgrass. Closing with a six-under-par 66, the then 28-year-old Englishman rose from relative obscurity, at least in the United States, to finish T-3 in the biggest event on the PGA Tour and against the strongest field of 2019.
At the time, that exceptional performance looked like merely the next step up professional golf's ladder for Pepperell, a two-time winner on what is now the DP World Tour.
Fast forward three years and Pepperell is nowhere near Ponte Vedra Beach. Not physically. And certainly not in terms of his ranking. Once as high as 32nd in the world, the now 31-year-old is currently the 468th best golfer on the planet. Last season, he finished 139th on the Race to Dubai and lost his card, having made only 10 halfway cuts in 23 starts. His most recent top-10 finish came 18 month ago with a sixth at the 2020 BMW PGA Championship. And he has failed to make the weekend in his last five DP World Tour events, most recently at the Magical Kenya Open.
Today, Pepperell is a category 16-b player on the DP World Tour, a place reserved for those who finished between 139th and 161st on last season's money list. He's fallen so far that this week he failed to merit a starting spot in something called the MyGolfLife Open hosted by Pecanwood, a DP World Tour event "boasting" what will surely be one of the weakest line-ups of 2022.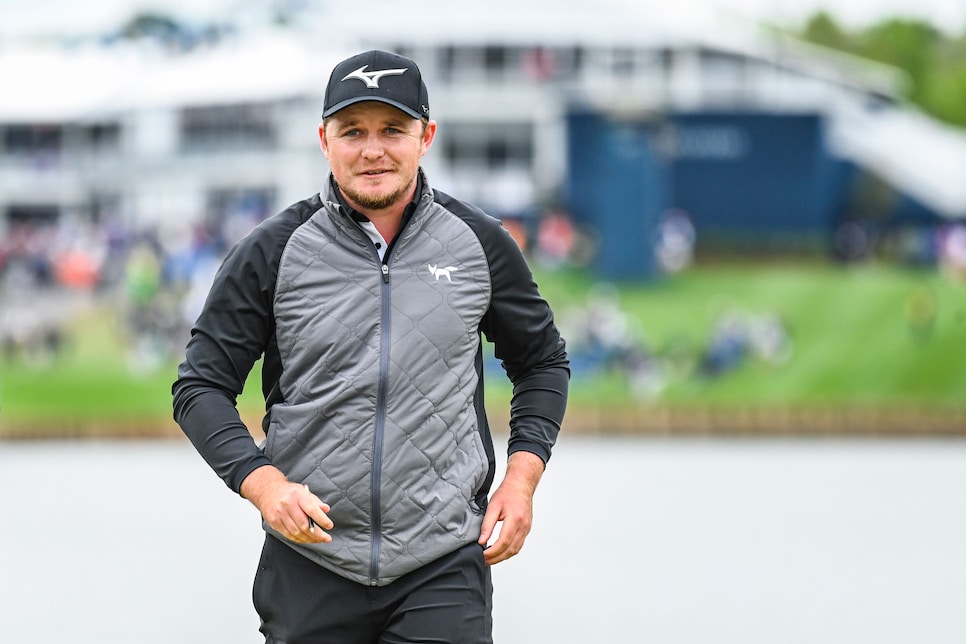 Pepperell's T-3 finish at TPC Sawgrass in 2019 was his best career showing in 16 career PGA Tour starts.
Keyur Khamar
It's an ugly scenario, but not unprecedented for this thoughtful, always quotable and mildly eccentric character whose now neglected blog-writing was full of wit and commentary not often found within the often-insular world of golf. Sadly, he has failed to find the inspiration to write since May 2020.
"Away from the course, I don't think much about golf, if I'm honest," Pepperell told Golf Digest in a interview this week. "So most of what comes into my mind is non-golf related. My twitter feed is full of non-golf stuff. But I certainly wouldn't want to write anything longer about what is going on in my head. We are living in a fascinating time in the broader context of history. So I don't see myself as just a golfer, more a member of society. I like to think about it all and see where's we are heading."
As far as Pepperell is concerned, that has always meant following his own distinct path. Lest we forget, this is a man who, while suffering a severe hangover, shot 67 in the final round of the 2018 Open Championship at Carnoustie to finish T-6. That came less than two years after the first major dip in the life of Pepperell the golfer. Making a double-bogey on the final hole of his second round at the 2016 Portugal Masters, he missed the cut and relinquished his playing rights on what was then the European Tour. Where his apparently floundering career sits now is certainly unpalatable, but it is a situation with which he is hardly unfamiliar.
"When I lost my card first time round, I felt a lot more panic," says Pepperell, who has earned €6.7 million from 207 appearances on his home circuit. "Sometimes I respond well to that. But this time round, I haven't had that same feeling—probably because I'm in a much better place financially. I don't feel like I have to panic. In some respects, that is a good thing. But in others, maybe not. The emotion I've felt most is frustration. My mood on the course has been very low. But the only way to solve that is to get better at golf. I still have confidence in my ability to do that."
Pepperell's biggest problem has been his iron play. What was once the strength of his game, has become his weakness, far out-stripping his previous issues with the driver and putting best described as "erratic."
"I've just lost my ball-control as much as anything," he admits. "Off the tee I've hit the ball as well as I ever have over the last two years. I've putted pretty well, or at least consistently, which is not like me. In both of those areas I've historically had a lot of volatility. But both have improved. On the other hand, my perennial strengths, short game and iron play, have regressed. That's why I haven't had any good results. It's been a very frustrating period.
"I haven't been shooting 80 all the time," he continues. "But I've had a hard time shooting five under par. Because I'm hitting too many poor iron shots and making too many silly bogeys. Even when I've played well other than that, the best you can ever hope for is maybe three under par. In this day and age that just doesn't cut it."
In hindsight, Pepperell entered the pandemic in a place that wasn't perfect and was getting worse. Then he came back to the tour with a skill set he labels "abysmal."
"The most depressing thing is not so much that my iron play has been so bad," he says. "It's the occasional shank or thin from a bunker. It's hitting them fat. I've hit some 60-yard pitches 30 yards short, that sort of thing, which shows me that there is something really wrong in my method. I have to say a 6-year-old could do better than me in some areas."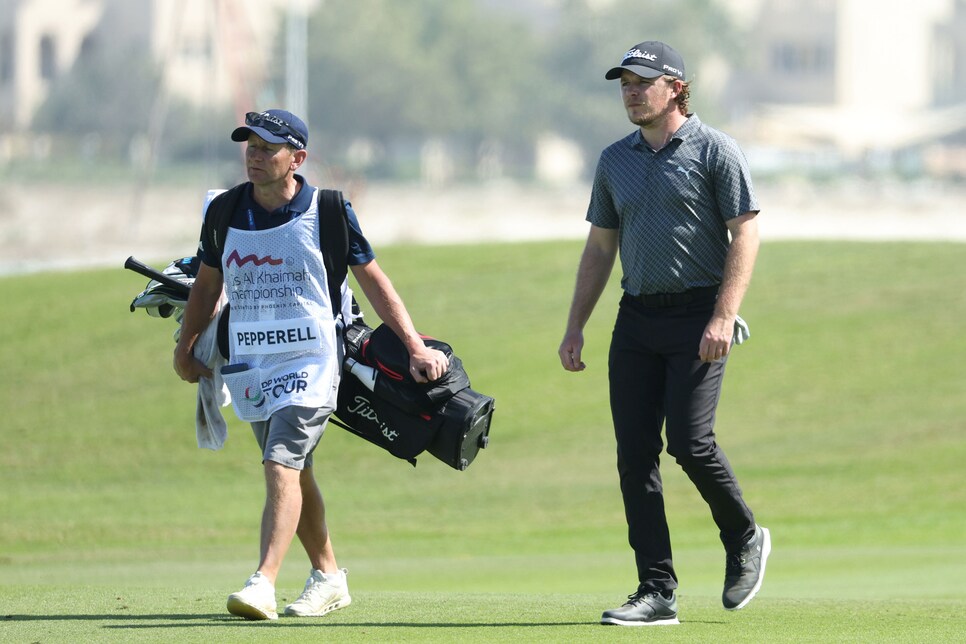 Last season, Pepperell finished 139th on the DP World Tour's Race to Dubai, losing his card after making 10 cuts in 23 starts.
Andrew Redington
All of which has led to a series of visits to a series of coaches, the latest Alan Thompson, who also works with Tommy Fleetwood. And the problem has been located. At impact with an iron in his hands, Pepperell is simply out of position. There is, he says, a significant "reverse-C" look to him at impact. A line drawn from his right shoulder down his right side to his right knee has a lot of bend to it. In the past, that would have been much straighter.
"My issue was easy to identify," Pepperell says. "My impact position it is a long way from where it used to be. There has been a gradual deterioration in my game, to the point where you could put anyone in my impact position and they would struggle. I clearly have a talent for golf, but I'm simply not good enough to hit consistent shots from where my body is at impact. But correcting it requires some expertise in the form of a good coach. It's important that I receive that input and work on it. Habits are so difficult to get out of. Creating a new movement pattern can be tricky.
Pepperell says that when he was doing well, his good shots were often the product of doing drills that he came up with on his own. "I did those on top of any coaching I was getting. I took a lot of ownership," Pepperell says. "And maybe that has been part of my problem. I saw success doing my own thing to an extent. But maybe the last year would have been more productive if I had been listening more to a coach. If I had been doing what I was told I could have built my ownership on top of that. Some players sacrifice ownership entirely; others take it on themselves. I seem to need a bit of both."
In the meantime, Pepperell has memories of 2019 and TPC Sawgrass that sustain him. Sitting at home in the university city of Oxford this week, he has allowed himself a short trip down the lane called "memory."
"The Players is a bit like a major or the Ryder Cup," he says. "I'm enjoying it for what it is. Plus, I'm not a bitter person, so I'm not looking on with any regrets about not being there."
Which is a heathy outlook. Sensible too. Three years on from what Pepperell calls the best performance of his life, there is much to look back on with pleasure. But the biggest smile has been reserved for the circuitous 49-foot, seven-inch putt he holed on the 71st green for what was his fifth birdie since the turn.
"I'm not one to celebrate much on the course," he says. "But the putt on 17 was sort of the climax to a weird back nine. Ironically, I don't remember playing that well generally. I wasn't particularly good with the driver or my irons. But mentally I was in a great place. My short game and putting were just brilliant that week (he led the field in strokes gained around the green). I was so in the zone at that point in terms of feel, which was such a part of that putt because of the break involved. I was so immersed in the actual putt. So it was difficult for me to immediately detach myself from the process once the ball went into the hole. It was nice, and a bit surreal - when the crowd starting chanting my name though."
Indeed, his is a name worth remembering. It may take a wee while, but Eddie Pepperell will be back.