News
What many consider the toughest part of being Ryder Cup captain turned out to be not quite so bad for Thomas Bjorn and Jim Furyk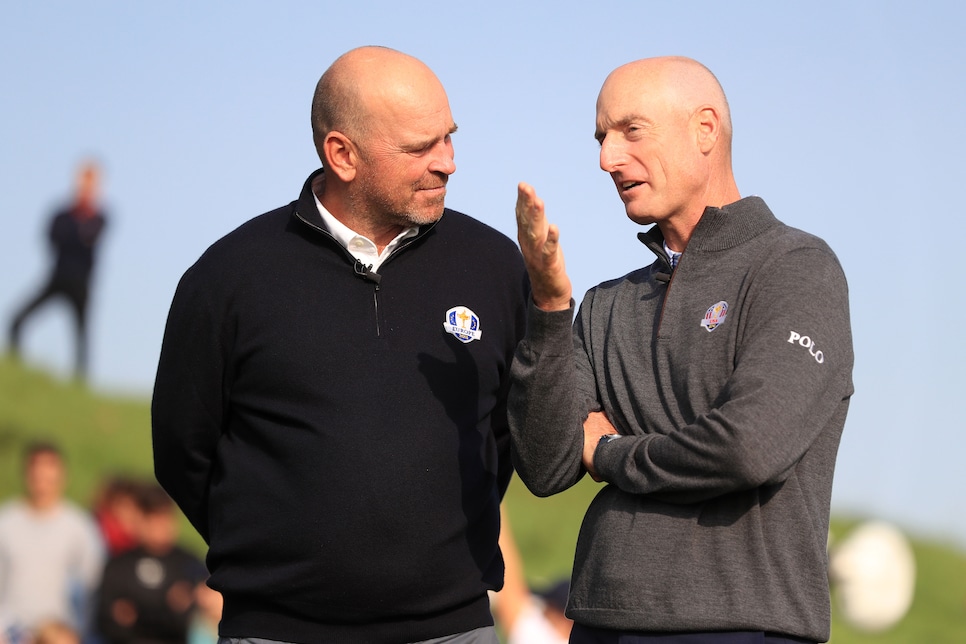 Photo By: Adam Davy - PA Images
Most years, there is some suspense when the Ryder Cup captains announce their choices to round out their rosters. Not so this time—especially on the American side.
When Jim Furyk formally named his first three picks on Tuesday, there was about as much suspense as there is on the day the Electoral College formally elects a President. With 100 percent of the precincts reporting, Tiger Woods, Phil Mickelson and Bryson DeChambeau were 100 percent locks. If there was such a thing mathematically as 110 percent, they would have been 110 percent locks.
Going a step further, there's really no suspense about who Furyk will name with his fourth choice next Monday when he makes his so-called "Billy Horschel pick." This is the delayed decision created by the Ryder Cup Task Force—now known, if you're scoring at home, as the Ryder Cup Committee—after Horschel won the last two playoff events in 2014 after Tom Watson had made his selections. Horschel, $10 million FedEx Cup bonus in hand after a clinching victory at the Tour Championship, got a call from Watson to both congratulate and console him.
"Billy, you're a day late," Watson said. "But you certainly aren't a dollar short."
To avoid a repeat of that scenario, U.S. captain Davis Love III didn't make his final pick two years ago prior to the match at Hazeltine National until after the Tour Championship. When Ryan Moore lost a playoff to Rory McIlroy in Atlanta, Love decided to go with the hot player (Moore) instead of the more experienced on (Bubba Watson) for his final pick.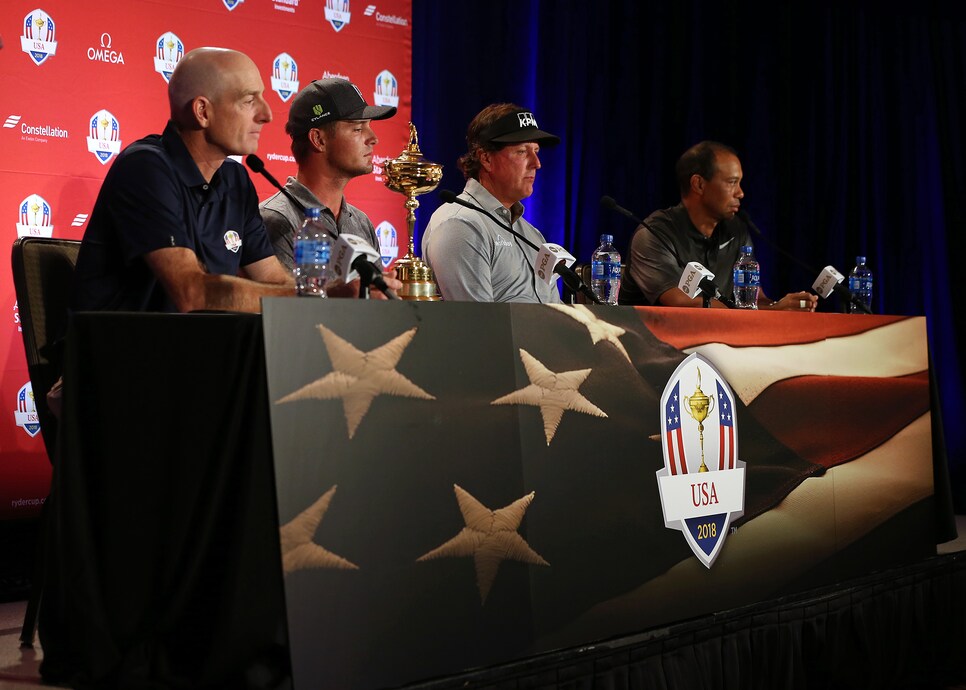 With the logistical issue of going from East Lake to Paris, the Horschel pick has been moved up two weeks and one tournament to the conclusion of the BMW Championship. Even so, there's really no suspense about who that pick will be either: Tony Finau may not be the 100 percent lock the first three players were, but he's pretty close after finishing fourth this past weekend at the Dell Technologies Championship at TPC Boston. He's had an excellent year, consistent from start to finish; he's played well under the gun at the majors—T-10 at the Masters; fifth at the U.S. Open; T-9 at the Open Championship—and he makes a lot of birdies, which is especially crucial in four-ball matches.
The two players with any real shot to supplant Finau are Kevin Kisner and Zach Johnson—Kisner because he's had a very good year and proved his mettle in match play at last year's Presidents Cup as well as with a runner-up finish to Bubba Watson in the WGC-Dell Match Play in March, and Johnson because of his experience—he's played on five previous Ryder Cup teams. But it will probably take a win in Philadelphia for either to perhaps get the last pick.
Truthfully, the player who had the best chance to sideline Finau isn't playing this week. Matt Kuchar knocked himself out of contention on Monday with a final-round 74 in Boston that dropped from 62nd on the FedExCup points list (after a third-round 66 on Sunday) to 76th and out of the playoffs. Furyk would have loved to have Kuchar on the team, not just because of his experience but because he brings his unique brand of humor to the team room.
Not surprisingly, once it was clear that they weren't likely to make his team, Furyk added Kuchar and Johnson as vice captains, along with David Duval. Furyk had previously named Davis Love III, Steve Stricker and Woods as vice captains, the later's spot opening up when he actually made the team.
Duval, as it turns out, wound up being Fuyrk's biggest surprise announcement, if only because he's spent a lot more time on a television set than on golf courses in recent years. His spot probably comes largely as a result of his on-air spat with Brandel Chamblee at Hazeltine when he defended Woods and Mickelson after Chamblee said they deserved much of the blame for the Americans Ryder Cup failures in the last 20 years. Love invited Duval to come in and speak to the team that night after they had all watched the debate and Duval received a standing ovation when he walked into the room. Now, he'll be in the room all week.
European captain Thomas Bjorn doesn't have a Horschel pick, so he named all four of his wildcards on Wednesday. This is the first time Europe has had four picks—it has had two or three in the past—and this was probably a good year for Bjorn to have that luxury. Five of the eight automatic qualifiers for Bjorn's team will be Ryder Cup rookies: Tommy Fleetwood; Tyrell Hatton; John Rahm; Alex Noren and Thorbjorn Oleson.
Poulter, who has had an excellent comeback year and just missed making the team on points, was automatic. He is one of Europe's best Ryder Cup players ever and his presence as a player (he was a vice captain) was sorely missed at Hazeltine.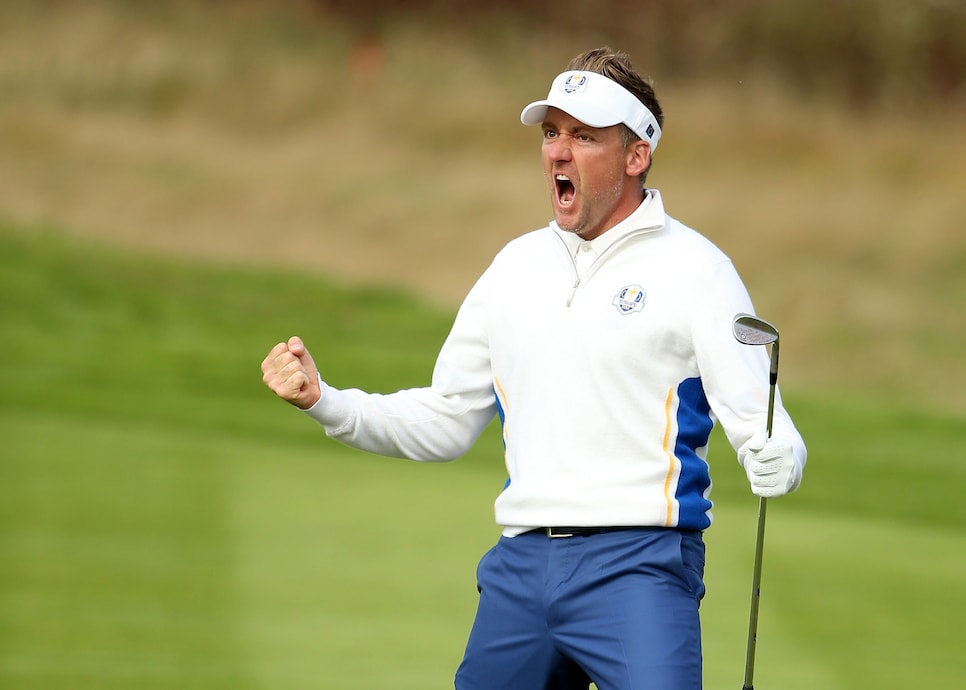 Ross Kinnaird/Getty Images
Stenson was also a lock, even though he hasn't had a great year. Stenson and Justin Rose have been Europe's best team in the last two Ryder Cups, and Stenson is Europe's Kuchar: sneaky funny in ways the public doesn't see often but his friends—and teammates—see often.
Unlike on the American side, the remaining two picks, were the subject of much debate. There were some who thought Bjorn would go with Matt Wallace after the Englishman won for the third time this year at the Made In Denmark event last week. Yet Wallace would have been a sixth rookie, and Bjorn knows as well as anyone that the Ryder Cup is a different sport than weekly tour events.
There were also those who thought either Rafa Cabrera-Bello or Thomas Pieters, the two rookies who performed well for Clarke in 2016, might get picked. But Pieters hasn't had a great year, and Bjorn essentially had to choose between Cabrera-Bello (one Ryder Cup, a loss) and Sergio Garcia (eight Ryder Cups, five wins) to provide a Spanish partner for the often hot-tempered Rahm.
He went with Garcia even though the 2017 Masters champion had a mostly miserable summer. Garcia has often said that Ryder Cup brings out the best in him and it was the one Ryder Cup he didn't play in since 1999—the 2010 matches in Wales—that got his golf juices flowing again after he'd played so miserably that year that he decided to take a break from the game. Colin Montgomerie asked him to be a vice captain and Garcia came out of the week vowing to himself to play in the matches at Medinah. He did and has played in every Ryder Cup since.
Garcia is also an important influence in the team room. If Stenson is Europe's Kuchar, Garcia is Europe's Mickelson, the old man who's seen it all—good and bad—and is looked up to by the younger players.
Casey has played in three prior Ryder Cups, but none since 2008 because he didn't meet European eligibility requirements while playing the PGA Tour fulltime. The rules were relaxed this year in part to ensure that Casey would have a chance to make the team. Meanwhile, Casey had a solid year—winning the Valspar Championship in Tampa; finishing second to Bubba Watson in the Travelers Championship in Hartford (albeit after losing a four-stroke lead) and moving to No. 16 in World Ranking.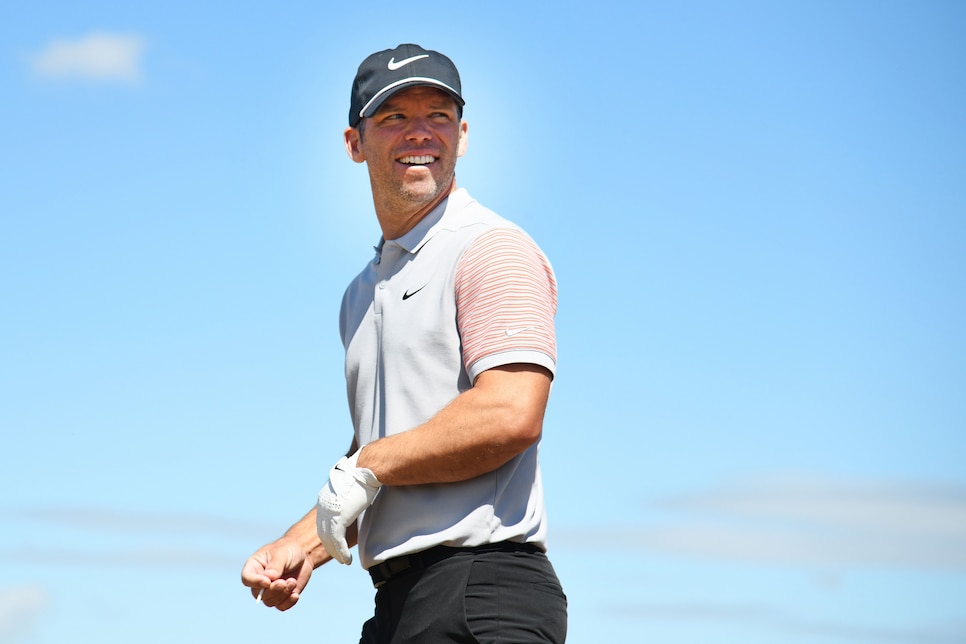 So now—with one exception—we know who is playing. We also know Le Golf Club National will play a lot different than Hazeltine did: narrower fairways; higher rough; slower greens. The home side has won four of the last five Ryder Cups. The U.S. last won in Europe in 1993.
The first ball goes in the air in 23 days.