News
Watch the incredible walk-off eagle chip-in that won this N.J. amateur the MGA's Ike Championship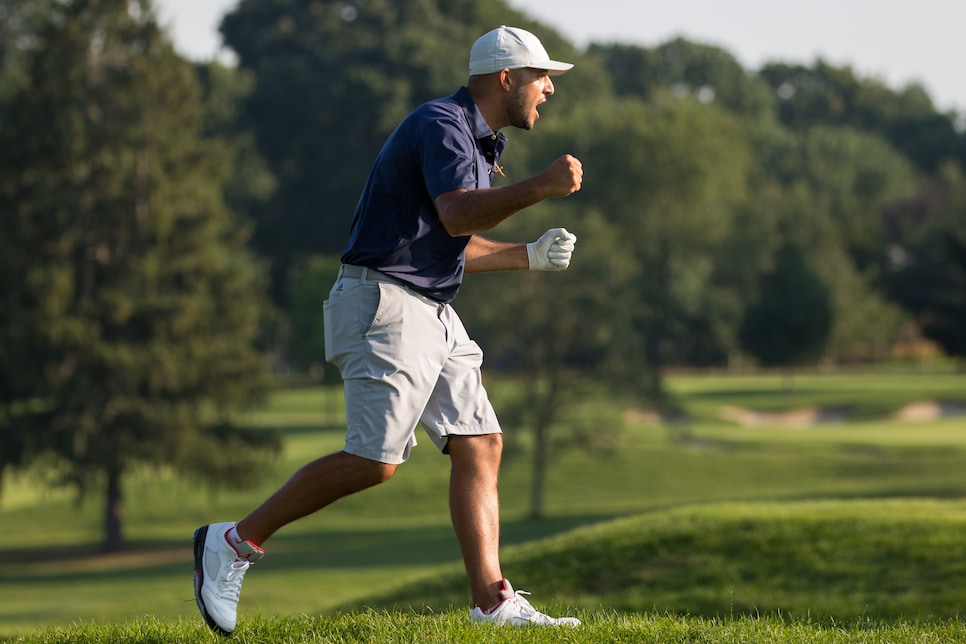 Normally, a walk-off, eagle chip-in in a local, albeit high-level amateur event would become legendary only by word-of-mouth. Thanks to 2020, a time when just about everything is captured on film, that will not be the case for New Jersey amateur Mark Costanza, who won the MGA's 65th Ike Championship in dramatic fashion on Tuesday.
Costanza, who plays out of Hamilton Farm Golf Club in Far Hills, N.J., opened the 54-hole stroke play event with a five-under 66 on Monday at the Country Club of Darien in Darien, Conn. He backed it up with an even-par 71 on Tuesday morning, which still kept him two shots clear of the field before the final 18 holes on Tuesday afternoon.
Through 53 holes Costanza was still at five under, now one shot back of Ethan Ng, who was in the clubhouse at six under following his final-round, three-under 68. At the par-5 18th, which Costanza bogeyed in the morning round, he was just off the front of the green in the first cut in two, needing to get up and down for birdie to force a playoff. Instead, Costanza clipped a perfect chip that was tracking the whole way, causing him to raise his arms and walk it off:
Outside of a walk-off hole-in-one, there may be no better way to end a tournament or a match than with a walk-off eagle. The fact the knew it was in before it was in, channeling his inner PGA Tour pro with some serious sauce, makes it that much more legendary.
"I was just thinking, 'Hey, just make it up and down and get into a playoff and see what you can do,'" Costanza said. As soon as I hit it, it hit on the green and it started rolling out. I just kind of knew it was in because it was just tracking and that was it."
Costanza, 31, has now won two of the bigger tournaments in the Metropolitan Area. Last month, he claimed the New Jersey State Open at Knickerbocker Country Club in a playoff, beating out some of the state's top club pros and amateurs. He now has three MGA wins, though his first two came during his junior playing days, the MGA Boys and MGA Junior Championships. He's now just the third player in MGA history to win those two events and the Ike.