Best New Courses
Pete Dye's last design, White Oak, is one of the most exclusive and unique golf experiences in the world

The Dye Course at White Oak, the 2022 Best New Private Course winner, is one of the most exclusive golf courses to be built in recent memory. It's located on the border of Florida and Georgia outside Jacksonville, in almost complete natural isolation. It has no members, no on-site clubhouse (or any other structures on or near the course), and hardly anyone has played it except for personal invitees of owner Mark Walter and several dozen Golf Digest panelists, who visited between October 2021 and September 2022.
Walter engaged the late Pete Dye to design the course in 2013, but by the time construction began in 2017, Dye's health had deteriorated, and he was no longer able to be active in building it. The job of finishing White Oak fell to longtime confidant and veteran course builder Allan MacCurrach, who interpreted Dye's wishes based on extensive discussions from previous years and his own wealth of experience working with Dye on over 20 projects.
Intensely private and almost entirely off the radar until now, these photos and videos offer the first public looks at The Dye Course at White Oak. Shot by photographer Brian Oar, they reveal quintessential Pete Dye shapes and hole concepts, all rendered through the skill of MacCurrach.
White Oak's snaking par-4 third (above) possesses the left-to-right, then right-to-left shot shapes that Dye utilized at nearly every course he built.
The 450-yard 12th hole bends sharply right into a heavily contoured green with a bowl in the front right corner. Drives that hug the inside corner result in a more open approach, useful given that most players will be hitting longer clubs.
Elements of White Oak resemble well-known Pete Dye courses. The composition of the holes, bordered by sand areas and native lowland grasses and vegetation, are reminiscent of parts of The Ocean Course at Kiawah Island or Whistling Straits, without the water views.
Were the par-4 first (above) shrouded in pines it would feel at home at Harbour Town. MacCurrach and Dye spoke regularly about making the design of White Oak more reflective of Dye's early work at courses like Harbour Town, TPC Sawgrass and the Honors Course.
Though the White Oak site, located in a remote part of northwest Florida, didn't give Dye much topography to work with, the neutrality of the land became an ideal platform upon which to create a variety of bunker shapes, horizon lines, color contrast and visual texture.
The Dye Course at White Oak recalls Dye's early work in a number of ways, including smaller-sized greens that possess a degree of contour and slope not found in his later designs when the movements were tailored to faster green speeds. Knowing that the course would receive minimal play also allowed Dye and MacCurrach to design greens with just three or four hole locations rather than the typical five or six or more.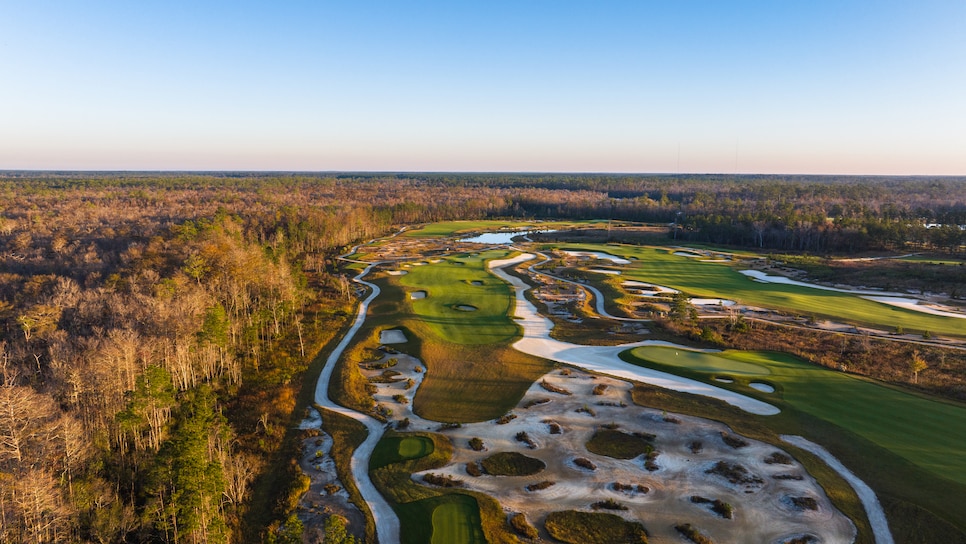 Dye's routing of White Oak is unique: The first nine plays like an inverted "W" around interior pockets of wetlands, and the second nine loops entirely around the outside, enclosing it. The short par-4 13th (above) sits on the western flank and is the only hole where centerline bunkers must be challenged.
The 485-yard 16th runs parallel to the St. Marys River separating Florida and Georgia, then does an about face into the par-3 17th that features an elevated platform green angled over deep trench bunkers and some of the most pronounced putting contours on the course.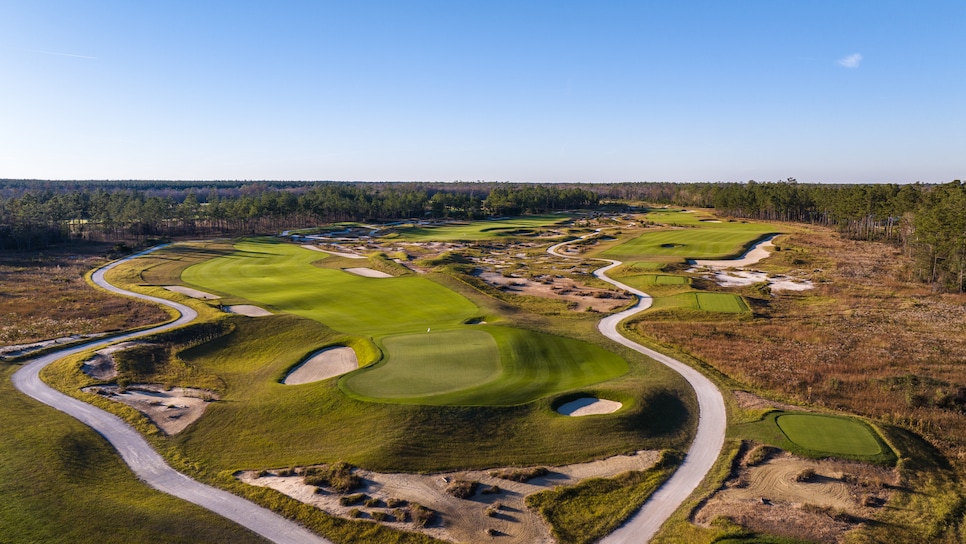 For most "drivable" par 4s, the critical shot is the decision on the drive—to tempt a hazard by either going for the green or not. At the 316-yard sixth (left), Dye offers plenty of fairway. The real obstacle is the green that slopes off a central crest and falls away in different directions both fore and aft. Getting up and in from the wrong side of either contour is a major feat.