BEST NEW
America's Best New Courses
The remarkable resurgence in new builds and remodels shows no signs of cooling off.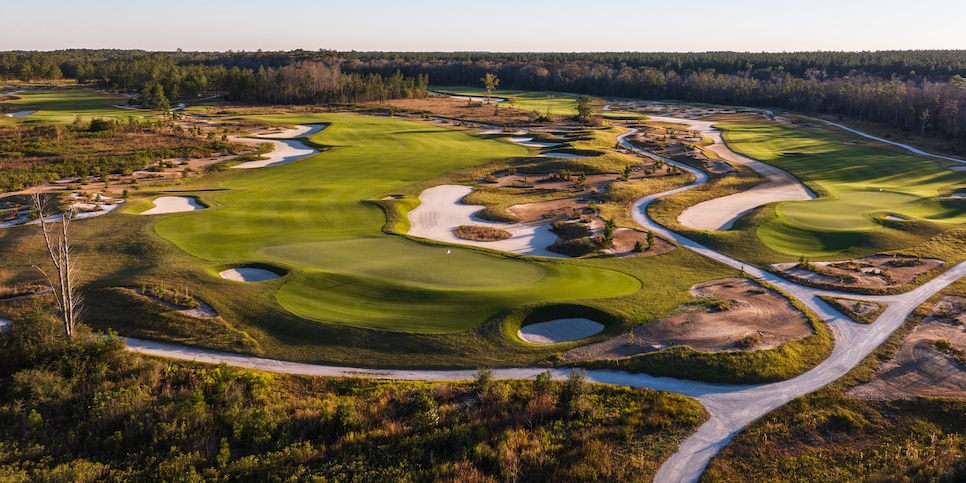 The rumbling you hear is the sound of excavators and bulldozers. Last year was the busiest for new course openings in more than a decade. Increased golf demand the past three years has spurred private clubs to initiate improvements and developers to embark on ambitious projects. Architects who can barely keep up are scheduling work two, three and four years out, and a backload of prominent developments are in various stages of construction and planning.
The southeastern states in particular—Florida, South Carolina, Georgia, Alabama and Tennessee—are thick with investment in new builds and remodels, as are California, Texas, Wisconsin, Utah, Minnesota, Nebraska, Washington, Montana and Idaho. The level will not match the manic splurge of the 1990s and early 2000s that oversaturated the golf market, but the quality and ambition of these projects are as high if not higher. It is a remarkable moment given how little new-course construction there was five years ago.
In 2022, Golf Digest panelists visited 21 Best New Course and Best Transformation nominees. The latter is an award for courses that have undergone an alteration beyond mere renovation, perhaps with an entirely new design or the introduction of new holes in which the course name remains the same, but the architectural reset makes the property almost unrecognizable. Candidates included municipal courses like Mallard Golf Club in Lake Charles, La., a sleek, ground-hugging new design that architect Jeff Blume built after the city swapped its existing course with an airport in exchange for unused land; the rebuilt Timpanogos Golf Club in Provo, Utah, where Kevin Atkinson created several new holes after a similar tradeoff with a neighboring medical facility; and Hendricks Field in Essex County, N.J., where Stephen Kay revamped an old Charles Banks course to give public players rejuvenated versions of holes like the Redan and Biarritz.
On the other end of the financial spectrum are courses of more maximalist scale like Union League National near New Jersey's southern shore. Dana Fry and Jason Straka took a worn course acquired by the Union League of Philadelphia (called Sand Barrens and built by Fry and then-partner Michael Hurdzan in 1997) and created 27 explosive holes that camber up and down a pair of 40-foot-high ridges that the architects constructed as a centerpiece feature much in the manner of Shadow Creek or Calusa Pines, two of the most engineered courses in design history.
Our panelists also judged 21 Best Renovation candidates that ranged from America's 100 Greatest and Second 100 Greatest fixtures like Eugene Country Club (retouched by Tim Jackson and David Kahn), Scioto Country Club and Wannamoisett Country Club (remodeled by Andrew Green) to improvements at lesser-known places like BraeBurn Country Club in Houston (renovated by Tripp Davis), Dornick Hills in Ardmore, Okla. (reworked by Tom Doak and Eric Iverson of Renaissance Design) and the Dick Wilson gem, Coldstream Country Club in Cincinnati (restored by Keith Foster).
BEST NEW PRIVATE AND BEST NEW WINNER OVERALL
The Dye Course at White Oak
In 2014, Pete Dye and Mark Walter met to discuss building a new course in the swampy backwoods of northeast Florida. As far as golf sites go, it had little going for it other than its location near the White Oak Conservation center, located on thousands of acres that Walter had acquired the previous year. It wasn't anything Dye hadn't seen and whipped into a golf course before.
Walter is CEO of Guggenheim Partners, an asset-management firm, and is the controlling owner of the Los Angeles Dodgers and co-general partner of the ownership group of Chelsea FC of the Premier League. As a passionate conservationist whose family's philanthropy works to eliminate poaching and habitat loss that affects vulnerable animals, his first obligation at the Florida property was to the wildlife refuge, not golf. Established in the early 1980s, the refuge is home to 31 imperiled species, including Asian elephants, black and white rhinoceros, cheetahs, panthers, tigers and okapi. The neighboring golf course may help the White Oak Conservation Foundation fundraise and increase conservation awareness.
Dye routed the course around wetlands that serve as habitats and vital egresses for animal populations. The course moves through the "between spaces" with the interior holes folded against each other and a second nine looping clockwise around the outside leading to the par-3 15th and the par-4 16th along the Saint Marys River separating Florida and Georgia.
Construction didn't begin until 2017. By that time, Dye, who was then 91, had walked the property twice but was no longer able to work (he died in early 2020). The job of finishing White Oak fell to contractor Allan MacCurrach of MacCurrach Golf, who had orchestrated 17 builds for Dye since the 1980s, including TPC Sawgrass, Harbour Town and The Ocean Course at Kiawah Island. Dye, who preferred to let design ideas develop in the field, didn't draw or use construction plans, so MacCurrach had to formalize the final-hole details based mostly on previous conversations. Despite his deteriorating health, Dye and wife Alice also made several site visits in 2017, during which MacCurrach received input.
"He could communicate clearly enough that a guy who had been with him for 40 years could figure it out," MacCurrach says. "But we also had Alice, and she was clear as a whistle. If Alice had a thought, a strong thought, it was going to be executed." (Alice was enamored enough of White Oak that she had her 90th birthday party there. She passed away in 2019.)
This unconventional process produced a design of unique purity, Pete Dye's strategies and shapes distilled to their essence. The goal was to return to a fundamental expression of Dye's architecture, a kind of "Dye classic" stripped of excess and closer to his 1980s and even 1970s forms. The foundational left-right and right-left shot shapes dictate tempo with par 4s and 5s snaking methodically over subtle, flowing grade changes, but gone are the clashing mounds and moguls. Long waste areas and flat bunkers trenched into the bases of the green pads are presented with little ostentation, allowing the wild grasses and patchy scrub between the holes to mesh the golf with the land. Greens are propped up as extensions of fairway and feature large, thematic movements rather than the rippling notes of Dye's later years when he surface-drained in five or six directions instead of just three. Greens like the fourth, fifth, ninth and 17th—a deep volcano-like par 3—move balls aggressively through troughs, tilts and swales. "The greens were a conversation that Pete and Alice and I had sitting around watching 'The Andy Griffith Show' in their den," MacCurrach says. "That was a conscious decision to go back to the macro contours so that there would be some kind of event on the first putt if you didn't knock it close to the pin."
White Oak's natural setting allows the holes to operate without distraction. Unfortunately, almost no one will get the chance to experience them. Most of the construction was complete in 2019, and the course has been left alone to fill in slowly. The only guests have been friends and potential donors invited by Mark Walter and select Golf Digest panelists. Our hope is that, with on-site lodging already available, stay-and-play packages will be offered in the future (proceeds could go to the Conservation). This is too important a piece of architectural heritage, the coda to the career of one of golf's greatest architects who seemed to be coming full circle in his thinking, to keep under wraps.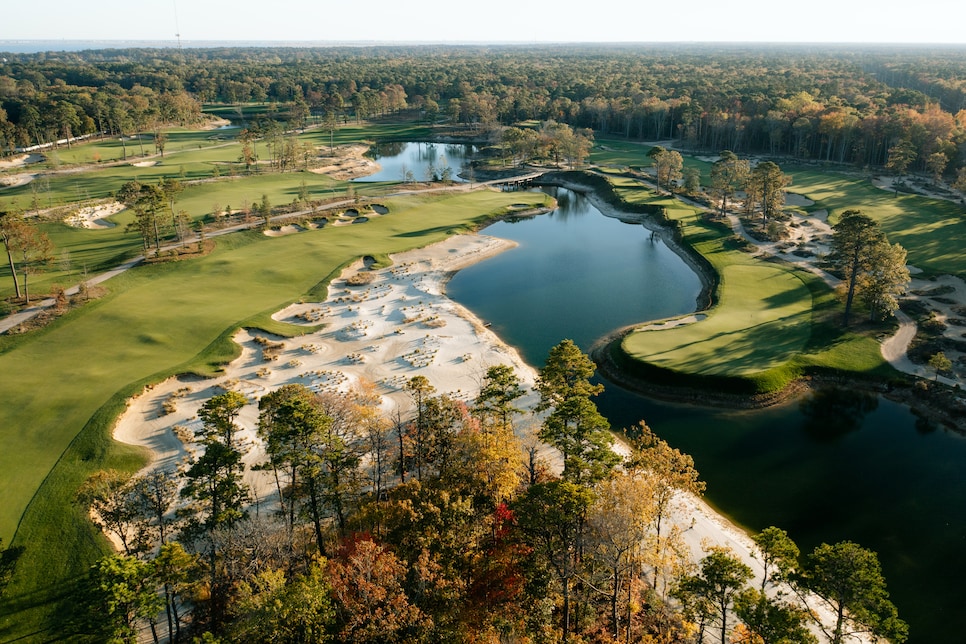 (2) Union League National (Grant/Sherman), Cape May Courthouse, N.J., by Dana Fry and Jason Straka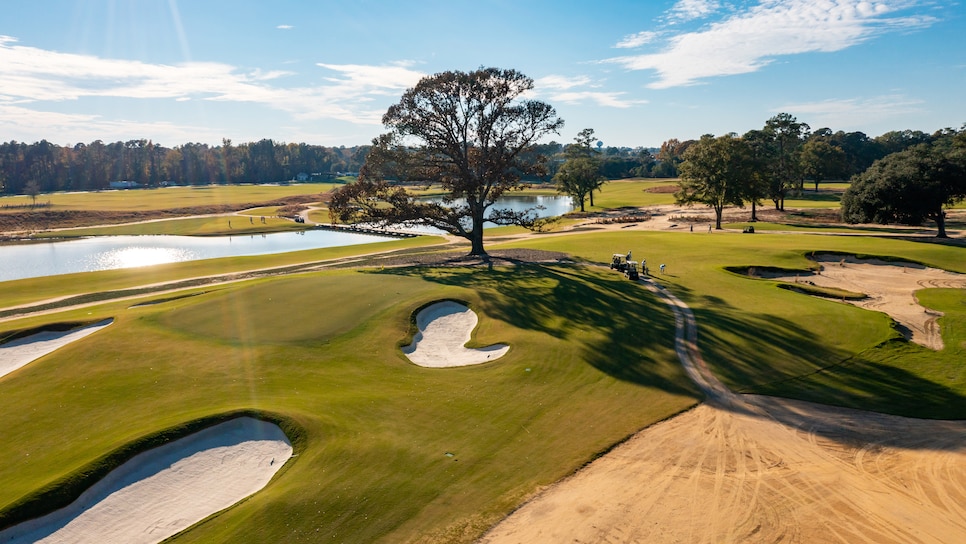 (3) Quixote Club, Sumter, S.C., by Kris Spence and Jack Nicklaus II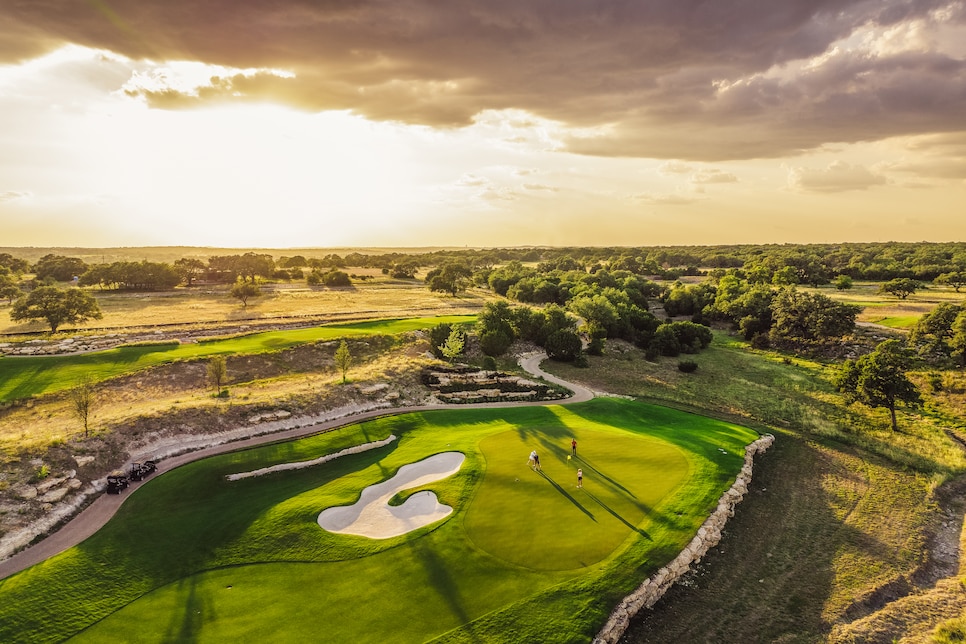 (4) Driftwood (Texas) Golf & Ranch Club, by Tom Fazio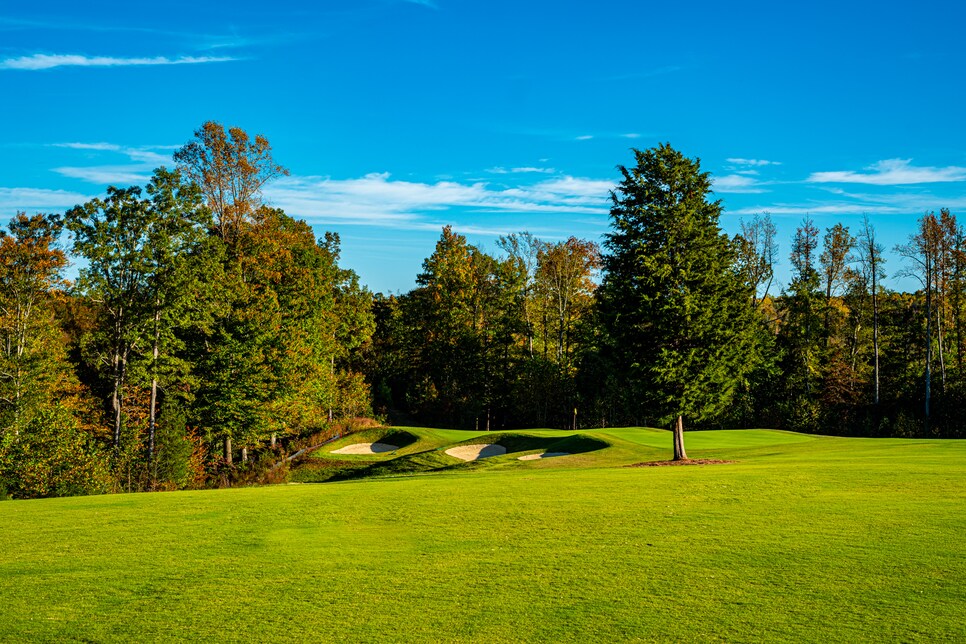 (5) Cutalong at Lake Anna, Mineral, Va., by Tom Clark and Ron Whitten
WWW.MIKEKLEMME.COM
(2) Union League National (Grant/Sherman), Cape May Courthouse, N.J., by Dana Fry and Jason Straka
(3) Quixote Club, Sumter, S.C., by Kris Spence and Jack Nicklaus II
(4) Driftwood (Texas) Golf & Ranch Club, by Tom Fazio
(5) Cutalong at Lake Anna, Mineral, Va., by Tom Clark and Ron Whitten
HOMER, NEB., ROB COLLINS AND TAD KING
Landmand, a new design in northeastern Nebraska about 20 minutes from Sioux City, Iowa, sits on a vast, elevated section of loess formations with eroded furrows and valleys. It winds across the bluffs and between valleys, and from the tops of the ridges, horizon views of 20 miles or more are possible, filling the landscape with a feeling of unlimited proportion. Given the setting, it's impossible to discern the scale of the features in the near and middle distance, and the only way for architects Rob Collins and Tad King to make the golf look like it fit against the endless backdrops was to construct fairways 80 to 100 yards wide and greens that are, cumulatively and in some cases individually, the largest in the United States. Anything less wouldn't be right.
Landmand, which translates from Danish into "countryman" or "farmer," is the vision of Will Andersen, a fourth-generation farmer whose family has been sowing and harvesting this region for nearly 80 years. The family acquired the 588 acres Landmand sits on in 1976, but the terrain was too rugged to yield dependable agriculture, so it sat for decades waiting to be repurposed. The site has obvious assets—the drama, the views, the majesty—but it required significant work to pound it into something that would resemble sensible golf. More than a million cubic yards of earth were cut and shifted, and it's a remarkable accomplishment that King and Collins, known for creating the cult nine-hole Sweetens Cove outside Chattanooga (this is their first 18-hole design), were able to link everything together in a manner that makes walking it not just plausible but inviting.
At this early stage, King and Collins' social-media following, as much as their architectural chops, has turned Landmand into an instant success. The club's allotment of 100 memberships sold out in "a couple of days," according to Andersen, as did the tee times for September, Landmand's first month open. "I didn't expect this," Andersen says. "Social media is pretty much all of our marketing, and Rob and Tad's following accounted for that. Almost everyone who came through said they loved playing Sweetens Cove."
It will be the architecture and joy of playing it that keeps Landmand aloft, especially the greens. Not only are they large but they possess slopes, sections, crowns and internal contours not seen this side of St. Andrews. The putting surfaces average 14,000 square feet (the size of the average American green is about 6,000 square feet), and the fifth, 15th and 17th are more than 25,000 square feet. Much of the creative credit goes to a visiting crew of shapers, an all-star team that included, at various points, people like Dave Axland, Jeff Bradley and Jim Craig, all longtime associates of Bill Coore and Ben Crenshaw; Trevor Dormer, who has worked with Coore and Gil Hanse; and Marc Burger and John Ellsworth. The human brain must be tricked into comprehending golf holes on a site this epic, so it makes sense that it required a large team of talented people to make it right.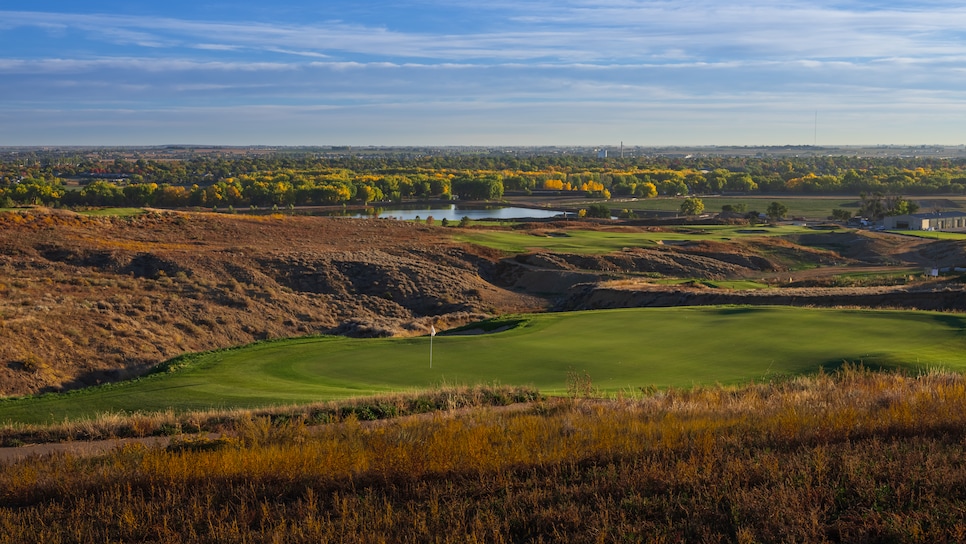 (2) Raindance National, Windsor, Colo., by Harrison Minchew and Fred Funk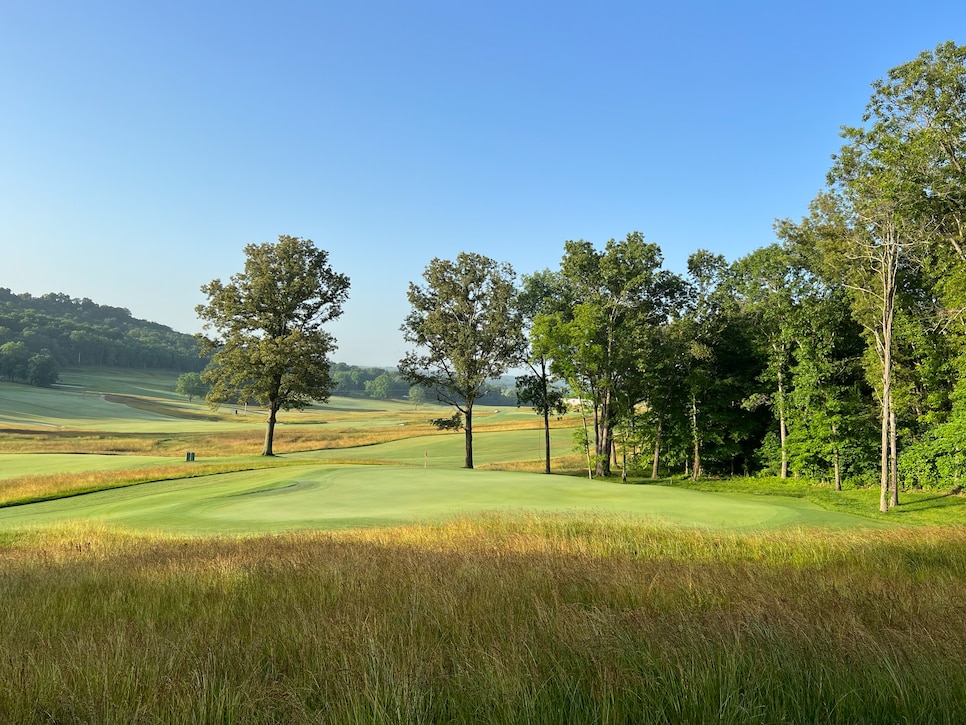 (3) Park Mammoth Golf Club, Park City, Ky., by Colton Craig and Brian Ross
(2) Raindance National, Windsor, Colo., by Harrison Minchew and Fred Funk
(3) Park Mammoth Golf Club, Park City, Ky., by Colton Craig and Brian Ross
ST. GEORGE, UTAH, DAVID MCLAY KIDD
For architect David McLay Kidd, the remodeling of Entrada was a test case. "Our peer group of architects are keen on going to work on a Donald Ross or Alister MacKenzie masterpiece, but the reality is that we have thousands more golf courses that were built post-World War II that are not fit for today's purpose," he says, meaning that the design features and functionality are outdated. "We were curious to see if we could take a '90s golf course that was built for virtually nothing and turn it into a something, so Entrada was an experiment."
Entrada at Snow Canyon, in the desert of southern Utah, was built in the mid-1990s by Johnny Miller's design company as an amenity to a housing development. The original outlay was just $2 million, and the course's architecture and slender fairways, with one nine diving through homesites and the second wandering out into an open plain of lava rock, put a premium on accuracy and aerial approaches to the small, elevated greens. The infrastructure had grown outdated, as had the level of difficulty for the members.
Kidd built a new course in the footprint of the old, essentially starting from scratch. The mandate was to make it more player friendly and to provide space to move the ball off the tee and around the greens. Fairway perimeters were pushed out, and the greens were lowered, enlarged and balanced with the surrounding elevations.
"We made the course much more strategic for high-handicappers and more recoverable," Kidd says. "All the approaches are set up for a slower-swing-speed player who can use contours to get into them, but it doesn't mean that a higher-swing-speed player still can't go pin-seeking with backspin." The entries into greens are molded to guide a running shot onto the putting surface if used thoughtfully, and the slopes in and around the putting surfaces will also funnel balls in different ways.
Kidd's work during the past decade at Gamble Sands in Washington and Mammoth Dunes at Sand Valley in Wisconsin emphasizes recoverability. He defines it as giving the player an abundance of room to play—sometimes 60 to 80 yards of width—yet presenting preferred lines and angles within that space. When players are out of position, they can still find their ball and get a club on it with a chance to stay in the hole. No holes at Entrada benefit more from this idea than 15, 16 and 17. They circle through a landscape of purple lava rock and were always highly picturesque, but slight offline hits would careen off the lava and disappear into the desert. Fairway expansion and the removal of sections of the rock now give players the ability to use the width of the holes and to get up and down around the greens.
For the relatively low cost of $7 million, the club received an entirely new course that's more playable and more thought provoking. Their membership initiation fees have increased more than 15-fold, and Entrada has gone from no waiting list to one that's no longer accepting applications. "We wanted to see if we could take a golf course that wasn't on anyone's radar and that the members didn't frankly like and turn it into something that might be on someone's radar and that the members would truly adore and love," Kidd says. The results are in—the experiment was a success.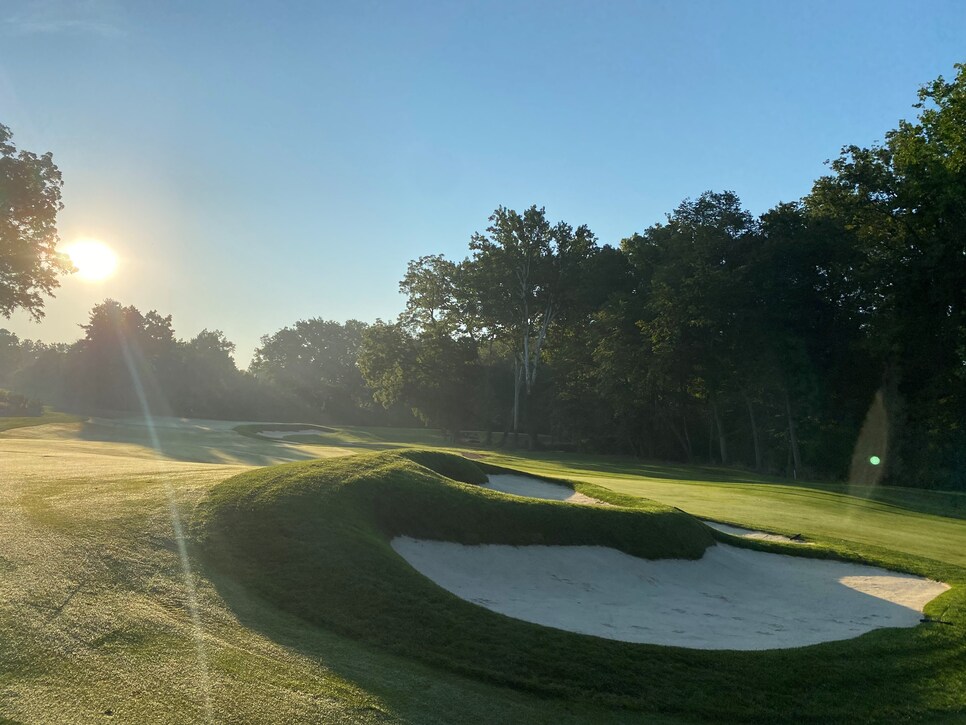 (2) Brookside Golf & Country Club, Columbus, Ohio, by Brian Silva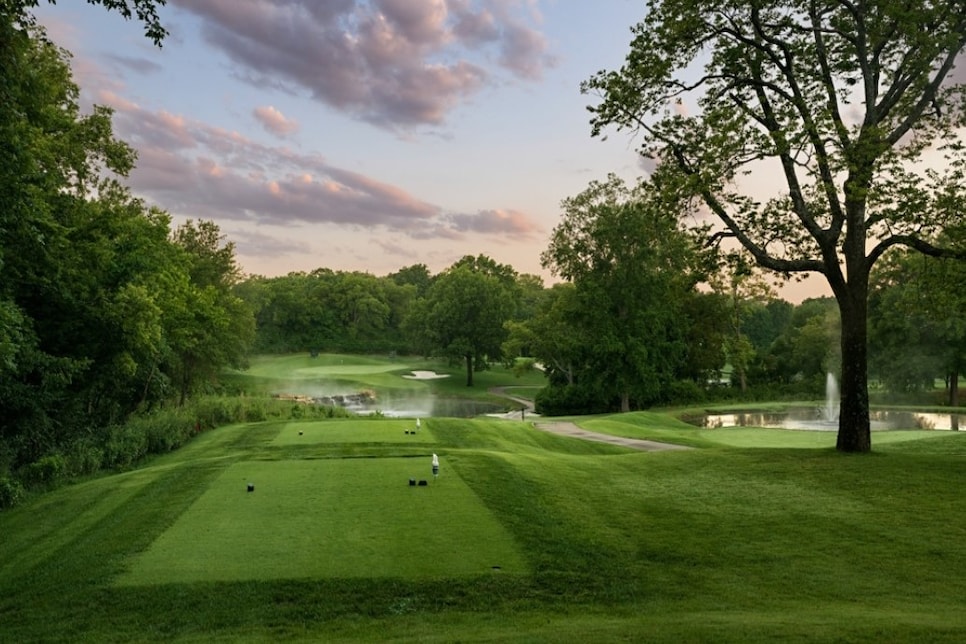 (3) Oakwood Country Club, Kansas City, Mo., by Todd Clark and Ron Whitten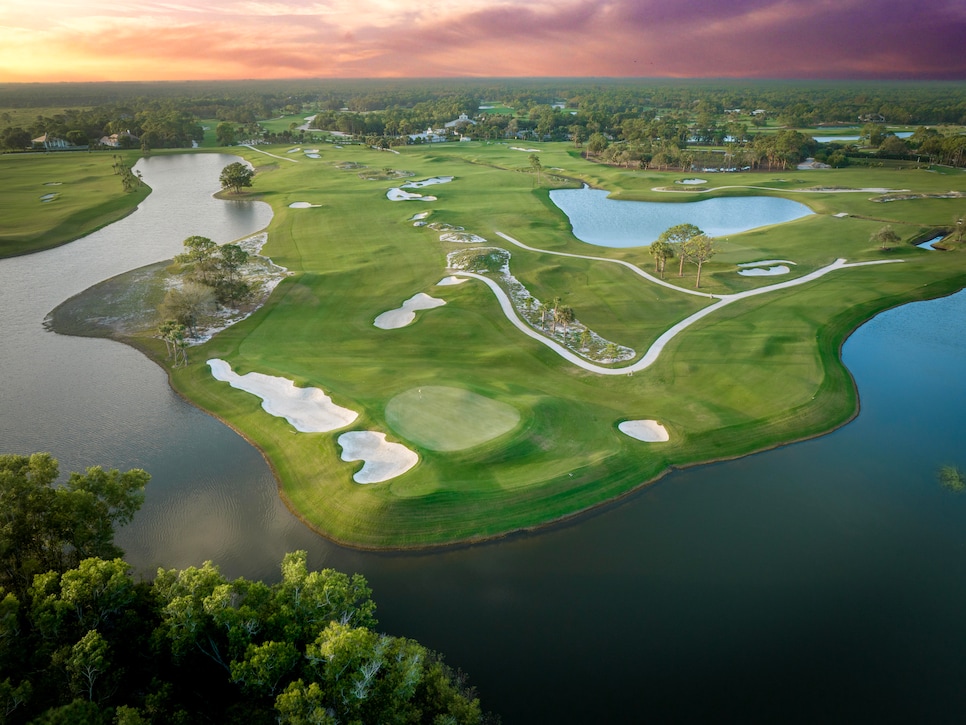 (4) The Match at Jonathan's Landing, Jupiter, Fla., by Gil Hanse and Jim Wagner
(2) Brookside Golf & Country Club, Columbus, Ohio, by Brian Silva
(3) Oakwood Country Club, Kansas City, Mo., by Todd Clark and Ron Whitten
(4) The Match at Jonathan's Landing, Jupiter, Fla., by Gil Hanse and Jim Wagner
Hamilton Golf & Country Club
(South/West Nines)
ANCASTER, ONTARIO, MARTIN EBERT
The great British architect Harry S. Colt, designer of famed layouts like the New Course at Sunningdale and Royal Portrush, made only three visits to the United States and Canada. In 1913, he spent time at Pine Valley, finalizing the routing for George Crump. During his 1914 trip he laid out the course for Hamilton Golf & Country Club near Toronto, developing what Martin Ebert, who renovated the club's three nines from 2019 to 2022, calls "a brilliant routing on challenging terrain." He also sketched out individual hole diagrams with notes. Plans to return were disrupted by World War I, and the course was assembled in his absence. Colt never made it back to Hamilton.
Ebert, who specializes in classical era U.K. renovations with design partner Tom Mackenzie, says that because Colt wasn't there to oversee construction, the details of his plans never materialized. After decades of nips and tucks by different architects, the only remaining element of Colt's original conception was the genius routing of holes that loop and cross each other on the sloping property.
"Hamilton felt like unfinished business as far as Harry Colt's great work was concerned," Ebert says. It presented an opportunity, he says, to finalize the design to a degree the old man might have better envisioned.
Most of Ebert's work involved expanding and reshaping greens (several were shifted off their existing spots), re-orienting bunkers to better relate to modern play (the club hosted the Canadian Open in 2019, won by Rory McIlroy, and will host it again in 2024), and shaping them in a manner more consistent with Colt's vision. "Obviously we don't know exactly what he would have wanted, but just from reading the comments on his plans there are things that stood out, like 'Tear out bunker faces,' " Ebert says. "He wanted that slightly rugged, rough-edged look."
Hamilton was built while Colt was away. Ebert understands what that is like. After doing preliminary work in late 2019, he returned to England. Then CO-VID intervened. Because he was unable to return to Canada for two years, construction oversight had to be done remotely. Blueprints instructed crews where to rough in bunkers, then Ebert would mark up photos of them with intricate sand lines and send them back. Cameras were also used to capture 3-D views of the bunkers, depths and green surrounds, placing the architect on-site virtually.
For the putting surfaces, Ebert had to rely on what little information Colt sketched and his knowledge of Colt's other work. The slopes and contours were programmed into detailed computer plans and sent to the crews, and Ebert could monitor the progress through data captured by survey drones. "Tom and I believe in giving the contractors and shapers precise plans, and that was such a godsend when it came to COVID," he said. "We've been doing this for so many years that we're confident that what we draw will work."
However inconvenient, the long-distance process at Hamilton worked. "It was the only way we could do it," Ebert says, noting there are advantages to it as well, including the prospect of saving time and client money by managing progress through new technologies. "These are techniques we will continue to use in the future."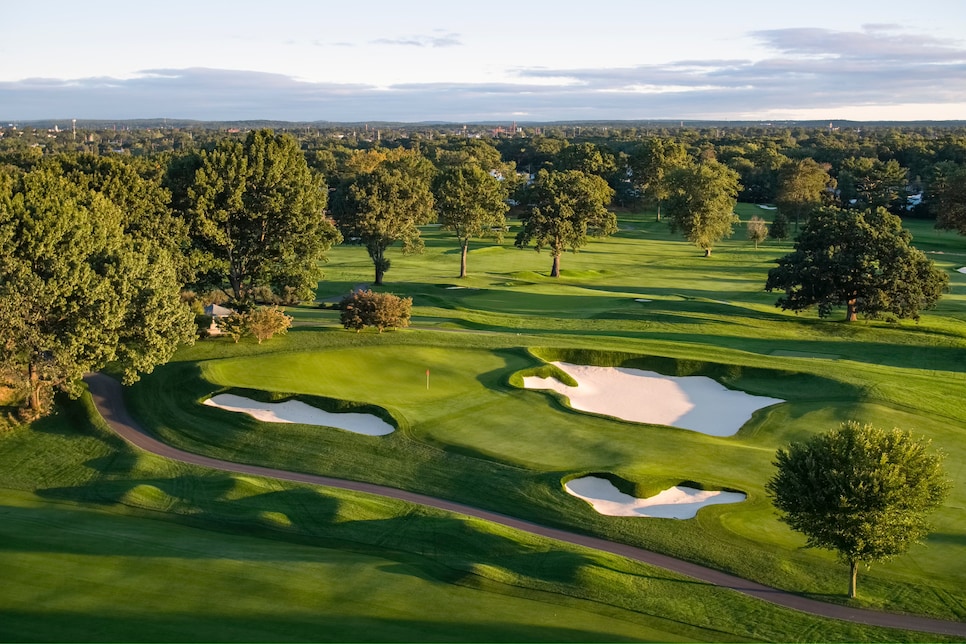 (2) Wannamoisett Country Club, Rumford, R.I., by Andrew Green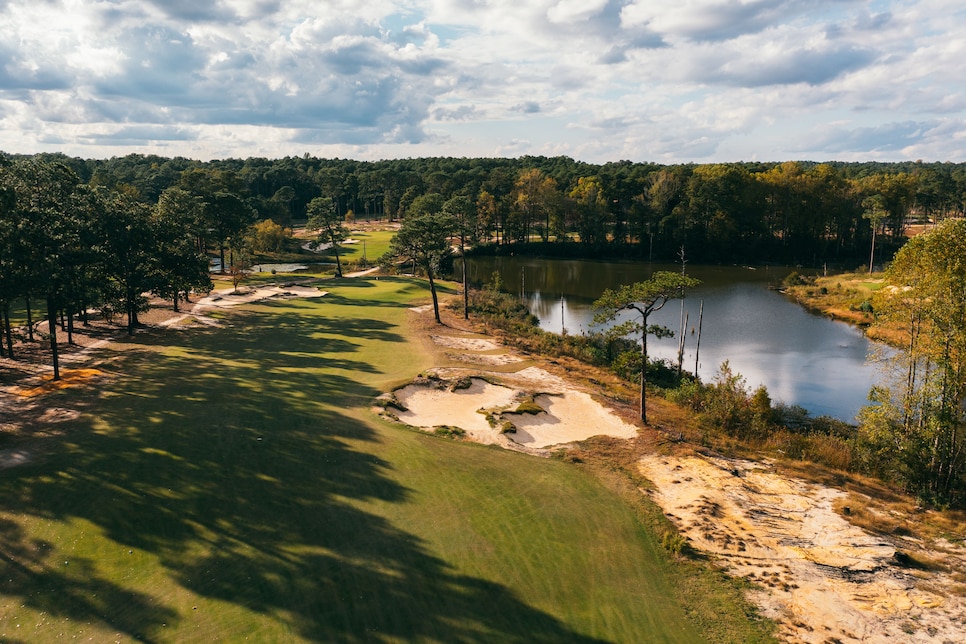 (3) Southern Pines Golf Club, Southern Pines, N.C., by Kyle Franz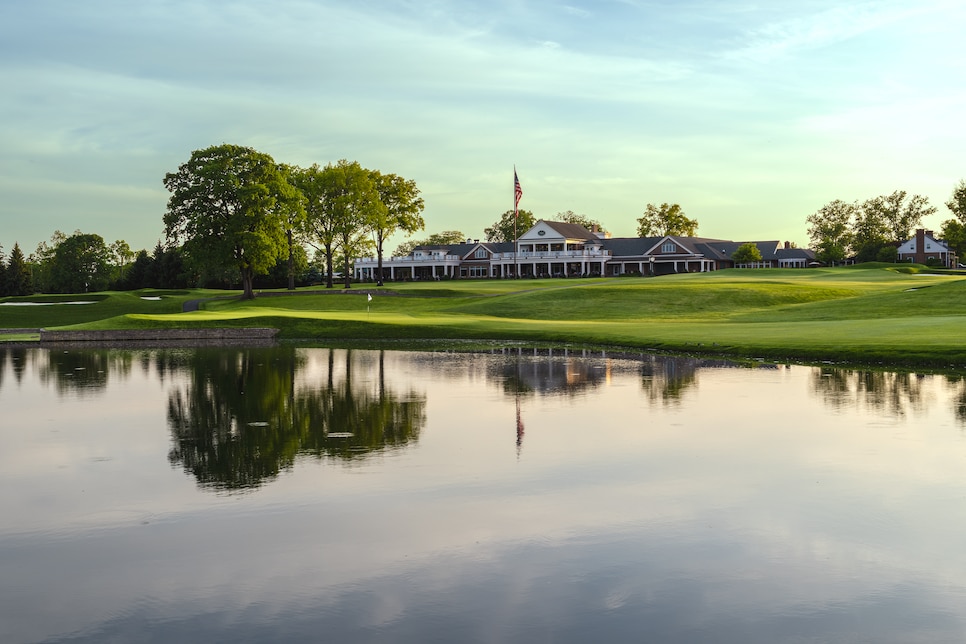 (4) Scioto Country Club, Columbus, Ohio, by Andrew Green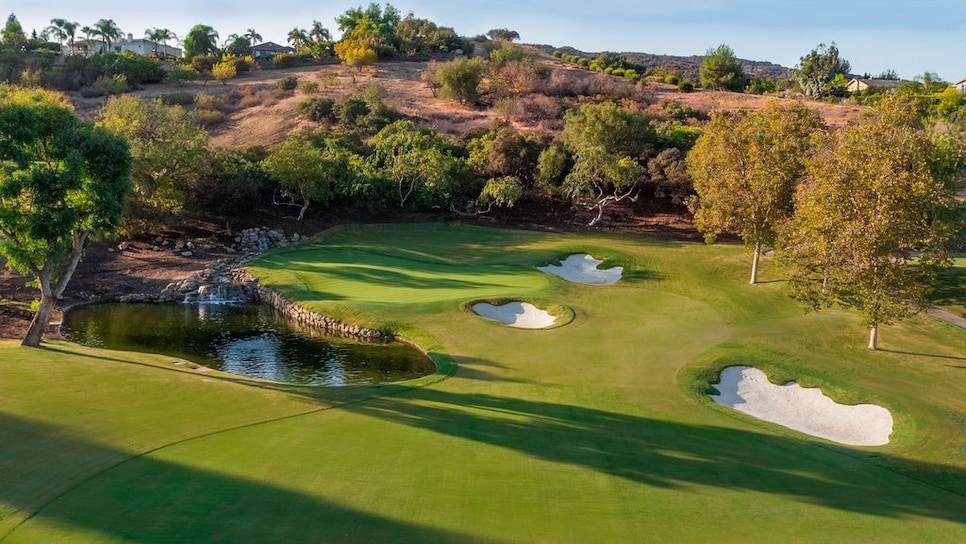 (5) El Caballero Country Club, Tarzana, Calif., by Rees Jones.
(2) Wannamoisett Country Club, Rumford, R.I., by Andrew Green
(3) Southern Pines Golf Club, Southern Pines, N.C., by Kyle Franz
(4) Scioto Country Club, Columbus, Ohio, by Andrew Green
(5) El Caballero Country Club, Tarzana, Calif., by Rees Jones.