The Loop
Dustin Johnson's legendary drive, Rickie Fowler's Hawaiian shirt, and the makings of an unofficial PGA Tour WAGs swimsuit calendar
Welcome to another edition of The Grind, where we had our own Dustin Johnson moment last week. Just not one of which to be proud. While venturing to the basement for some toilet paper, I slipped and fell down the stairs. But unlike DJ last year, I made it into work the next day. Of course, also unlike DJ, I wasn't in Hawaii this past week making millions while hitting awe-inspiring golf shots. Folks, beware of this man dominating the golf world in 2018: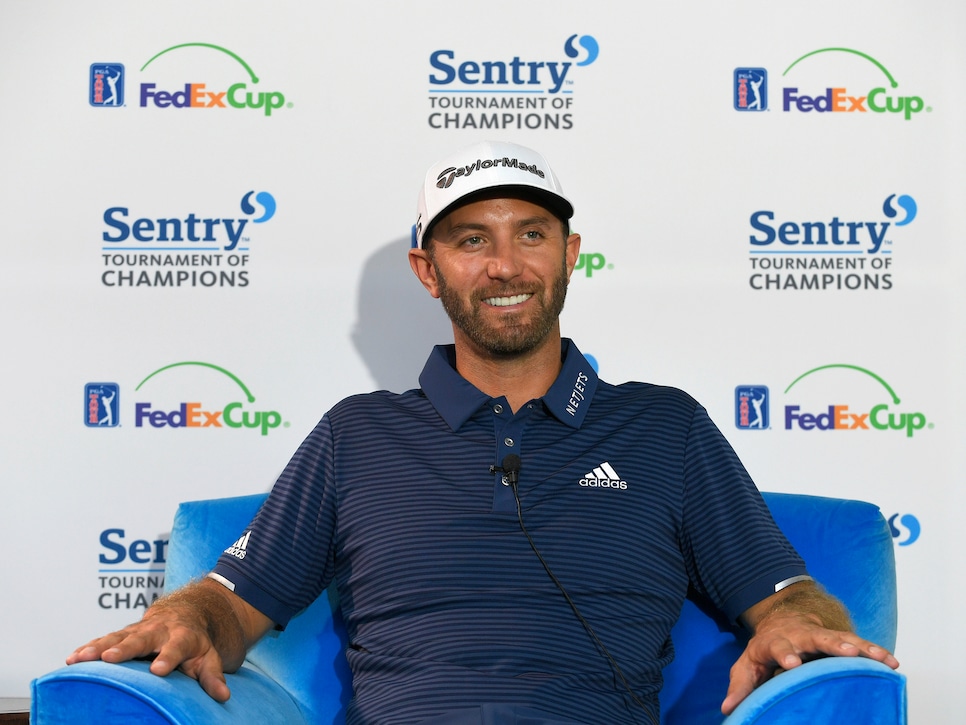 And beware of walking on wooden steps in socks. Always. OK, let's proceed with what else is going on in golf. Carefully.
Dustin Johnson: With an eight-shot victory at the Sentry Tournament of Champions, the World No. 1 strengthened his grip on the top spot in the rankings while being the first to grab this sweet new trophy: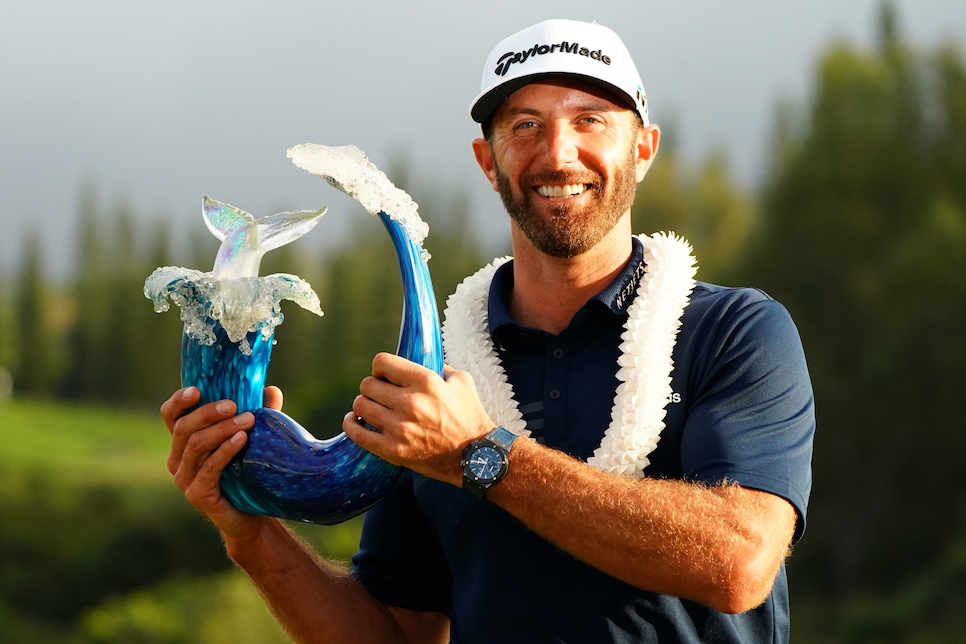 Thanks in part to this spectacular drive during Sunday's final round, a near hole-in-one from 430 yards out!
Johnson's 17th career PGA Tour title extended his remarkable streak of winning at least one tournament in 11 consecutive seasons. If Johnson keeps driving it like he did at Kapalua, his main concern at the Masters will simply be finding a one-story rental home in Augusta.
Bones' comeback: Golf's most beloved caddie is coming back! And he's partnering with Justin Thomas! Before people start freaking out, though, it's just one week. With JT's normal caddie, Jimmy Johnson, getting injured, the reigning PGA Tour Player of the Year had his dad sub in on Kapalua's hilly Plantation Course, but convinced Bones to briefly un-retire at this week's Sony Open. We just hope Phil Mickelson's former bagman keeps his broadcast mic on during the tournament.
Rickie Fowler's Hawaiian shirt: If anyone could pull this look off on a golf course, it's slick Rick.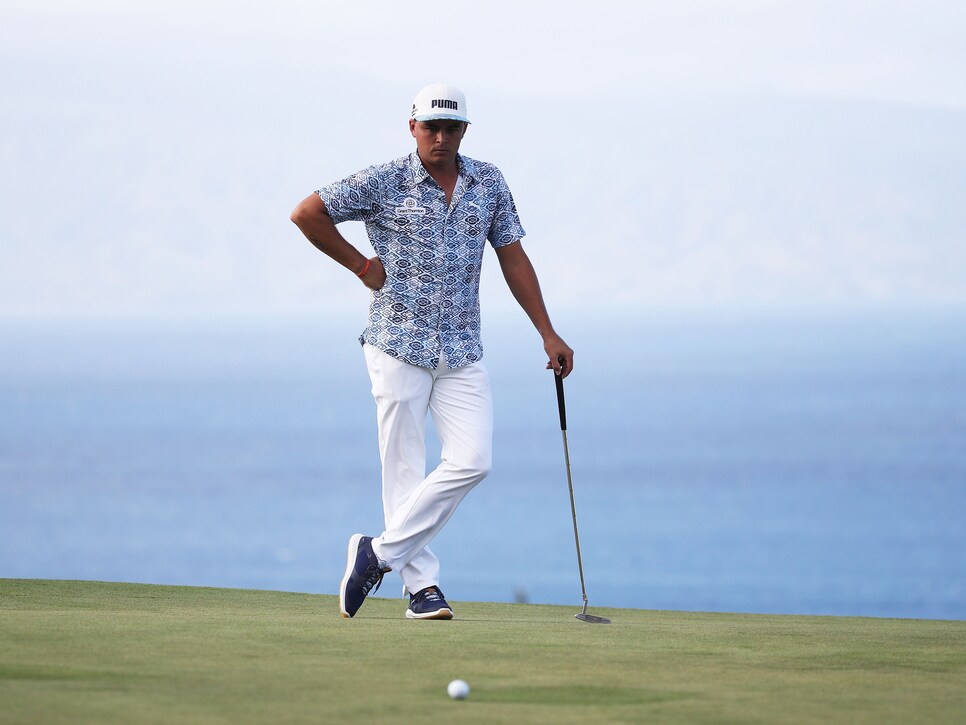 Gregory Shamus/Getty Images
Nice job by Fowler and Puma to have some fun. It is a January golf tournament in Hawaii, after all. Just be prepared for jamokes at your course to give similar ensembles a try this season.
Jason Dufner's hats: Overshadowed by Fowler's ode to Magnum, P.I. was Duf's rotation of fantastic hats. He rocked a camo Toronto Blue Jays cap, an American Flag hat and, the coup de grace, this beauty featuring The Notorious B.I.G.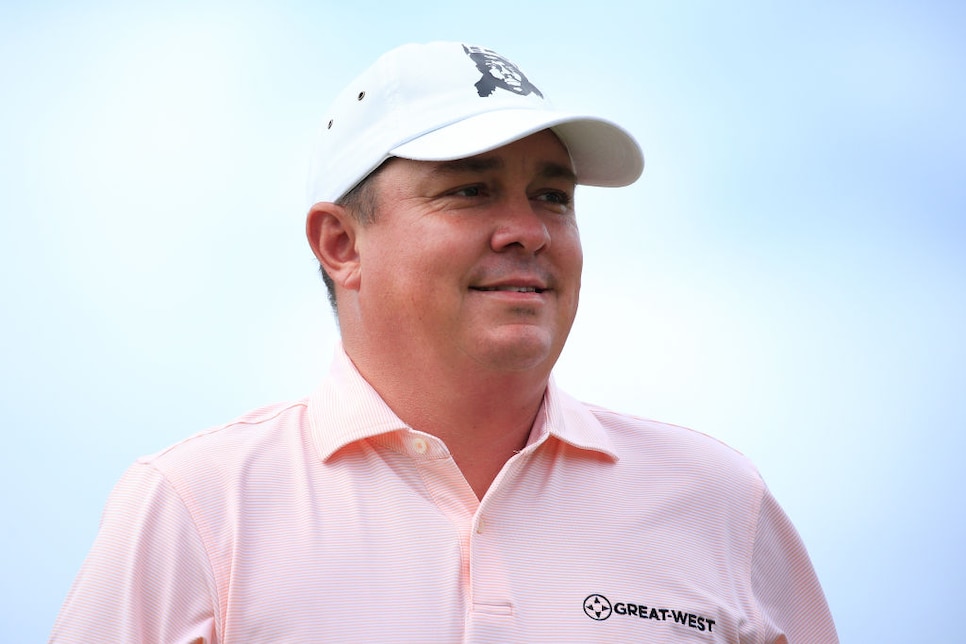 Now if only someone could get Dufner to bust out a few bars of "Mo Money, Mo Problems"at his next presser.
Lyme disease: In an unfortunate coincidence, Erin Walker, the wife of six-time PGA Tour winner Jimmy Walker, revealed that like her husband she's also been diagnosed with Lyme disease. Erin shared this info in a post about Jimmy's struggles with the condition last year, including him having to shut down all golf activity for a bit after his medication caused him to get second-degree burns from just being outside. We're hoping 2018 is better for the couple, both on and off the course.
Sad suspensions: Brad Fritsch became the latest golfer to get hit with a suspension under the PGA Tour's anti-doping policy, and this is a particularly unfortunate case. As the 40-year-old explained in a candid Facebook post, a new off-season training regiment aimed to lose weight that included a spray called BioSom was the culprit. Fritsch contacted the tour when he realized a possible violation, and will sit out three months now. We applaud his honesty and feel bad that he'll miss that much of the season. But in the meantime, give him a follow on Twitter.
Brandel's bold claim: Dustin Johnson's near hole-in-one on the par-4 12th on Sunday was incredible/amazing/jaw-dropping, but was it "the greatest shot ever hit"? That's what the NBC/Golf Channel analyst Brandel Chamblee claimed:
Considering the Sentry TOC isn't exactly a major and DJ already had a six-shot lead at the time, we respectfully disagree with Chamblee's bold statement. But, that doesn't mean it wasn't awesome. In fact, let's watch it again!
The PGA Tour heads to Honolulu for the Sony Open, AKA that other tournament in Hawaii that Justin Thomas won last year when he shot 59.
Random tournament fact: Jim (Bones) Mackay is caddieing for JT this time (Did we mention that?), but he doesn't have much local knowledge on Waialae Country Club. The last time he caddied there was 1992. The year before Thomas was born.
RANDOM PROP BETS OF THE WEEK
-- Justin Thomas will shoot 59 and win again: 1 MILLION-to-1 odds
-- JT and Bones will wear matching Hawaiian shirts: 100-to-1 odds
-- JT and Bones' on-course convos will be entertaining: LOCK
Here is Dustin Johnson tapping in for eagle. On a FOUR HUNDRED AND THIRTY YARD PAR 4!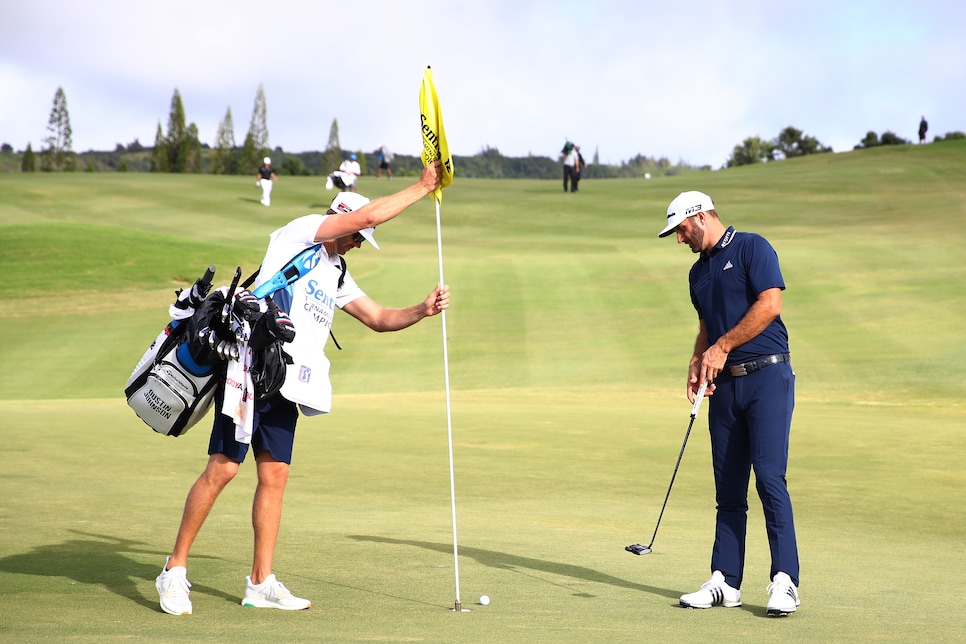 Check out this dad reacting to being given a pair of Masters badges by his son:
Of course, he'll probably make his old man arrange and pay for all the travel, but still, that's a pretty damn thoughtful gift.
VIRAL VIDEO OF THE WEEK (CUTE-KID DIVISION)
Don't be fooled by this adorable kid. He's a stone-cold hustler. Just look at this shot!
VIRAL VIDEO OF THE WEEK (COLLEGE-KID DIVISION)
Speaking of naturals, introducing Chris Carns, a Clemson student who doesn't play golf, but still managed to drain a 94-foot, full-court putt to win $10,000:
THIS WEEK IN CELEBRITIES/SUPERHEROES PLAYING GOLF
Introducing country singer Erin Alvey, who braved the snow to get in some practice:
And then there was Spiderman, now played by British actor Tom Holland:
That's a great-looking swing. Although, I'm not sure why someone with superpowers would ever need to take a practice cut. If anything, Spiderman should be helping golf fight its battle against slow play. While we're on the topic of fast play. . .
THIS WEEK IN GOLF GUINNESS WORLD RECORDS
Watch Steve Jeffs break the record for fastest hole played, by completing a 500-yard hole in 1:50:
Now this guy is a real superhero.
"I hit it probably 90 percent. I don't swing -- I don't think I've ever hit one 100 percent, though." -- Dustin Johnson on his legendary drive. Every hacker around the country could learn something from that.
THIS WEEK IN DUSTIN JOHNSON-PAULINA GRETZKY PUBLIC DISPLAYS OF AFFECTION
First, the two celebrated their five-year anniversary as a couple:
And then Johnson celebrated his latest win by. . . sharing this photo of Paulina:
We get it, DJ, things are pretty good for you right now.
THIS WEEK IN OTHER PGA TOUR WAGS POSTING BIKINI PICS
Paulina Gretzky wasn't the only WAG soaking in the Hawaiian sun.
Hmm, those photos look pretty official. Is there some sort of PGA Tour WAGs calendar being shot that we don't know about?
Tiger Woods announced he'll start his 2018 campaign at Torrey Pines and Riviera. This was almost as exciting as the news that Bones is coming back. . . . Rickie Fowler was named No. 1 on this year's list of the world's best-mannered people, according to the League of Junior Cotillions. This is not a joke. Congrats, Rickie. . . . Congrats are also in order to the seven-year-old who made a hole-in-one during his first real round of golf. Now excuse me while I go throw up. . . . And finally, because I'm a good guy very particular about my chocolate, I brought in some treats to the office. Behold the biggest box of candy you've ever seen: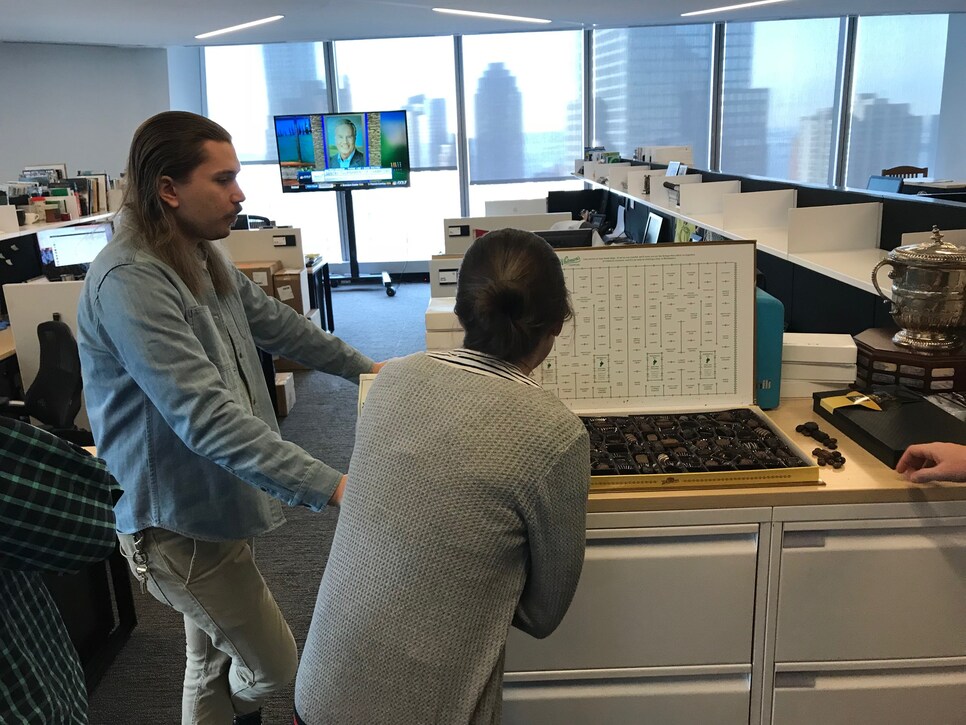 Life is really like this box of chocolates. You never know what you're going to get -- even with this key map that confounded all of my co-workers.
RANDOM QUESTIONS TO PONDER
Who is the best-mannered person you know?
What does Tiger think of his Raiders signing Jon Gruden?
Is Rickie going to hang onto that Hawaiian shirt?