LIV Golf
Dustin Johnson shoots another scorching round in LIV and then delivers the perfect DJ answer about his team's domination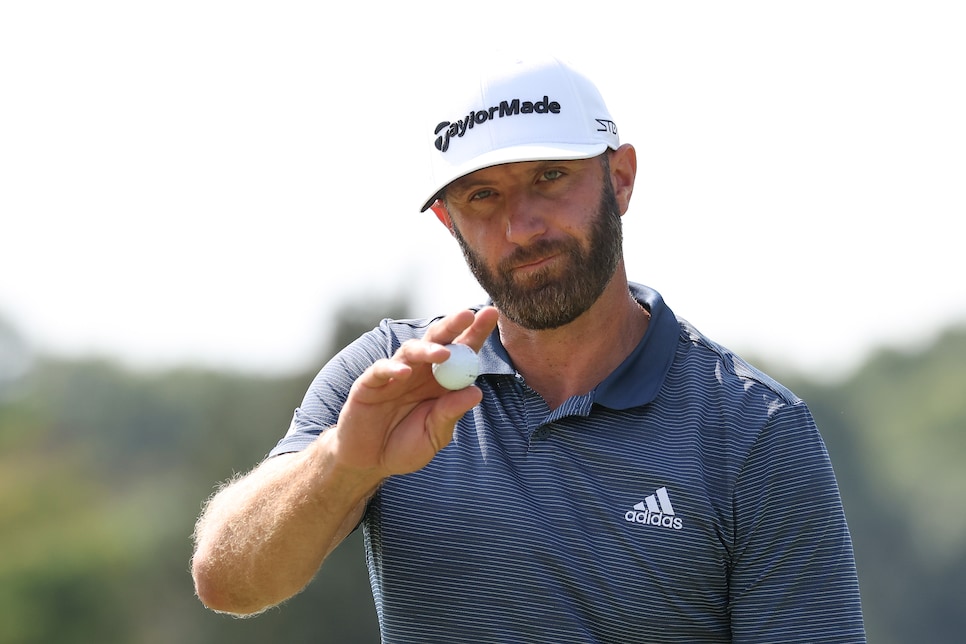 Dustin Johnson reacts after making birdie on the eighth green during the first round of the LIV Golf Invitational-Chicago.
Jonathan Ferrey/LIV Golf
Dustin Johnson has clearly been LIV Golf's best player in its inaugural year. In four events leading into this week, he had a win, a runner-up and a third-place finish. He also easily owns LIV's single-biggest highlight moment so far when he drained a 35-foot eagle putt in a playoff two weeks ago in Boston to the delight of a raucous crowd.
On Friday, there was another stellar round, and another chance to produce a signature moment—though this one came up a bit short.
In the 54-hole Chicago tournament at Rich Harvest Farms in Sugar Grove, Ill., Johnson started on the first hole in the shotgun start of 48 players. He made birdies at Nos. 2 and 3, and then reeled off four straight birdies from the sixth through the ninth to go out in 30.
There were two more birdies at 11 and 12, and yep, we were on a soft 59 watch—though it was occurring in something of a vacuum, of course, since the fledgling circuit doesn't have a TV contract and can only be followed on YouTube.
Still, a 59 is a 59, and Johnson had a middling opportunity to get to that number in official competition after never having done so on the PGA Tour. He was eight under through 12 on the par-72 track, so he needed five more birdies over the last six holes to get there. A lot to ask, of course, but it was possible.
Alas, he could only make one more birdie, at the 15th, and shot "only" a nine-under 63 that put Johnson three shots clear of reigning Open champ Cameron Smith, who is playing in his second LIV event. Matthew Wolff was in third after a 67.
DJ was DJ afterward, answering most questions with a few sentences, at most.
"The game is in really good form," a smiling and relaxed Johnson said. "It's been solid day in and day out, so seeing a lot of the same shots and very consistent. That's always what I'm looking for, just consistency in the flights and in what I'm trying to do, and obviously right now it's going pretty well."
A reporter tried to get him to bite on possibly criticizing the PGA Tour for not currently having an event in Chicago. The exchange went like this:
Reporter: "Are you surprised that Chicago hasn't been able to hold down a PGA Tour event year after year?"
Johnson: "There's tons of good courses in this area. I've played quite a few of them around here, and there's a lot of good ones. This is one of them, too."
Reporter: "Are you surprised that the tour hasn't been here every year?"
Johnson: "It's not up to me. I just go where the tournaments are."
Rejected! Like a Scottie Pippen beat down, and by the way, the former Chicago Bulls star watched the golf action from a skybox.
Someone also tried to bait Johnson into a little banter about his 4 Aces team in LIV, which has won the last three events to earn big cash prizes. After the first round this week, they led by one stroke.
So Johnson was asked if he was catching flak from the other teams, and he had the most DJ answer possible: "No," he said with a laugh, "but I don't really care, either.