News
Dustin Johnson and Phil Mickelson's careers through their first 13 years as pros are frighteningly similar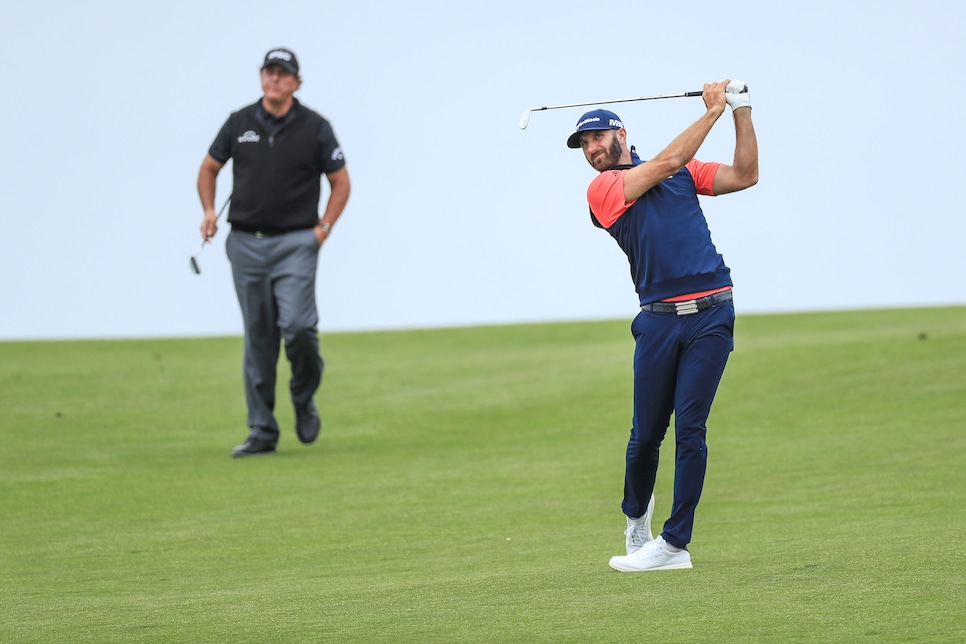 Phil Mickelson watches Dustin Johnson play his second shot on the ninth hole during the first round of the 2019 U.S.Open at the Pebble Beach.
David Cannon
Dustin Johnson's victory Sunday at The Northern Trust, where he won by 11 strokes (!), finished at 30 under par (!!) and by his own admission played the best golf of his life on his way to a second-round 60—in which he was 11 under through 11 holes (!!!)—was no doubt impressive. But as my colleague John Feinstein pointed out on Twitter, there were 38 players who finished the week double-digits under par at TPC Boston.
Translation: These guys are good, as someone once said, especially when conditions are ripe for scoring.
Now, that's not to diminish Johnson's performance in any way. The job is to beat—or pulverize in this case—everyone else, and DJ did that, leaving the field in his wake en route to his second win in two months.
But what stands out about the 36-year-old even more is the remarkable career that he has had to this point. And who it compares to might surprise you.
In Johnson's first 13 years as a tour pro, he now has 23 worldwide victories. That's one more than another guy who likes to hit bombs had in his first 13 years as a professional …
The resemblance doesn't stop there, either.
Mickelson, who turned 50 in June and is making his PGA Tour Champions debut this week, has five career major titles to his credit now after 29 years playing as a professional. But only one of those came in his first 13 years, at the 2004 Masters. Johnson's lone major triumph was at the 2016 U.S. Open at Oakmont. In other words, DJ's lack of a second major title to date might not be as disappointing as some would make it out to be. At the same point in Mickelson's career, he too had endured his share of major heartbreaks, but better things lay ahead.
Below are a few more statistics from DJ and Lefty's careers. Again: these account only for their first 13 years as professionals (Mickelson's win as an amateur at the 1991 Northern Telecom Open isn't part of his count) and are from their first 13 calendar years as pros, not seasons. They also include not just PGA Tour events, but all starts around the globe as accumulated by the Official World Golf Ranking.

The similarity in the number of runner-up finishes, thirds and other top 10s between the two men at that 13-year mark in their careers is pretty amazing. They even both missed the same number of cuts—11—in their first full year, though Johnson, not surprisingly, has been much more consistent. He's missed more than three cuts in a year only once since 2012. Conversely, Mickelson has missed fewer than that just once in the same span.
Mickelson is already in the World Golf Hall of Fame; Johnson will be once he's age eligible. One thing Johnson has done, though, that Mickelson hasn't? Reach No. 1 in the world, which he did again on Sunday.
Johnson would surely trade that, of course, for all those majors that Mickelson has. But if the Mickelson comp continues into DJ's future, there's still plenty of time.