The Loop
Dustin Johnson (and Paulina Gretzky) make Masters history, a crazy gator sighting, and the greatest leader board updates ever
Welcome to another edition of The Grind where we're guessing the green jacket is about to go on its wildest tour ever. Less than 24 hours after slipping it on, Dustin Johnson had already partied it up in Florida, then hopped on a private jet to St. Barts. Not exactly Ben Hogan's itinerary when he won his first green jacket in 1951. Johnson hasn't been spotted wearing his new prized possession anywhere else yet, but you know it has to be in tow: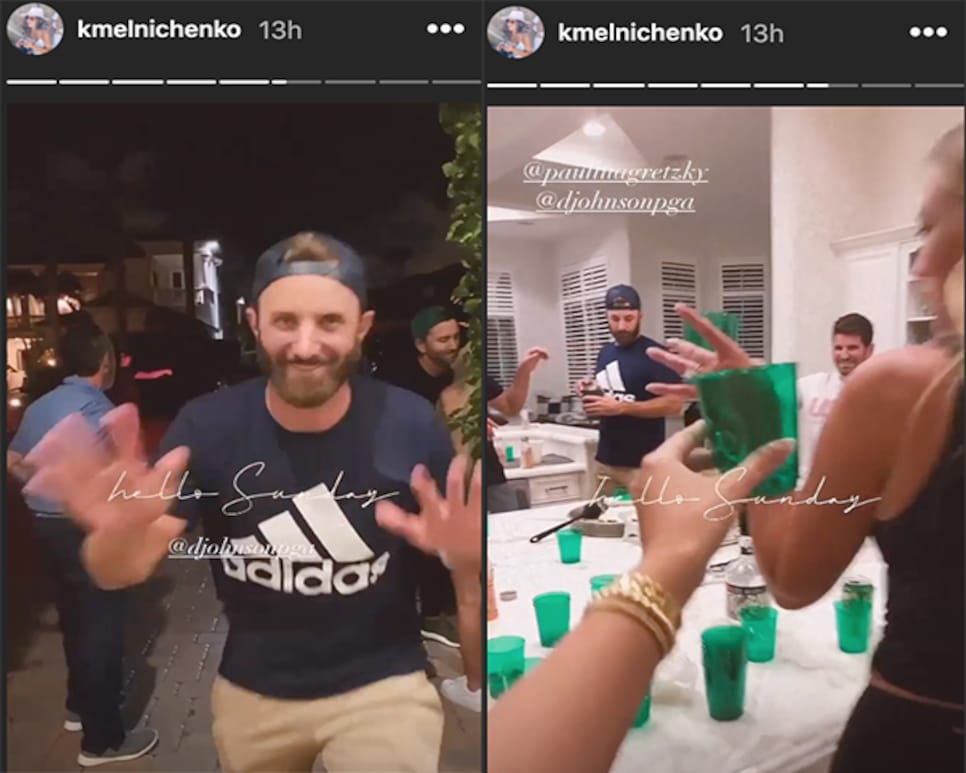 Even Austin Johnson's Masters caddie bib is making the rounds—with The Great One getting a taste.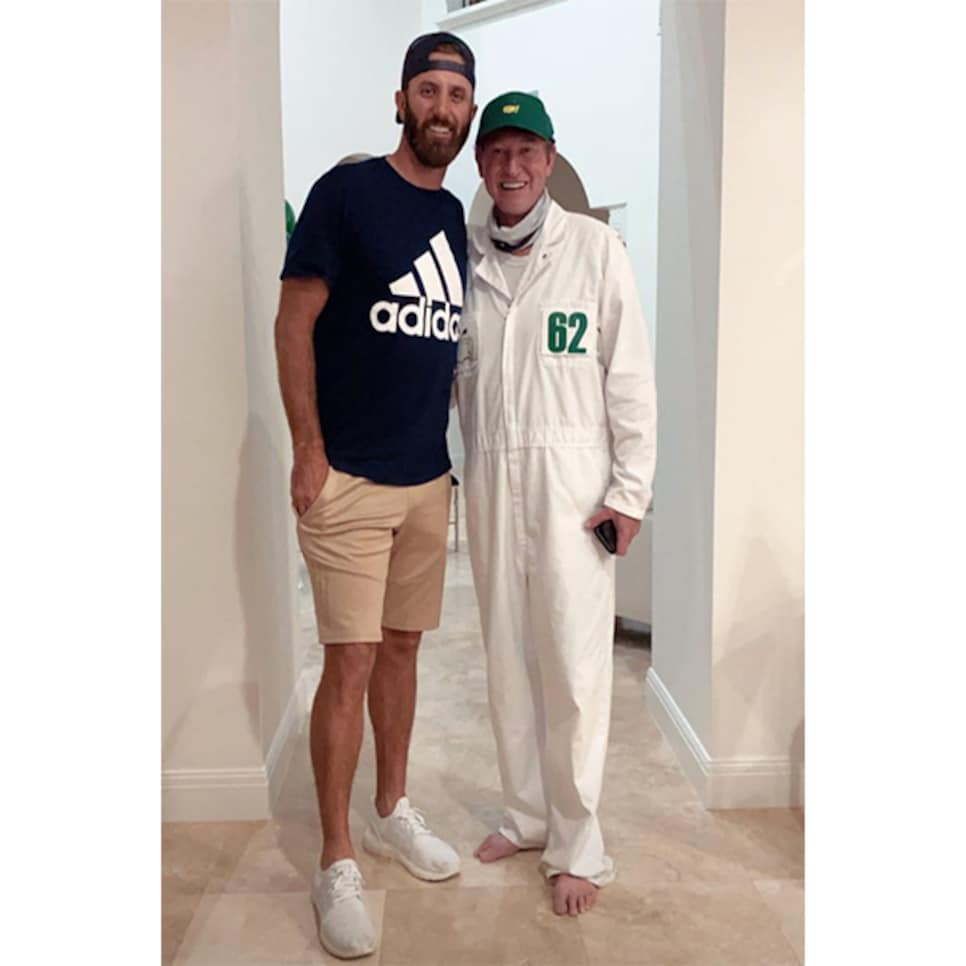 We just hope Johnson doesn't have to return his coveted coat in April. Getting to keep it for only five months doesn't seem fair—for both DJ and those following along on Instagram.
Robotic Dustin Johnson: What a clinic this guy put on at Augusta National. What a heater he's been on the past few months. And he barely even gives a fist pump. Amazing. We've had plenty of World No. 1s the past few years, but Johnson is the undisputed heavyweight champ heading into 2021 following a record-breaking Masters win that caps a brilliant run of six top-two finishes in his past seven starts (the other start was a T-6 at the U.S. Open NBD).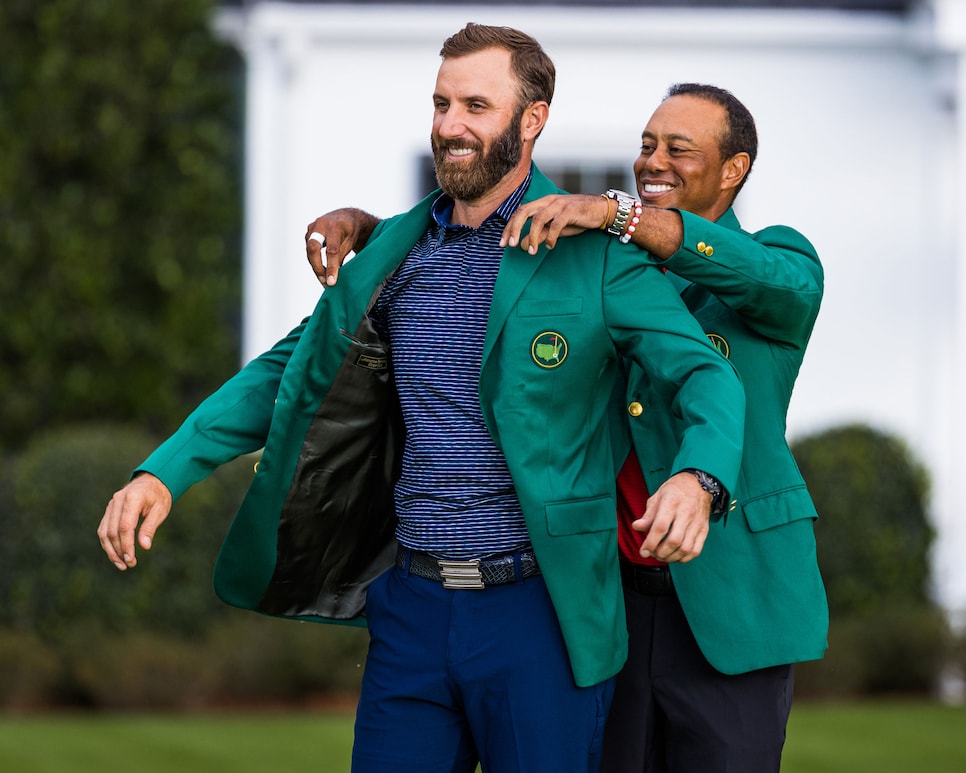 More importantly, Johnson got a big—and dare I say, deserved—boost to what was already a Hall-of-Fame resume. With his latest spurt that also includes a FedEx Cup and a second PGA Tour Player of the Year Award, Johnson now has essentially the same accomplishments (24 PGA Tour wins and two majors) as Johnny Miller. Based on his personality, we're not projecting the same broadcasting career as Johnny, but you get the point. He's among the greats. And at 36, he's not nearly finished adding to that résumé.
Emotional Dustin Johnson: We joke about Johnson's robotic-like reactions, but after everyone flipped away to watch football, he returned to the 18th green donning his new green jacket and finally showed he's human. These tears were real—and they were spectacular. Kudos to CBS' Amanda Balionis for handling it so well.
Wow. . . It's getting DUSTY in here!
These Masters updates: Aside from Johnson, the star of this Masters week unlike any other was a Memphis radio host who provides Masters scoring updates unlike any other.
That's going to be in my head until the next Masters in April. So if I blurt some of Chris's lines out over the rest of this column, forgive me, because. . . DASS WHAT'S GOING ON AT AUGUSTA!
Vernon was nice enough to join us on our BE RIGHT podcast this week, and the interview was a ton of fun. Have a listen below:
We had a chance to do a full interview with Vernon on our "Be Right" podcast after Masters week—scroll to 18:50 to listen to our chat.
Tiger Woods' 10: As Tiger deposited an entire sleeve of Bridgestones into Rae's Creek, there was one thought that kept running through my head: Thank goodness this didn't happen on Sunday last year. In other words, SAY AMEN AT THE CORNER!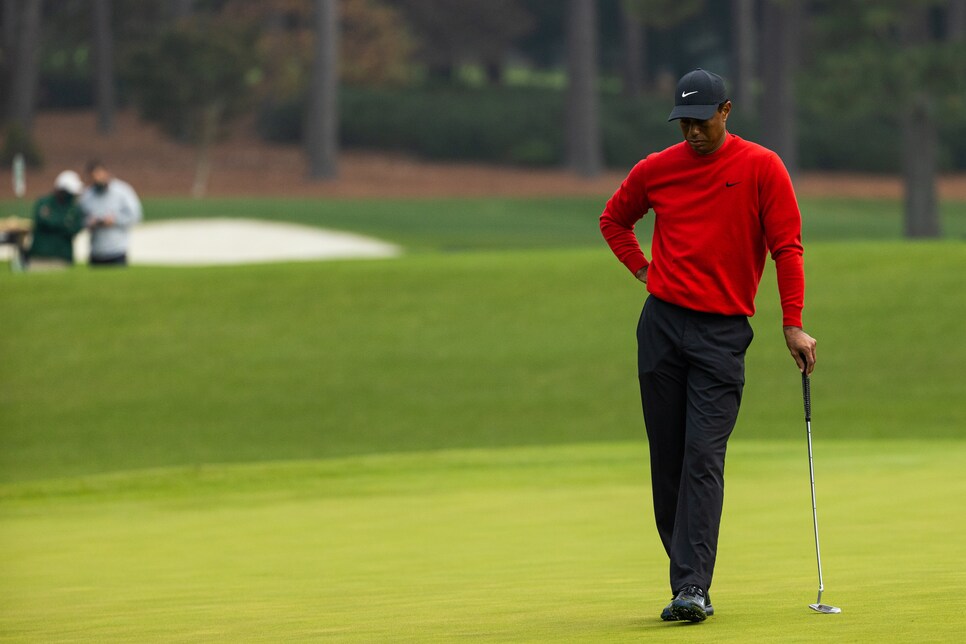 But seriously, that was pretty wild. A year after everyone around Woods got wet on No. 12, Tiger recorded the worst score of his career. Of course, he proceeded to birdie five of his final six holes because he's the freaking GOAT. Hopefully, aspiring golfers—and some of his fellow tour pros—were taking notes. Despite that 10, TIGAH WOODS WAS ONE UNDAH! And while we're sad we can no longer refer to Tiger as the defending Masters champ, there's this:
So you're telling me there's a chance. . .
Playing behind Bryson: Already known as one of the more, um, deliberate players on the PGA Tour, now you have to wait for him to go for every par 5 in two and try to drive any par 4 under 400 yards because HE HITS THE BALL LIKE A GORILLA! And then there are the search parties caused by his erratic misses. After Friday's round, Jon Rahm was asked if he was involved in the search for Bryson's golf ball. Rahm's response? "Which one?"
Well played, Jon. JON RAHM IS DA BOMB! Although, the next day he hit a punch shot backward off a tree and into some bushes setting off another search party. The golf gods are always listening.
Suspenders: Arguing about hoodies on the golf course seems like a distant memory after watching Sandy Lyle navigate Augusta National looking like a bank teller from the 19th century. That being said, the 1987 Masters champ had a good reason for wearing the suspenders, which are apparently called "braces" in the U.K. (the more you know).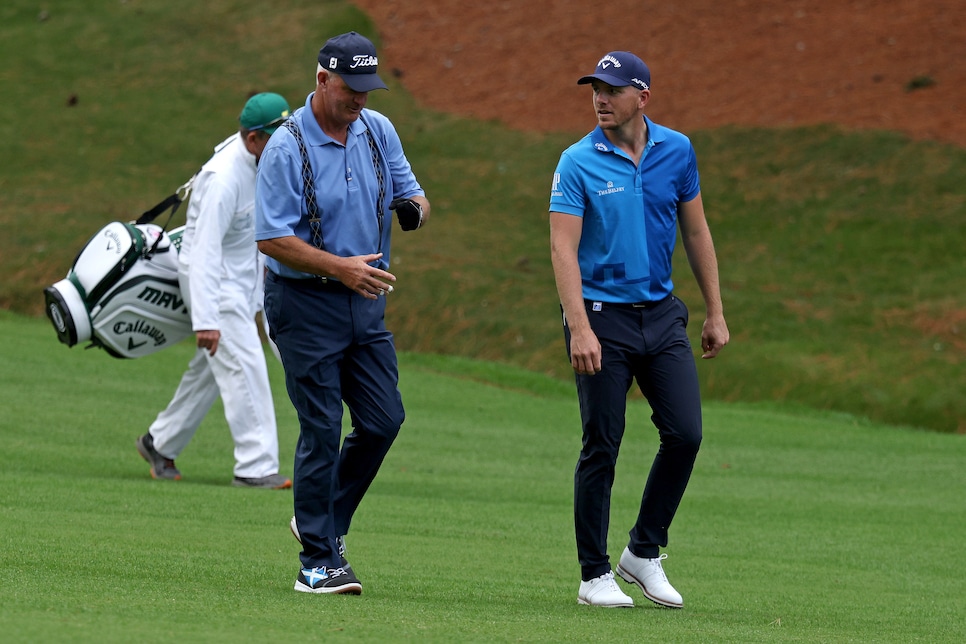 "I do it because I am so fed up with my shirts coming out and coming down here and constantly having to tuck it in," Lyle said. "And when it's so warm like this and you've got grubby hands, you tuck your shirt in, you pull your hand out and the shirt comes with it."
TMI, Sandy. Let's just agree that if you're over 60 and a Masters champ, then you can wear whatever you want. I don't think Chris Vernon ever addressed the suspenders, but he did say LARRY MIZE FOUGHT IN WORLD WAR II when he found out he was two under. Maybe next time.
The PGA Tour heads to the RSM Classic, AKA that tournament I attended last year and expensed a lot of BBQ and milkshakes. Sadly, I will not be at Sea Island Golf Club this year, but it's actually a really good field thanks to the proximity to Augusta National. WHERE THE HELL IS CHARLEY HOFFMAN?! We missed the perennial early-round leader at the Masters, but he'll be back in action this week.
Random tournament fact: When Tyler Duncan beat Webb Simpson in a playoff last year, it was his first win anywhere on any level since the 2011 Indiana Amateur. We're pretty sure he's the first player in history to pull off that elusive double.
RANDOM PROP BETS OF THE WEEK
—I will consume more calories this week than during last year's RSM: 1 MILLION-to-1 odds
—Dustin Johnson will lose the green jacket in the Caribbean: 3-to-1 odds
—Dustin Johnson will not be playing golf for the next few days: LOCK
Huge shout-out to Grind producer Ben Walton for a big week of TAKING PICS ON THE COURSE! Here was my favorite: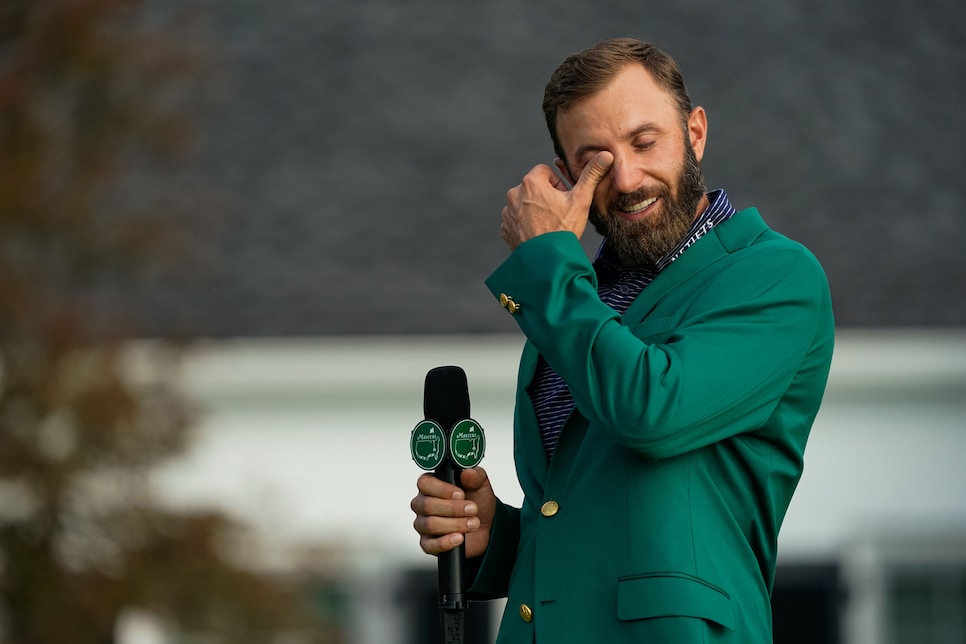 VIRAL VIDEO OF THE WEEK (NOT INVOLVING CHRIS VERNON)
Good lord, that thing is massive. A T-REX IS ON THE COURSE! A T-REX IS ON THE COURSE!
THIS WEEK IN PROS ARE JUST LIKE US! (SORT OF)
Tyrrell Hatton let everyone in on quite a tale from his Augusta rental house. "We actually rented the house in 2018, so it's quite nice kind of going back to something that feels familiar. I just hope that my manager doesn't leave a knife in the oven this year and melt it." Hatton added that they left an awkward note and money for a new knife set. Wow. TYRRELL'S MANAGER AWLWAYS MELTIN'! OK, so Chris Vernon didn't say that, but he did say, "PAUL CASEY ALWAYS SMILIN'!" And he's right. Even when he's in trouble on the course, Paul Casey is always smiling.
THIS WEEK IN TOUR PRO PUBLIC DISPLAYS OF AFFECTION
YO DJ, WHERE PAULINA AT?! Actually, we all saw where she was as she rushed the 18th green after Johnson had officially won. Unofficially, she's believed to be the first WAG to do that at Augusta National. What a trailblazer! And they walked off into the sunset hand in hand. Sort of.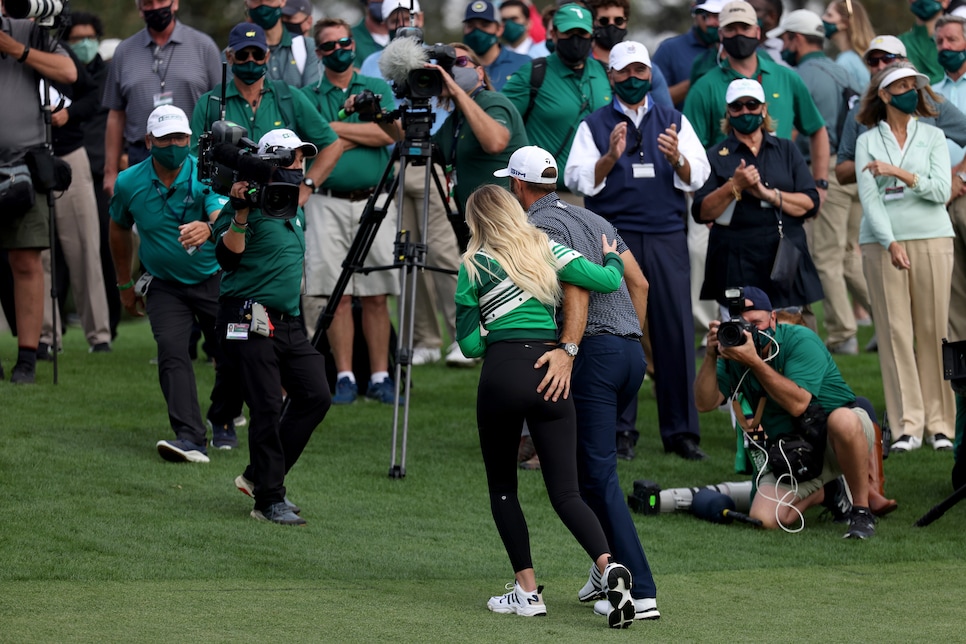 Awww. Notice also how Paulina was rocking a green jacket of her own. Talk about having confidence in her man.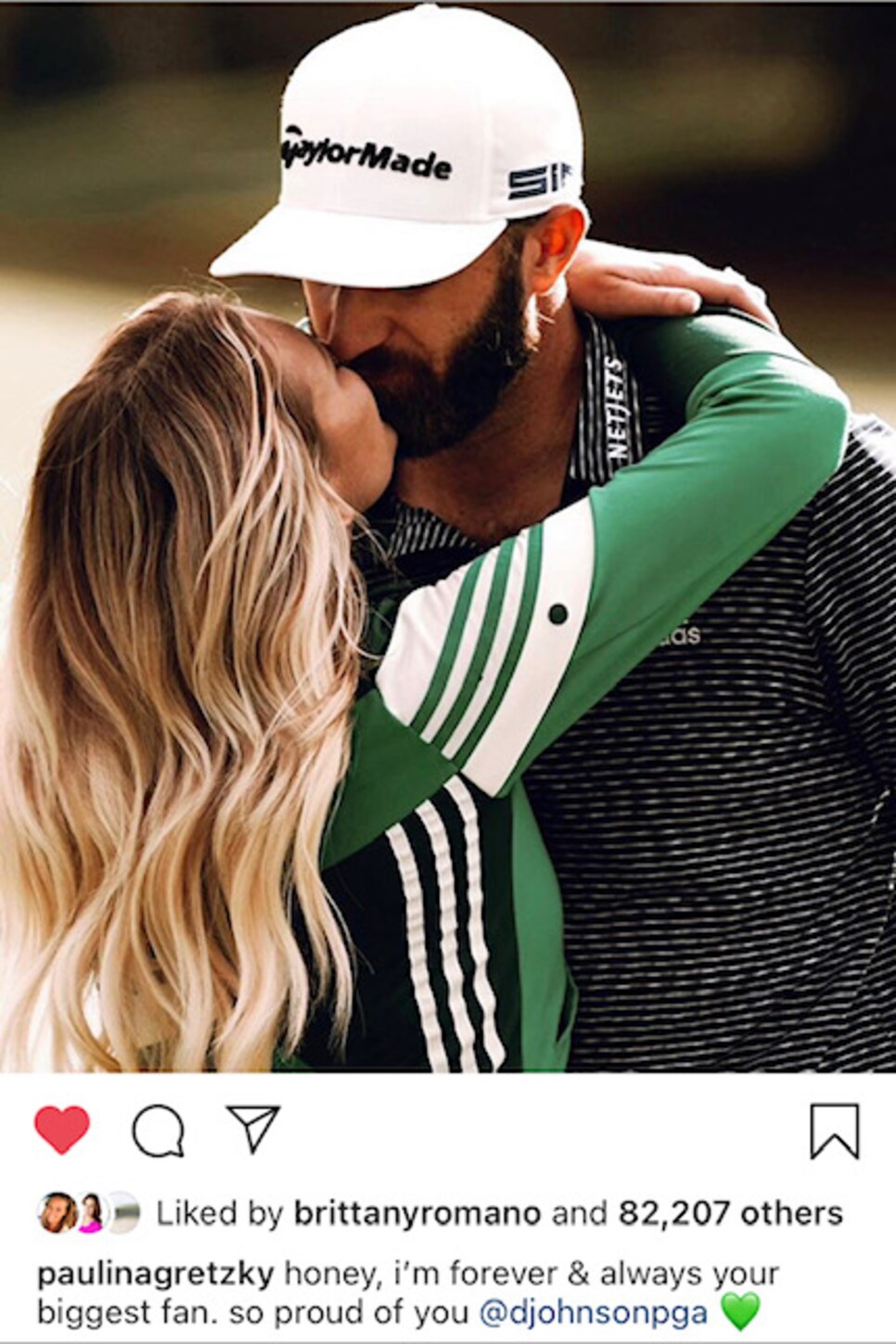 "Favorite tradition . . . For me, I don't know if it's really a tradition, but my favorite thing about the Masters is the sandwiches." —Dustin Johnson. Loved this response, but I've got a feeling he might answer differently if asked the same question in April.
Kirk Herbstreit says he turned down Tom Izzo's invite to play Augusta National three times. And suddenly, I'm questioning whether to remain a Kirk Herbstreit fan. . . . The PGA Tour will be going to Delaware for the first time with the 2022 BMW Championship moving to Wilmington Country Club. All I can think of is Wayne's World: "Hi, I'm in . . . Delaware." . . . The Masters had its lowest final-round TV ratings since 1957 proving once again that it's tough to compete with the NFL—and Tiger in contention. Also, if you listened to last week's Local Knowledge podcast on Augusta National's history, you'd know the Masters has been televised since 1956. Speaking of that podcast. . . Not to toot our own horns, well, actually, definitely to toot our own horns, but that podcast reached No. 1 on the charts!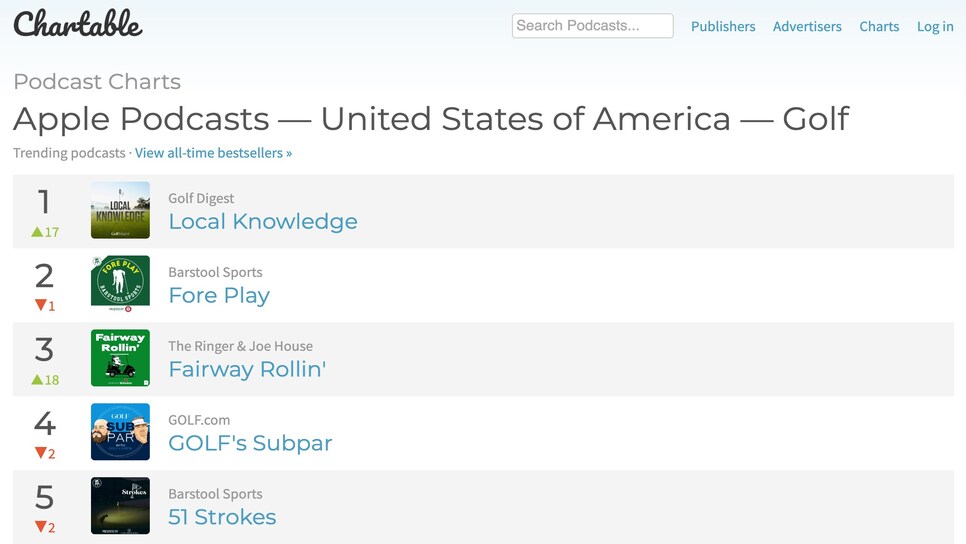 How long did we stay there? I have no clue. But we'll always have that moment. Thanks for listening. And if you haven't listened yet—or subscribed—please click here. OK, now where do we go to accept the golf podcast green jacket?
RANDOM QUESTIONS TO PONDER
How man majors will Dustin Johnson wind up winning?
Is Dustin Johnson the first Masters champ who can dunk?
Is Tom Izzo looking for someone to play Augusta National with him?