News
U.S. Open 2018: Dustin Johnson 'never...more focused, in control,' his caddie/brother says. Is U.S. Open already his to lose?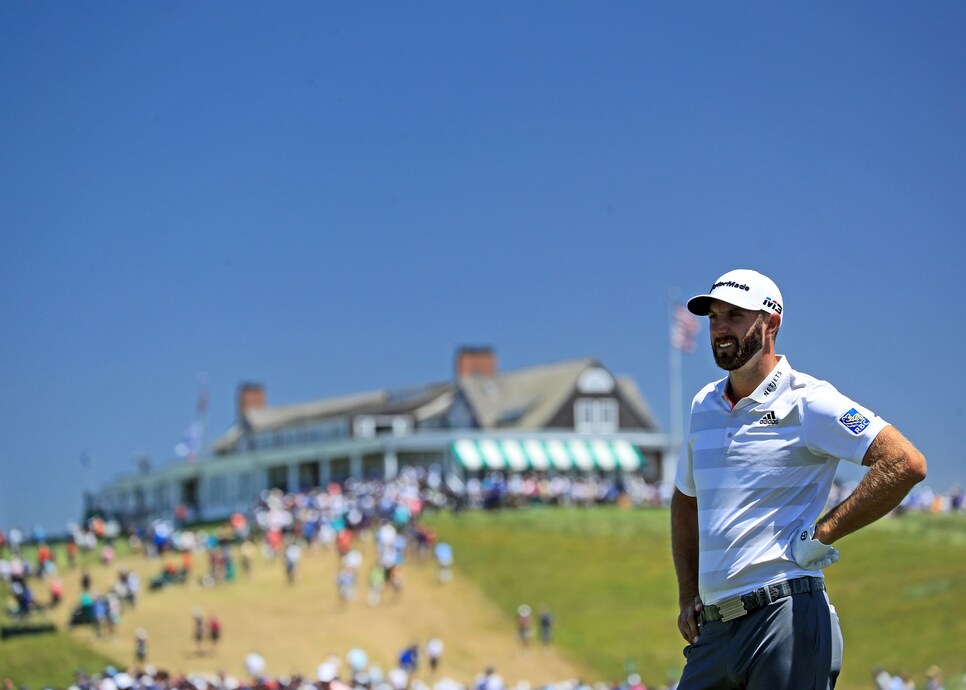 Photo By: David Cannon/Getty Images
SOUTHAMPTON, N.Y. – Austin Johnson has seen his brother Dustin subdue a golf course with his raw-boned power more than a few times in their six years together, including two years ago at fearsome Oakmont Country Club when Dustin captured the U.S. Open with pugilistic antipathy.
On Thursday at Shinnecock Hills, he saw something different, something that should give pause to the rest of the field in the 118th U.S. Open. Dustin Johnson wasn't afraid to back off on tee shots to make sure he hit fairways. He played more percentages. He refused to surrender to the conditions and scrambled with a steely defiance. His putting was impeccable.
"I've never seen him more focused and in control," Austin, his caddie for the last six years, noted.
Control wasn't in ample supply to the field on a wind-blown opening day, but Austin was referring to the self-control his brother exhibited amid the challenging conditions. Despite hitting just nine greens in regulation, Dustin Johnson carded one of four sub-par rounds at Shinnecock, a oe-under 69 that gave him a share of the lead in the U.S. Open.
Coming off a convincing six-stroke victory last week in the FedEx St. Jude Classic, a victory that restored him to No. 1 in the world rankings, Johnson is attempting to become the first player to win the U.S. Open the week after a PGA Tour conquest.
He seems poised to do it. It already looks like his championship to lose, given the way he has played all season, finishing no worse than T-17 in 10 starts while winning twice to run his career victory total to 18. Add to that his solid U.S. Open resume—last year's missed cut being an aberration—and Johnson looks like the favorite everyone expected, even if he didn't play like everyone expected.
"I definitely think I played well," Johnson, 33, agreed, "but I also can play better."
He definitely could have scored worse, but the key to the day was the start. While playing partner Tiger Woods mangled the opening hole for a triple bogey, Johnson saved par from the right bunker with an 11-foot putt. He saved pars on Nos. 2 and 3 as well. He turned in two-under 33 despite hitting just three greens in regulation.
"I kept myself from getting down early, which was huge," he said in that low-key manner that belied his satisfaction in the accomplishment.
He birdied the next two holes and then got a break at the sixth when his drive bounded into the high fescue. A mad search ensued, but ended with relief when former PGA champion Rich Beem, working for Sky Sports and helping in the hunt, accidentally stepped on Johnson's ball. His free drop found a tough lie, but he was able to make a bogey. Two holes later, after a thoroughly awful wedge, Johnson holed out for birdie from the left-front bunker, the ball rattling off the flag stick and circling the hole before dropping.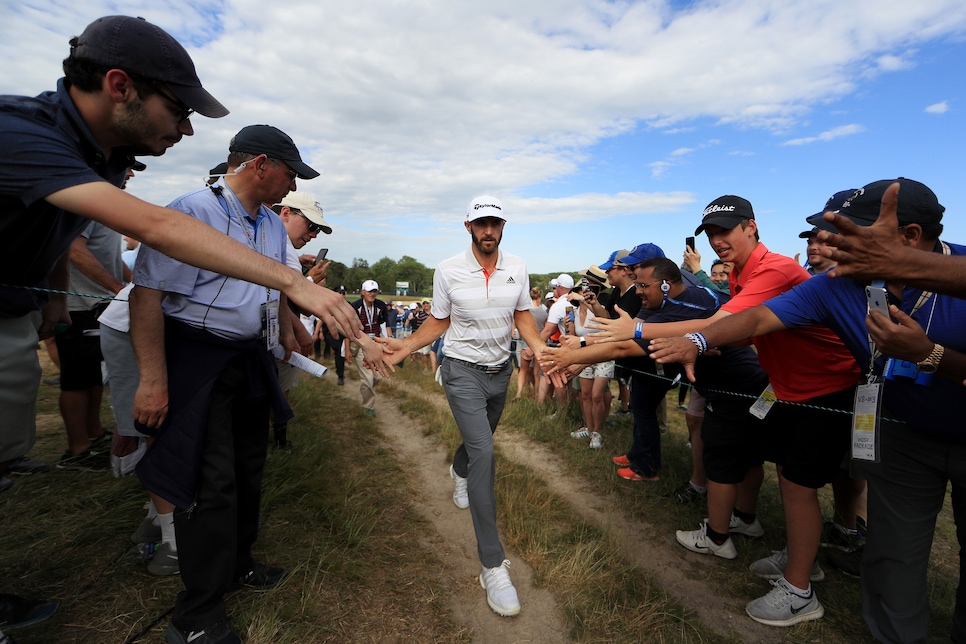 Mike Ehrmann/Getty Images
He didn't save every mistake, but his pars on the closing two holes were hard-earned and valuable. There was a suggestion that finishing with a share of the lead was as good as the outright advantage, from a psychological standpoint.
Johnson wasn't going there. "Tomorrow is still going to be another difficult day," he responded. "Every day out here is going to be difficult, and, you know, it's going to take the same kind of focus, and, I'll have to shoot the same kind of quality golf shots if I want to shoot another good score."
It wasn't easy discerning exactly which shots were quality. The wind played havoc with everyone and angered more than a few. Fuses blew. Flubs were common. But nothing seemed to bother Dustin Johnson. Not very much on his scorecard, and not at all on his psyche.
He exhibited the same calm and casual disposition that won him the 2016 championship amid a potential rules infraction that hung over his head down the stretch. This despite the fact he wasn't quite on his game.
If he plays only slightly better, he'll be tough to beat. And everyone knows it.