FIRE PIT COLLECTIVE
Dustin Johnson is getting big money ($100 million?!) to jump ship. But it might cost him big as well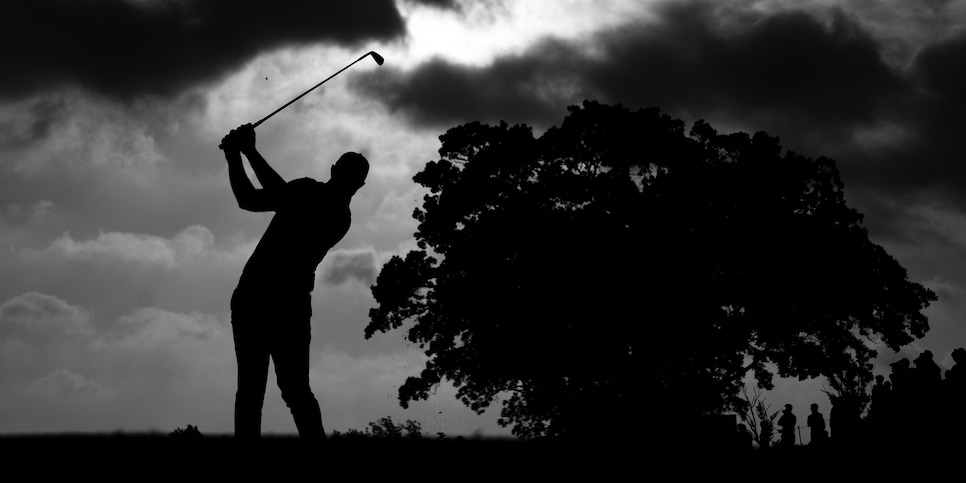 Photo By: Christian Petersen
Editor's Note: This article first appeared in Fire Pit Collective, a Golf Digest content partner.
DUBLIN, Ohio—The old hit from yesteryear got it right and time has not aged its underlying truth one bit:
go on, take the money and run.
Yes, the old Steve Miller Anthem. Yes, the refrain is the name, the best way to sell a 45. Not that anybody listens to music on 45s anymore.
When Dustin Johnson's down-home parents were coming up, 45s were a thing and Apple Records was a Beatles recording company. Things change, often in the name of more money. Father Time may be undefeated but the lure of money is, too.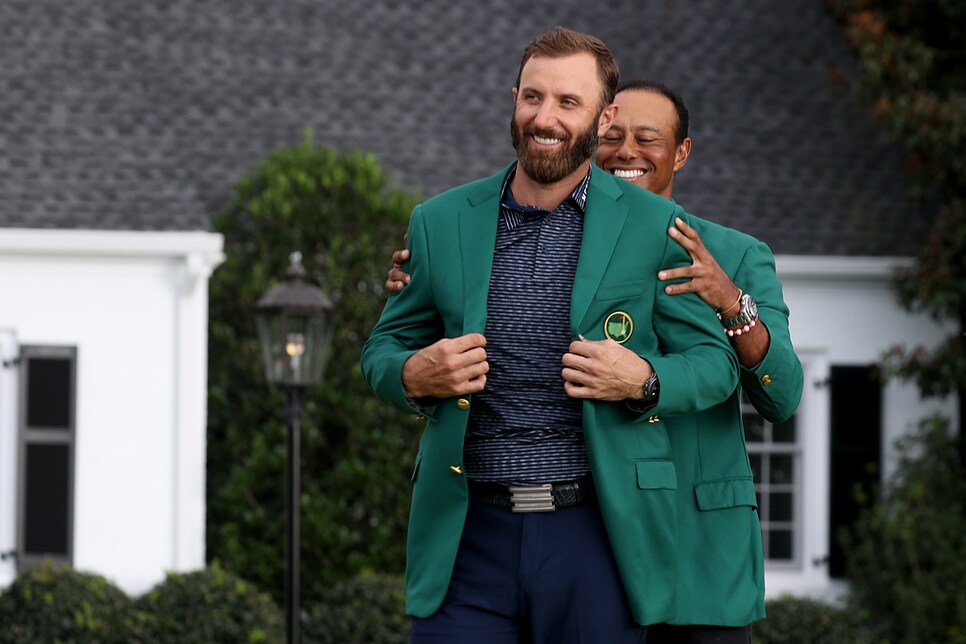 Today in golf there is one story and it's not the first-round leader at the Memorial. It is this: Dustin Johnson took the money, well north of $100 million, according to one published and reliable report, by James Corrigan of The Telegraph, in Great Britain. He'll be joining the Saudi-backed LIV Golf Series.
Talk about taking the money and running. For years, Johnson has been a sponsor for the Royal Bank of Canada aka, RBC. The sponsor of next week's PGA Tour event, the RBC Canadian Open. Johnson would have been the event's headliner. But he's not playing in it. Because he'll be playing in the first LIV event in London instead, three-days, 54-holes, no cut.
The official word from RBC is that they are "extremely disappointed." Well, what did you expect them to say? They're Canadian!
If you know anything about Dave Winkle, Johnson's longtime agent and the president of Hambric Sports Management, there is no way he encouraged Johnson to make this move. He has spent 35 years developing relationships with the RBCs and the UBSs and the AT&Ts. There's no real math there. There's just, "Dustin's a great guy and you're gonna love hanging with him on the range and at the bar."
The RBC money was in the millions, to be sure. But it wasn't anything like $100 million. So Dustin Johnson took the money and ran. You could write a children's book about it. Wouldn't be long.
Dustin Hunter Johnson is a tall man with a trim beard who plays a sport called golf. Your mother or father or custodian might "work" in an industry like hospitality or computers. But professional golfers play a sport called golf. That is their job.
Dustin Johnson is 37 years old. He has two children and he owns Jet Skis and boats and other watercraft. He likes the water. There are many photographs of him surrounded by water.
For many years, Dustin liked to play most of his golf in the United States in a league called the PGA Tour. The PGA Tour made him rich and famous and Dustin liked being rich and famous.
In 2020, he won an old, prestigious golf tournament called the Masters, not far from where he grew up, in Columbia, S.C. He was happy! And so was his fiancé and his agent! Also, Dustin's brother, who worked for him carrying his older brother's golf bag on the course and across parking lots.
You might find this interesting. All the big golf tournaments let golfers borrow cars. Sometimes the cars are returned at private airports with hamburger wrappers in the back seats and other detritus. (Detritus can be your word of the day. Someday you may see it on the SAT!) Fortunately, there are other people who clean the vehicles when they are returned. Very few people see those people.
Two players finished in a tie for second at the Masters tournament when Dustin won. One golfer was from South Korea and the other was from Australia. Golfers from all over the world want to play in the Masters.
But after Dustin won the Masters, his golf scores were not as good as they used to be. He stopped playing well in golf's biggest tournaments, the ones that make a golfer rich and famous and the envy of his peer group. For you, your peer group could be the other children you play with at the playground. Envy is what you feel when Sally jumps up on the monkey bars and scurries across and you cannot. If that makes you try harder, that's good!
Then one day some very rich men in Saudi Arabia offered a large sum of money to play golf in a new league called the LIV Golf Series. No country in the world produces more oil than Saudi Arabia. The richest people in Saudi Arabia are astonishingly rich! They can buy pretty much anything they want! For instance, they recently bought the golfing services of Dustin Johnson! Because he was so good at golf, Dustin used to be the envy of his peer group. But do you think they envy him now? Will he make new friends as he plays in this new league? Time will tell!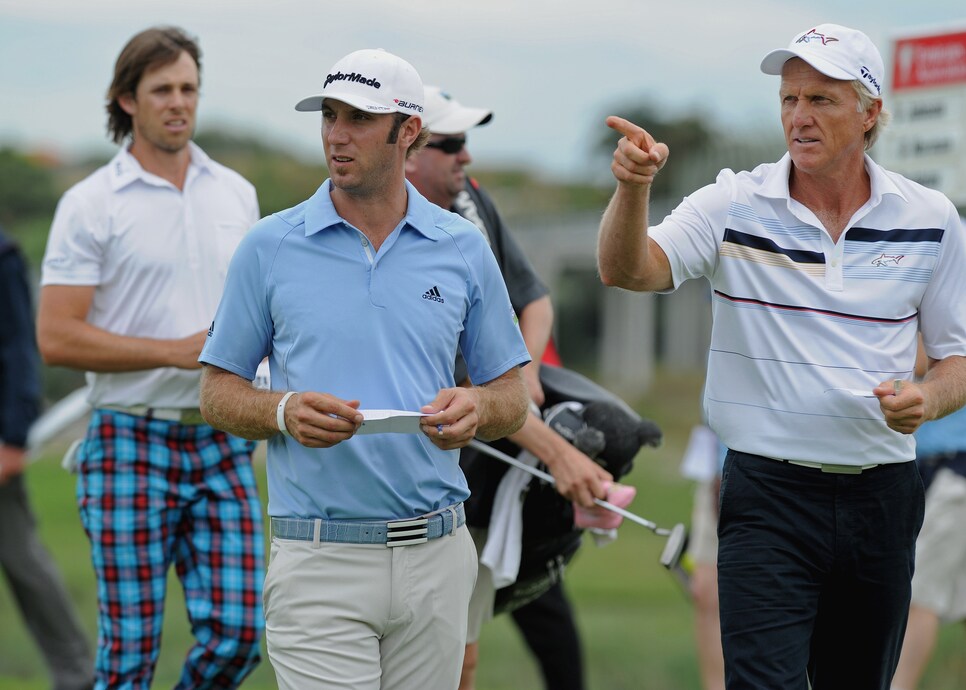 Greg Norman has been saying for months now that the LIV series he runs can be "additive," that it can make the great and worthy cause of global golf bigger and better. I would say in theory that is true but in real life that will prove not to be true. In a sense, the PGA Tour has aged out of its founding principles. Nobody would call it a tour anymore, with golfing vagabonds moving from one city to the next, like a traveling carnival to entertain the citizenry and raise some money for local charity. Nobody calls the Pebble Beach tournament Pebble Beach anymore. The golfers say AT&T. Fans and TV broadcasters do, too. They know who pays the bills. It's been this way since the late 1980s.
But what remained was the peer group, the envy for playing shots and getting tournament results others could not. That spirit remained.
There's too much golf on TV now. It does, after a while, all kind of look the same, except the Grand Slam events and a few other special weeks, like the Players Championship and the Ryder Cup.
The Saudis saw an opening here, not to make money or raise money for charities or to put on a show for the locals. The opportunity they saw is to look more mainstream, more like modern-day society, with golf as a prime example of leisure-class comfort.
I guess that thing that annoys me here is that golf and the PGA Tour has done so much for Dustin Johnson. He can do as he pleases, of course, and he is. He's not hurting anybody here, except the system that made him. He's leaving more behind than he knows.