News
Dustin Johnson just accomplished something only four other golfers in history* have done (*sort of)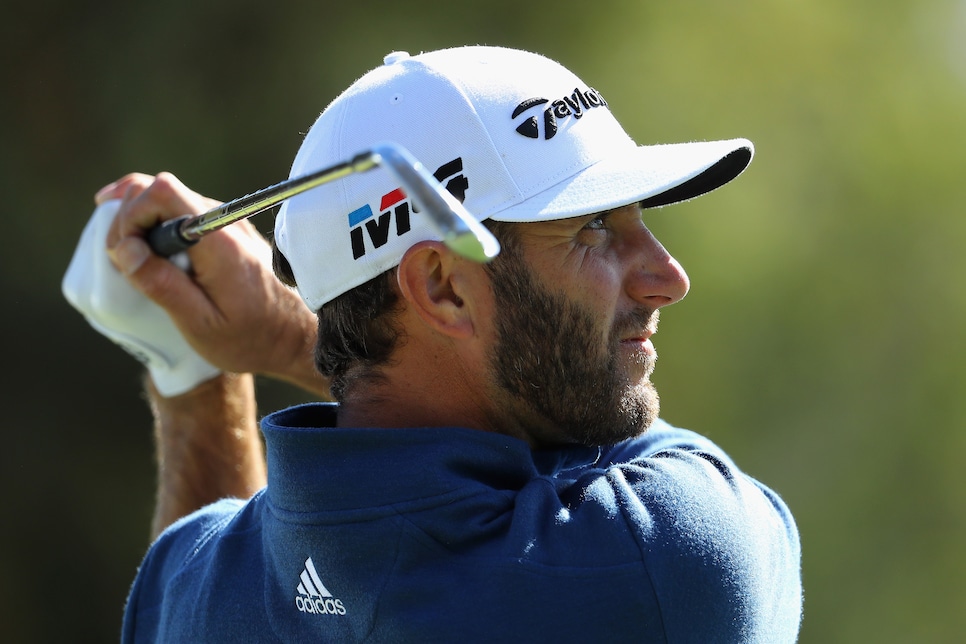 Dustin Johnson didn't win for a third time at Pebble Beach on Sunday, but he did enough to remain No. 1 in the Official World Golf Ranking when it came out on Monday. That in itself wasn't particularly newsworthy, but it gave DJ a pretty special OWGR anniversary. Johnson has now been in the top spot for exactly one year -- and most golf fans will probably be surprised just how rare that is.
Johnson joined Tiger Woods, Greg Norman, Nick Faldo and Rory McIlroy as the only golfers in history* to hold the top spot for at least 52 consecutive weeks. That's right, he's one of just five golfers in history* to accomplish this. Of course, we added the asterisk after the word "history" because the Official World Golf Ranking has only been around since 1986. Still, it's a pretty impressive accomplishment for the 17-time PGA Tour winner.
Johnson first ascended to No. 1 following his victory at last year's Genesis Open. And he's back at Riviera to defend his title this week against two of the other golfers -- Woods and McIlroy -- to have spent more than a year straight in the top spot.
Of course, no one has spent more time at No. 1 than Woods, who holds records for the two longest streaks (281 weeks and 264 weeks) and the most cumulative time in the top spot (683 weeks or more than 13 years). Woods also has a third streak of more than one year (60 weeks) from March 25, 2013 to May 17, 2014.
McIlroy's longest stint at No. 1 was 54 weeks from Aug. 3, 2014 to Aug. 15, 2015. Greg Norman spent 96 weeks at No. 1 from June 18, 1995 to April 19, 1997, and Nick Faldo was No. 1 for 81 straight weeks from July 19, 1992 to Feb. 5, 1994. Two players who came close were Ian Woosnam, who had his streak snapped at 50 weeks in 1992, and Jason Day, whose run of 47 weeks was ended by Johnson last year.
Those previous four players to pull off the feat combined to do it eight times, meaning Johnson's current streak is the ninth longest. But 11 more weeks and he'll move into the top five all time. And considering he's guaranteed of staying No. 1 for at least one more week while playing a course where he's finished in the top four for four consecutive years, we like his chances.