Money
This driving range and putt-putt course for sale comes with an epic two-story golf-ball-shaped house called the 'dome home'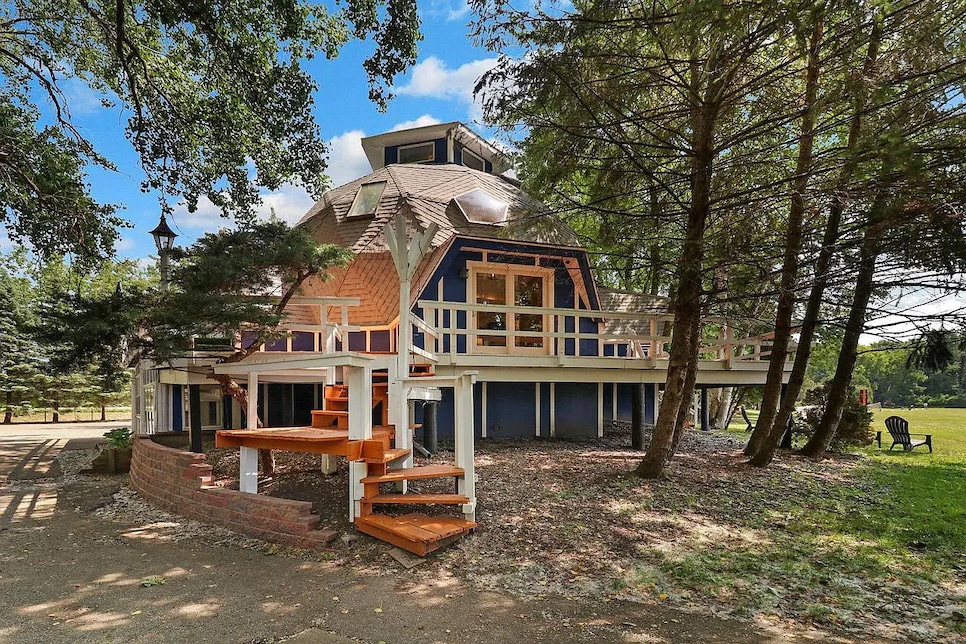 The four-bedroom, 2,000-square-foot "dome home" features a home theater and gaming room.
Calling a certain property a "lifestyle" is usually marketing lingo for an amenity like a community pool. This investment property in Pleasant Prairie, Wis., is the real deal for the golf enthusiast. Included in the $1.3 million asking price is a driving-range business, a miniature golf course and a golf-ball-shaped four-bedroom house.
The range and putt-putt operations are straightforward Midwestern flat land, but the real twist comes with the stand-alone home on the 14-acre spread. The 2,000-square-foot "Dome Home" is currently serving as a golf-themed—and golf-shaped—Airbnb. The interior really does look like you're inside a circa-1990s Titleist, with blue-tile floors, geometrically "domed" ceilings and a sleek concrete-floored media room.
The home goes for about $500 a night on Airbnb—which makes the math on a potential mortgage for the $1.3 million property potentially a lot more palatable. The location is about one mile inland from Lake Michigan almost directly on the Illinois border. That puts it roughly equidistant between Chicago O'Hare (46 miles south) and Milwaukee's Mitchell International Airport (40 miles north). World-class public and private golf are all around, from Whistling Straits 90 minutes north to the epic Seth Raynor-designed Shoreacres 16 miles south.
Now, about those Wisconsin winters.