Range Tips
7 range accessories you need for your next grind session
*All products featured on Golf Digest are independently selected by our editors. However, when you buy something through our retail links, we may earn an affiliate commission.*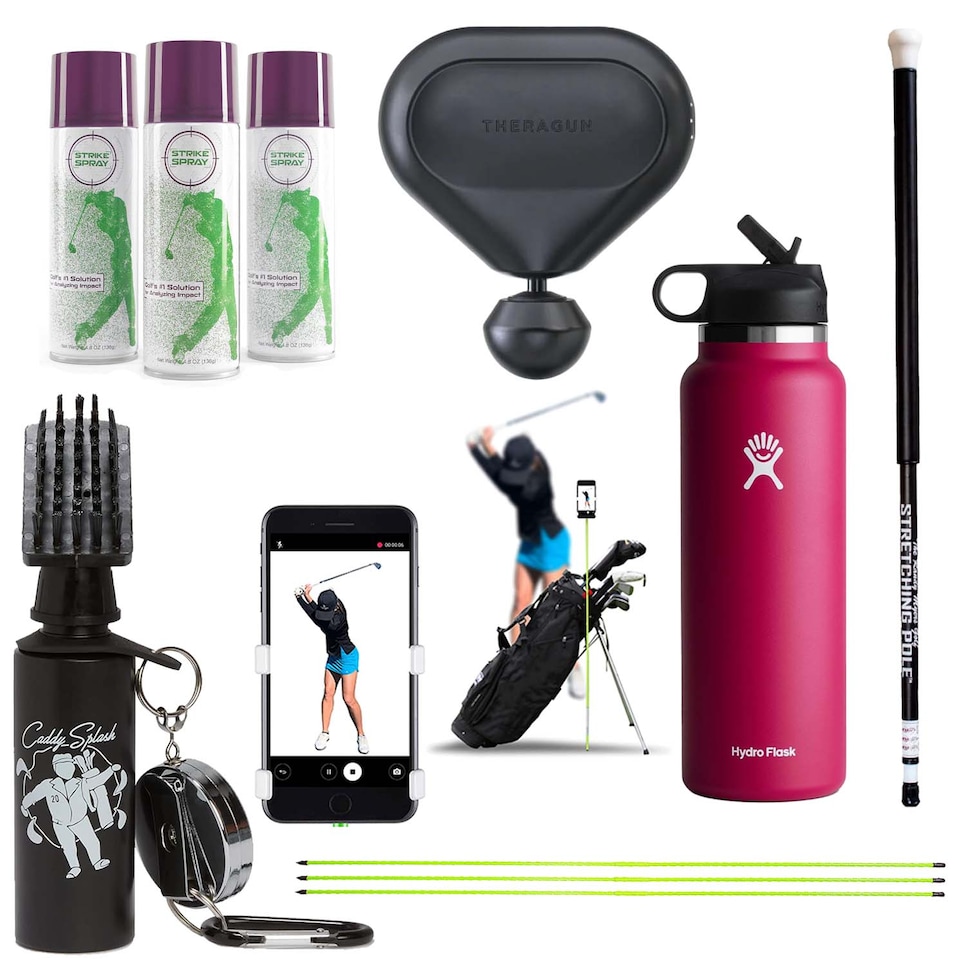 When you've taken a long break from the game, it can feel like you've almost forgotten how to hold a golf club—let alone swing one. Spending a little time at the range getting your body back into golf-mode is always necessary, regardless of your skill level or goals for the upcoming season. It might take a few range sessions to feel like you're ready for 18, but these seven products will help make your practice sessions a little more productive. Mindless range sessions are a great way to relax and ease back into golf, but coming in with a plan and being prepared with the appropriate accessories will make your time worthwhile and your gains exponential. From stretching aids to regain mobility, alignment sticks to keep your swing on track or a water bottle to stay hydrated to support longer range sessions, here's our tips on how to make the driving range more enjoyable and helpful to your game all year long.
RELATED: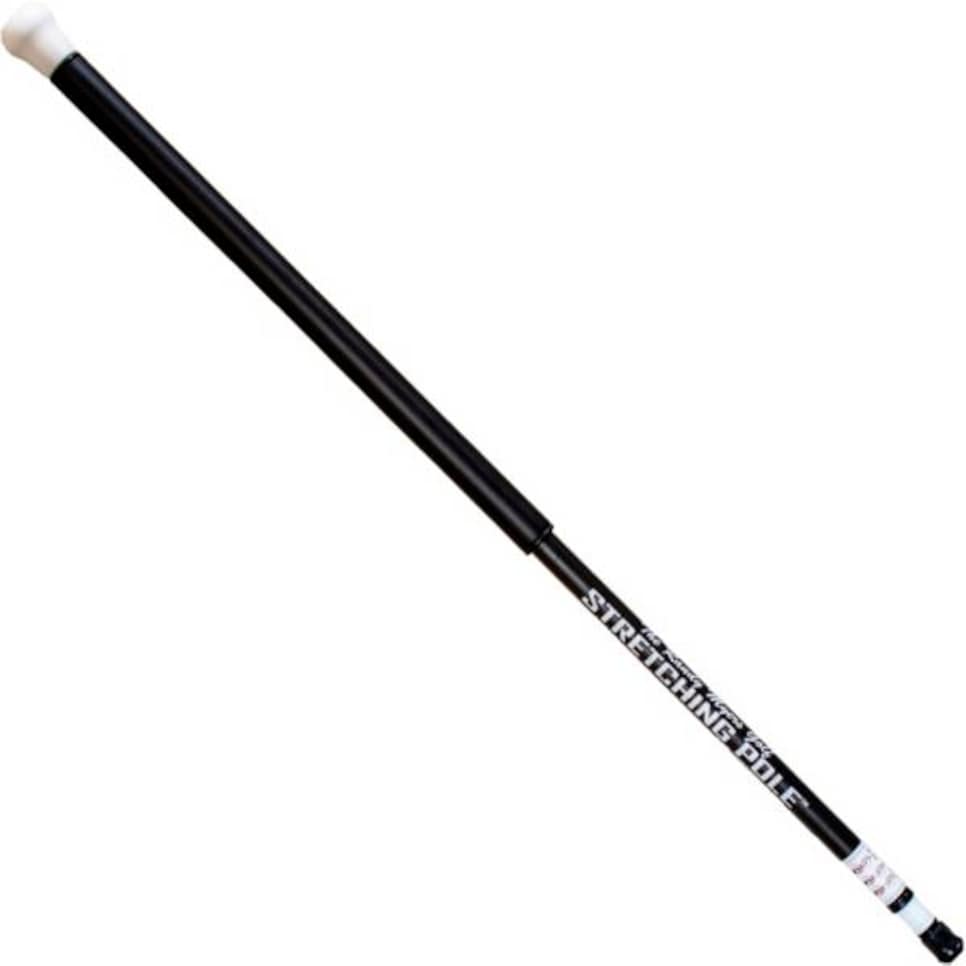 Randy Myers Golf Stretching Pole
The Randy Myers Stretching Pole blew up last year when PGA Tour pro Ben Kohles put his insane shoulder mobility on display as he used the device in his warm up. When you hit the range, it's important to make sure your muscles are loose before beating balls. Use this device to develop a proper stretching routine — it will increase the longevity of your practice sessions and reduce your soreness afterwards.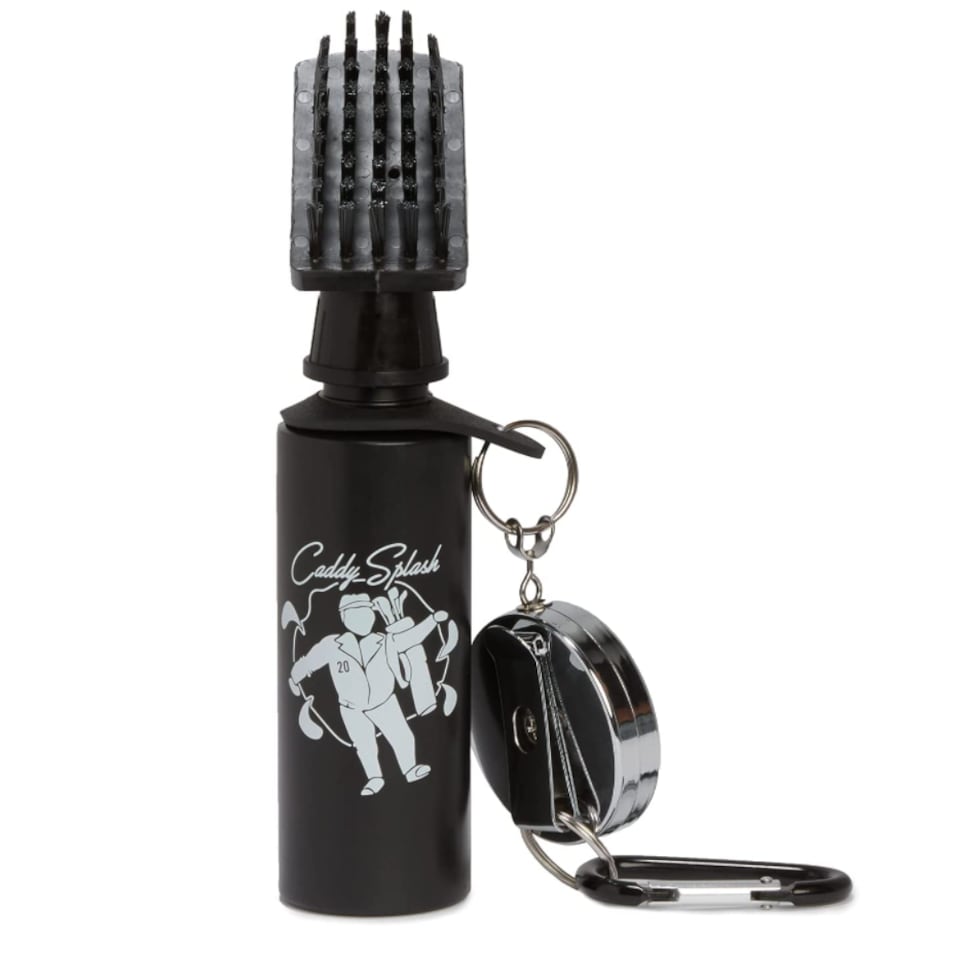 Caddy Splash Water Brush
This water-filled scrub brush tool is a game changer for long range sessions. Gone are the repetitive trips back and forth to the club-cleaning station. The Caddy Splash Water Brush uses nylon bristles and a squeezable water tube to make cleaning your club face easier than ever. During a long grind-session, keep your grooves clear with this convenient gadget to maximize the surface area at impact and give you more control.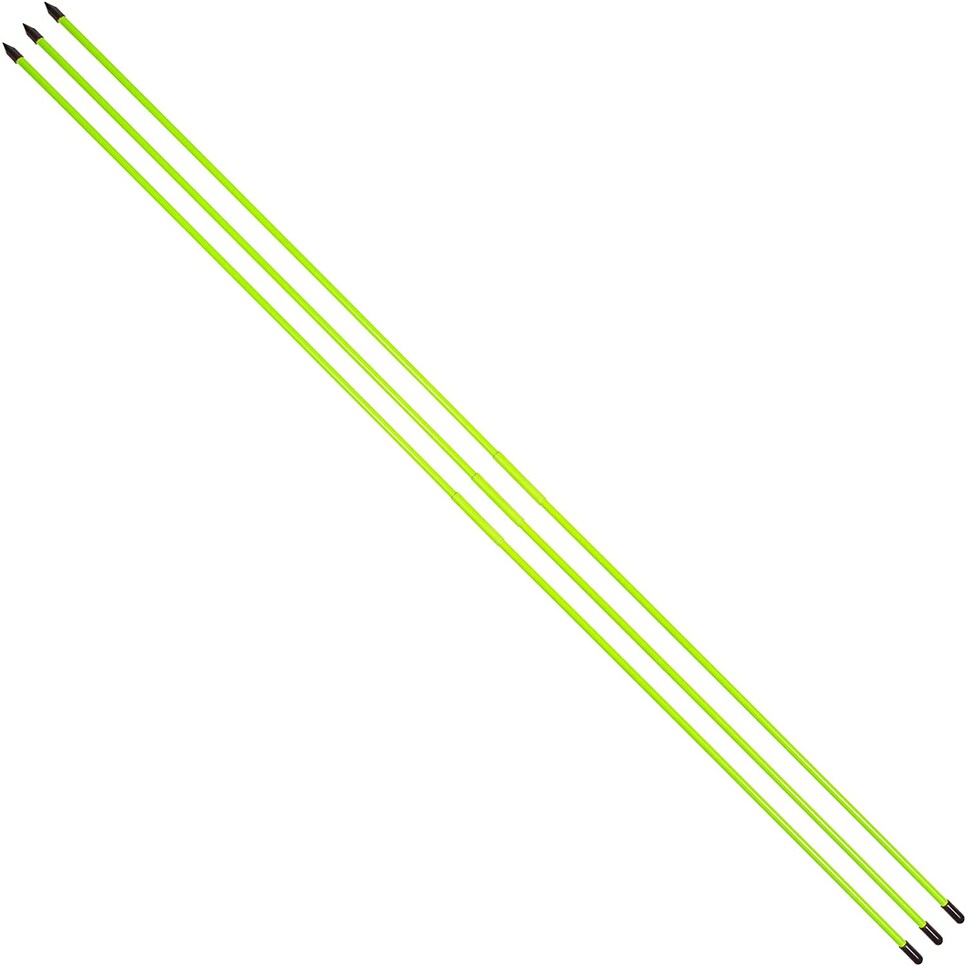 GoSports Golf Alignment Training Sticks - 3 Pack
Alignment sticks are an underrated driving range necessity. If you don't practice with correct alignment, it will be very difficult to aim properly on the course. From swing plane drills to ball position maintenance, alignment sticks can serve many purposes during your grind session. These GoSports alignment aids fold in half for easy storage.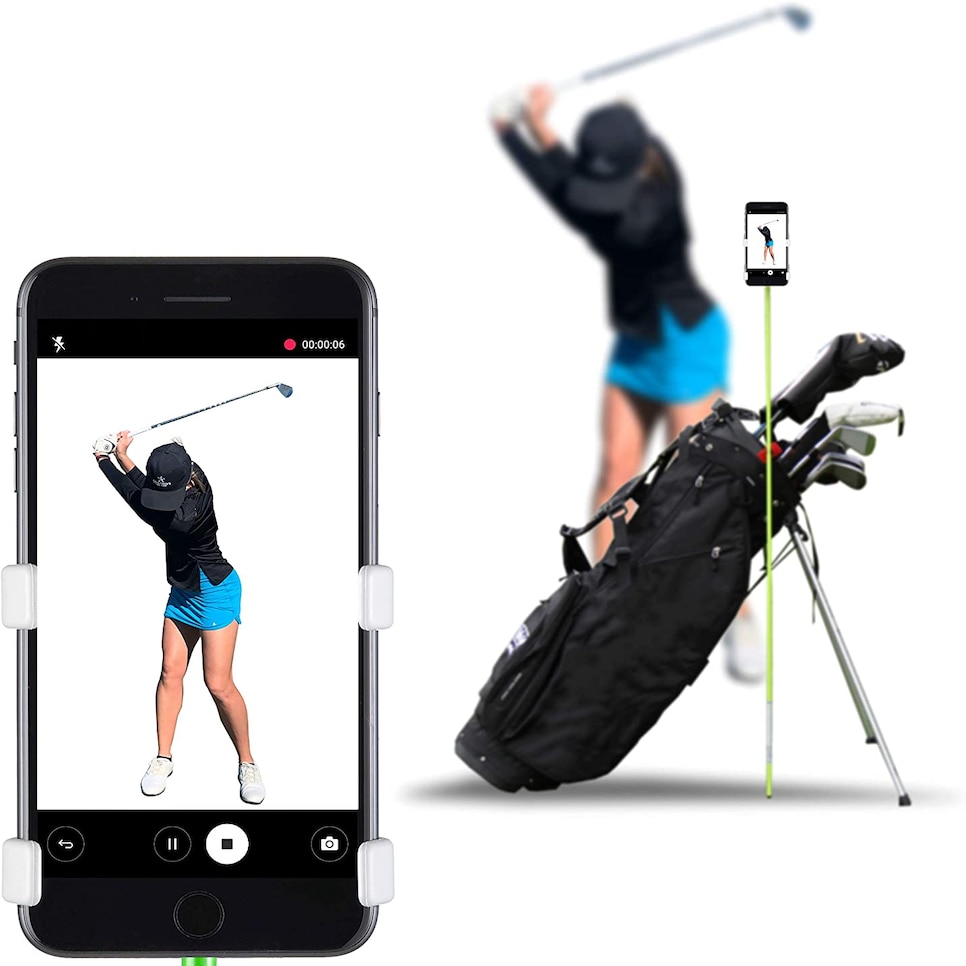 SelfieGolf Cell Phone Holder
Sometimes a solo range trip is necessary, but that means you won't have a buddy to record video of your swing. Recording your own swing videos can feel embarrassing, but in reality, there are a lot of benefits to keeping track of your progress. Taking videos helps many players catch old mistakes and self-correct their swings. This phone clip attaches to your alignment stick, which you can place in the ground to record yourself. It's lightweight, easy to set up, and fits a variety of phone sizes.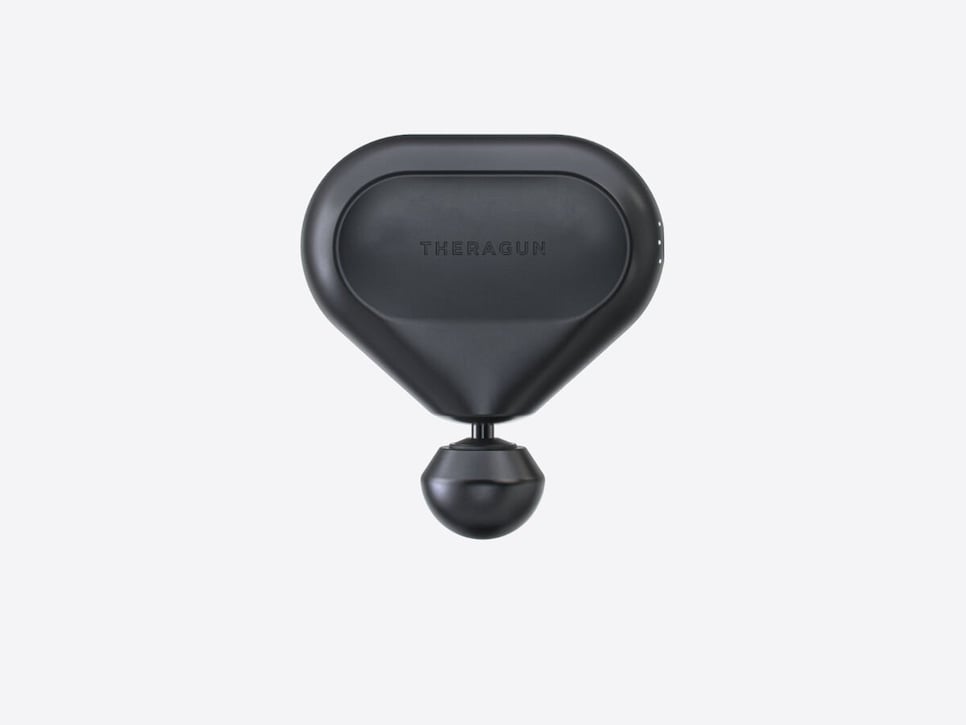 Theragun mini
Make sure to take care of your muscles during and after a long driving range visit. Take breaks to stretch and use a treatment aid like the Theragun Mini to massage sore areas. This device is compact but powerful — it will help your body recover without disrupting others on the range.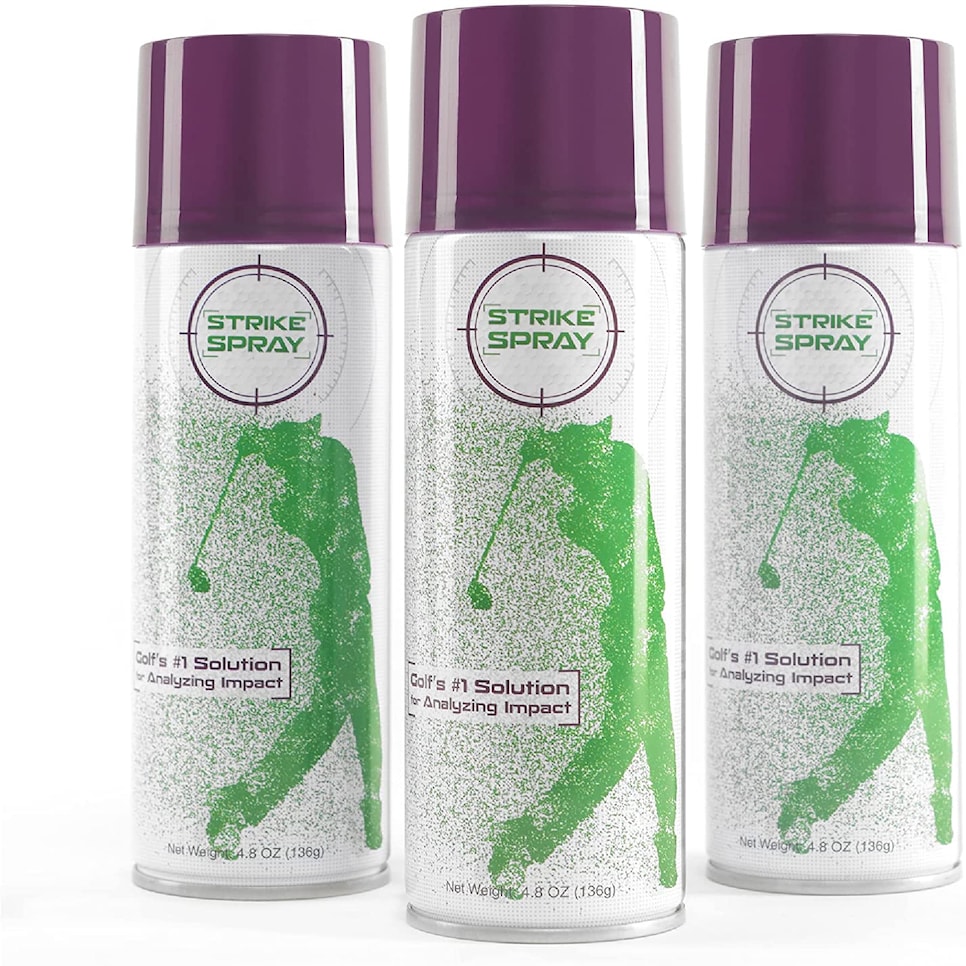 Strike Spray Golf Club Impact Spray
If you don't want to get too technical on the range, but are curious where you're striking the ball on the club face, check out Strike Spray. A quick spray of the tinted formula will coat your clubface with a white layer (don't worry, it doesn't affect your spin or launch conditions). After you hit your next shot, a clear imprint of where you struck the ball will appear on your clubface. Strike Spray is a great way to evaluate your progress on the range, and it wipes off with a quick swipe of your bag towel.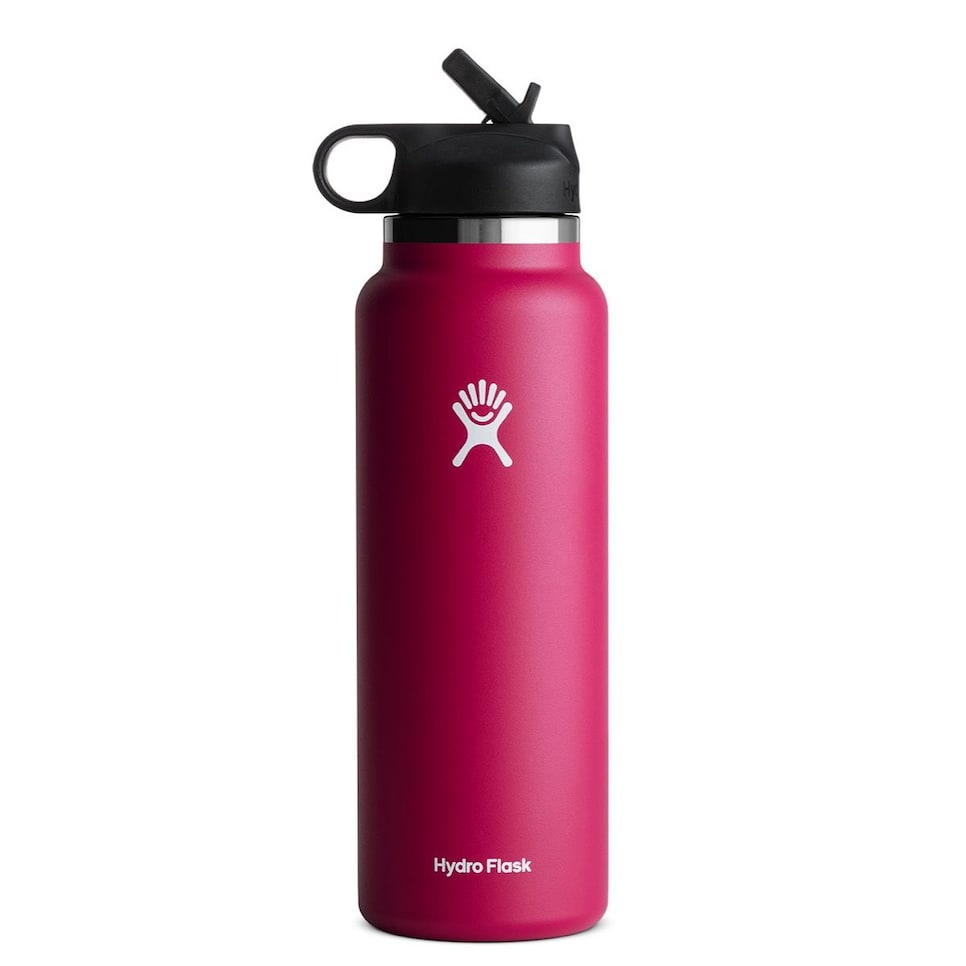 Hydro Flask 40 oz Wide Mouth w/ Straw Lid
Hydration is key when you're hitting the range. Sometimes, we can be so wrapped up in our practice routines that we forget to drink water. Dehydration will make you become fatigued faster and will keep your body from its fullest potential. This Hydro Flask water bottle is great for golfers — it maintains water temperature and the sport-cap design is convenient for frequent breaks.