Drive, Chip & Putt National Finals
In short time, ANWA has risen to be the dream invite for girl golfers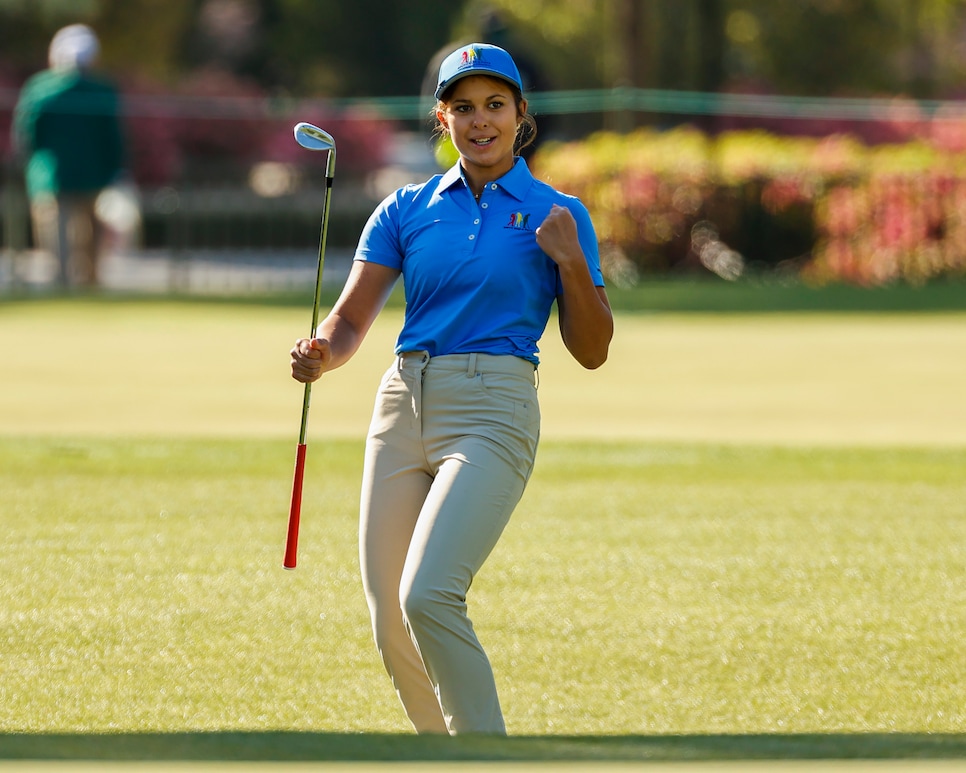 Yana Wilson reacts to her chip in the Girls 12-13 Division during the Drive, Chip and Putt National Finals.
Hunter Martin
AUGUSTA, Ga. — In the Arizona Silver Belle women's golf tournament last December, 14-year-old Yana Wilson earned her way into the final group alongside Alexa Melton, a 20-year-old junior at USC. The mood was tense that day at Briarwood Country Club in Sun City West, Ariz. Neither player wanted to chat, other than Melton asking Wilson how old she was.
"Fourteen?" Wilson remembered Melton saying. "Must be your first time here."
Wilson smiled and said yes. Over the next five hours, the girl from Henderson, Nev., and the woman from Covina, Calif., could have found common ground with an interesting tidbit: Both were heading for Augusta National Golf Club in four months. Wilson had qualified for her second Drive, Chip & Putt National Finals in 2020 (she won in her first appearance in '19), only to have it pushed back to '21 because of the COVID-19 pandemic. Melton, among the top-ranked amateurs in the world, would soon have an invitation in hand to play in her first Augusta National Women's Amateur, also postponed for a year.
The events are very different—one being a skills challenge and the other a now-coveted invite on the amateur calendar—but they have both stirred an interest in golf among girls and women like few events or milestones have.
A fortunate few have had a chance to play in both, with the DCP in its seventh year and the ANWA its second, and it has become Wilson's top goal—to move from merely coaxing a couple of putts on the 18th green in the DCP and competing on one of golf's most beloved stages in the ANWA.
"Ever since they announced the [inaugural ANWA], we were making plans and goals to get there," Jim Wilson, Yana's dad, said on Sunday as he stood with his wife, Olga, between the Augusta National clubhouse and the first tee. They had just watched Yana accept the trophy for winning her second straight DCP title in the Girls 12-13 Division.
"She's moving up," Jim said. "A couple of months ago, she beat some women who were playing in the ANWA and said, 'I want to play in that thing.' "
Yana's victory he's talking about came in the Silver Belle and that meeting with Melton. In the final round, Wilson shot 71, and with a total of two under for 54 holes, she became the youngest player in the 50-year history of the event to win. Melton had a tough day, scored 78 and tied for fourth. Another ANWA competitor, Brooke Riley, tied for 40th.
"Just to beat those players from the ANWA, that was really cool," Yana said. "I wasn't expecting that."
The DCP was created in 2014 by Augusta National, the USGA and PGA of America as an initiative to grow the game, and between the cachet of the venue at Augusta National and the finals being televised on Golf Channel, the interest exploded and has been on a steep upward trajectory. Now the ANWA is seemingly having the same inspiring impact.
During the three rounds of the second ANWA, won in a playoff on Saturday by Japan's Tsubasa Kajitani, numerous players said the tournament had risen to be No. 1 on their schedule. Girls have long dreamed of reaching the U.S. Women's Open or U.S. Women's Amateur, or the LPGA major, the ANA Inspiration, which is being held the same week as the ANWA. That's still the case, but the ANWA already has created an undeniable aura in short order.
Said Yana's mom, Olga, "I asked her that if she got an exemption into the ANA, would she play it or the ANWA. She said the ANWA, because it's the only chance to play Augusta National."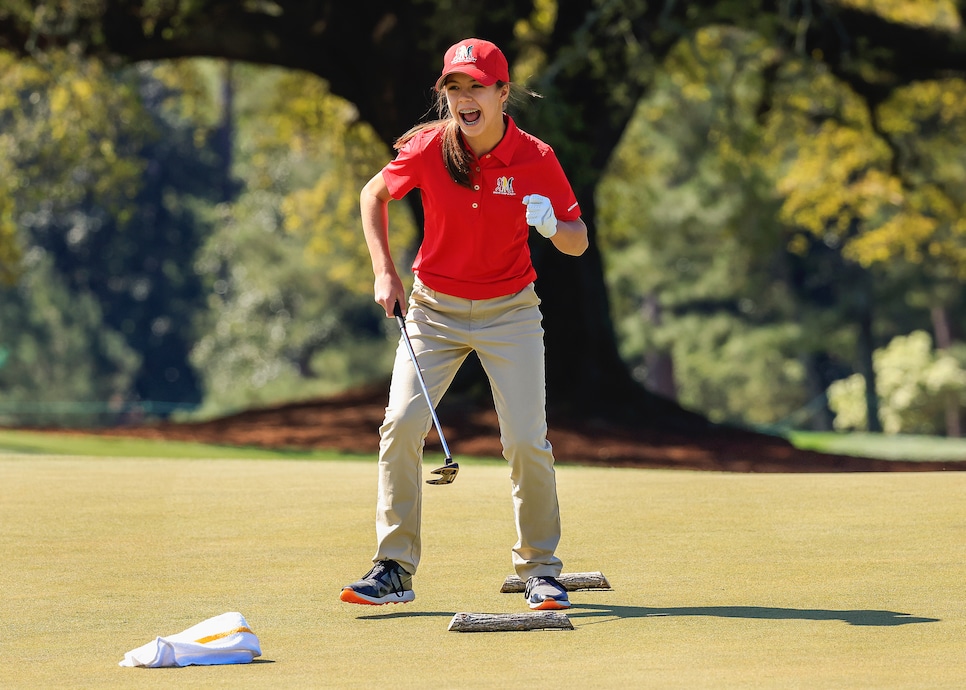 Elyse Meerdink reacts to making her 15-foot putt in the Girls 10-11 Division during the Drive, Chip and Putt National Finals.
Sam Greenwood
It's easy to understand the sentiment, especially for those girls who have driven up Magnolia Lane, thanks to the DCP. They watch the ANWA on TV, then get to walk the grounds of Augusta National, and of course they imagine how the wind might mess with their tee shot on 12 or if they'd go for the green on 15. How that victor's walk would be coming up the hill at 18.
"Just to play this course would be amazing," said Elyse Meerdink, a 12-year-old from Tampa, Fla., who dramatically won this year's Girls 10-11 Division by draining the 15-foot putt on the 18th green. (The kids' ages are older than their designated divisions because of postponement of the DCP in '20.)
"It looks a lot different on TV. I'm looking around and the slope is amazing. Just to play – it's very inspiring and it motivates me to work harder so that one day maybe I'll be able to play in the Augusta Women's Amateur.
Breaking into a wonderous smile, Meerdink said, "Just to hit a shot on the driving range was really exciting, so I can't imagine how it would feel to play holes here."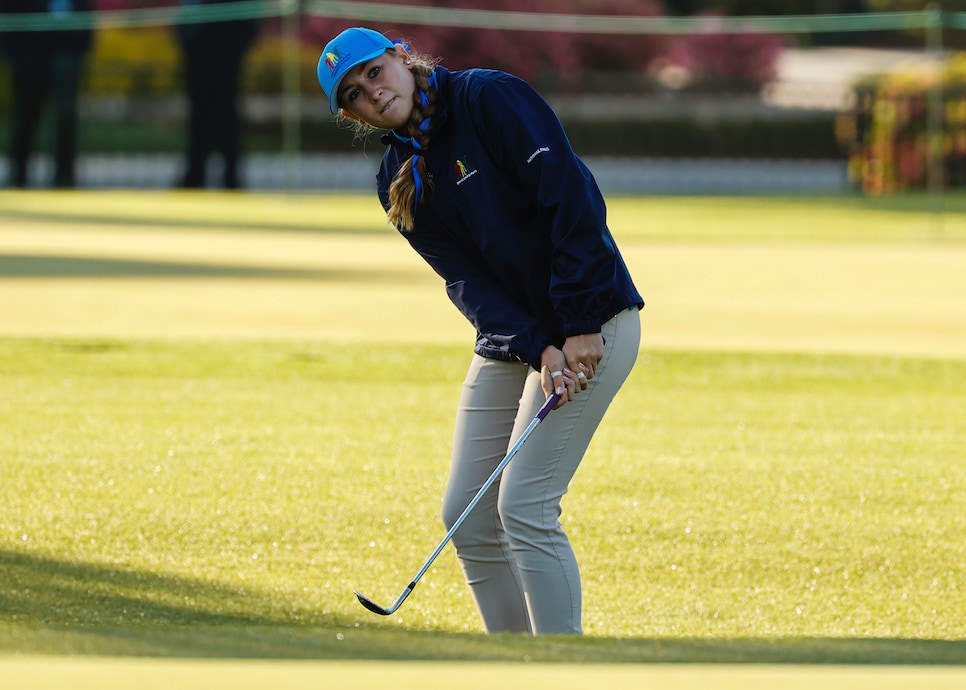 Girls 15-15 winner Ali Mulhall chips during the Drive, Chip and Putt National Finals.
Hunter Martin
Young girl golfers are getting opportunities they've never had before. Ali Mulhall, who captured this year's Girls 14-15 Division, became the first woman to compete in the Nevada Open in November 2020. The Henderson, Nev., resident—she's a close friend and competitor of Wilson's—was invited by the head pro at CasaBlanca Golf Club in Nevada after she shot a 66 from the 7,200-yard tees in May.
Mulhall missed the cut at 14 over, but beat 14 of the men and said "it was such an honor to be there, and it was amazing experience."
With seasoning like that, the ANWA certainly seems to be a realistic reach.
"We talked about it last night at dinner," said Ali's dad, Chris Mulhall, a PGA teaching professional. "We're going to play some of the bigger tournaments and try to get qualified for the Women's Amateur here. It is one of Ali's goals. A lot of travel to get qualified for that, so we need to plan that out."
For those who believe visualization equals success, Ali is precocious in that department, too. She sees herself and Yana Wilson being here together again and …
"Hopefully in the last group at ANWA one day," she said. "I think it will be the best time of our lives with the past champions of Augusta up there."
Seeing it. Living it. These girls dream big.