Gambling
The DraftKings House is the place to be at Liberty National this week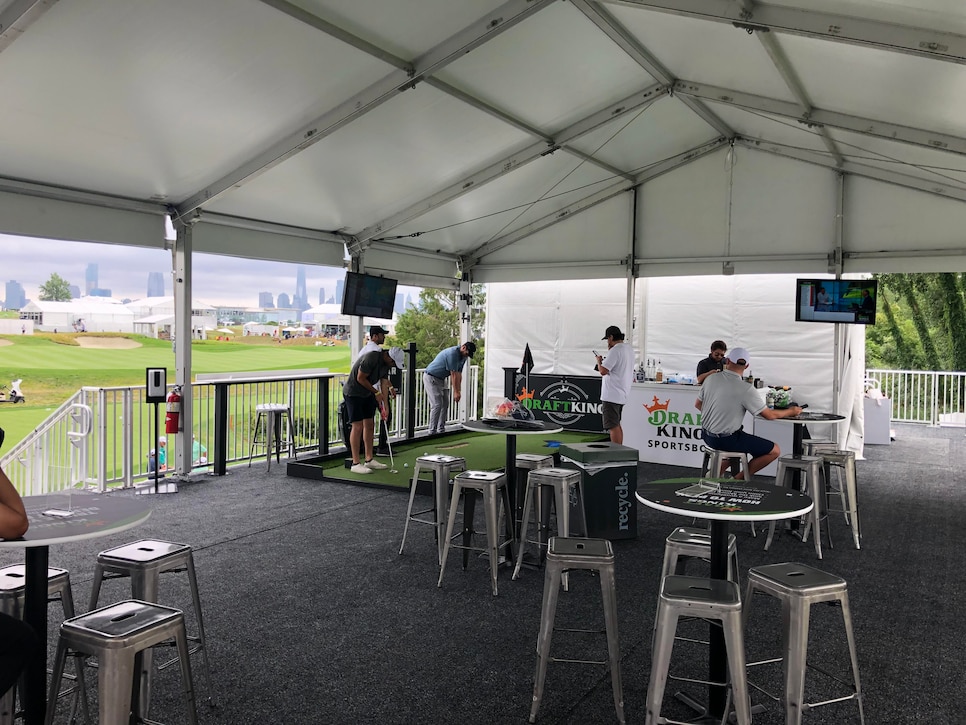 JERSEY CITY, N.J. — As gamblers, we're always looking for a place to congregate. The sportsbook, the horse track, your buddy's basement (the guy with the bar and the two-TV setup, preferably). A place to watch your losing tickets go up in flames together, and maybe even hit a winner or two.
At the 2021 Northern Trust at Liberty National this weekend, a place like that exists. The DraftKings House, situated between the par-4 15th green and the drivable par-4 16th tee, is where degenerate golf fans from all over the metropolitan area can unite and watch the action unfold. Emphasis on "action."
"The space is designed for people to congregate and watch the world's best golfers," says Jamie Shea, VP of VIP Marketing at DraftKings. "And of course, to get in on the action on the DraftKings mobile Sportsbook and iGaming App."
There won't be physical kiosks or windows to place bets at, but the DK Sportsbook app is one of the best, and WiFi will be available to jump on and catch the latest odds, including specific in-game hole wagers. With the 16th hole being a prime eagle opportunity, there are odds for "Player to make an eagle in Round 1." Not surprisingly, the long-hitting Bryson DeChambeau is among the favorites at +350.
The DraftKings House is open to anyone with a grounds pass, and food and drink will be available for purchase. The space also features a small putting green where fans can enter the DraftKings Money Putt contest, which requires fans to make a deposit in their DraftKings account and then make the putt. The prize? A deposit bonus. In other words, extra money to burn on golf bets. Everybody wins.
In addition to the space that's open to the public, there is also a VIP section of the DraftKings House. There, 40 of the top daily fantasy players will compete for a prize pool of $4 million in the 2021 Fantasy Golf World Championship. The event will take place all four days, with the winner taking home $1 million. Fans won't be able to buy their way into this area. Those inside secured their spot by winning one of the qualifying contests prior to the Northern Trust.
"We're incredibly excited for that. People are going to be blown away by what we have planned," Shea says. "We're always looking for ways to bring our player community as close to the action as possible but we've set a pretty high bar for future events with our location here at The Northern Trust."