Valero Texas Open
After disastrous start in Texas, pro rebounds, is close to securing temporary PGA Tour membership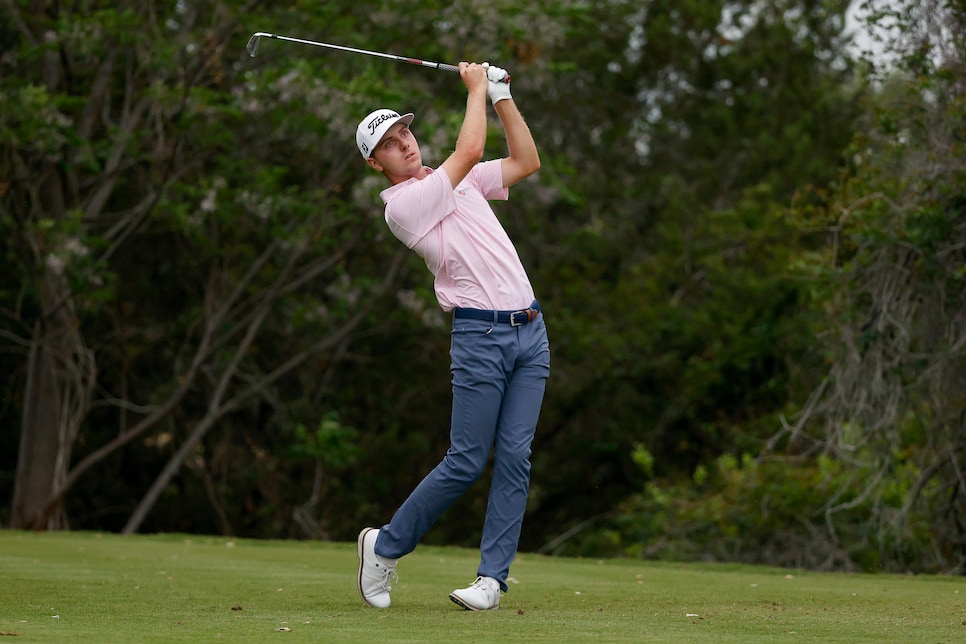 Ryan Gerard plays his shot from the seventh tee during the first round of the Valero Texas Open at TPC San Antonio.
Mike Mulholland
As Jay Coffin wrote on Thursday, the main drama at the Valero Texas Open revolves around the winner—there's one last spot open at the Masters, but the only way to get it is to win in San Antonio. The great thing about this sport, though, is that if you look hard enough, there's always some kind of intrigue beneath the surface. Friday in Texas was no exception; on a day that would be easy to overlook in the shadow of Augusta, Ryan Gerard was in a career-defining battle with himself.
Who's Ryan Gerard? The 23-year-old University of North Carolina alum from Raleigh, currently fails the "Wikipedia test," which is simply a measure of whether someone is famous enough to have his or her own Wikipedia page. But the key word there is "currently." Gerard dominated the Canadian Tour last year, notching a win at the Quebec Open and two other top-fives, which led him to the Korn Ferry Tour, where he rebounded from two missed cuts to post a T-3 at the Astara Golf Championship in early 2023. If you know Gerard at all, you likely know him from what happened next, when he got into the Honda Classic and finished fourth, which was by far his biggest payday as a professional. A T-11 in Puerto Rico followed, and this week, he managed to grab a spot in the Valero through a sponsor exemption.
He also happens to be very, very close to securing Special Temporary Membership with the tour, needing to finish solo 68th or better to pass the benchmark this week. The way it works is that he has to accumulate more points than No. 150 on last year's FedEx Cup points list, which was Dylan Wu at 175.228 pts, and he currently has 171.85 non-member points. That leaves him needing just 3.378 points to pass the mark, which means that if he makes the cut, he has a very, very good chance to secure status on the PGA Tour.
Problem was, he started his tournament with a 41 on the front nine, complete with three bogeys, two doubles, and a pair of birdies to keep him from a total washout. That five-over start looked like a death sentence, particularly with the lead climbing to double digits. Then, after yesterday's weather delay, Gerard turned it around completely:
With birdies of 15 feet, 10 feet, 23 feet and 18 feet, he put on an absolute clinic with the putter to fight all the way back to even par by the end of his first round. The best way to respond to a 41? Can't do much better than a 31.
Gerard shot 72 in his second round, and the cut itself was at even when play was suspended Friday, meaning he's barely inside the line. If he can hold on and fight his way to the weekend, it will be one of those triumphant unseen battles that happen so often on tour, where a player who flies completely underneath the radar nonetheless does something massive for his own career.